Influencer Rob Kenny shares a step-by-step guide to a two-week road-trip around Italy.
When we Irish hear of our friends travelling to Italy, it's generally always the same few places. We throw coins into the Trevi Fountain in Rome, take a gondola cruise in Venice, and seek out the Instagrammable views of the Amalfi Coast (particularly if honeymoons or engagements are involved).
As fabulous as those places are, when my partner Shane and I decided to make two weeks in Italy our big holiday this year, I knew I wanted to do it differently. Now, a quick disclaimer, we were hardly roughing it on dirt tracks, discovering an unknown Italian world, but it definitely was not the typical Irish tourist route.
So let's start with the first destination of my two-week Italian adventure: Lake Como. This picturesque and world-renowned luxury holiday destination has been somewhere I've been dying to see and experience for years now. It was really the hook that committed us to choose Italy this year. Anywhere that beautiful, with a renowned food scene, and still only a two-and-half-hour flight away (Milan is the closest airport) is a big wish list focus for me.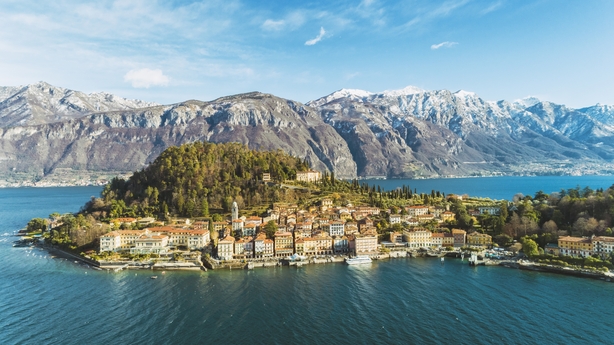 Mandello del Lario
As well as scenic views, the words 'Lake Como' bring one certain thing to mind: wealth. George Clooney kind of wealth. My most visited holiday spot in Europe is the South of France, so I'm used to experiencing expensive areas like Cannes and St. Tropez, but nowhere comes close to this Italian hotspot.
In saying that, we purposefully did not want to be in the heart of the billionaire's strip, so we chose a side of the lake that was far less glitz and glam and more authentic, local Italian. All while staying close enough to be amazed by the lakeside mansions and to dine in the world famous high-end eateries.
Wanting a full week in Lake Como but not wanting to fork out over €1,000 per night (only where it begins on the 'glam' side), plus having an avid hiker in our group in my sister, Michelle, we settled on the lakeside town of Mandello del Lario.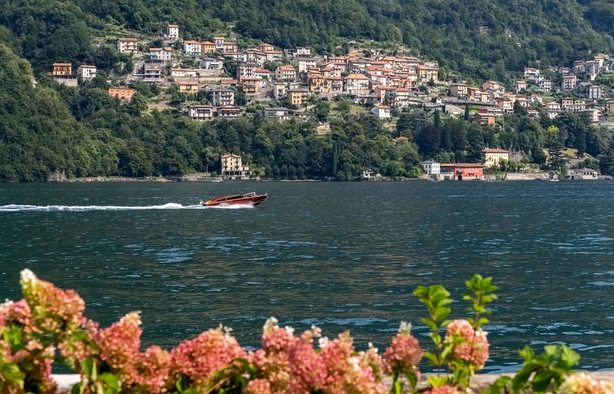 Exploring the Y
One important fact about Lake Como, that I certainly did not understand before arriving, is that it is enormous. I booked multiple renowned restaurants in the weeks leading up to our trip that I only found out upon arrival that it would take us over two hours to get to. With many towns dotted along its 146 square km coastline, there is plenty to explore.
In my head, all restaurants listed as location 'Lake Como' would be a short boat ride away, when actually we had to cancel about 90% of my reservations, due to distance. Locals also talk about the lake as being in the shape of a Y. One particular arm of the Y (the right) is the 'glam' side. This is where you will gawk over the magnificence of countless €100M+ lakeside villas, owned by such people as the Guinness family and Mr. Clooney.
We were staying at the bottom of the 'left arm', the side adored by hikers, particularly from the United States going by the most common accents we heard. Now don't get me wrong, the 'left arm' is still noticeably affluent, with legions of divine lakeside villas dotted along its stunning coast, but the opposite side is just that bit more famous for it.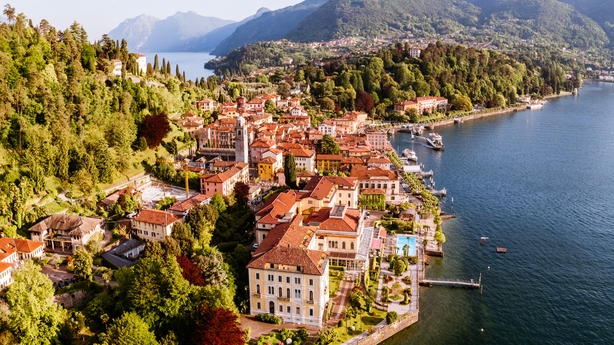 Bellagio
Our neighbouring town, a quick 10 minute drive away, was Varenna. Bellagio is said to be the pearl of Lake Como, but Varenna is the diamond. So locals say. This beautiful and quaint little Italian town, surrounded on all sides by the glistening turquoise waters of the lake, is a Lake Como must-see.
If you only have one evening: dine in one of the luxury hotels with terraces looking over the lake. Follow this with a cocktail in Bar II Molo. Hear the sound of the waves gently crash beside you while you watch the sunset behind the 'mini alps' (the nickname of the mountain range that surrounds the entire lake).
A trip to Bellagio is also considered a must-do when visiting Lake Como, but be warned how touristy and over-crowded it is. I would still go, just to experience it (it is beautiful), but the sheer number of tourists will drive you mad if you spend more than one day here.
Have lunch with a spectacular view over the lake in La Punta, followed by cocktails in the Florence Hotel courtyard. Bliss!
Rob's Lake Como Learnings:
If you're arriving with a group, it's easier to book a driver to collect you from Milan airport (just over an hour's drive). A website such as Sixt.com has a 'ride' option and makes this driver option super easy. You'll save time and spend just as much as you would on the public trains, if you're sharing.
I thought taxi boats would just be everywhere and that you could hail them from the side of the lake, like a road-side taxi. This is absolutely not the case. There seems to be very few companies who run them and they were all booked out throughout our entire week. Be sure to book ahead.
The one day we did get a taxi boat (I had prepared in advance as this was my Mum's birthday) it was €1,500 for half a day's excursion. So, simply put, it's mad money.
Adding a tour guide is crucial, they immerse you in the fascinating history of the area and even tell you which famous family owns which stunning villa. Ireland is represented through team Guinness! A tour guide for half a day is a more reasonable €250. We used lakecomoforyou.com, who booked everything for us.
The lake is far bigger than you'd expect. When I researched the best restaurants in advance I never considered the distance so be sure to put Google Maps to use.
A new rule to Lake Como (literally only from this summer onwards) is that taxi boats are no longer allowed to run after dark. This means once the sun sets you only have the public ferries to rely on. These are great but have limited services between various locations, so be sure to check the timetable.
The lack of night time boats also means if you want to venture further afield from your home for a new experience, book a lunch (always with a lake view) somewhere instead of a dinner. Meaning you can make it home before the boats stop.
For the party lover: there is not much of a night life in Lake Como. A bar looking over the lake, open until about 1am, is all you're going to get, and that's only in the bigger, busier towns. If you want to hit the club you'll need to get a taxi to the city of Como itself.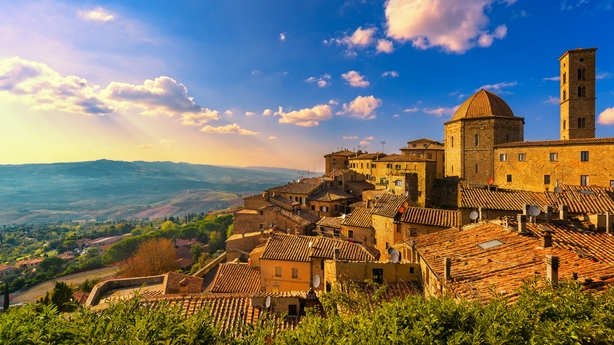 Volterra
Our next stop was to the ancient and captivating town of Volterra. After renting the smallest car we could find (as the designated driver I was thinking of those skinny Italian roads and the Italian's notorious driving), my partner and I left my family and we tackled the five hour drive to the mountain-top, mediaeval town.
We were here for one of my childhood best friends' wedding. The drive through endless Tuscan fields and vineyards before arriving to Volterra gives it the feeling that it is in the middle of nowhere, which completely adds to its charm.
We need your consent to load this Instagram contentWe use Instagram to manage extra content that can set cookies on your device and collect data about your activity. Please review their details and accept them to load the content.Manage Preferences
Higher and higher you climb the winding roads until you reach the enormous outer walls of this ancient spot. The entire town has been built with that gorgeous, pale Tuscan stone, and has a unique beauty and charm that only a town that old can boast. In fact, the historic place has had a consistent civilisation since the 8th century BC.
Walk through the town at a leisurely pace as there is so much to see and enjoy. Dinner under the grand clocktower in the Pelazzo dei Priorri is a must, as is a drink sitting outside one of the bars at the back of the small town. The walls there are not fortress-high and you can enjoy the most spectacular views, for what seems like miles below, of sprawling Italian farms and forests.
L'Andana Resort
A stay in a Tuscan vineyard resort for rest and relaxation is the perfect way to recover following three days of fun at an Irish wedding. The dream of switching off, enjoying amazing food and incredible wine in an Italian vineyard resort awaited us at the L'Andana Resort.
I had purposefully planned this, knowing we would be tired after the wedding and wanting nothing but relaxing bliss. After hours of pre-trip internet research and review reading, I chose L'Andana for the incredible views of galloping horses and rolling vineyards surrounding this celeb-favoured estate (Ralph Lauren was a guest this summer).
We need your consent to load this Instagram contentWe use Instagram to manage extra content that can set cookies on your device and collect data about your activity. Please review their details and accept them to load the content.Manage Preferences
L'Andana has thought of it all. It's big enough that you never feel on top of other guests, but small enough to leisurely stroll to everything. After checking into our beautiful room, we were so tired from the wedding we went straight to the spa.
A beautiful pool area outside neighbours a heated indoor pool and jacuzzi, which guests can use as they please. We lay here for hours reading our books and swimming - it was just heavenly. After a massage executed to a level that only a five-star hotel can boast, we changed for dinner and headed to the Restaurant La Villa.
Of course we had to opt for their very own wine, grown on the grounds (it was divine) before dining on a lobster starter and beef main that I will remember for years to come.
You can follow Rob Kenny's adventures here.