The first time I heard about the Limerick Greenway, it was on an early date with my now-boyfriend. Swapping the usual stories about our pastimes, while on the topic of running he told me he spent that first long pandemic lockdown doing his "long runs" on the still-gravelly Greenway, which cut through his home turf of West Limerick.
In the years since, we've made many a journey down to that gorgeous corner of the country, usually bookended with me – a true blue Dub – being delighted to be near real cows or on a tractor.
So imagine my joy as being able to bring him on a grand tour of aforementioned, now revamped, Greenway, while on a press trip to his literal neck of the woods.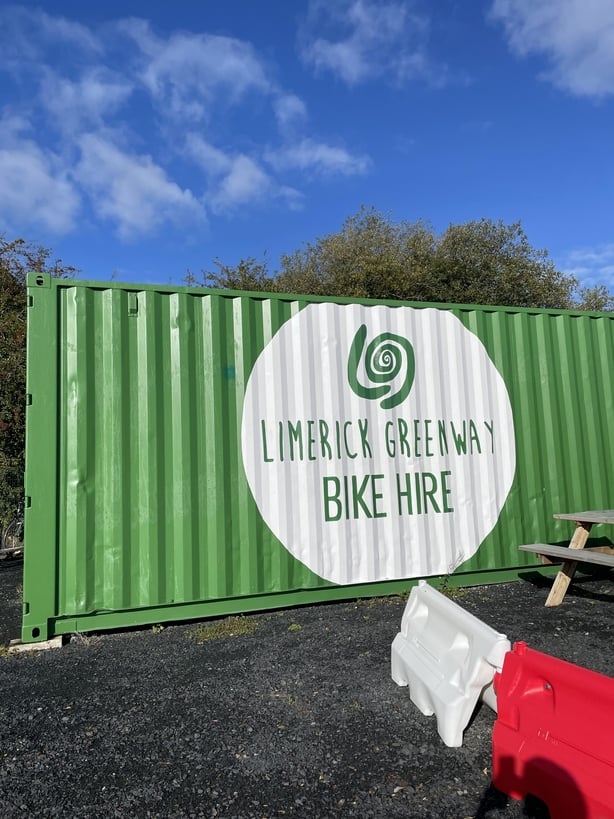 Built along the foundation of the Limerick to Kerry railway line – a monumentally significant network that played a huge role in the development of the area – the Limerick Greenway is a bucolic 40km cycling route that stretches from Rathkeale to Listowel, through tunnels carved through the landscape by the hands of Victorian labourers (and a few sticks of dynamite), and past motorways and working farms.
Feeling like I was accompanying a celebrity back to their roots, we set off on a fine October morning. Starting off in Newcastle West – a place I only know from of the stories of raucous nights out from my companion – we picked up our bikes from the Limerick Greenway Bike Hire, nestled right beside the verdant entry point to the Greenway.
We were guided by Ben Noonan, the Senior Executive Engineer for Limerick City and County Council, and Conor McMahon, the Executive Technician for Limerick City and County Council. Our first stop was Barnagh, just 10km away from Newcastle West and home to one of the many hubs planned for each stop along the Greenway.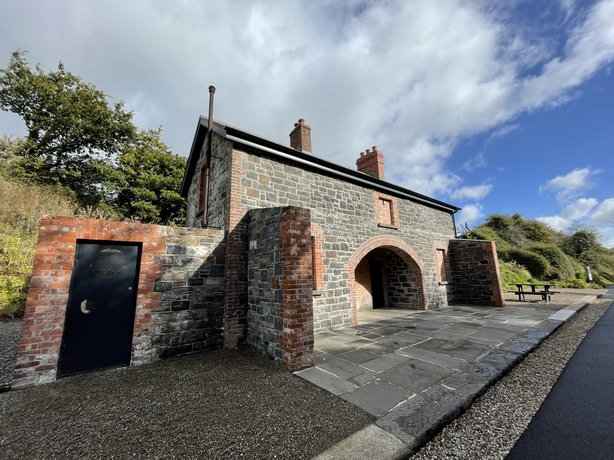 I'm not a seasoned cyclist by any stretch of the imagination, so the predominately flat and perfectly smooth path was ideal. Built with mobility and comfort in mind, the wide paths are punctuated with rest stops along the way, designed with families, elderly walkers or people with mobility issues in mind.
The 10km stretch was dotted with engineering feats, such as the cast iron Fergusons Viaduct that was built to level the railway's path and towers over acres of stunning views.
Next, you come across Barnagh Station, one of the highest train stations in the country, which opened in 1880. When work began to develop the hub, Ben tells us, the station house was all but dilapidated, half overtaken by ivy and with its slated roof buckled by time. Completely revamped, it's now a stately marker once again.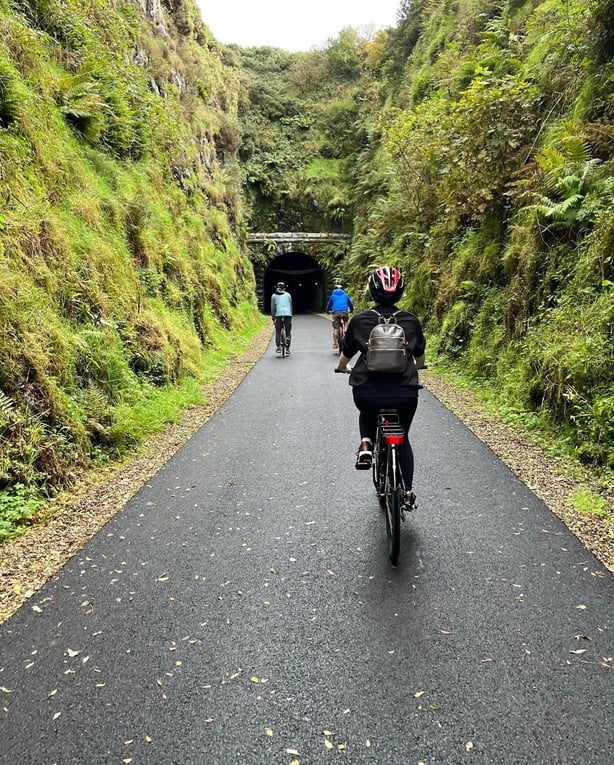 A true sight to behold, however, is the 115-metre long Barnagh Tunnel, built for the railway back in Victorian Ireland. The path gradually weaves into a moss-furred cleft in the landscape, before revealing the stone tunnel entrance. Lit from within by motion-activated lights, passing through it feels like entering a portal to the past, as marks left by the dynamite used to built it can still be spotted on the rock walls as you exit.
After roughly 90 minutes of cycling, it was time for a pit stop at the charming Platform 22 café, one of the many attractions at the Barnagh hub. Our stop was well timed as it turned out, as 30 seconds after stepping inside the café the heavens opened, making our lunch of tuna melt and a ham and cheese toastie feel especially rewarding.
Let's not forget who I was with, however, in the form of my boyfriend: a proud local who knows probably at least one person from the family of anyone he meets in Limerick. Talk turned from the football pitch he used to play on to how he'd run the Greenway track in lockdown. Before long, we were joined by his mam, who I'd invited along to our next activity.
Tucked below the café is The Painted Pot, a light-filled studio run by second-generation potter Keri offering everything from adult pottery lessons, hen party sessions, school trip classes and more. From the moment we walked into Keri's charming space, however, we all had our sights set on the pottery wheel tucked in the corner.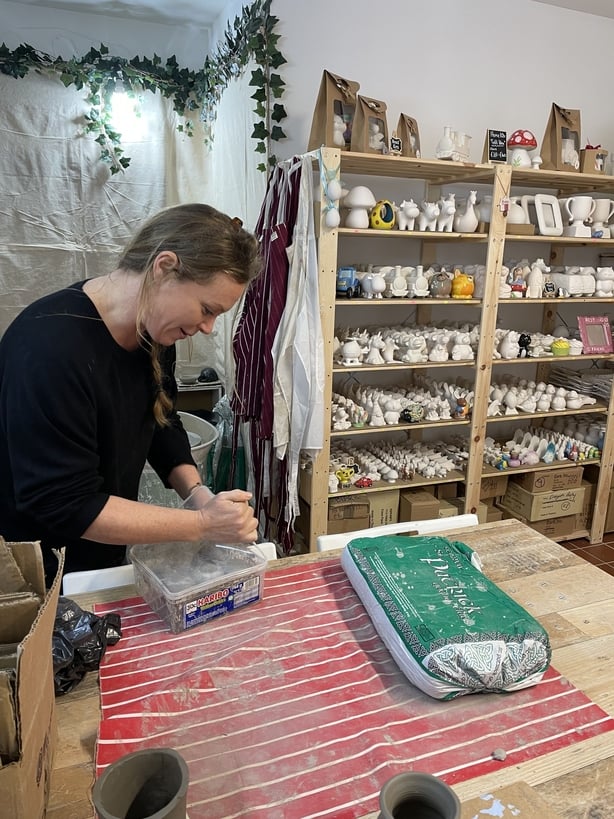 A potter for 10 years, after taking it up from her father – a professional ceramicist – Keri has a wonderful way of guiding people who are new to the craft. In a matter of minutes, she had us wrestling stiff clay into dainty bowls and cups – before one or two tumbled or tore while we got used to the wheel.
She also spoke movingly about the lessons she's gleaned from pottery: how fighting against the rigid clay can impart lessons on boundaries and spontaneity, as the clay often does what it wants. Leaning over the wheel and focusing on the power in your hands was surprisingly meditative, and I could have stayed playing with clay for the rest of the day.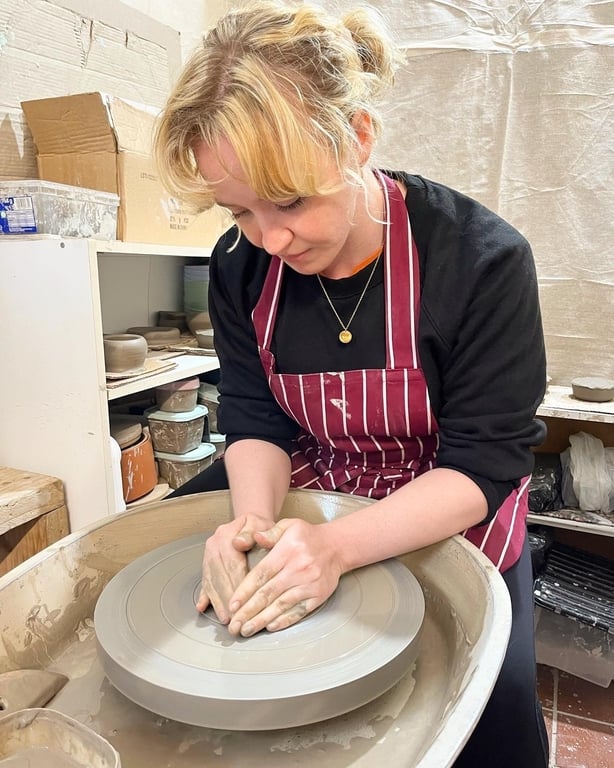 We had a journey to finish, however, and we soon set off for our next destination: Abbeyfeale, 13km away and beyond Templeglantine.
With the sun starting to descend, the October foliage looked even more beautiful, particularly as we passed through Tullig Wood, a dense forest of oak and elm trees that wouldn't be out of place in a fairytale. We arrived in Abbeyfeale alongside the station house – soon to be another hub – a striking building that once boasted an internal platform where cargo would be unloaded.
Having successfully dodged the rain for the day, we headed back to Newcastle West via shuttle bus, flushed and zen.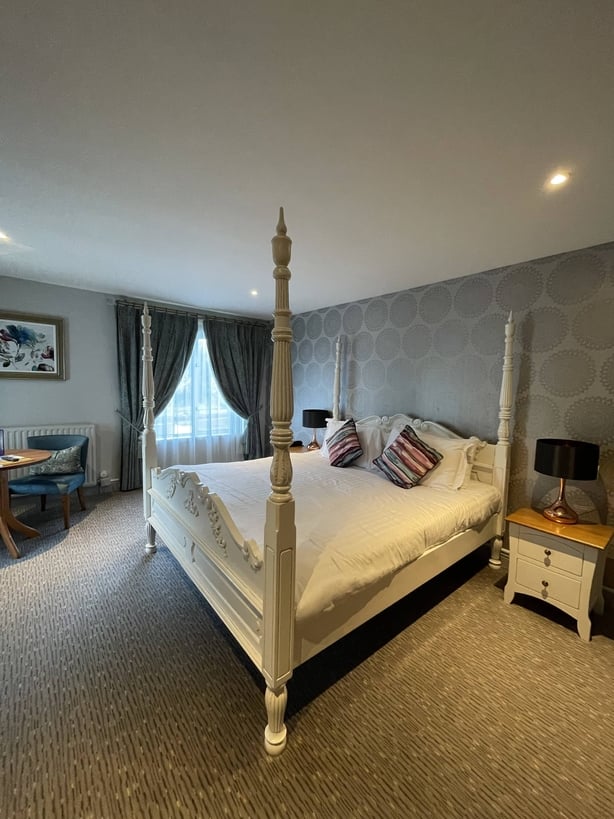 Our home for the night was the Longcourt House Hotel in Newcastle West, located barely 20 minutes' walk from the Newcastle West Limerick Greenway access point and an ideal hub for would-be Greenway travellers. After a long day cycling and dodging the rain, it was a joy to come back to a massive bed and a waterfall shower – though the bath was calling to my tired muscles, too.
But first, a well-deserved dinner. We headed down to the hotel's Chasers restaurant where we were met with a bustling group of diners and delightfully massive portions. I went for duck spring rolls and a chicken burger, while my boyfriend had the vol-au-vent and a steak, all of which was delicious.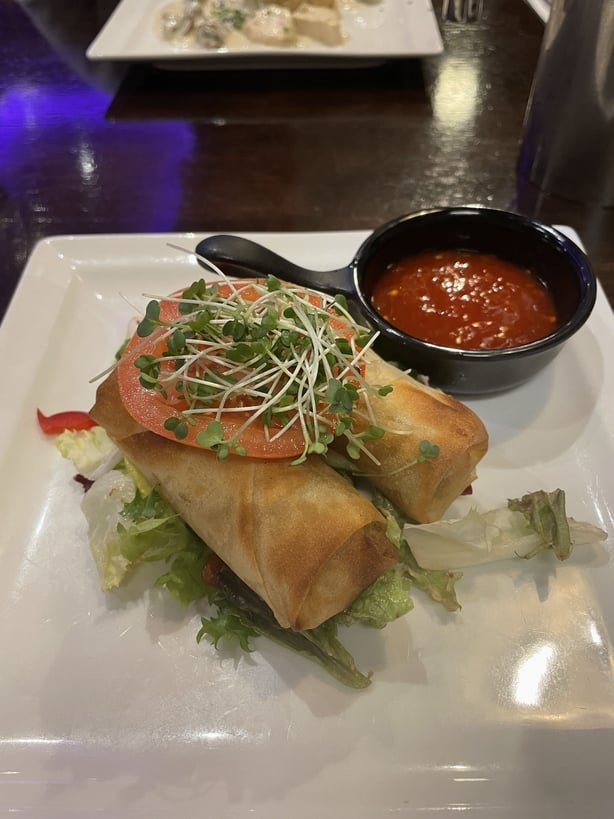 Our jaunt through West Limerick ended with a breakfast in Chasers the next morning, before we headed back to our usual spots. To know about them, however, you'll have to get your own insider.
The details:
We travelled for the purpose of review as a guest of Limerick Greenway. If you need inspiration on where to go and what to do, visit www.limerickgreenway.ie.
We stayed in the Longcourt House Hotel, where a Deluxe Room starts at €105 a night. Meals were covered, as were accommodation and activities.
The Painted Pot offers pottery painting sessions starting at €15, while adult clay making workshops cost €25 per class. For more information on activities, click here.
For information on bike hire prices, click here.
For more staycation reviews, check out 48 hours in Monaghan, 48 hours in Dublin, as explored anew by a local or 24 spectacular hours in Donegal.