It feels ludicrous to say that Adare Manor feels like home, but no one is more surprised than me.
It's not that I was to the manor born, far from it. Rather, the iconic five-star hotel manages to feel like both a grand estate and an intimate home thanks to an ambitious renovation and a savvy design quirk.
Don't be fooled, the trappings of luxury are everywhere: from the shimmering chandeliers in the bedrooms, to the pristine white tablecloths in the Michelin-starred restaurant, The Oak Room. Ornate and expressive floral arrangements top every table, and the hotel itself smells perfumed. It is everything a 5-star hotel should hope to be.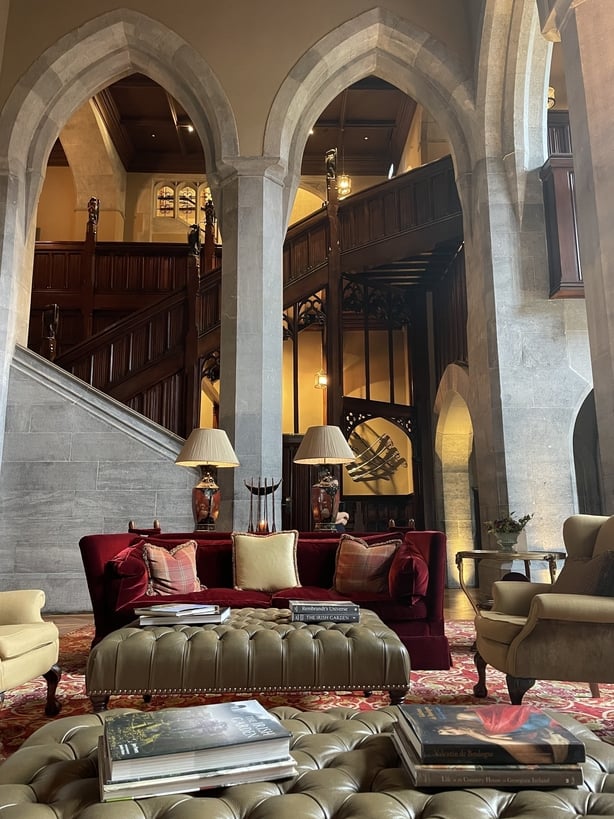 But walking past its plush couches, roaring fires and families eating together, it's hard not to feel a bit... at home.
This, I'm told, is down to a design vision. Instead of a hotel interior designer, a home interiors expert was brought on board to revamp the hotel. For one of the most coveted hotels in the country, it does feel pretty cosy.
After an 18-month renovation and the various stops and starts of the pandemic, it feels like Adare Manor is finally hitting its stride, and when I visited recently the hotel was abuzz. I was invited to the Manor to experience both a meal in The Oak Room and the hotel's new Padel Club, the first of its kind in Ireland. Recruiting my boyfriend, we set off.
Driving onto the rolling estate – measuring 840 acres, roughly the same size as New York's Central Park – we were greeted by charming and warm staff. From the get-go, no need went uncared for. The car was parked for us, our bags spirited away up to the room. We barely had to think for ourselves, which was firstly, bewildering and secondly, quite nice actually.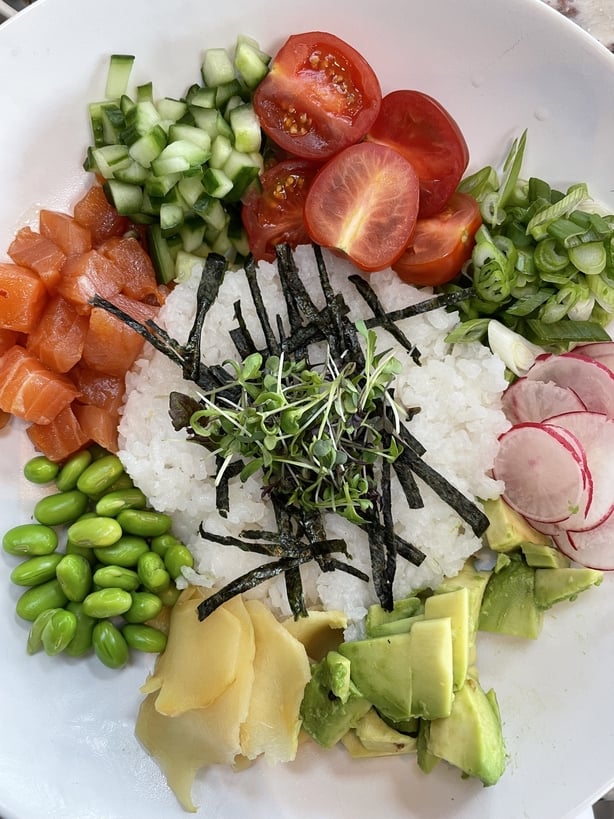 First up was lunch in The Carriage House, the elegant restaurant just a few minutes' walk from the main building. With a focus on fresh and local ingredients, it was an ideal introduction to the fine food at Adare Manor.
We were told to save plenty of room for dinner later, so we opted for some light bites: a burrata and parma ham salad, and a deconstructed salmon poké bowl.
Next, we explored the rolling grounds and neo-Gothic building. Nods to the Dunraven family, who built the original manor in the 1830s, were everywhere, from the raven carvings adorning the dark wood staircase to the pet cemetery under a tree, which only added to the feeling of staying in your rich relative's lavishly cosy abode.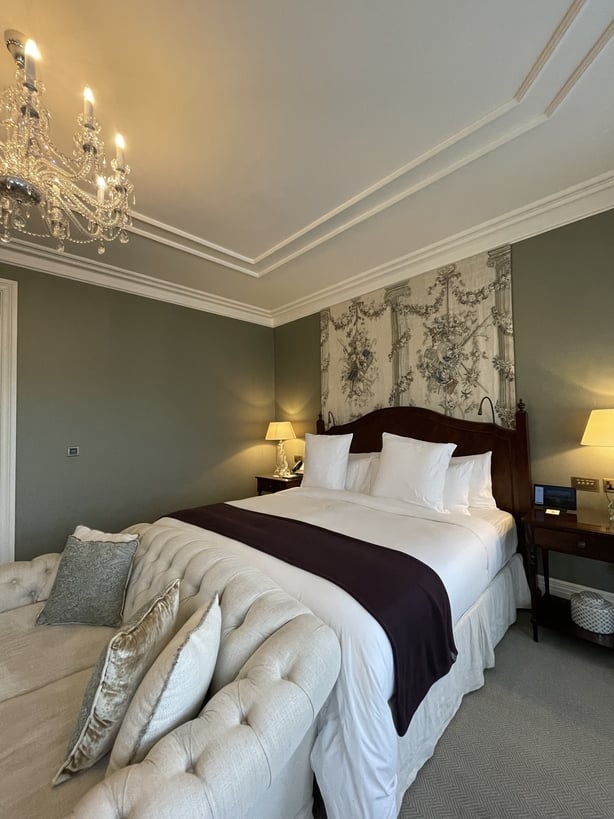 Our room – overlooking the River Maige – was just as opulent, with Georgian-inspired furniture, a plush double bed four pillows-deep, a crystal chandelier and intricate tapestries on the walls.
The majestic bed was already calling to me, but we had a Michelin-starred meal to experience.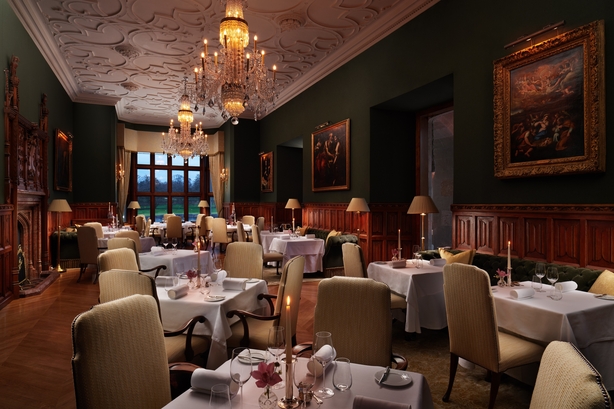 The Oak Room, led by chef Mike Tweedie, was the first Michelin-starred restaurant in Limerick, and has retained its star for yet another year with good reason.
With a focus on local produce and a small number of ingredients on each plate, it's renowned for its understated and varied creations.
We went for the Signature Menu, though diners can also choose from the seasonal Market Menu.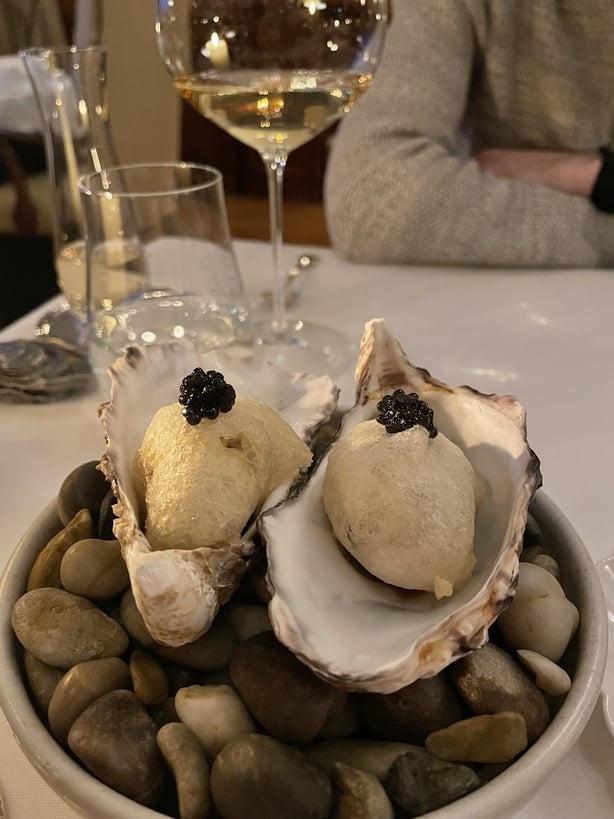 Canapés of tempura-battered oysters, trout tartlets and cheesy choux buns were the first to arrive, and that first bit of crisp oyster might have been my favourite of the night.
Next came the duck liver terrine with chamomile and Sauternes jelly, micro-diced and nestled against the terrine. This was an unexpected flavour bomb of a dish, moreish and interesting, and with an irresistible laminated brioche served on the side that you are encouraged to tear into.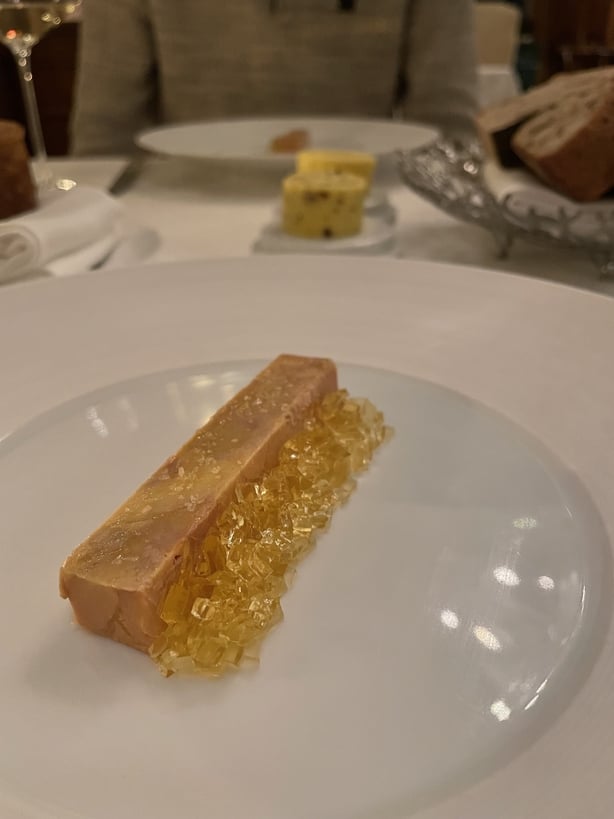 It was at this stage that my boyfriend whispered over the table, "I'd love to see what the kitchen is like right now".
I cooed in agreement, took a sip of my drink and looked up to see one of the servers heading to our table. The chef, she told us, had "prepared a surprise" for us in the kitchen, and so came the five longest and giddiest minutes' wait of my life.
See? Every wish catered for.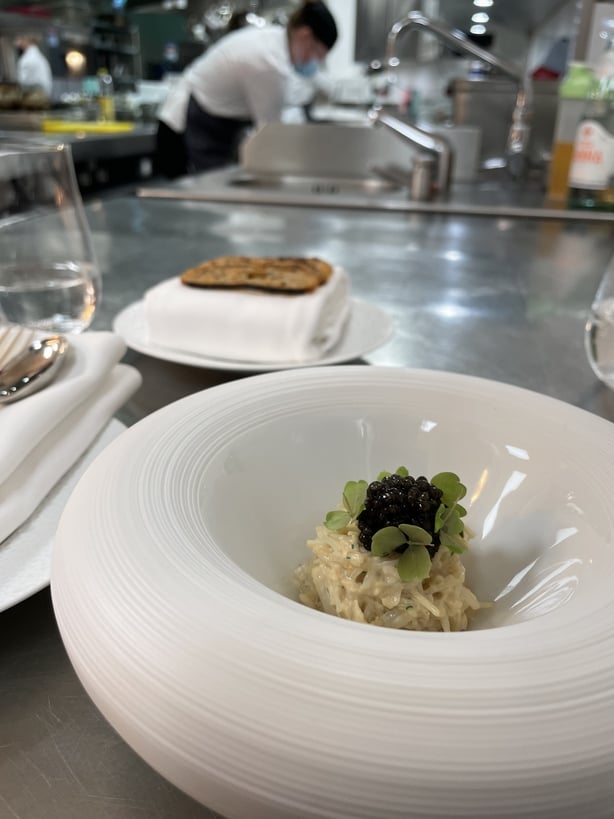 Chef Tweedie greeted us with a fist bump in the middle of his very calm kitchen, where he'd prepared two plates of Doonbeg crab with potato, lemon and caviar. It was the highlight of an already unforgettable meal, and a testament to the team's skill and composure that they kept working as usual.
Back at our table, roasted turbot in champagne sauce and beef cooked in a sous vide of rendered beef fat were the next two courses, followed by the arrival of the cheese trolley – an old-world wooden cart handmade in Kerry for the restaurant. We sampled as many as we could fit in, knowing more courses were awaiting us.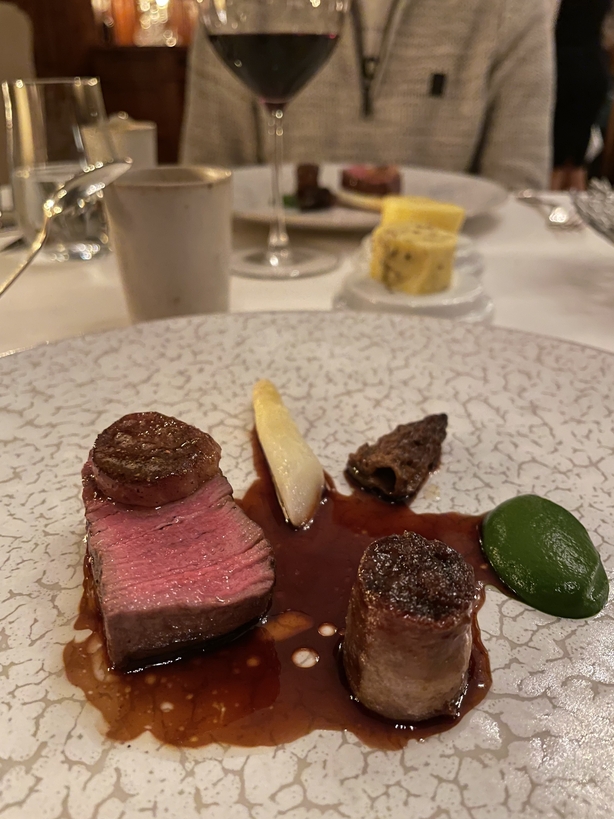 A palate cleanser of rhubarb, white chocolate and yogurt was next, before a sumptuous dessert of crisp lemon tart, lemon sorbet served over frozen creme fraiche and the "Jaffa cake", a praline and chocolate mousse confection with a tart orange centre, topped with gold leaf.
After an espresso and some petit four, we figuratively, if not literally, floated out of the oak-lined dining room and headed to The Tack Room bar, located in the atmospheric stone basement for some post-dinner cocktails, by the smouldering fire.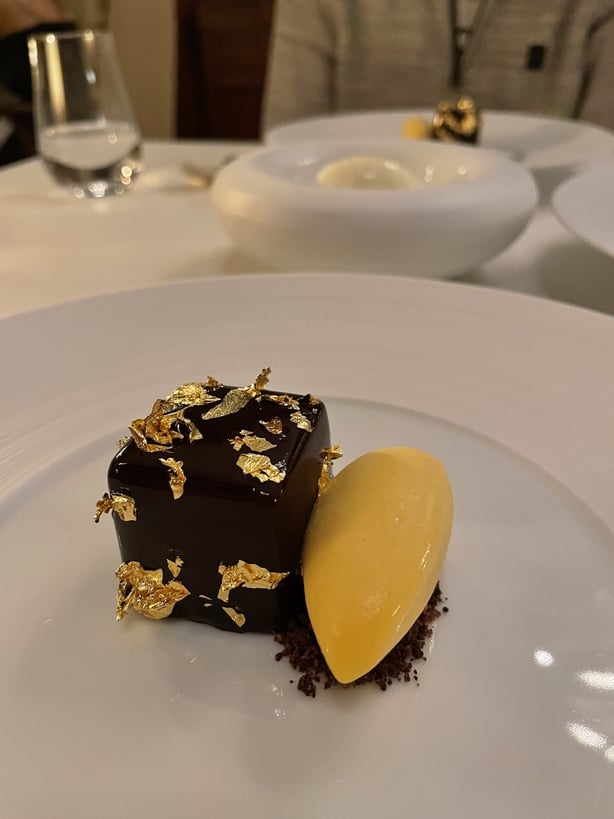 Breakfast the next morning was served in the jaw-droppingly beautiful Gallery, before a trip to the state-of-the-art Padel Club. Located in a slick minimalist building constructed from natural materials (Dermot Bannon, eat your heart out), it blends into the thick woodland.
Among an interactive virtual golf course, a pool and a Goop-worthy yoga studio is the Padel Court, where guests can try their hand at padel tennis.
The rules are the same as tennis with some differences: the court is a third of the size of a tennis court, the padels are lightweight microfibre and the court is backed with reinforced glass to be used like squash.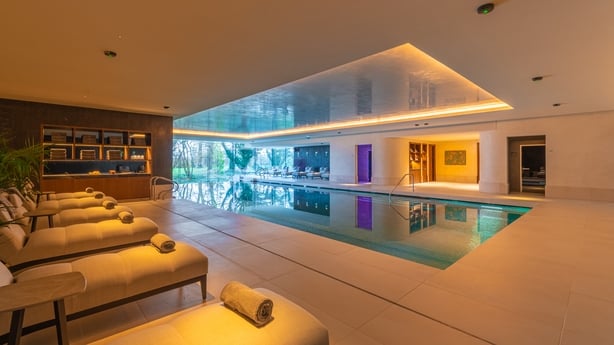 The game is a popular second-day of a wedding activity, and it's obvious why: nothing says "I'm not hungover, you're hungover" better than flaking a ball at each other. Followed by a dip in the pool, we felt like two big kids just back from a day in grown-up play school.
Our magical trip was rounded off with a final foodie feast in the Drawing Room, where we opted for a Caesar salad and ham and cheese sandwich on tomato bread, followed by yet another cart: this time a pastry trolley. We ended our trip with a pastry that seemed to sum up the Manor at large: an apple and custard tartlet, homey comforts on a spectacular scale.
The verdict
A trip to Adare Manor is never going to be a casual staycation. For many, it's at the top of their bucket list, a destination so opulent and lavish that it's worth waiting for. I'm happy to report that even if you are waiting a while to get there, you'll be greeted like an old friend coming home.
The details
We stayed in the Adare Manor, Co. Limerick, for one night, as invited guests for purpose of review. We stayed in a State Room, breakfast, an evening meal at The Oak Room and lunch in The Drawing Room covered.