With four kids, anywhere with less than ten 'are we there yet(s)?" or "how much further is it?" is a win for me. As a parent, car journeys and restaurants are my two big pressure points. Both can be enjoyable (particularly when the kids are quiet) but with four boys, both have the potential to kick off at a moment's notice and it's that unpredictability that keeps me on edge - stick to the speed limit but gobble your food as fast as you can.
Thankfully, Clare – a potentially peaceful 2.5-hour car journey from Dublin – was our destination and our first post-lockdown staycation as a family of six to the Wild Atlantic Way.
You see, we had a baby in the midst of the pandemic last year. Another boy. That makes four. There's something in the water. He's a chilled out smiley little fella, so much so that we called him Jasper, Jolly Jasper. But chilled out or not, babies come with gear, lots and lots of gear.
So packed into every spare inch of our car – the kitchen sink didn't make it this time much to Mrs. DD's despair – we hit the road for Ennis, to explore a county that we didn't really know all too well.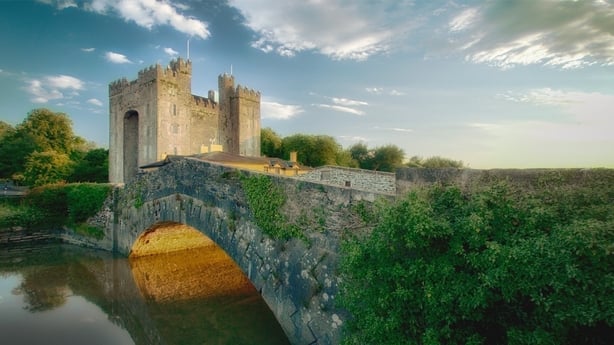 Our first stop, and every school tour's favourite, was the 15th century tower house, Bunratty Castle, a place I hadn't been to in 30 odd years – not since my dad brought us to one of their banquets (they're great by the way) and got locked up in the dungeon and had to sing his way out. I remember it so well, mainly because my dad sounded like a dying crow.
But alas, with Covid-restrictions limiting indoor banquets, this time we did a self tour of the castle followed by the folk park, all 26 acres of it, which was a brilliant way to spend an entire afternoon as a family. There's so much to see and do whether it's experiencing village life in 19th century Ireland, visiting the pet farm, following the fairy trail or playing at the Viking playground.
We certainly didn't anticipate how much there was to do there and having arrived later than we would have liked, could easily have spent another two hours exploring the park. It's definitely one for us to visit again and brilliant for a family day out.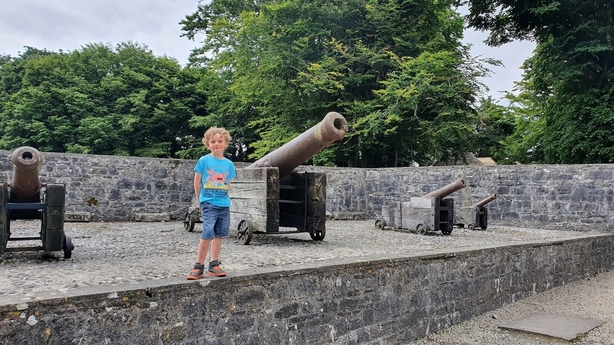 Our home for two nights was the lovely Old Ground Hotel, set in the heart of Ennis. It's a restored 18th century manor house which oozes history and charm, and with a new outdoor area to the front of the hotel – a consequence of the pandemic – there was a real buzzy atmosphere about the place.
In fact, Ennis as a town was buzzing. Lots of the streets have been reconfigured to make it more pedestrianised, and that, combined with lots of places open for outdoor dining and drinking makes for a very lively and welcoming town.
We had a family room – 2 double beds, one single bed, a cot, 2 couches and TV – which was perfect for our needs. That evening we ate in the hotel's Town Hall restaurant. The food and service were all excellent and with two severe nut allergy kids in our party, I can't say enough about how attentive and understanding the staff were. They made it easy.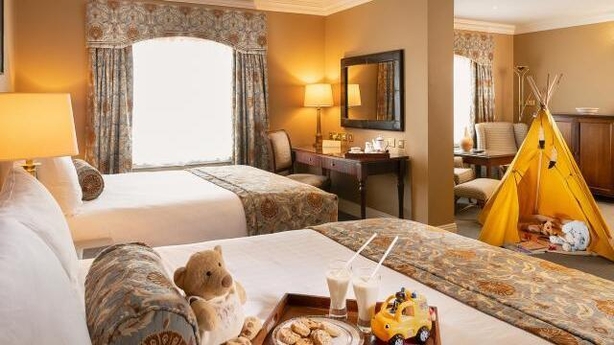 For starters myself and Mrs. DD had fish cakes and deep fried brie respectively, followed by slow cooked lamb shank, sirloin steak and polished off with an Eton mess and an Oreo & Baileys cheesecake. Lots of people on my Facebook page had told me how good the food was in the Town Hall and I have to say it was absolutely delicious. I was an Eton mess rolling out of the place but thankfully Jasper's buggy held my weight.
The kids' menu was also very good and with the promise of dessert – included in the price – it guaranteed that all food was demolished before the promise of ice cream.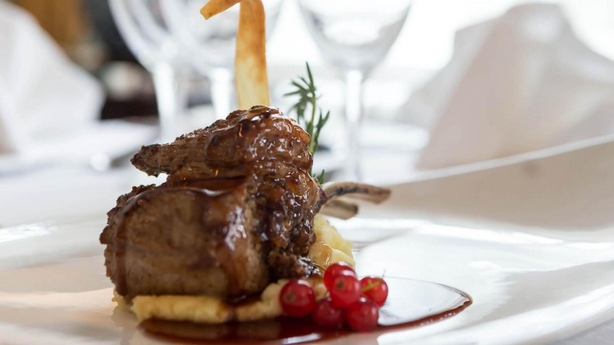 The next morning after a lovely breakfast – again compliments to the very friendly staff for remembering the nut allergies – we headed for the Cliffs of Moher. En route, approximately five mins from the Cliffs, we stopped off at Moher Hill Open Farm where you can get up close and personal with animals ranging from ostriches and alpacas to emus, llamas, horses and lots more.
It was a great way to spend a couple of hours meeting, greeting and feeding all the friendly animals and again, I'd highly recommend it for a family. Our boys had a ball.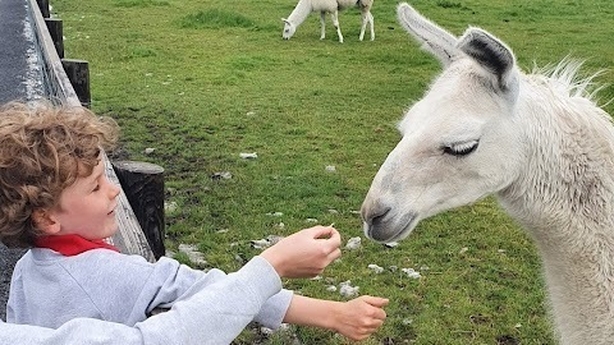 After a couple of hours spent at the Cliffs – they're cliffs, I'll move on – we headed back to the Old Ground for a pre-dinner cocktail in the outdoor garden followed by another delicious dinner of Asian-style slow roasted pork belly, grilled hake on creamy crabmeat, stuffed roasted chicken wrapped in pancetta, warm apple tart (you can't beat a classic) and a raspberry and chocolate torte. I'm salivating just writing this.
Once again, we couldn't fault any of it and I can't speak highly enough of the very warm, friendly and knowledgeable staff. They were excellent and everybody in the hotel really made us feel welcome.
I'd highly recommend the Old Ground both as a family or couple's escape. The food was excellent, the staff were second to none and it was a brilliant place to base ourselves while we explored the surrounding area. We will definitely be back.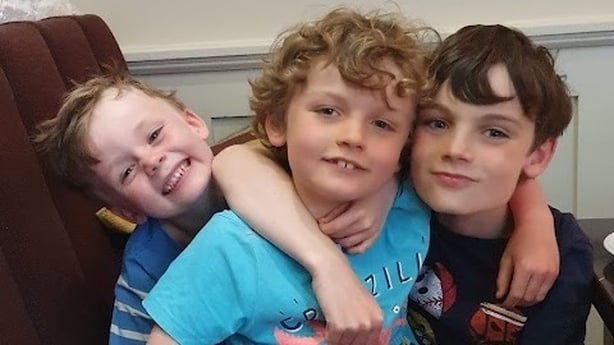 The next day, with heavy hearts, or in this case a heavy belly, we checked out and headed for Doolin with blue skies and 28 degree heat melting our pasty bodies. Our first stop was the Ailwee Cave & Birds of Prey, the latter a dynamic flying display set against the dramatic Burren Landscape where visitors can interact and get up close and personal to the birds such as eagles, vultures, falcons, hawks, and owls from all over the world. It was very well done, and our boys absolutely loved it.
Following this we headed for the depths of the famous Ailwee Cave where a much welcome 10 degree heat soothed our Factor50 farmers tans for a 35 minute guided tour. This too was very good and although not buggy friendly, the tour is short enough to carry a baby and has five scheduled stops along the way.
The highlight was having all the lights turned off and being in complete darkness never for your eyes to adjust. My wife seemed somewhat disappointed to see me still standing there when the lights came back on…maybe the darkness got to her, I don't know.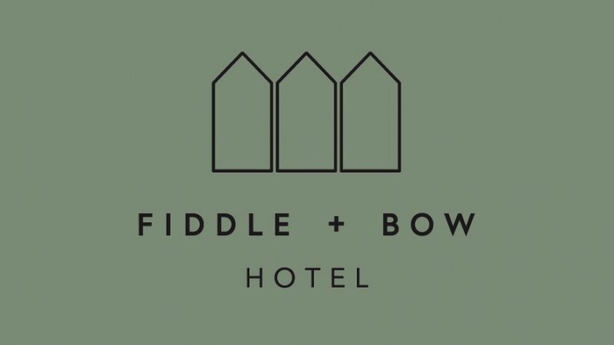 A further 30 mins down the road we reached Doolin and checked into our self catering lodge on the grounds of Fiddle & Bow, a small yet unique hotel nestled in the heart of the village. Fiddle & Bow opened in May 2019 and like many establishments in the hospitality industry, they've experienced a hard time during the pandemic. Staff have left, new staff are hard to come by and keeping business afloat has been tough.
But with challenges come new ideas and new ways of doing things and as a result, Fiddle & Bow created a very cool festival-esq outdoor space consisting of hay bales, tents and festival lights which sets it apart from its village peers.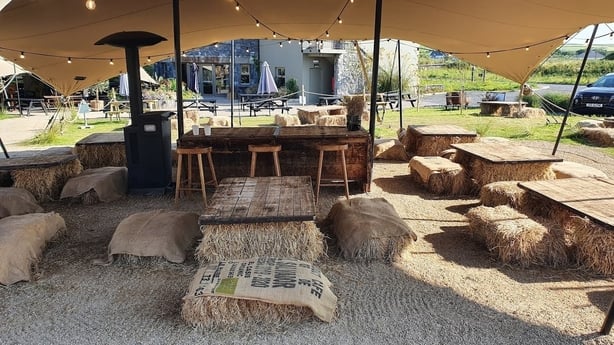 Our lodge was big and spacious and very well laid out – large kitchen, large sitting room, downstairs toilet, three bedrooms (one en suite) and a family bathroom – and absolutely perfect for this family of six. We had ample space and each lodge is located within a minutes' walk of the hotel which is ideal.
That evening we ate in Russel's Bar & Restaurant which is situated onsite and once again the food was excellent. Their new menu, curated by their award-winning chef, Viv Kelly, is small and simple and features Goan fish curry and seafood bouillabaisse as seen on RTÉ's Neven Maguire's Irish Seafood Trails. Mrs. DD had fresh fish and chips while I had the fish curry which I'd highly recommend if you're visiting.
For the kids, smaller portions from the main menu were available and our kids loved it.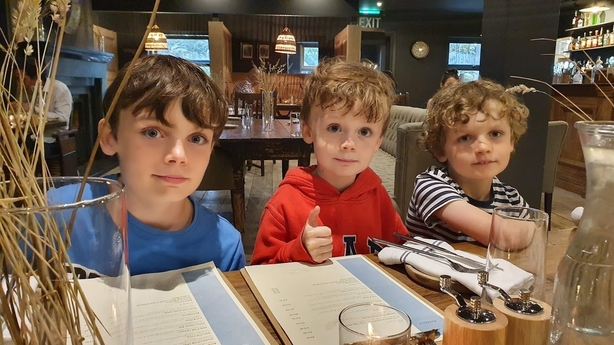 After dinner we enjoyed some refreshments on the hay bales, under the tent while cool Bossa tunes (and the kids) played in the background. Fiddle & Bow's onsite cargo container – again a result of the pandemic and originally based in Ennis – serves a selection of drinks but also doubles up as a breakfast bar for morning grub. It's a cool setup with a relaxed vibe and I couldn't help but think how great it would be as a unique wedding venue.
The next morning, after ordering a selection of breakfast options from the 'van' – breakfast muffins, pancakes, overnight oats, scones – we headed for Doolin pier to get the 11.45 Doolin2Aran Ferry to the fabulous Inis Oirr.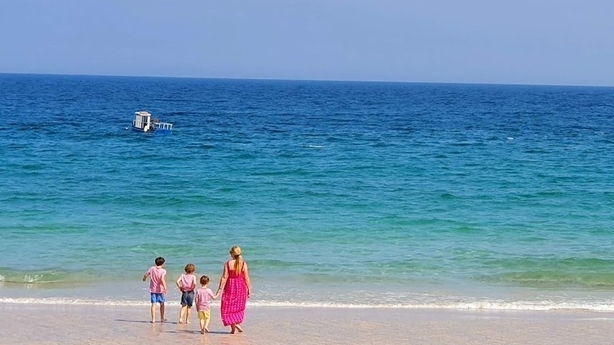 Wow is all I can say about it. With clear blue skies and baking heat, the white sands and turquoise water resembled something from the Caribbean. The Wild Atlantic Way is right, It was incredible.
We swam, we played, we watched Jasper eat his weight in sand and myself, Freddie (9) and Reilly (7) rented bikes and cycled around the island. It was glorious and if the weather is good I'd highly recommend it to everyone.
Note: if you're going as a family, I'd suggest bringing a packed lunch or picnic as there aren't many food options available and the local shop is a bit on the expensive side.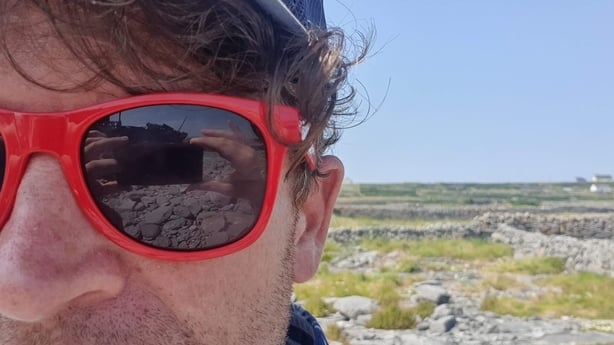 That evening after catching the ferry back to Doolin we headed for dinner in Fitzpatrick's Bar, a lovely gastro pub with good food and a great atmosphere. They also have an indoor pizza restaurant attached to it but with Jasper nearing his sleep time and the potential of a dirty protest in the buggy – him not me – we opted for the less stressful option of outdoor dining. We all had fresh fish and chips and once again, no complaints, it was delicious.
Like the previous evening, with full tums, we strolled back to Fiddle & Bow for a night cap under the tents to round off a brilliant day and a brilliant few days in Clare.
The next morning, after another lovely breakfast, we headed for Caherconnell Stone Fort & Sheep Dog Demonstrations to visit a medieval stone ringfort followed by a brilliant sheep dog demonstration by John, a veteran farmer of 50 years. Our boys loved both but especially the sheep dog demo where they got to command the dogs themselves. It was something totally different and I'd highly recommend it for a visit.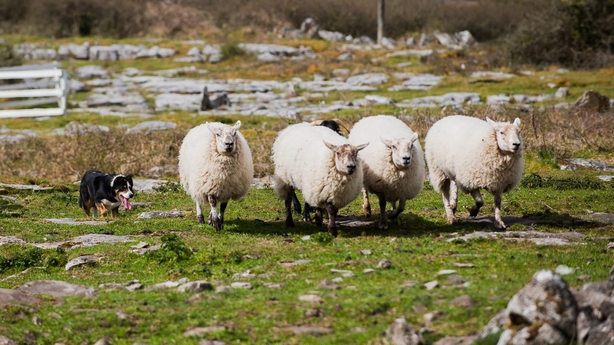 So there you have it, the 'Banner County', beautiful. So much to do, so much to see, so much to offer and so much more to discover. We could easily have spent another week there. The people were so friendly, so chatty, so chilled back and especially loved a laugh. The customer service wherever we went was brilliant. I honestly have nothing but good things to say.
The exceptional weather - which will no doubt be spoken about in Ireland for the next 50 years - made it even more enjoyable and it was great to see the hospitality industry gradually making its way out of the shadows of Covid. The boys are already asking when we can go back.to the Wild Atlantic Way
Clare, we fell in love with you.
DD
Location: Ennis
Location: Doolin:
I was a guest of The Old Ground Hotel in Ennis & Fáilte Ireland in Doolin, the latter whose 'Keep Discovering' campaign is encouraging Irish people to experience the joy of discovering the many hidden gems that Ireland has to offer. If you need inspiration on where to go and what to do, visit discoverireland.ie
This domestic short break has been in accordance with Fáilte Ireland's health and safety policy relating to Covid-19 Government guidelines.
---
For more reviews, tips and parental anecdotes follow me on:
| Facebook | Instagram | e: digitaldad@rte.ie |