Lockdown has made us all more appreciative of what we have around us, whether that's the small park near your house, the coffee shops nearby or the familiar faces you see day in, day out.
And in a 5km radius (which has just lifted), you become even more grateful for what you have around you. For many people it was the perfect excuse for exploring their neighbourhoods. For Taryn de Vere and Nadine Reid, two friends living in Donegal, it was their chance to show off the beauty of their home county.
Teaming up with Donegal cameraman Kevin Dooher, who runs the popular Instagram account @TheWildAtlanticTraveller, they filmed a cheery video of Ramelton, a quaint and beautiful town in their 5km.
We need your consent to load this YouTube contentWe use YouTube to manage extra content that can set cookies on your device and collect data about your activity. Please review their details and accept them to load the content.Manage Preferences
Taryn, a writer and artist originally from Australia but living in Donegal for 15 years, and Nadine, a plus size model and presenter originally from Birmingham, have both adopted Donegal as their home and were eager to entice visitors to the county. They also believe in making the most of where you call home, hoping to inspire others to do the same.
We caught up with them about how they dreamt up the bright and fun video and what they love most about their home.
What inspired the video?
N: Being friends with easily the most colourful woman in Ireland, Taryn de Vere! Plus it seems wrong to not share this beautiful place with the world. At the same time, I wanted to get to know my new wee hometown, Ramelton, Donegal as fabulously as the lockdown restrictions allowed.
T: Nadine and I have so much fun whenever we get together, we started making silly videos together and then hatched a plan for a Taryn and Nadine do Donegal series. Nadine found us a fabulous co-conspirator in Kevin Dooher, our wonderful cameraman and we spent three exhausting but hilarious days filming – the rest is history.
Why do you feel it's important to encourage people to explore lesser known parts of the country?
N: Ireland to me has been a magical country in many ways. Secret beaches, waterfalls, outstanding views, alpacas. The gems are often not too far from your front door.
T: Ramelton often gets overlooked as so many people see if as just a town you drive through to get to Rathmullen or the beaches of Fanad head – but Ramelton in itself is a quirky wee village with so much going for it, we actually couldn't even fit everything into our video.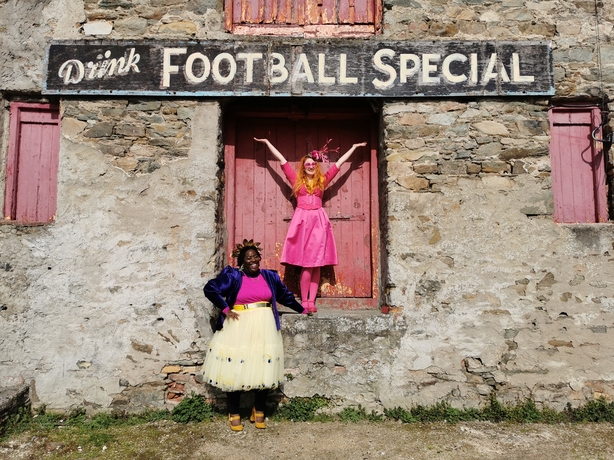 Did you gain a new sense of loving where you're from after going through various lockdowns?
N: I have been a city woman for four decades now. But I did visit my Granma growing up in the Jamaican countryside where as a child I would kick my shoes off and catch chickens. So moving to Donegal has a little feeling of coming home to my Granma's parish Clarendon, Jamaica, but with a different weather climate.
T: I discovered places I didn't know about! I think there is a tendency to take the area you live in for granted a bit, but actually, Ramelton has the best of all worlds. A beautiful river, lovely beaches, old ruins to explore, a waterfall, and enough bohemian shops and gourmet food eateries to keep even a city slicker happy (for a while anyway!)
Your outfits are incredible in the video, did you both plan them to suit each other?
N: Sometimes, Taryn asks me what I'm wearing and she dresses to compliment my look as I don't have as big or colourful wardrobe as Taryn does. But sometimes we just arrive co-ordinated!
T: There was a little bit of chat, I have a huge amount of clothes so we worked around Nadine's wardrobe more than mine. Our main goal was to be as fun and colourful as possible for the videos (though that is how I dress on an average day anyway). We almost have a rule when we meet up that we each have to have something on our heads, it's a strange basis for a friendship but it works for us.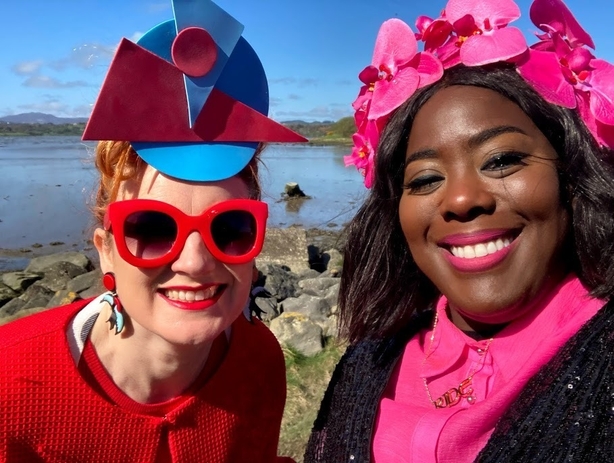 What is your favourite spot in Donegal?
N: I am so excited to visit the whole county of Donegal, every day a new town, beach or castle is added to my growing list. My first Donegal love is Slieve League, the sea cliffs took my breath away. I also love sitting outside my garden in Ramelton, having my morning cups of tea, looking at the mountains, sea, beaches, sky, and cows in the field.
T: I love Marble Hill beach, there's something magic about it, but there's also a few secret beaches I'm fond of but I won't be giving away where they are (you'll have to watch more of our videos to find out that information).
*Government guidelines currently dictate that you can travel within your county or within 20km of your home if crossing county boundaries. Please check gov.ie for more details.