Having already explored the best hike spots and viewpoints in Ireland, Go Outside and Play presenter Carl Mullan has decided to go further afield, taking on the Arctic Circle. Here, he explains why it might be more achievable than you think.
Our series Go Outside and Play was all about showing off some of Ireland's hidden gems. So it's in that spirit of best kept secrets that I want to tell you about a trip I took to Norway this month. What an eye-opener to somewhere you should definitely consider putting to the top of your travel hit list – especially if you're up for an adventure.
Now the first thing you're likely to hear from anyone the moment you tell them you're thinking of a trip to Norway is: "I've heard it's fierce expensive there".
And with that, you park the idea of Norway and start looking at other potential destinations. I was in this cycle for years until last month when my girlfriend surprised me with the trip there for my 30th Birthday.
We need your consent to load this Instagram contentWe use Instagram to manage extra content that can set cookies on your device and collect data about your activity. Please review their details and accept them to load the content.Manage Preferences
Over seven days we managed to hit three cities: Oslo, Bergen, and Tromsø.
Oslo and Bergen need no introduction and a quick Google will show you that they are absolutely worth the visit if you have the time. But with my editor standing over my shoulder, it's our three days in Tromsø that I'm really here to talk about.
Breathtaking scenery, incredible drives, the Northern lights, this was the type of trip I had previously thought was only possible with buckets of cash and by travelling to the other side of the world. In the context of the globe, this trip is right on your doorstep, and let me tell you, it's the trip of a lifetime.
We need your consent to load this Instagram contentWe use Instagram to manage extra content that can set cookies on your device and collect data about your activity. Please review their details and accept them to load the content.Manage Preferences
Here are my top ten reasons why you need to get Tromsø to the top of your holiday hit list:
10. Tromsø itself
This is not your average city – and, no, I had never heard of it before either. After a bit of research, I found it on a map towards the tip of Norway. It turns out that Northern Norway is, well, a lot further North than you might expect. Tromsø itself sits comfortably inside the Arctic Circle.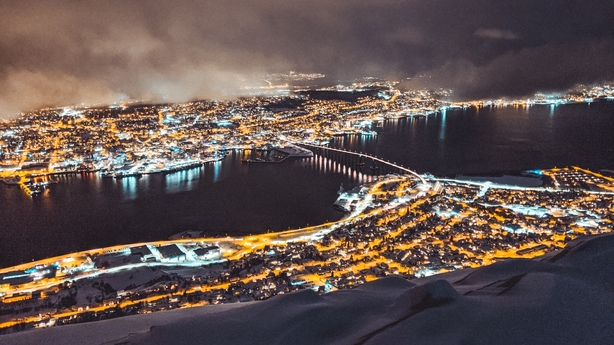 Sometimes known as "the gateway to the arctic" it's a small island that you can use as the epicenter of your adventure. Start in Tromsø, point yourself in any direction and you're going to find somewhere, or something incredible. Within the city itself, the Arctic Cathedral and Fjellheisen Tromsø Cablecar are two highlights.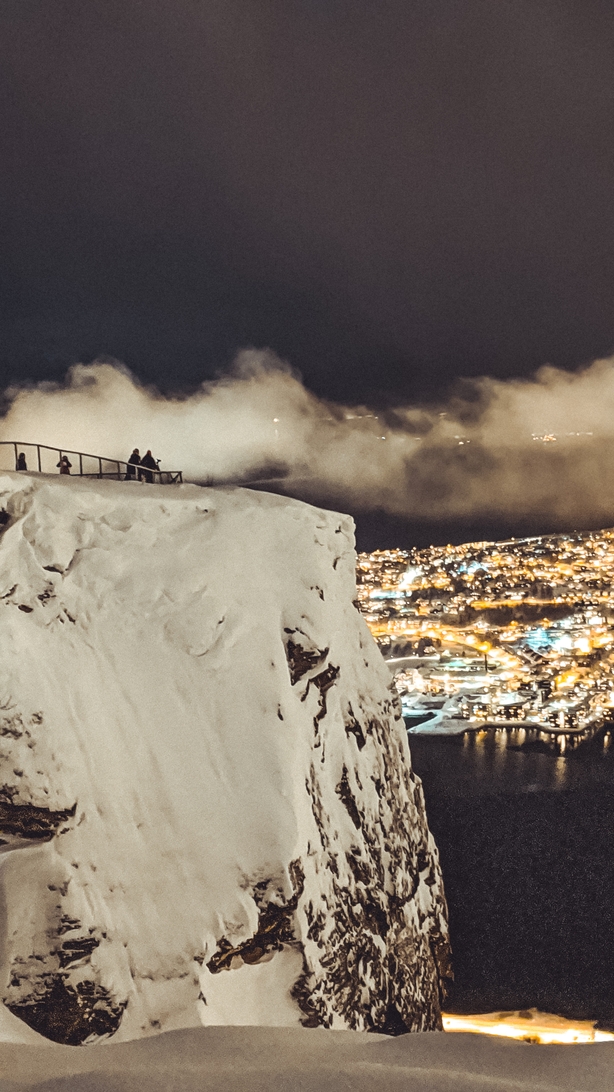 9. Great options when it comes to accommodation
If you're looking for a hotel stay, there are plenty of great places to choose from. If you're looking for something a little different, however, the choices are endless. From homestays to camping, the Tromsø area has some beautiful and unique holiday options.
Fancy a cabin that looks out on a fjord and the towering snow-covered mountains? No problem. Want a campsite with breathtaking views in every direction? Again, so many to choose from. Or if you're like us you might settle on killing two birds with the one stone and combine your transport and accommodation in one.
For our holiday, we rented a small campervan with The North Wagons. The van itself was fully kitted out with anything you might need - a bed in the back, sleeping bags, duvets, cooking facilities, camping chairs, and a socket to charge your phone/camera. It even had a mini tripod for you to use for taking photos (especially handy if you manage to catch the Northern Lights – we'll get to those later).
If you're travelling in the winter, it also comes with studded winter tyres that make the van feel like it's driving on bone dry, sticky tarmac. They really are that good! With the rental, you also get everything you'll need to keep you warm – a winter suit, snowshoes, and a separate diesel heater for the back. The company will also come to the rescue at any time if you do find yourself in any difficulty.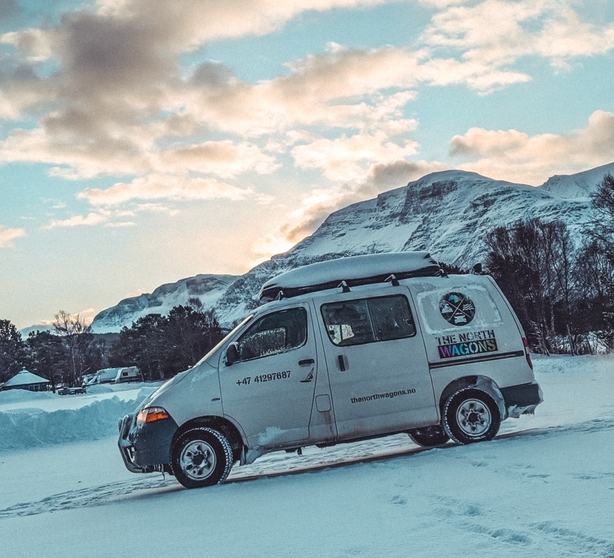 8. Winter driving isn't as scary as you'd think
Speaking of driving, if you want to come here in the snowy season, don't let the idea of winter driving put you off. As an Irish person, the words driving and snow don't go very well together. The entire country at a standstill, getting stuck whilst simply reversing out of your driveway. Driving in snow in a country that just isn't equipped for it is a nightmare.
In Norway, however, it's a completely different ball game. When we picked up our rental van, a polar storm had just landed over Tromsø. With heavy winds and even heavier snowfall, our first thoughts were that we needed to park up and wait for the snow to stop. But around us, Norwegian drivers were totally calm. When the snow picked up and the visibility was poor, everyone just slowed down and waited for it to pass. There was no panic, no taking risks, no getting impatient – it was just something that was part of driving in the Arctic Circle.
Even in heavy snow, an army of snowplows calmly ensure that routes are kept clear and well gritted. And then, as I've already mentioned, there are the snow tyres - what a game-changer. If you do decide to go down the rental route, you'll be treated to the kinds of roads that Jeremy Clarkson and Co would be envious of.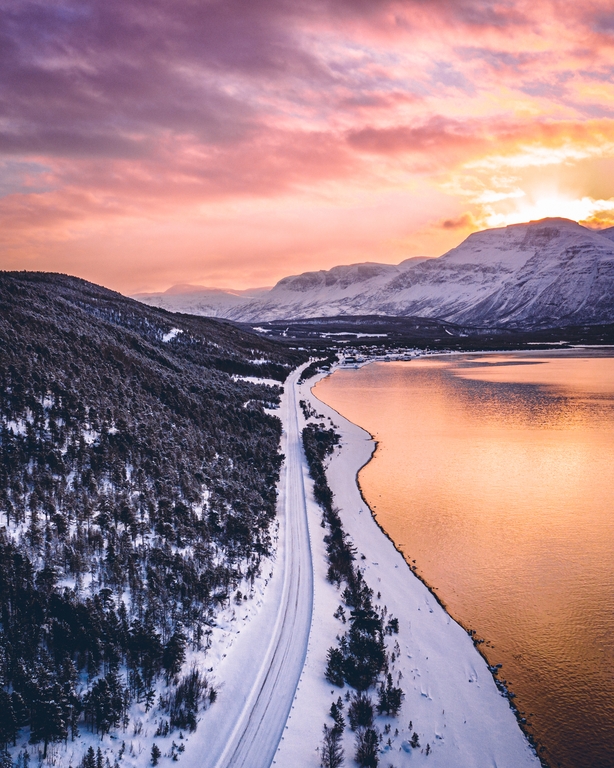 7. Because it's in Europe, you can use your phone as normal
This might seem like a really small thing, but once you start researching everything there is to do around the Tromsø area, you're going to want to get out and explore. Being able to use your phone to research and specifically to use maps is invaluable in a location like this. If you have a car, for example, and you're trying to catch the Northern lights, you're going to need to keep an eye on the weather and be able to navigate your way to clear skies.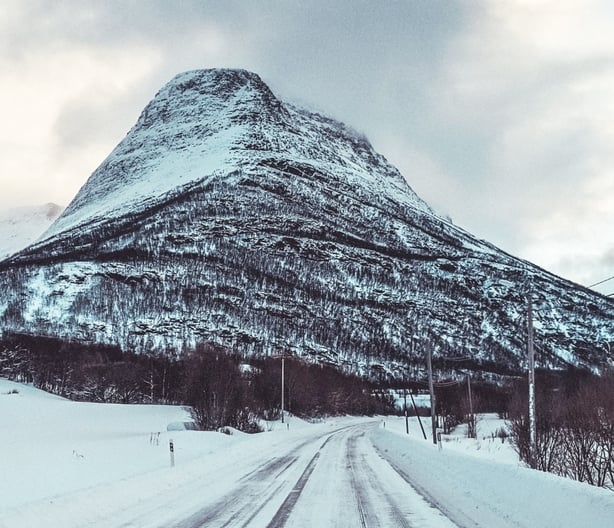 6. Norwegians speak better English than the Irish
Not being able to speak the native language is never a reason to cross a destination off your list, but being able to communicate easily definitely makes things a bit easier and can help you maximise your time there. During our time in Norway, we never once met someone who didn't speak perfect English and they were always more than willing to point us in the direction of a hidden gem.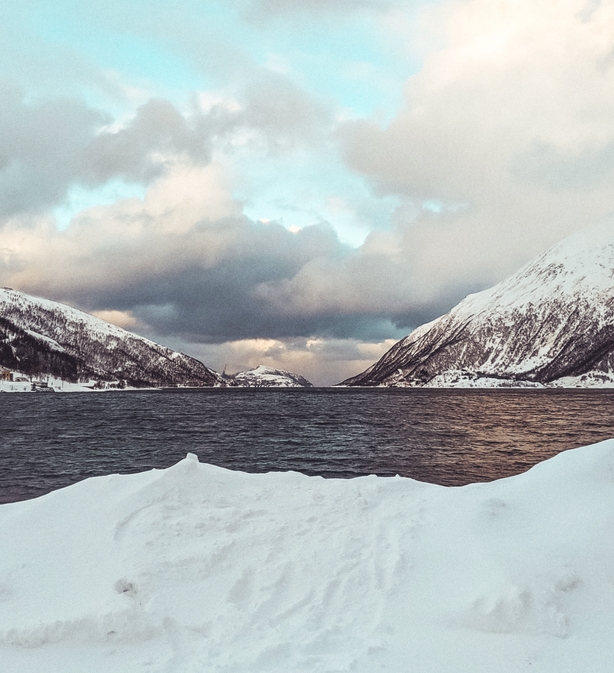 5. It's not as expensive as you might think
Especially at the moment. The Norwegian Kroner is quite weak right now, which makes it a good time to travel as you get a bit more bang for your buck. If I was asked to put it roughly, I'd say we found Norway about 20% more expensive compared to Ireland. So yes, while we did find it was more expensive than back home, we didn't come back with any horror stories of paying €80 for two hamburgers.
In our case, we were travelling in a van and cooking for ourselves, we shopped in a local supermarket and bought supplies that did us both for breakfast, lunch and dinner for three days and it all came in at less than €70.
Our van was good value too, especially considering it was our car rental and accommodation rolled into one. It came in at €120 per night which included your insurance. The only thing we did find to be a real drain on our wallet was...you guessed it...alcohol*. Alcohol is heavily taxed in Norway, so don't be surprised when you're paying €11 for a pint of beer or €50 for the cheapest bottle of wine on the menu.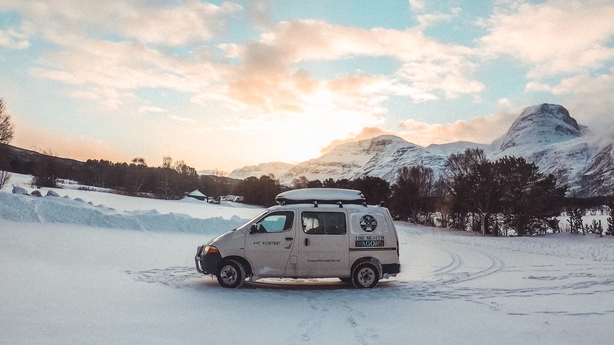 4. It's cold but it's manageable
Even though Tromsø is 350km north of the Arctic Circle because it's by the sea, it gets some of the benefits of the Gulf Stream. This means that it's actually a lot milder than many other places at the same latitude. Now you're not going to be sitting out sunning yourself, but while we were there it stayed at a manageable minus 4 degrees at night and about 2 or 3 degrees during the day. Nothing that a couple of layers and a decent jacket won't fend off. Getting into the summer months, the mercury will be maxing out at around 17 to 20 degrees.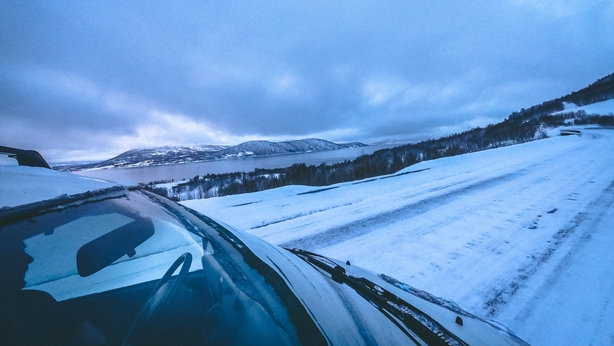 3. It's a completely different place depending on what time of year you travel
Having been there, it's the type of place I can see myself returning to again and again at different times of the year. 
If you like daylight, it's probably best to avoid Tromsø between the end of November and mid-January. Because it's located so far North, Tromsø experiences the Polar Night during this period and the sun never actually rises above the horizon. Instead, Tromsø experiences a sort of twilight for a few hours during the day – an experience in itself I'm sure. It's also a time of year when humpback whales and orcas feed in the area northeast of Tromsø.
By the time we arrived in early February, the sun was rising at about 9.30am and setting just before 3pm. If you're into your photography, this is a great time of year as the sun always stays low in the sky, throwing beautiful light across the fjords and the lakes for most of the day (when it's not snowing or cloudy of course).
Between around January and April, you'll be greeted to a winter wonderland and you'll be able to take part in activities like Dog Sledding and Snow Shoeing.
As you approach May, the snow has disappeared, and you'll be able to get stuck into an endless list of incredible outdoor activities. From mountain and road biking to hiking, this area is a playground for outdoor lovers in the summer months. I'll definitely be heading back to Tromsø at some stage soon to check out the Lyngen Alps and Senja national park.
From the end of May to the end of July, you'll also get to experience the midnight sun.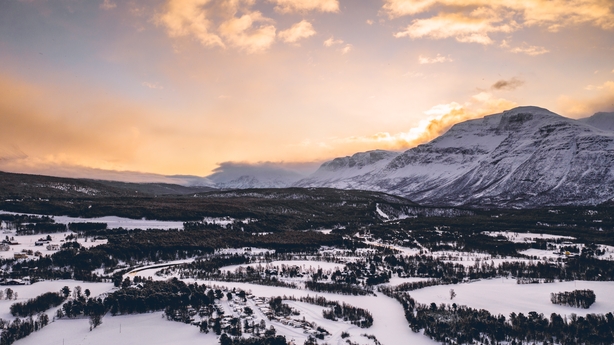 2. The scenery
No matter what time of year you travel to the Tromsø area, you are guaranteed jaw-dropping scenery. Because we travelled in winter, we couldn't do any hiking but we were still treated to pinch-yourself views anywhere we went.
We spent the daylight hours driving to some incredible locations, stopping along the way to take in the breathtaking views. Some of our highlights included Lyngen Fjord, Skibotn and Sommarøy.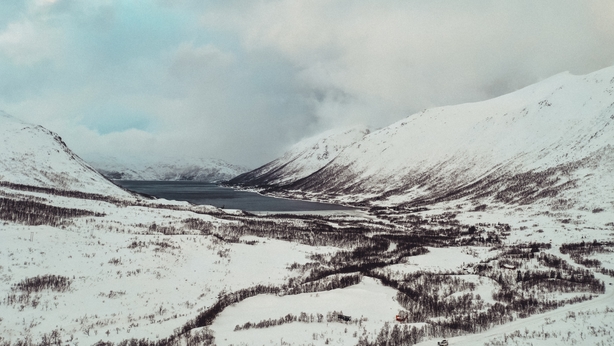 1. The Northern Lights
If seeing the Northern Lights is high on your bucket list – Tromsø is as good as it gets. Tromsø is located in the middle of the Northern Lights Oval, which is the area in the world with the highest probability of seeing the "green lady". The best time of year to catch the lights is from September to April and you have a number of options when it comes to trying to see them.
If you don't feel like going anywhere, you can just sit it out and hope the lights appear above Tromsø itself – something that happens regularly when the skies are clear. Clear skies are the big thing you're looking for when it comes to seeing the Northern lights. If you're basing yourself in Tromsø and don't have access to a car there are plenty of Northern Lights "chase" tours where a company will pick you up in the evening and travel to where their local knowledge suggests you have the best chance of clear skies. No guarantees but it sounds exciting nonetheless.
We need your consent to load this Instagram contentWe use Instagram to manage extra content that can set cookies on your device and collect data about your activity. Please review their details and accept them to load the content.Manage Preferences
As we were self-driving, we used a couple of apps to try to make a calculated guess on where we might stand our best chance of seeing the lights. Apps like yr.no can help you predict cloud cover and Aurora Forecast for predicting solar activity (the higher the activity, the higher the chances of the lights appearing).
It's all a game of luck really and, for us, it was a stroke of fairly extraordinary luck that allowed us to see the Northern lights in all their glory. Late in the evening, after a day of heavy cloud cover, we were just about to nod off when a snowplow drove close by and threw some snow against the side of the van.
Slightly startled, I stuck my head out the window to make sure the van wasn't half-buried in snow and as I did so I was greeted with clear skies and the Northern Lights blazing above our heads. We got 25 minutes of clear skies before the cloud returned but it was a truly unforgettable experience.
And yes, they were as impressive in real life as they are in the photos (although they're not as green).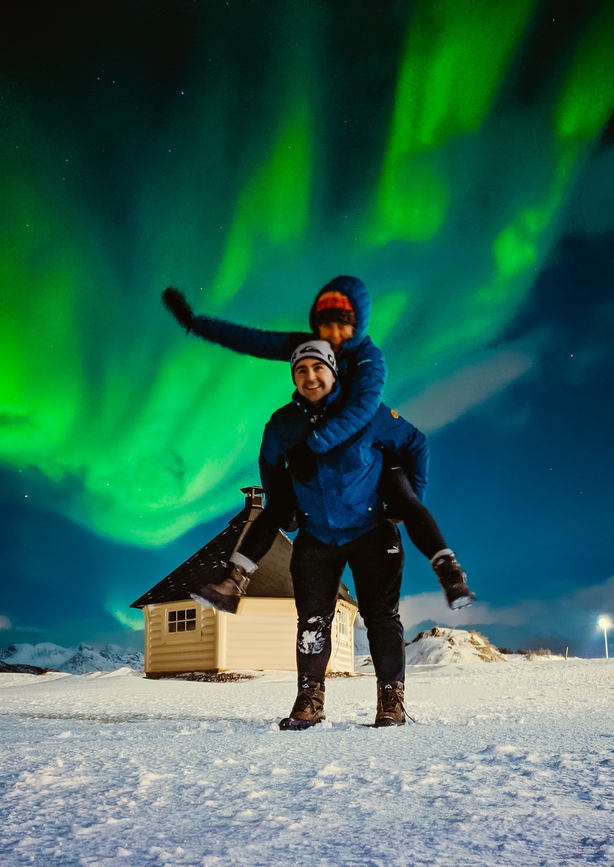 So there you have it. If you're looking for a winter adventure in the next few weeks or a summer adventure under the midnight sun, I really don't think it gets better than Tromsø.
Whilst there's no direct flight from Ireland, you can fly with both Norwegian and SAS to Oslo and from here you can catch an internal flight. 2 hours to Oslo and another 2 hours to Tromsø.
Carl Mullan is the presenter of Go Outside and Play on RTÉ Player. You can watch season 1 and get some inspiration for your next Irish adventure here.