To hear Siobhán Cox Carlos tell it, she's always lived life on her own schedule. "I got married very young, went to college in my 30s, 40s", she says, and now the Roscommon woman, from a "traditional, normal background" in farming is bucking tradition again by taking a gap year ... at 58.
A painter by trade, Carlos is adding strokes and layers to the portrait of her perfect life by travelling the world, on an epic - if unpredictable - tour across Europe, Asia and now back to Europe once more. She joined Ray D'Arcy in studio to share how she's embraced uncertainty and adventure.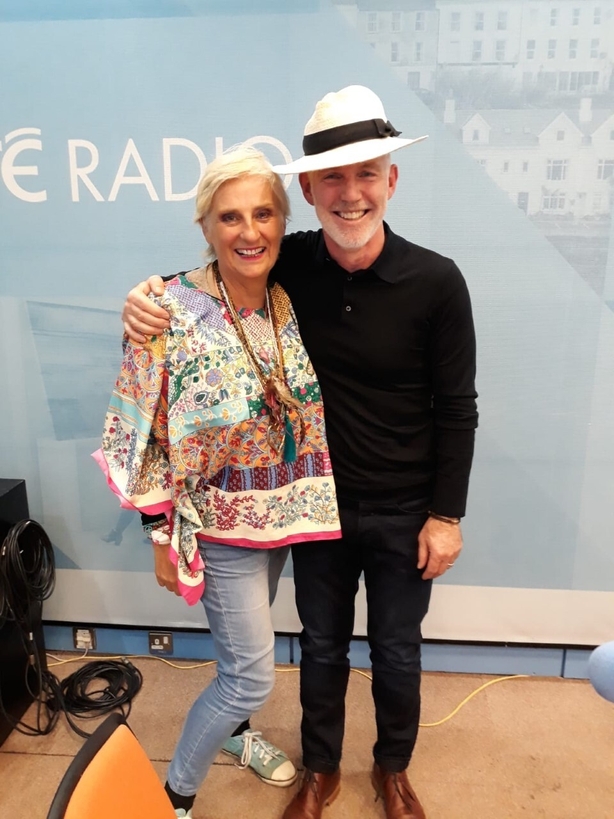 With her children grown up, a marriage ended and a home she could live in, happily rent-free, Carlos found herself a "free agent". Juggling two jobs as a tutor and in retail, she says, "I realised I had a little window in my life, then I was just figuring out what I was going to do with myself going forward".
Travel has been her passion for years and many travel funds had been started. "I didn't want to rent a house, I was looking at the price and they were so expensive", she says. "I did the maths and said, well if I do this, I'm going to be working this hard, maybe harder, and I'm going to have nothing at the end of it and I won't be able to travel."
"I felt like a hamster in a wheel, going nowhere fast!"
Italy, she says, has always been the dream: a beautiful place in which she could paint full time and relax. A plan to relocate to Italy for a month was interrupted when her son offered to take her there for a holiday, followed by another trip to London to see her daughter.
"I was scratching my head going, 'what can I do?' I started Googling how can I travel and fund it." She found Workaway, an online platform that allows people to work and travel at the same time. Parking her jobs until September 2020, Carlos set off on her adventure with some savings and a heftily packed rucksack to Portugal.
"This was like going over a cliff, waiting for the wings to appear."
Her first job was at a historical house in Portugal where she tended to the garden. "You work for five days, five hours a day - you're off at the weekends - or you could be working for six days, four hours a day", she explains "and then you get your bed and board. It varies; in Portugal, I got all meals.
I only spent €50 in the full month in Portugal … that was on meds and drink*, and the drink wasn't for me, it was for the others because they were a nice group of young people."
My latest blog is published so follow this link as I start my travels in Portugal: htpps://bit.ly/33MzwHA pic.twitter.com/n643Jw4fMI

— Siobhan Cox Carlos (@Siobhan_SCC) October 21, 2019
But it was always Asia that called to her, so once the back was broken on her gap year she headed off for the pearly beaches of Thailand. Noting that she was "too scared" to go into Bangkok alone, she found a job in Koh Samui, working in a yoga school painting murals and rooms.
Ensuring this was a true gap year, Carlos embarked for Indonesia next, looking for zen in Bali but finding something different after a less-than-perfect Christmas Day...
Merry Christmas 🎁 hope it's a good one! pic.twitter.com/RMKNzLA1cb

— Siobhan Cox Carlos (@Siobhan_SCC) December 25, 2019
After 10 days off the gap year trail, she's headed back across Europe and then, who knows?
"I'm following the sun, I've been in 30 degrees since I left here so it sounds a bit boring but I might start in Gran Canaria or somewhere and I want to try the south of Spain.
My end goal is looking for somewhere I would like to be and I'm not saying it'll happen this year, I'm just putting feelers out of where I could find a creative community."
To listen back to their full chat, and hear about Siobhán's less-than-idyllic Christmas Day in Bali, listen above.