When it comes to booking the perfect city getaway, location is everything. When it comes to the Galmont Hotel and Spa, however, that's especially true.
Situated just three minutes' walk from the bustling Eyre Square and hugging the dramatic coastline that serves up the freshest fish you can imagine, staying here brings you into close proximity to everything that makes Galway such a treasure.
I was invited down to Galway City to try out the digs, sample the food and - most importantly - have a goo at the treatments.
#ThePlace
Location, location, location: that's the first selling point of this stunning spot. Nestled along banks of Lough Atalia and overlooking shimmering Galway Bay, the hotel is more central than you can wrap your head around, taking just three minutes' walk from the train station to the front door. For this reason, it is the perfect spot for time-strapped travelers who would rather not cart the car around the countryside.
A sleek glass facade meets you on arrival, leading into a plush foyer dotted with chairs and sofas in rich gem tones - the perfect spot to plan your city break from. A sweeping window opens out onto the Bay, like a living painting that tracks the changing weather. Such is the beauty of the setting that, on the night I arrived, I found myself looking out onto frothy water and rolling clouds, more captivated by this than by a film.
Just five minutes walk from here are the shops, cafés and restaurants of Eyre Square, while a few minutes walk in the other direction will bring you right up along the coast.
#TheRoom
Just as stylish as the lobby, the rooms are sleek and luxurious. With striking picture windows, lush furnishings and wooden paneling so polished you could use it as a mirror, it's the perfect spot to hole up in your robe.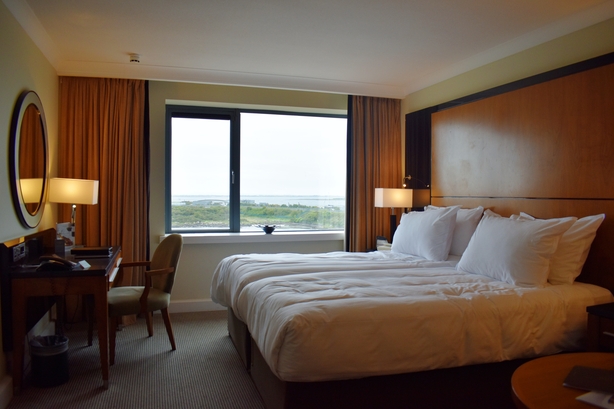 I stayed in a Business Class room, which overlooked the glistening waters of Galway Bay which became how I measured the day for my brief time there.
Luxury is paramount at the Galmont, however, and every room includes a throne of a bed, outfitted with Egyptian cotton bed linen, goose down duvet and almost outrageously comfortable pillows - so comfortable, in fact, I had difficulty prying myself away from them to head to the spa. The spa!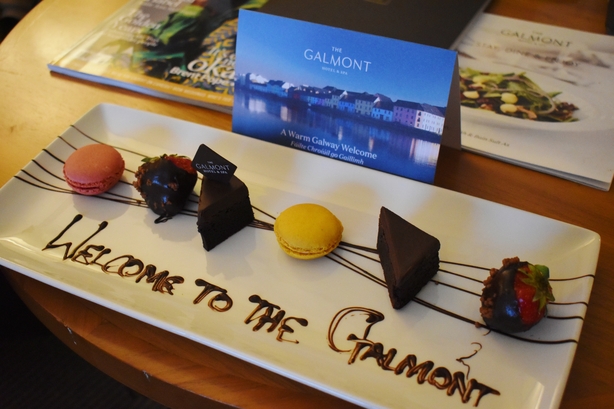 Everything needed to make this a home away from home is provided, with slippers, robes, tea and coffee facilities and 40" LCD smart TV ready and waiting for you. I was especially thrilled to find dainty petit fours waiting for me after a quick jaunt around town, and the staff couldn't have been more accommodating or generous with the bed chocolates.
#TheFood
Being in such close proximity to Galway Bay, you'd rightly assume that the AA Rosette Awarded Marinas Restaurant would serve up impeccable seafood dishes. Expecting this as I did, I was still blown away with the exquisite food dished up in this modest restaurant.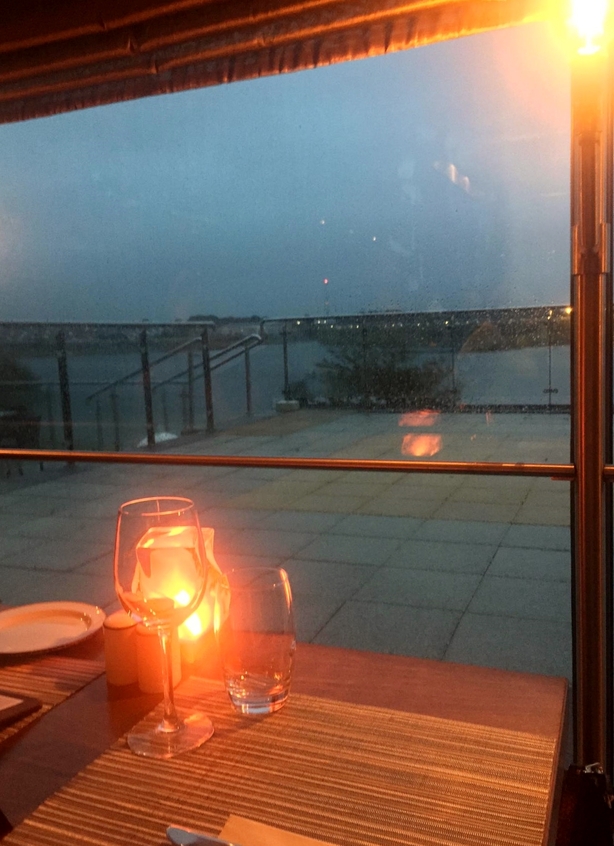 Simply outfitted with tables covered in white table cloths, Marinas lets two things do the talking: the food and the scenery. Seated along one of the windows running the length of the restaurant, I watched as the skies turned velvety dark, my table illuminated with soft candlelight. It's an atmospheric spot for a meal, upstaged only slightly by the actual food.
I was treated to a three-course set menu, which showcased everything that the region is celebrated for. The Atlantic Coast Chowder was rich in flavour but still light, with chunks of vivid pink salmon and flaky cod swimming in the bowl, while the Classic Prawn Cocktail was overflowing with plump, pearly white prawns and dressed greens.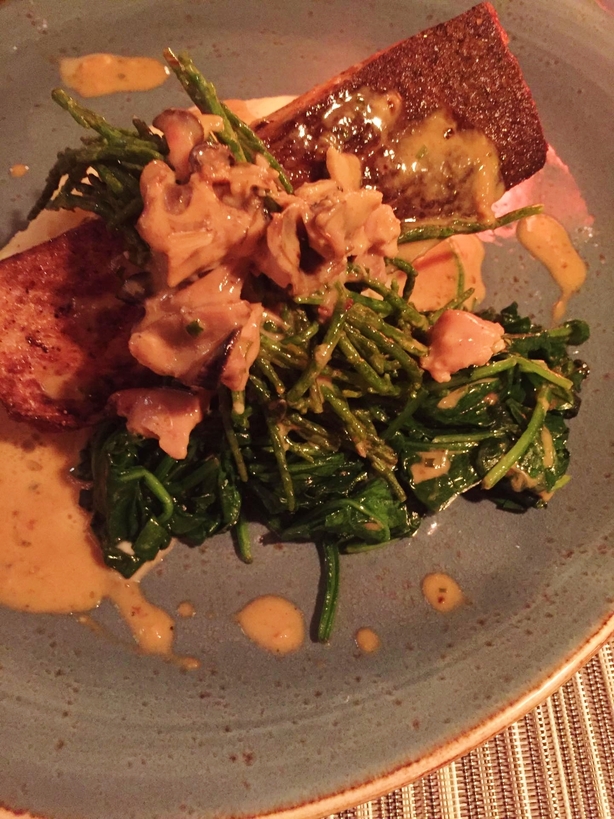 The 28 Day Aged Irish Rib Eye was expertly cooked, butter-soft and seared on the grill, with crisp onion rings and chips that audibly, satisfyingly crunched with each bite. Meanwhile, the Seared Organic Clare Island Salmon was a masterclass in textures, with crispy-skinned salmon, velvety oysters in cream and vibrant sea-fresh samphire creating a truly memorable dish.
Just as striking were the desserts, with the Warm Apple & Rhubarb Tartlet arriving spiced and with a decadent creme anglaise, while the Chocolate and Hazelnut Fondant with blackberry relish was a delight.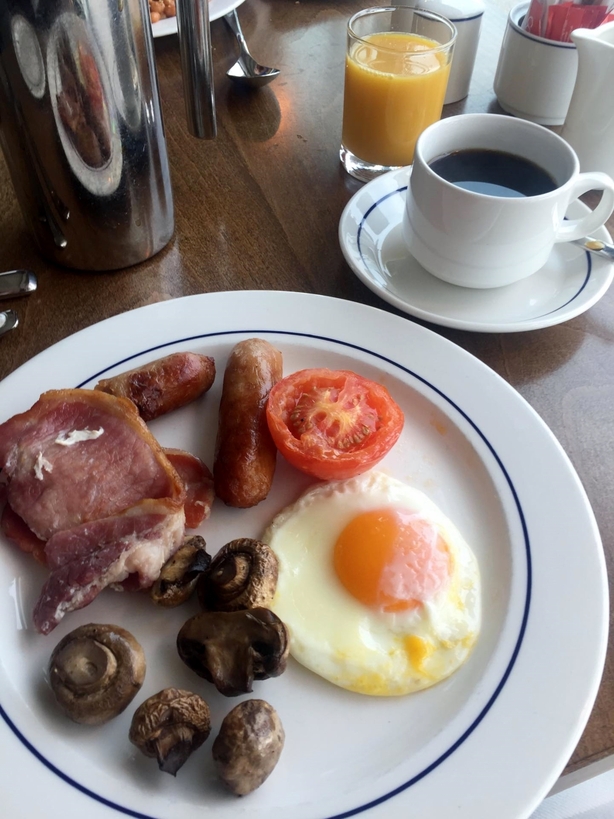 Breakfast the next morning was a lavish hot buffet, and included cold meats, cheeses, fresh fruit and homemade smoothies. I plucked for an extra indulgence by way of the waffles, which arrived crisp and with a size of seasonal compote.
If you're truly treating yourself - and why not? You're on a city getaway - it's worth booking in at Loam, the Michelin-starred restaurant just around the corner from the hotel.
#TheSpa
A true draw to this hotel is the sublime spa, which offers day visits as well as more intensive treatments to soothe what ails you. Located under the hotel, the spirit one spa is designed to be a sanctuary away from the pressures of everyday life, and stepping into the spa does feel like leaving normal things like responsibilities, to-do lists, time itself at the door.
We need your consent to load this Instagram contentWe use Instagram to manage extra content that can set cookies on your device and collect data about your activity. Please review their details and accept them to load the content.Manage Preferences
Walking into the softly lit reception area, you proceed into the steamy Thermal Suite, scented with aromatic oils and coloured by the chic mood lighting that alternates across all shades of the rainbow. Made up of a number of treatment rooms, including a Laconium, Rock Sauna and Heated Relaxation Loungers, you could while away the day in this soothing suite, emerging radiant and relaxed.
The Aroma Grotto was as invigorating as it sounds, with essential oils misted down upon you as mood lighting shifts, while the Sabia Med or "Beach" room was a unique experience. My favourite was the Hammam, a glamorous black tiled room heavy with steam where you could spend almost too long going limp and relaxed.
We need your consent to load this Instagram contentWe use Instagram to manage extra content that can set cookies on your device and collect data about your activity. Please review their details and accept them to load the content.Manage Preferences
I also received a treatment, the Himalayan Salt Stone Massage from Saltability - an intensely relaxing treatment exclusive to the spa. Using heated stones made from pressed pink rock salt, your muscles are gently massaged and soothed, with the therapist alternating rounded and tapered stones to ease tight muscles. A truly sumptuous treatment and not to be missed.
#TheDetails
We stayed as a guests of the Galmont Hotel and Spa, Lough Atalia Rd, Co Galway. T: +353 (091) 538 300..
We were treated to One night's Dinner at Mariners Restaurant, Bed and Breakfast for two people and the Himalayan Salt Stone Massage. We were also granted one day's access to the Thermal Suite.
Dine & Stay package
The Dine & Stay package is currently available, offering either a one or two night package with a delicious three-course meal in the AA Rosette Awarded Marinas Restaurant on one evening of your choice. Stay in stylish accommodation with freshly cooked buffet breakfast each morning and complimentary use of Energize Fitness & Leisure. This package costs €280.
Other spas in the area include:
Le Petit Spa at The Twelve Hotel
Piorra Beauty Spa