The team at Monart are truly embracing the mantra: 'new year, new you'. To kick off 2019, the destination spa has unveiled a five-day detox programme which includes cleansing treatments, a detailed fitness and nutrition evaluation, exercise classes, and a carefully selected menu.
The team at RTÉ LifeStyle (aka Sínann and Charlotte) were invited down to Monart (yes, we squealed when we saw the e-mail) to check out the digs, the food and - most importantly - the treatments.
#ThePlace
When it comes to location, Ireland's only 5-star spa destination doesn't skimp on the splendor. The 18th century state house, laced with ivy and dotted with hazy bay windows is the first thing visitors encounter, standing tall on the hotel's 100 acres of lush countryside.
However, the grand facade hides much of the true beauty of Monart, and that's saying something. After a playful but altogether serious admonishment for parking our own car - "Never park your own car here", said the valet - we passed from the opulent manor with its fireplaces, ornate mirrors, and velvet furnishings into a stunning glass extension.
With wall-to-wall glass paneling, one can turn and see the 18th-Century manor in all its glory while basking in the afternoon sunshine as it sweeps through this tranquil parlour. Past reception is the lake, where you can take meals or drinks by the ducks, wander the illuminated walking trails by night or simply take in the breathtaking scenery.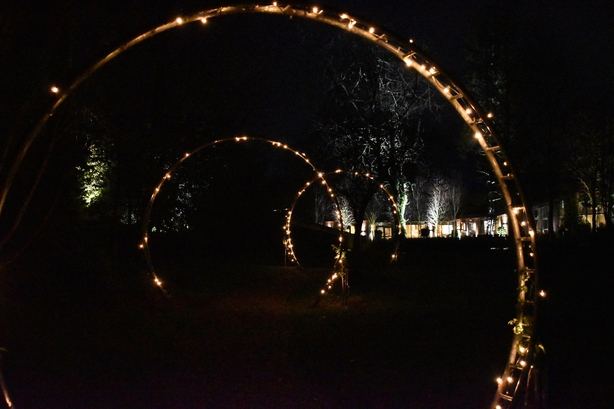 #TheRoom
There are two types of accommodation on offer, both exceedingly luxurious and relaxing. We shared a Deluxe room, which included two of the most comfortable beds known to mankind and - happily - an assortment of finger food and petit fours upon our arrival. You can't have a detoxifying spa weekend without something to detox, right?
Robes and slippers are provided and you are encouraged to wear them everywhere you go inside the hotel, except dinner - essentially every child's dream made two adults' reality. A balcony overlooks the shimmering lake and peaceful grounds, and even in the depths of winter, it makes for a stunning sight.
You can also upgrade to one of the two suites in the manor house, which come with antique four-poster beds, a spa-style shower, and a romantic free-standing bathtub.
#TheFood
You'd be forgiven for assuming that a spa would only serve paleo, keto, and whatever other variation of "healthy" food, but thankfully the restaurant at Monart will not skimp on delicious dishes. Their sublime 5-course dinner costs €49 but after three rounds we were already stuffed.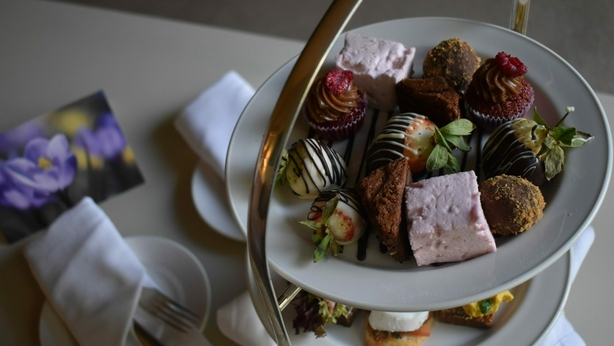 It says something that the amuse bouche, of haddock arancini, was the standout course, but we also sampled the pink tail prawn kataifi and chickpea and sweet potato samosa for starters and the dry rub spice chicken supreme and lentil and spinach curry for mains. Our palette cleanser of pineapple sorbet was enough of a dessert for us, though they also offered coconut and fig rice pudding and black forest opera cake, among other decadent choices.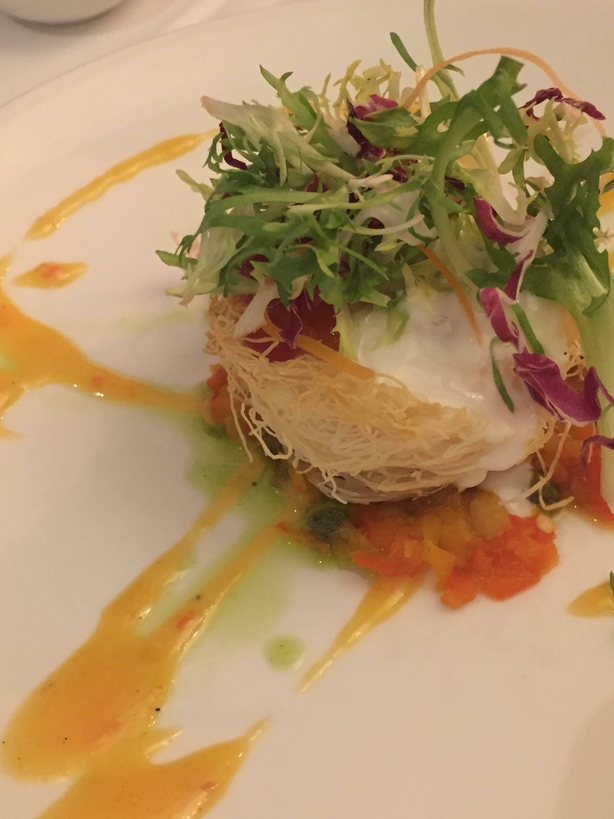 You can also dine in the Garden Lounge, a chic and cosy room overlooking the gardens that makes for a romantic spot for late night cocktails.
Sashaying down to breakfast in our robes the following morning, we descended on the buffet, trying the world's softest granola bars, a rich and tangy seasonal compote, perfect poached eggs and French toast so soft, I gasped when I cut into it. Tea and coffee come in grand silver pots and classical music is the only soundtrack suitable for so magnificent a breakfast.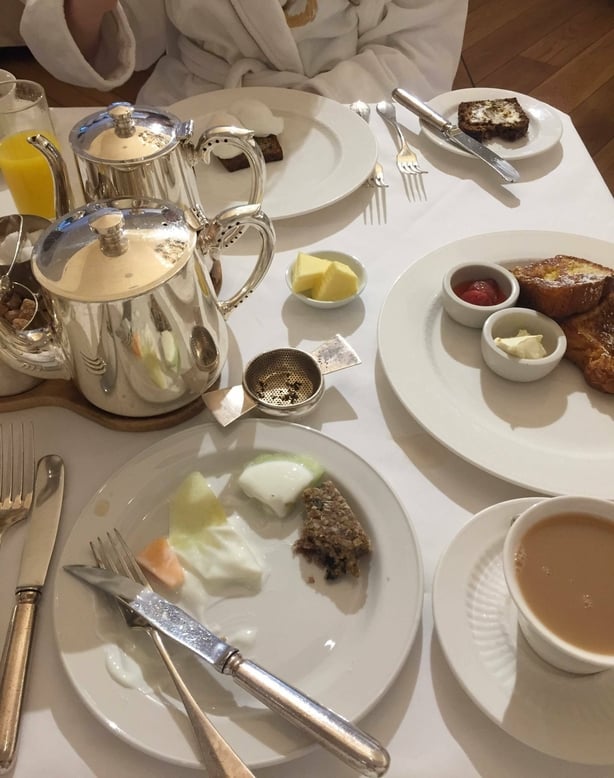 #TheSpa
Naturally, the true attraction here is the spa, which lives up to and exceeds the hype surrounding it. Renowned worldwide for its treatments, the thermal spa is at its heart, including a steam room, a caldarium, a sanarium, an intensely hot Finnish dry sauna and a traditional Swedish log sauna, complete with ice bucket shower where you can live out your Flashdance fantasies. A particularly fascinating treatment is the Infra-Red Pro, a seat that beams infra-red light into the body, easing muscles and soothing tension.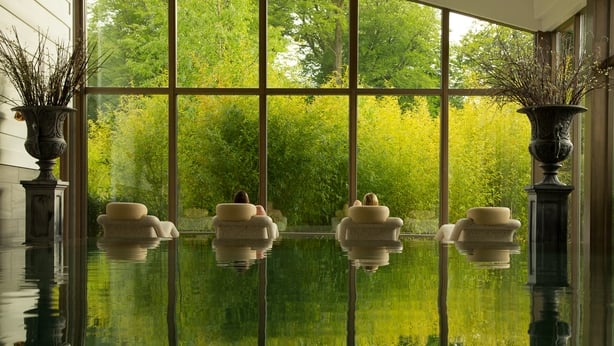 After a spell in the sauna, a dip in the hydrotherapy pool is pure heaven. With jets designed to soothe and massage muscles and heated loungers positioned in front of stunning full-length windows, you can feel stress and time melt away.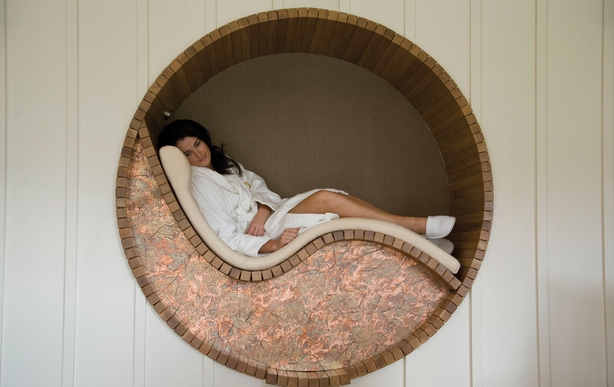 We also had the chance to try a special treatment offered as part of the Ultimate Detox package offered by Monart. The Green Coffee Wrap is an invigorating treatment, starting with a dry rub to stimulate the body. You're then doused in hot oil and the green coffee scrub and wrapped in muslin and towels to luxuriate for a few minutes. Afterwards, your now-glowing self is brought to the dark relaxation room with a cup of lemon, ginger turmeric tea.
And just in case you burned off a few too many calories, there's a quaint cafe serving healthy fare on site, as well as a salon in case your scalp massage dented your 'do.
#TheDetails
We stayed as guests of Monart Destination Spa, The Still, Enniscorthy, Co. Wexford T: +353 (0)53 92 38999
We were treated to One Nights Deluxe Accommodation with Breakfast and Dinner plus two Green Coffee Wraps and unrestricted access to the Thermal Spa Facilities.
The 5-day Ultimate Detox Programme:
The 5 Day all-inclusive Monart life Detox Programme including all food, treatments, individual evaluations and a personal trainer is priced from €1195pp to include a weekend or €1095pp midweek.
For more information visit the website here - https://www.monart.ie/
Other spas in the area include...
Seafield Hotel and Spa Resort, Co. Wexford.

Kelly's Resort and Spa, Rosslare, Co. Wexford.

Tranquillity Spa at Clayton Whites Hotel, Abbey Street, Co. Wexford.
- Words and photography by Charlotte Ryan, video by Sínann Fetherston.