The magic of Christmas can absolutely be recreated wherever you find yourself this year. If you're looking to change up your Christmas plans, escape the stress and pressure of hosting and wrap up in the Yuletide celebrations on a peaceful jaunt elsewhere, here are the best residential hotel and resort offerings across the island offering something different this festive season!
Pamper, Peace and Shannonside Views at Limerick Strand
Right on the Shannon, spend Christmas in the heart of Limerick enjoying a two-day stay at the 4* Limerick Strand Hotel. Welcomed with mulled wine and mince pies on Christmas Eve, spend a leisurely afternoon pampering yourself, whether that's taking a relaxing dip in the indoor heated pool, a browse of the nearby shops, or popping next door for 10% off your Christmas wash and blow dry at Niall Colgan Hairdressing.
Christmas Eve celebrations continue at the award-winning AA rosette River Restaurant followed by entertainment in the Terrace Bar. If staying as a family, children stay free (sharing with parents and meals charged on a consumption basis) whilst children will receive milk, cookies and carrots in anticipation of Santa's visit overnight.
Christmas Day begins with the hotel's award-winning Bucks Fizz breakfast from early to late morning. Later, enjoy drinks and canapés served on the rooftop City View Suite followed by a five=course Christmas Lunch in the River Restaurant where Santa will drop-by to say hello. Head to the Library and catch a Christmas movie at 4pm before enjoying light Jazz and a Christmas High Tea in the Terrace Bar throughout evening whilst breakfast and a midday checkout awaits on St. Stephen's Day.
The Christmas residential package costs €355 per person based on two people sharing. For more information or to book, call 061 421 800 or visit strandlimerick.ie.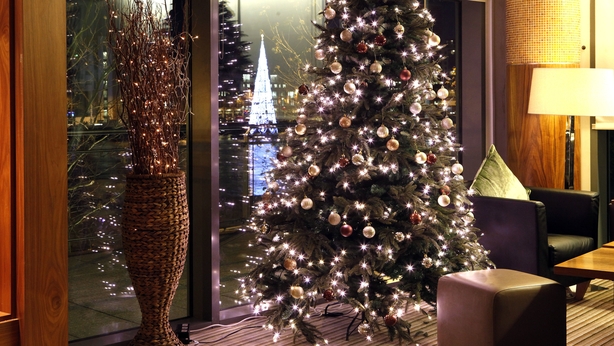 Beautiful Banking Hall with a Champagne Christmas Lunch at The Westin Dublin
In the heart of Dublin city, housed within a series of historic Georgian style buildings, there are few places more breathtaking for a Christmas stay than The Westin and enjoying a five-course Christmas lunch in its opulent Banking Hall. Celebrating 150 years, the Banking Hall is steeped in history and atmosphere, all opulent marble pillars, tall mahogany doorways and magnificent detailing on the walls and ceiling.
Dining under four chandeliers crafted from 8,000 pieces of Waterford Crystal will be a truly unforgettable venue for the Champagne Christmas lunch (choose between a 1pm or a 5pm sitting) with a delectable-sounding menu planned. Santa Claus will drop by whilst there will be mince pies, games and Christmas movies throughout the afternoon and evening.
Choose the stay for you, from a two-night jaunt arriving on Christmas Eve (€535 per person sharing) to a three-night stay (€645 per person sharing) whilst a unique Christmas Day check-in package is also available – two nights for €485 per person sharing.
All residential packages include a Christmas stocking with surprises. For more information or to book, email reservations@thewestindublin.com or call 01 645 1149.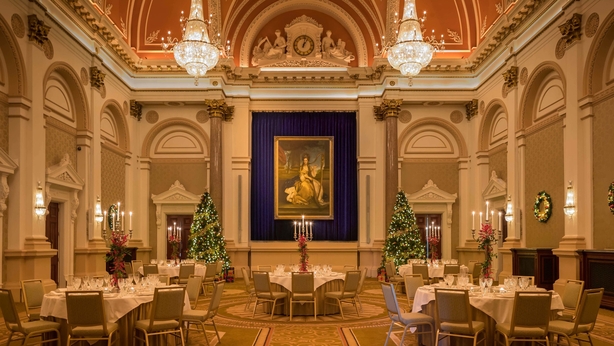 Festive Fine Dining - or a Home Alone stay - Getting Lost in Lough Erne Resort, Fermanagh
Arriving Christmas Eve to the magic of roaring open fires and a choir singing at Fermanagh's Lough Erne Resort, guests will enjoy complimentary mince pies, mulled wine and eggnog, with marshmallow-loaded hot chocolate for the little ones.
Before bed, younger guests will also be able to visit 'Santa's Pantry' – a grocery station in the library to handpick the items they want to leave out for their special guests before Mrs Claus recounts a bedtime story. An indulgent Buck's Fizz breakfast precedes present opening the next morning followed by a five-course Christmas lunch in The Catalina Restaurant, with bubbles.
After lunch, enjoy board games and Christmas movies on the big screen whilst throughout the day Christmas cake with tea and coffee will be served in the library. Finish with a late supper buffet and live entertainment in The Blaney Bar.
Prices for a two-night stay with all the festive trimmings start from £595/ €678 per person sharing for a two-night stay (children aged 3-13 £279/€318 per person sharing in own room). For more information or to book, visit lougherneresort.com.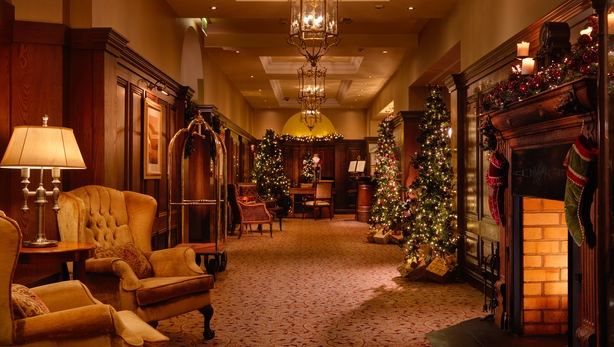 For those not staying at Christmas, worth keeping in mind Lough Erne Resort's Hotel Alone: Lost at Lough Erne package offering the ultimate seasonal getaway throughout December for fans of the cult 90's Home Alone films. Guests will live like Kevin McAllister for the day, enjoying an in-suite trolley of Glastry Farm ice cream with a dizzying array of toppings, sauces, candy jars full of cookies, marshmallows and jellybeans.
A cheese pizza is later delivered by room service before settling down in fluffy bathrobes to watch Home Alone 1 & 2 in the comfort of one of the resort's lough-view suites. Belleek Pottery, in a special collaboration with the resort, has created its own 'Turtle Dove' tree ornaments as a keepsake for all who book the package.
The one-night getaway comes with all the usual trimmings that can be expected from a stay at the luxury resort (luxury breakfast and access to the Infinity Pool at Thai Spa) and is available both midweek (overnight from £265pps) and on weekends (from £305 pps) until 23rd December.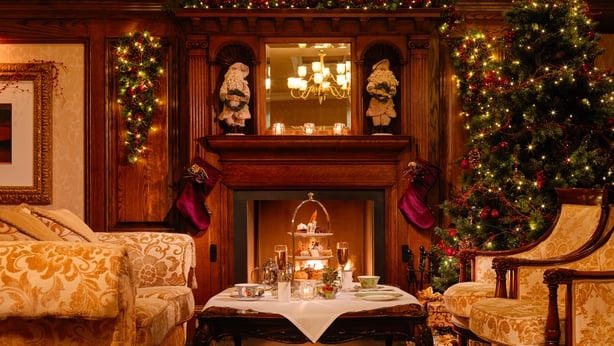 A Fairytale Stay: Disney at the 5* Conrad Dublin
The Conrad Dublin this festive season has transformed into a Walt Disney winter wonderland with a bespoke interior look created by NCAD student André Parra with inspiration from the Walt Disney Company's latest release The Nutcracker and the Four Realms.
For a stylish, 5* Dublin stay, arrive on Christmas eve and delight in two days of Christmas celebrations in the ultimate haven in the heart of the city. Arrive to a traditional Irish welcome of mulled wine and mince pies on Christmas Eve and gather in the evening for festive gourmandises and a cocktail at Lemuel's.
Christmas morning begins with a hearty breakfast, followed by Christmas lunch at the Coburg restaurant complete with your favourite traditional fare. Afternoon segues into evening with a visit from the man in red himself, armed with one more special gift for each guest plus he will stick around for games, too.
The two-night package costs €550 per person sharing (supplement for children under 12 sharing a parent's room). For more information or to book, visit conraddublin.com or call 01 602 8900.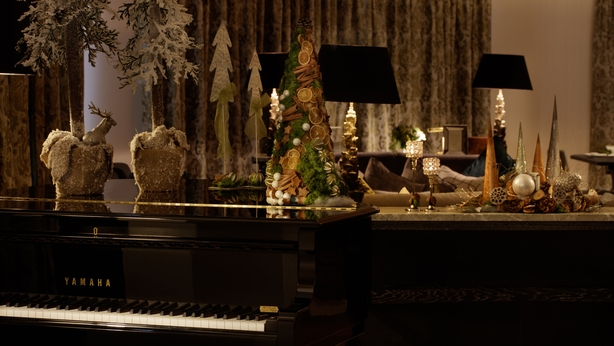 Tradition and Ritual – A Connemara Christmas at Ballynahinch
A Victorian country house and estate with contemporary suites set on its own stretch of river in the heart of Connemara, Ballynahinch Castle is a destination full of luxe character, history and style – a gorgeous setting for Christmas enjoying the simple pleasures of family, ritual and tradition.
Christmas Eve beings with time-honoured traditions of festive treats and pre-dinner carols, followed by dinner in the atmospheric Owenmore Restaurant, or - for later arrivals or those looking for something more casual - in the Fisherman's Pub.
On Christmas morning after an extended breakfast service spend time with friends and family, attend a church service or explore the extent of the 700-acre estate of mature wooded grounds and walks, one of Connemara's oldest gardens. Afterwards, gather for drinks by the fire, pull crackers and share the most awful jokes whilst after dinner retire to the lounges or Fisherman's Pub for drinks, board games, great conversation or either a good book or a snooze. Catch the Christmas movie, with popcorn and chocolates, and later that night if a little peckish, Chef will prepare delicious late night food to sustain those staying up.

St. Stephen's Day morning promises a longer breakfast service than usual giving everybody a chance to lie in and relax. To make the most of the day and get a little exercise and fresh Connemara air there will be a guided walk leading you on an incredible hike from the front door of the hotel. That evening following dinner, available in the restaurant or pub, join in a little music with local musicians.
The Christmas package starts at €870 per person sharing in a Classic room, for more information or to book, visit ballynahinch-castle.com or email info@ballynahinch-castle.com.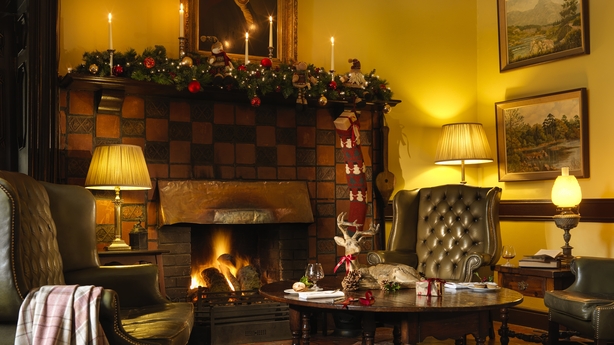 A Tree in Every Room and Activities at Every Turn – The 5* K Club Christmas
The K Club in Straffan, Co. Kildare, makes a brilliant setting for a luxurious family Christmas – a lush country house setting, lavish dining spreads, fabulous décor, attentive staff and roaring fires offering a wonderful festive two-night stay from €995 per night, ideal for those who favour the buzz of activity on Christmas.
For the children there is Santa's arrival, of course, but also the brilliant K Club Kids Club with activities including Christmas movies, discos, treasure hunts, face painting, arts and crafts and duck races, as well as outdoor options like tennis and cycling; families can borrow resort bicycles to explore the many private lanes and paths. For the grown-ups there are wine cellar and art history tours, estate or mapped garden walks, fishing demonstrations, golf clinics or spa treats.
For everyone, there are delicious breakfasts, brunches, lunches, suppers, dinners and buffets over the course of the festivities. Every day has a busy schedule for you to dip in and out of, for more information or to book, visit kclub.ie or call 01 601 7200.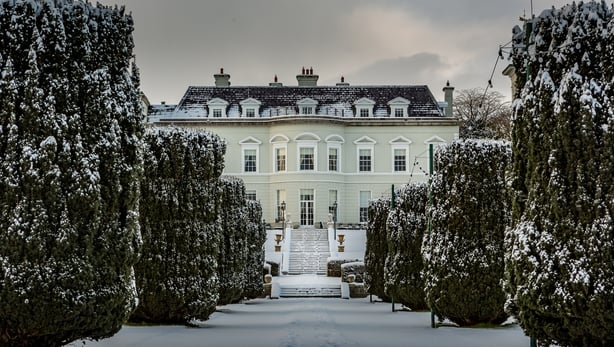 Christmas R&R Retreat at Castlemartyr Resort, Co. Cork
Arrive on Christmas Eve and immediately envelop yourself within the cosy surroundings of Castlemartyr Resort. Warm up with a glass of homemade mulled wine before wrapping up for an afternoon stroll around the beautiful estate and castle grounds.
Then, warm from within with a cocktail reception in the Manor House alongside a soundtrack of Christmas carols performed by a local choir, closely followed by a delectable five-course gourmet dinner in the Bell Tower Restaurant overlooking the formal gardens. There's also a very special visitor scheduled to arrive before bedtime with gifts for all.
The Manor House will serve breakfast on Christmas morning before gifts are exchanged and then it's a true Christmas Day feast. Retire to the Knights Bar or the Living Room to relax and unwind or to get competitive over a selection of board games, or enjoy a selection of classic Christmas movies for all ages. A buffet supper can be enjoyed at your leisure later in the evening. After breakfast on Stephen's Day, why not book a cosy carriage ride around the castle grounds?
A magical, home-from-home Christmas break at Castlemartyr Resort begins from €850 per night (based on two people sharing) and three-night Christmas Breaks (arrive 24th depart 27th December) start from €630 per night (based on two sharing). For more information or to book visit castlemartyr.ie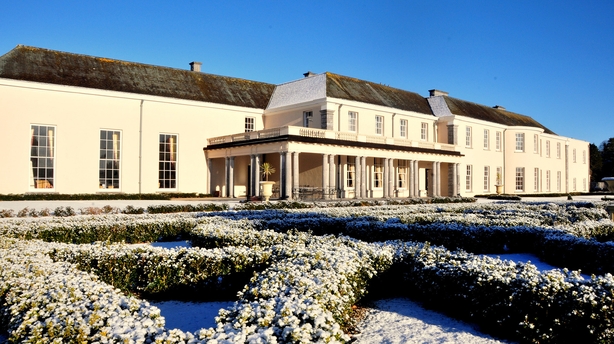 A Royal, Regal Christmas at Clontarf Castle Hotel
Experience Christmas like seen in your favourite movie by booking a festive sojourn at Clontarf Castle Hotel this December. Check-in on Christmas Eve and enjoy a citrus-spiced mulled wine reception in the Atrium Lobby, followed by a sumptuous four-course dinner in the majestic Great Hall. Find a cosy chair and cradle your favourite tipple in the popular Knights Bar before retiring for the evening to one of the luxurious guest rooms.

Waking up on Christmas morning enjoy a Champagne Artisan Castle breakfast or celebrate Christmas Day mass with your fellow guests in the Viking Suite. The Great Hall is again the location for Christmas Lunch, accompanied by live music from the talented in-house musicians. Later, savour a three-course evening buffet in the hotel's Indigo Lounge followed by light entertainment in Knights Bar.
The two-night Little Christmas package starts from €569 per person sharing, with the three-night We Three Kings package costing €669 per person sharing and the four-night, All I Want for Christmas stay priced at €709 per person sharing, which also include a delicious dinner served in Fahrenheit restaurant each evening. For more information or to book, email Christmas@clontarfcastle.ie, call 01 833 2321 or visit clontarfcastle.ie.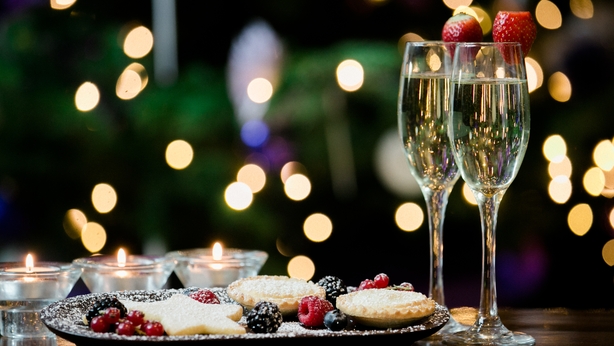 Michelin-Starred Christmas at Mount Juliet Estate
Relaxed and luxurious, Mount Juliet Estate is a wonderfully picturesque 500-acre country estate in Co. Kilkenny with a beautiful Georgian house at its heart and the Michelin-starred Lady Helen restaurant set within. For a fine-dining-focused Christmas stay, Mount Juliet is the only way.
The Lady Helen is the setting for breakfast and dinner throughout your stay with the finest menus and impeccable service. On Christmas Day, The Stables in Hunter's Yard is the atmospheric setting for Christmas Lunch with the ballroom offering three different times for sittings. Then, relax and unwind for the afternoon, either exploring the Estate, watching a movie, playing games or curled up in front of one of the fires. Later, enjoy a lavish Christmas supper with live music in Mount Juliet Manor House.
On St. Stephen's Day, after breakfast, take a falconry walk through the estate with expert falconers from Hawkeye Falconry which will include the chance to handle these magnificent creatures, letting them fly from your gloved hand and returning to feed. It's a profound experience to interact so closely with a hunting animal, and there is a selection of time slots available to book. Evening dinner on St. Stephen's Day is served in the Lady Helen if you are staying in the manor house.
The three-day package begins at €1,890 per couple, with family accommodation also available in Mount Juliet Estate's comfortable Lodges nestled throughout the grounds. For more information or to book, visit mountjuliet.ie.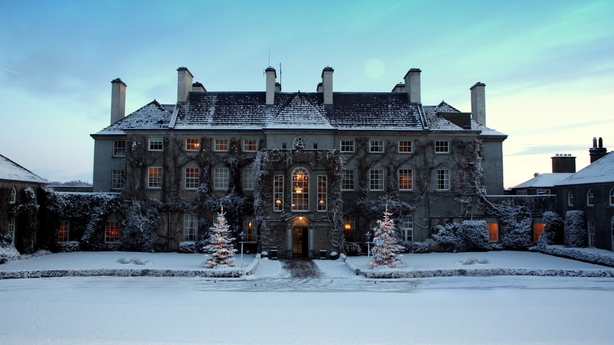 A Cosy, Calm Christmas at The Clarence
For something a little more low-key in the heart of Dublin, book in to the Clarence Hotel to experience first-hand all the festive magic that Dublin city has to offer. Take a two-night (€300) stay from Christmas Eve through to St. Stephen's Day or €450 for three nights of Christmas bed & breakfast for two adults sharing.
Whether you have Christmas lunch already organised or you want to be based in the city anticipating the bustle as the St. Stephen's Day sales begin, start your Christmas celebrations by strolling through the city streets on Christmas Eve enjoying festive scenes such as the Live Nativity on Dawson Street and the sights and sounds of Grafton and Henry streets with the classic carol-singing buskers.
Cocktails await back at the hotel's Octagon Bar before bed. Then, enjoy a delicious breakfast at Cleaver East on both Christmas Day and St. Stephen's Day whilst spending both days enjoying your own plans, whether that's sitting with a book by the fire in the hotel, binging your favourite Netflix series in bed or enjoying horse racing at Leopardstown,
Christmas at the Clarence is only a booking away – visit theclarence.ie or call 01 407 0800.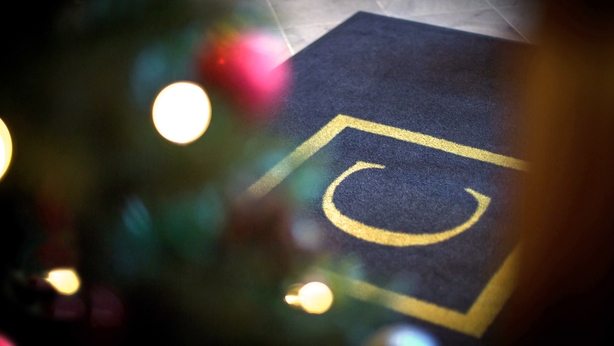 East and West – Value Packages
For stylish surroundings and great value, make your way to Sligo, where the Clayton Hotel Sligo is offering guests a wonderful Christmas package from only €250 per person sharing. Guests will enjoy a two-night bed & breakfast, dinner on Christmas Eve, five-course Christmas lunch, evening supper followed by evening entertainment and a very special visit from Santa.
For more information or to book, visit www.claytonhotelsligo.com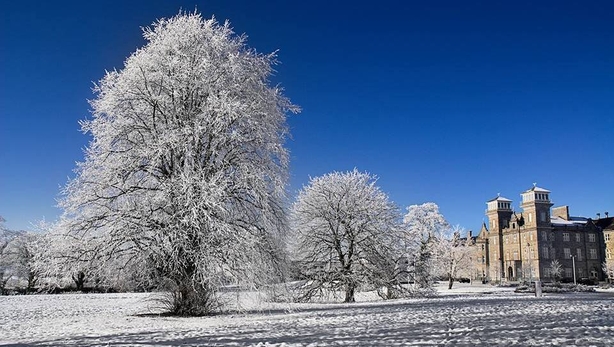 Likewise, €250 per person sharing is also the price for a two-night Christmas Cracker package at Radisson Blu Royal Hotel Dublin, offering an escape from the hustle and bustle of the capital including a 3-course Christmas Eve dinner in the V'n'V restaurant, Christmas morning stockings filled with treats and breakfast in bed, a Champagne morning reception followed by Christmas Day dinner with all the trimmings. Stephen's Day begins leisurely with breakfast and a late check-out at 2pm!
For more information or to book, visit radissonblu.com/royalhotel-dublin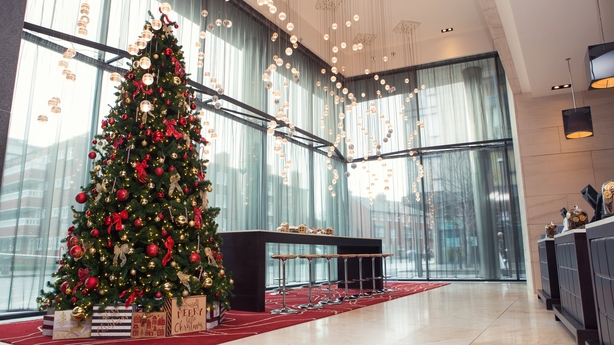 Russell Alford and Patrick Hanlon are freelance writers and blog about food and travel at www.gastrogays.com and are presenters of the podcast Chew The Fat.