You don't need the pain of comparing hotels, struggling with car hire and getting the kids organised to have a good holiday. Ireland's Hidden Heartlands gives you a perfect, unique and accessible holiday destination right on your doorstep.
And at the centre of the area is the stunning Shannon. The river, which bisects Ireland's east and west, is the lifeblood that courses through Ireland's veins.
Throughout its more than 350 winding kilometres, the Shannon touches on every aspect of Irish life. A bounty of coarse fish and pike, as well as trout and salmon, has provided livelihoods for generations of Irish fishermen, both amateur and professional.
We need your consent to load this rte-player contentWe use rte-player to manage extra content that can set cookies on your device and collect data about your activity. Please review their details and accept them to load the content.Manage Preferences
The Shannon is one of the country's most recognisable natural phenomena - and, luckily for travellers the world over, it also boasts a range of experiences and activities both on the water and back on shore that are unique to the region.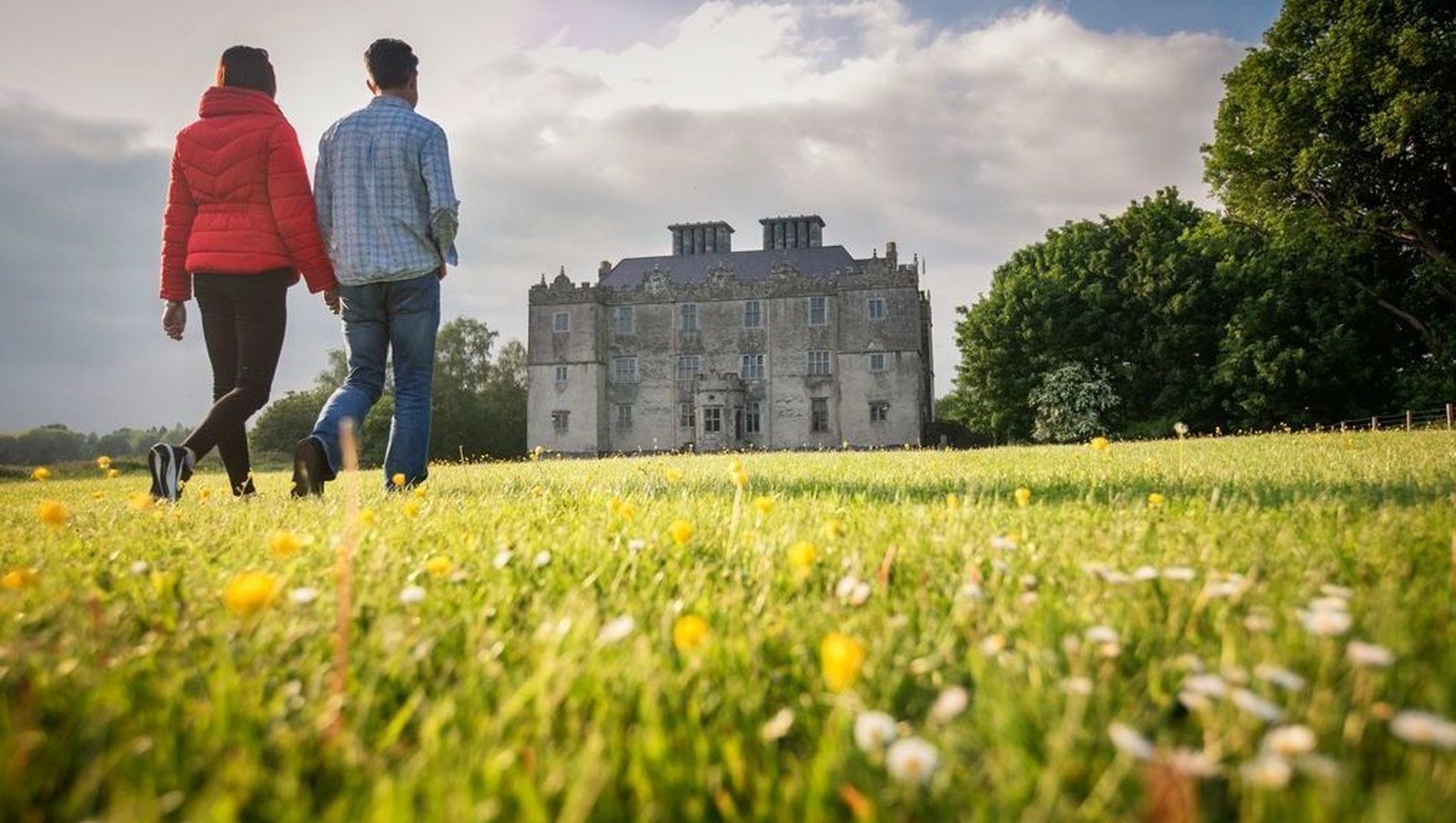 Portumna, a bustling market town in Co Galway steeped in history, is an ideal place to start your voyage. With the nearby Portumna Castle and Gardens comes a hive of walking trails, docked boats and even a coffee shop in the repurposed stables of the castle. This town is a destination in itself. Hire a bike from De Brugos Bike Hire and explore the town and trails of the Forest Park at your leisure.
Positioned at the top of Lough Derg, Emerald Star run frequent cruises in the area, including a Lough Derg tour taking in many of the picturesque towns such as Dromineer and Mountshannon on the shores of the lough. Take in live music at Paddy's Bar and have a bite to eat in The Derg Inn in beautiful Terryglass, warm up with some grub by the hearth in Larkin's pub in Garrykennedy and indulge in some sailing under the bridge in stunning Killaloe. It's just a taste of how you can kick back and absorb the relaxed vibe of Ireland's Hidden Heartlands.
Continue north to Banagher, a town on the western edge of Co Offaly, an ideal starting point for cruise and water sports enthusiasts, and positioned in a strategic location on the Shannon allowing you to head north or south for your experience. Once the home to literary figures such as Charlotte Bronte and William Wilde, father of Oscar, the area is rich with cultural history. It has also been home to strategic defences built between Lough Derg and Lough Ree to help fortify the region from the threat of Napoleonic invasion in the late 1700's and early 1800's.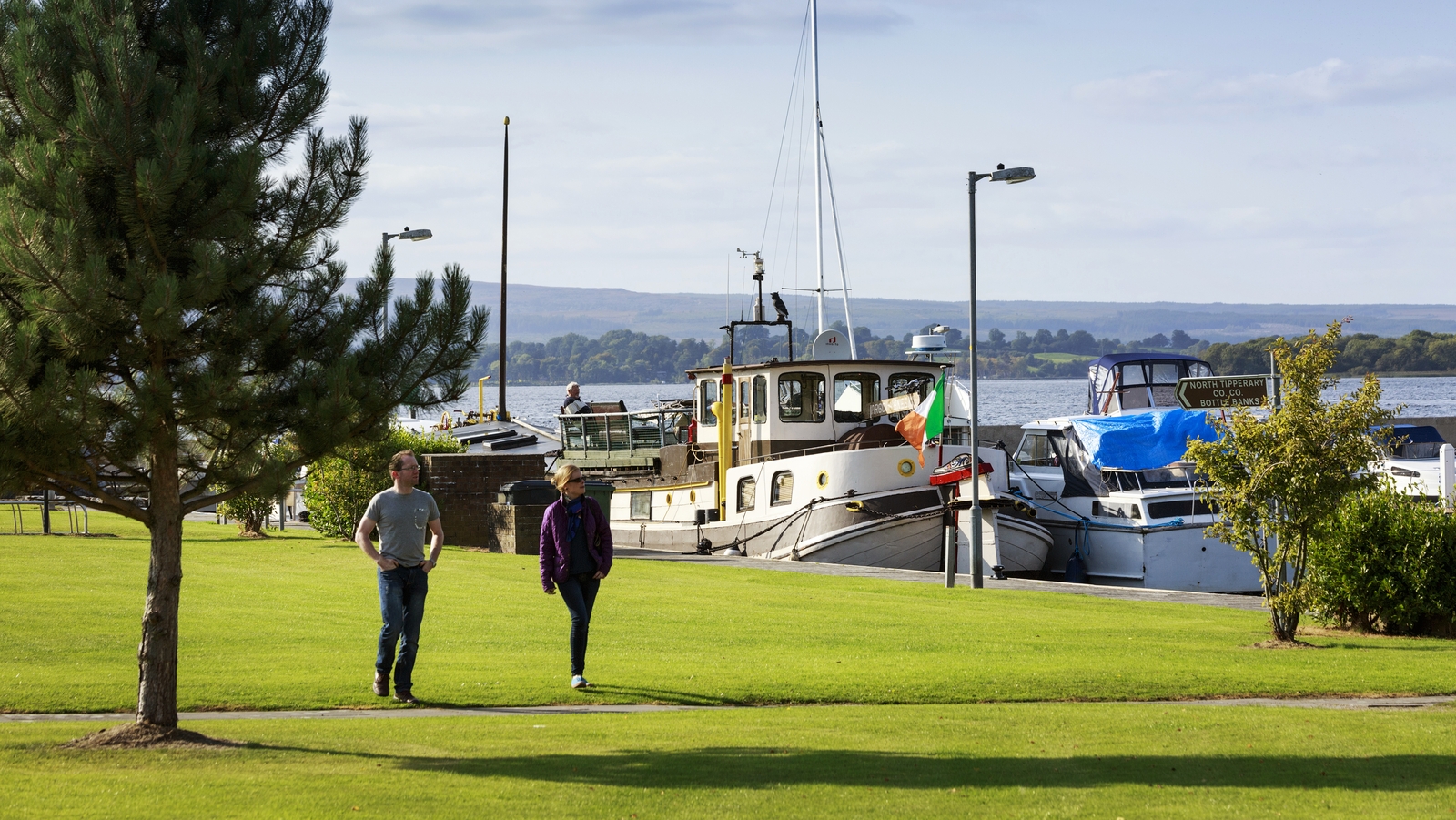 Although those threats are very much consigned to the past, there are still reminders of them, such as the fortifications at Shannonbridge. The stone edifice looms over the Shannon, like a watchful guardian, but in place of soldiers are flower pots and where arms may have been stored is now The Old Fort Restaurant, offering cakes, coffee and locally-inspired dishes such as sautéed Atlantic crab claws and sea bass with wild mushrooms to tourists and locals alike. The majestic setting and the excellent food make for a sublime spot during a cruising holiday.
A range of activities await you in Banagher. Cruising, fishing and angling are especially popular on this stretch of the river, with several cruiser hire companies available for hire locally. Locaboat and Emerald Star dock in nearby Portumna and pass through Banagher, while Silver Line Cruisers and Carrick Craft dock out of the Offaly town. Choose your own route or go with a pre-planned journey and enjoy the sights and sounds of a cruise on the mighty Shannon.
A beginner to cruising? Don't worry! In Ireland and Northern Ireland, there is no licence requirement for cruising and anyone over 21 can hire a boat. Once you undergo the necessary safety checks and training, you'll be a dab hand at manoeuvring the lakes and canals of the region.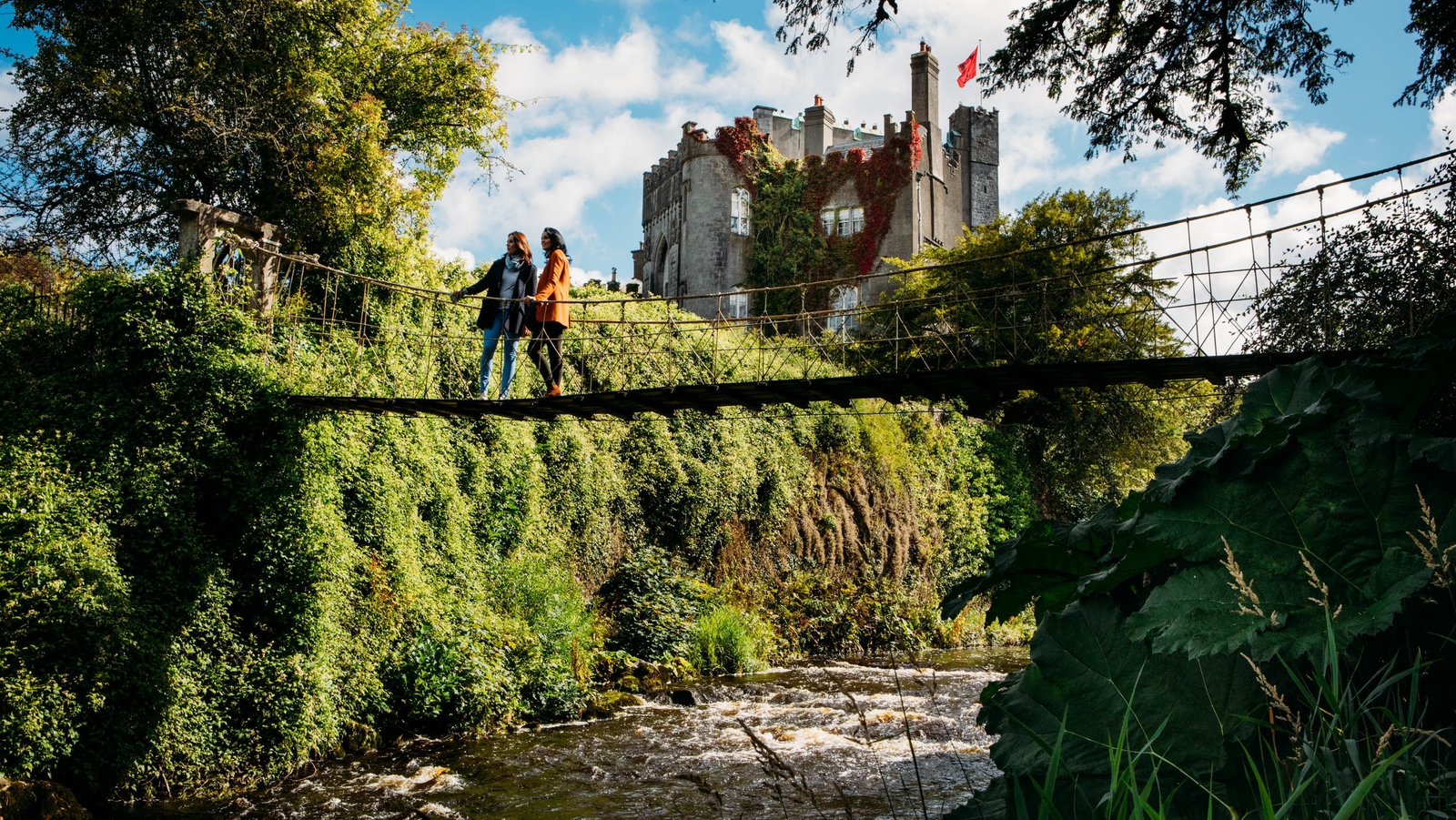 Back on solid ground the verdant expanse of Birr Castle and Gardens is only a short drive from Banagher and has lots to offer. Or, if you want to sample some of the local hostelry and food, you will have your fair share of choices sprawling inland from the river's banks, such as Flynn's Bar and Restaurant.
As you venture out further on the Shannon you will come upon all manner of memorable sights such as the stunning 16 arch bridge at Shannonbridge. This bridge is functional as well as beautiful, as dozens of boats pass under it every day and loll in the sun along the banks of the Shannon.
Barry, a visitor from the UK, has been coming here for more than four decades. His annual pilgrimage to Shannonbridge began when he was a sailing afficionado, and though he doesn't sail anymore he comes back for the people, who stay the same. His top tips? Two of the local bars in the area - Luker's Bar and Killeen's Bar – are mandatory visits for anyone hoping to sample the true flavour of the area.
Killeen's Pub, with its windows sepia-toned and hinting towards the years of revelry which have been framed within them, has a cosy and vintage atmosphere. A particular favourite of the locals, it also operates as an inn and a fishing tackle shop. In fact, the people are so friendly here that the pub essentially operates as an unofficial tourist office. If you have a question about the local area, or if you are looking for recommendations for the rest of your trip, you'll likely find your answer inside these four walls.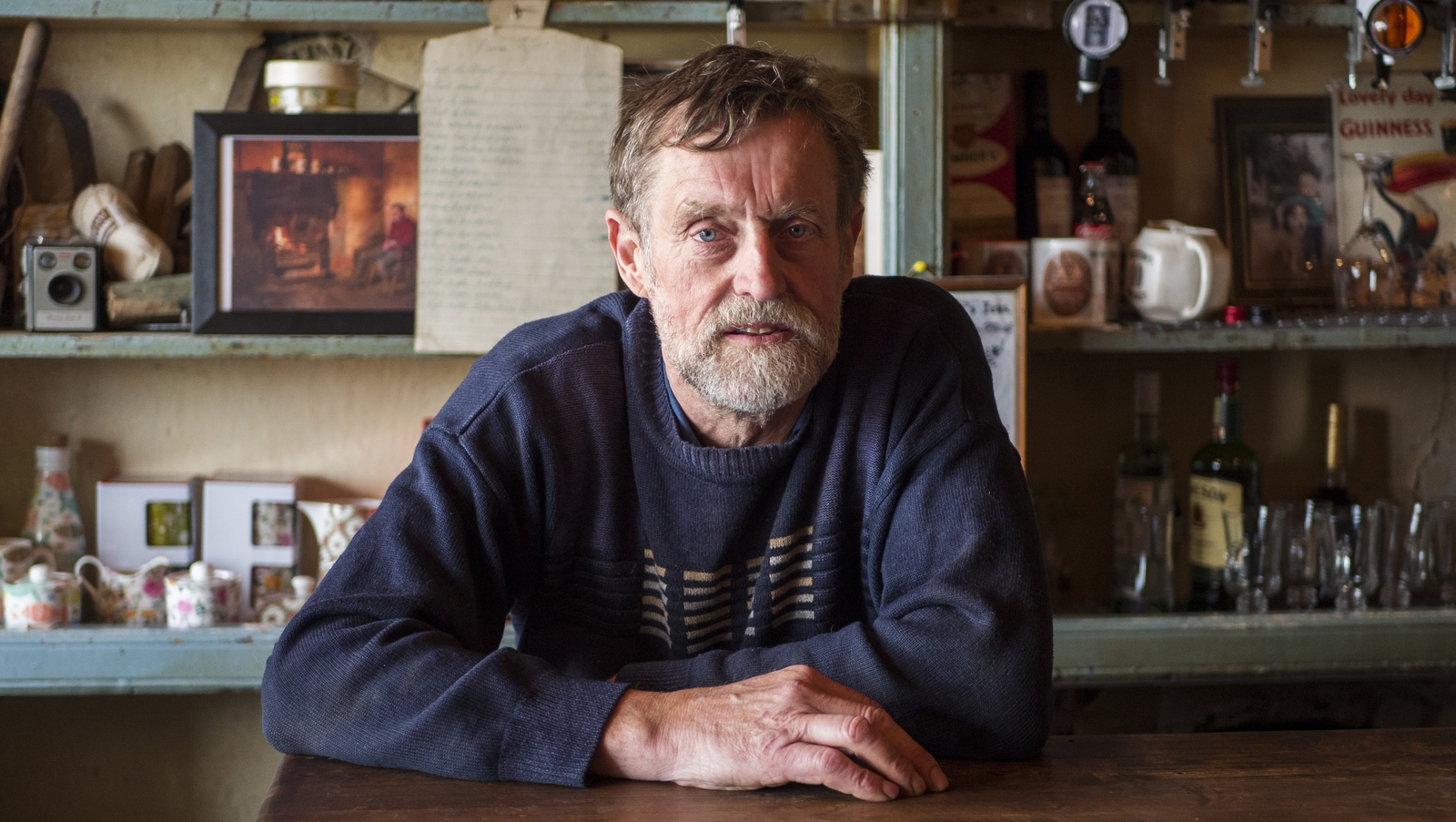 Luker's, meanwhile, is located just down the road and straddles two different eras of Irish life. On one side is an airy extension, paying respect to the impeccable local scenery by way of floor-to-ceiling windows overlooking the Shannon, its bridge and the nearby Napoleonic fortifications, next to a patio with its 'No High Heels' warning plastered on the wall. On the other side is the 'Old Bar', looking practically unchanged from the 1940's and dense with memorabilia of Irish life, including its original handwritten price list from 1989.
John J. Ryan, the Luker's publican, is extremely proud of the establishment he runs, having realised his dream of bringing the sophisticated culinary style he encountered Belgium back to his roots. This is immediately apparent when browsing his adventurous menu of confit of duck and baked goat's cheese. Ryan calls the place a "real authentic old heritage pub" and he is correct in that particular wording. Some pubs trade on a facsimile of 'Old Ireland' but there's something authentic about this one.
A little further upstream lies the ancient city of Clonmacnoise, a 6th century monastic settlement and one of the primary tourist attractions in the area. Contained within Clonmacnoise are several churches, a high cross and a round tower and it was considered a haven for learning and education in the middle ages, with people coming from all over Europe to learn to read and write there. It was here that the native Irish language was first translated into writing by the local monks and, as a result, some of Ireland's most treasured historical manuscripts have their genesis here. Tours can be arranged at the Shannonbridge tourist office.

Hodson Bay, in Athlone Co Westmeath and just thirty minutes north of Killeen's Pub by car, has a wide range of bay sports available on the water, which glistens with sun each morning, making it almost impossible to resist the urge to take a dip. The bay boasts two of the largest inflatable slides in the country, including a 7"2' behemoth as well as another inflatable colossus which can only be adequately described as a Viking helmet placed at the summit of a flowing volcano.
The Viking theme continues with a Viking Boat Tour launched from the bay four times per day from which you can learn all there is to know about the Vikings who settled in the area in the 10th century. Various kayaks, pedal boats and wake-surfing options will also be available for visitors.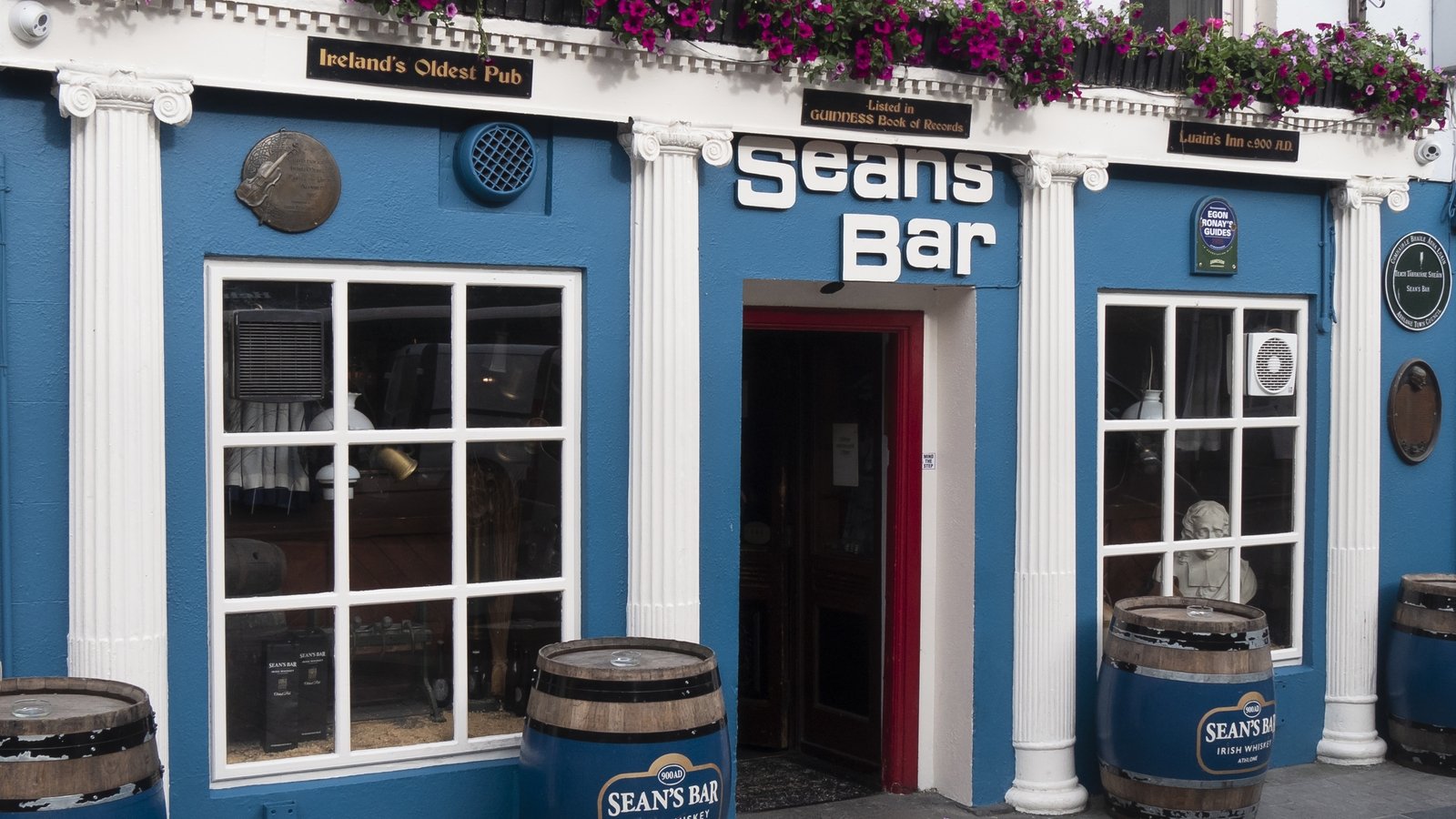 Taking the Viking Tour to Athlone is a perfect precursor to a visit to Seán's Bar, officially listed as Ireland's oldest pub by the Guinness Book of Records. Dating back to 900AD, the pub doesn't look noteworthy on the outside, but on the inside it is a treasure trove of history and heritage. In front of the counter, a massive frame holds a piece of wattle and wicker salvaged from the renovations in 1970, allegedly from the original structure.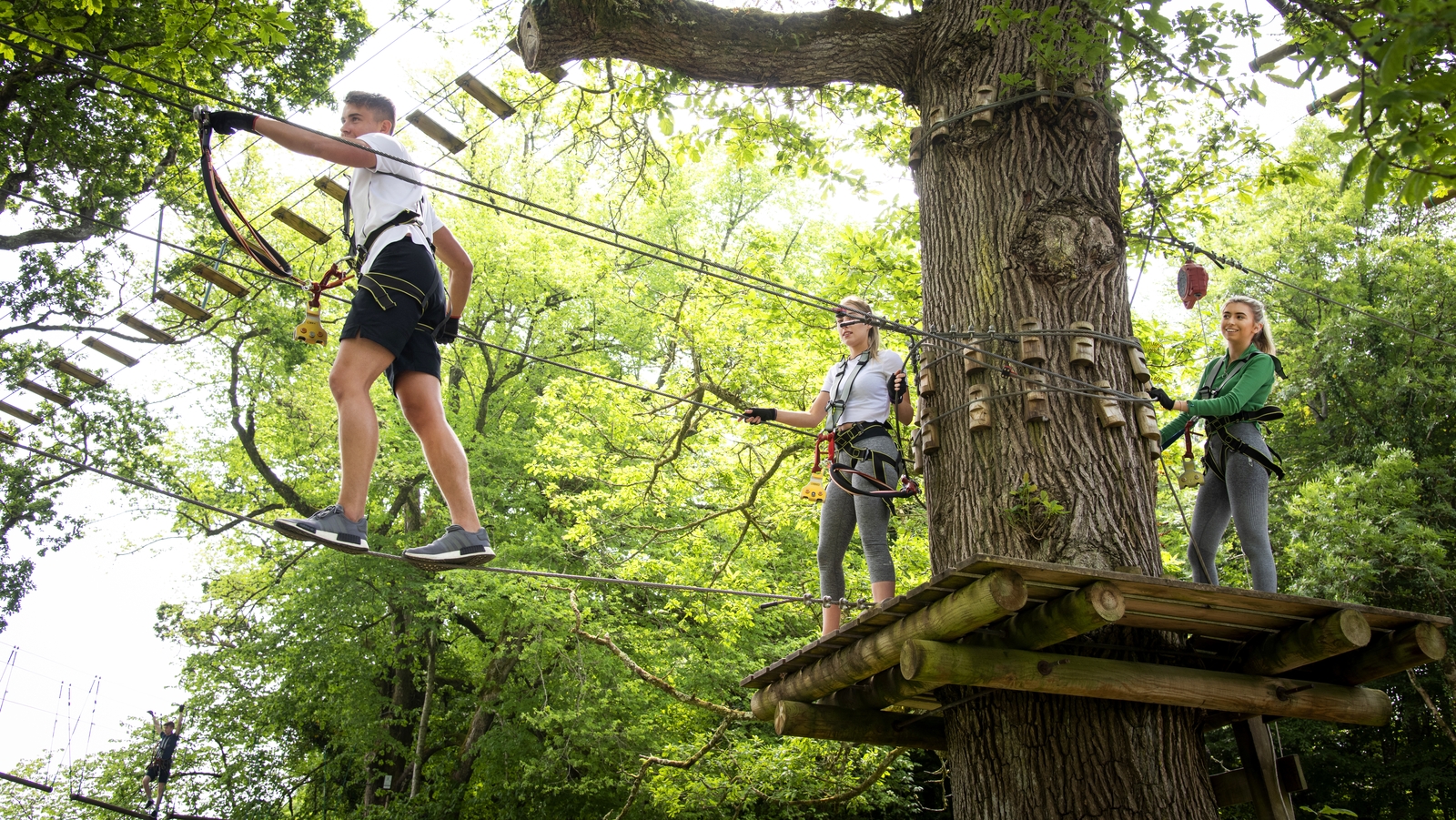 Venturing further north Lough Key, in northeast Roscommon, is a must for those seeking the serene, its rolling hills, frothing waves and stunning scenery the type of imagery often reserved for 'Wish You Were Here' postcards. At three kilometres wide, it is a hub of water activity, with everything from fishing lessons, a sheltered paddling area and boat hire. Bring your boat on a spin of the lough and scope out the 30 small islands that dot its surface, maybe even indulge in some water skiing. Or, you can go on the Trinity boat hire hour-long tours and learn all about the historical and mythical significance of the lough.
As well as all of this, Lough Key Forest Park is an adventure in itself, with its skywalk – an elevated path that traverses the treetops and brings you on a tour of the forest – and miles of walking trails, such as the Miner's Trail and the Bog Garden trail, for any level of ability. You can even explore via bike, segway or tandem, with each for hire in the park, and try your puzzle-solving abilities in the only Boda Borg room – a Scandinavian 'quest' game - outside Sweden and the US.
We need your consent to load this rte-player contentWe use rte-player to manage extra content that can set cookies on your device and collect data about your activity. Please review their details and accept them to load the content.Manage Preferences
Nearby Lough Allen in Co Leitrim has a multitude of adventure centres for any adrenaline junkies in your travelling party. Although it prides itself on its chill atmosphere, Lough Allen Adventure is a hub of activity, located right on the shores of the lough and in the shade of the Slieve Anerin mountain range and the Arigna hills. Thrill your family with some windsurfing lessons or learn how to kayak on the beautiful waters of the Shannon, all while soaking up the laidback side of Leitrim. Or, head to the Allen Centre in Drumshanbo, where you can revel in the silken waters of Acres Lake and kayak, canoe, sail or swim around the magical Floating Boardwalk.
Glencar Waterfall in Leitrim, in the shadow of the mountains bordering Sligo, is a gem hidden deep within a dense forest. The beauty of this particular waterfall is its accessibility as it doesn't require too much of a trek to take it all in. As for the waterfall itself, it is perfectly framed by the surrounding nature, with the hum of water hitting rocks acting as a soothing soundtrack, while the leafy canopy of trees overhead provide protection from any outbreak of 'Irish weather'. And should you be rained out, there's a café on site with all manner of treats and snacks to keep you satisfied.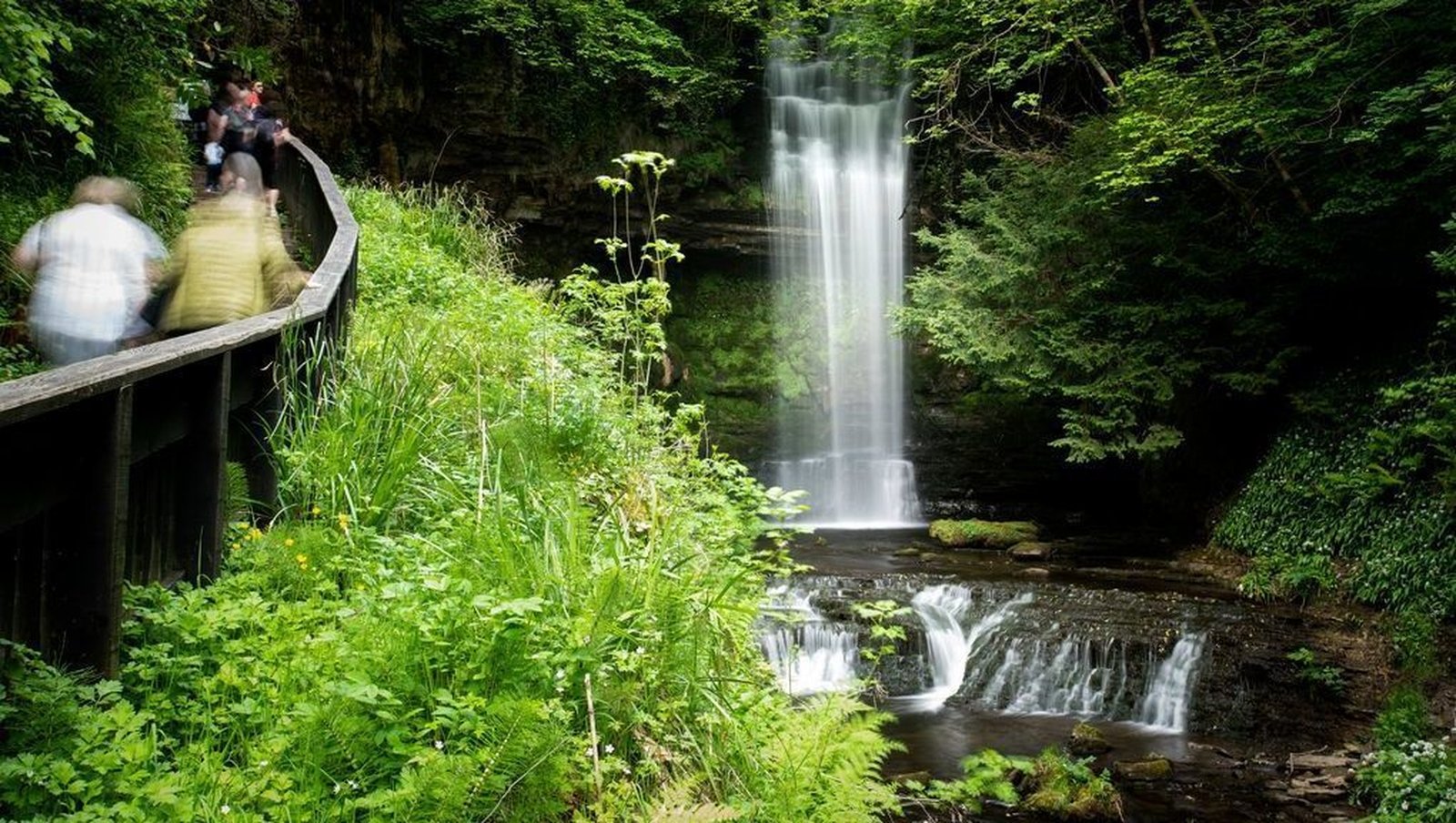 Owing to its rich and diverse aquatic life, the Shannon has become a pilgrimage for fishing and angling, with many travelling from all across the globe to sample the river's bountiful resources.
There is excellent coarse fishing, particularly tench and bream, in Tulla, Co Clare and Broadford, Co Limerick while the same goes for O'Briensbridge and Killaloe in Co Clare. Banagher has particularly incredible fishing in May and June when the backwaters are overflowing. Salmon and trout fishing is common, too, but only while it is in season. Depending on which part of the river you are on, salmon fishing season usually runs from March or June to September. More information on fishing on the Shannon can be found at www.fishinginireland.info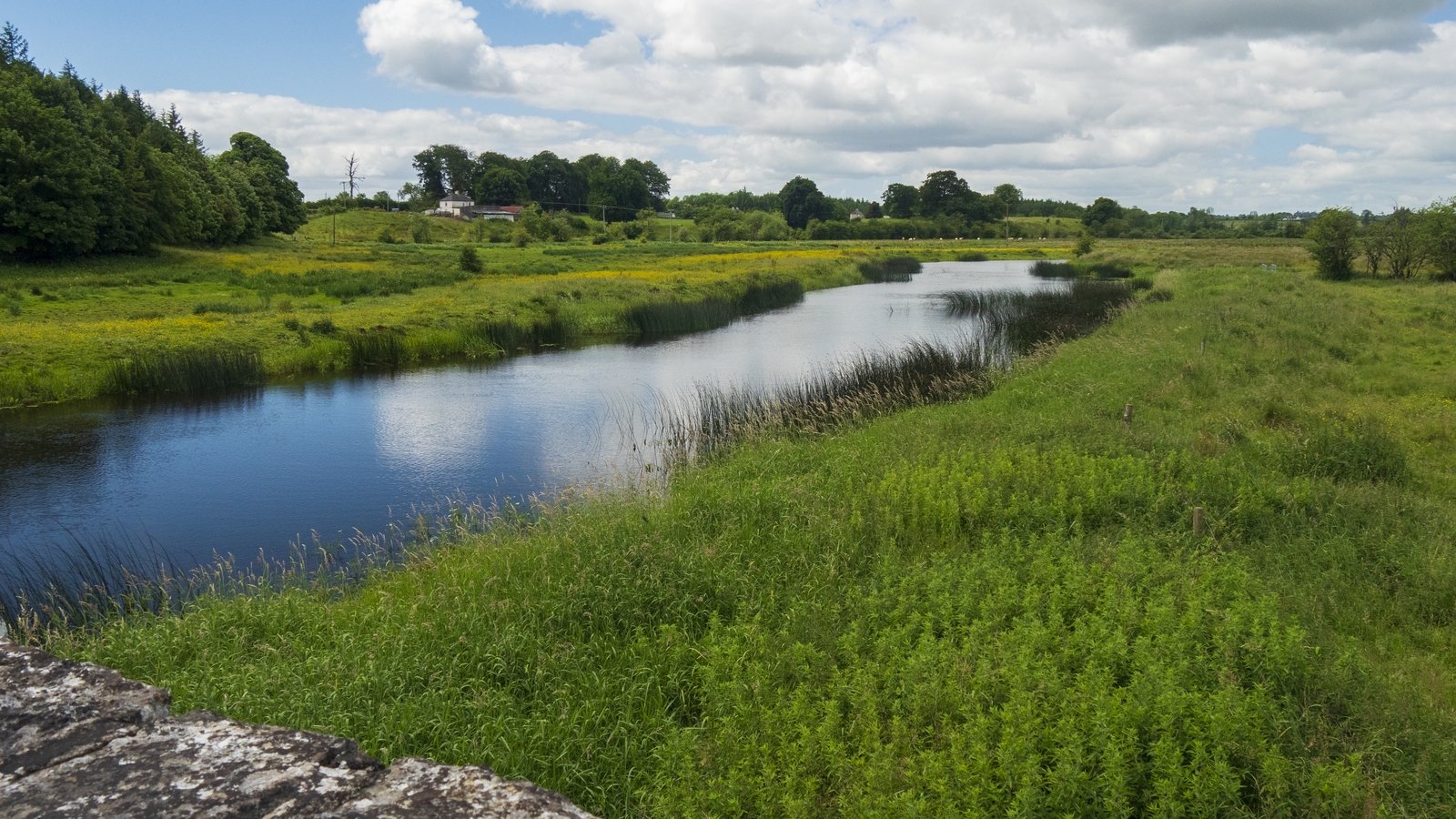 Be it food and local hospitality, an exploration through the heritage of an Ireland of yesteryear or something a bit more active on the waterways, you will find what you are looking for in Ireland's Hidden Heartlands. With its canals, loughs and towns borne from the banks of the mighty Shannon, there is a new discovery at each river bend.
Find out more and start planning your trip on www.discoverireland.ie