I adore my kids I really do, but like a lot of parents (I hope) I enjoy being away from them too. Everyone needs a break and when it comes to children, too much of a small thing can drive you potty.
So to 'de-pottify' ourselves, myself and Mrs. DD decided to head south for two days while our amazing child-minder took over the reins at home. With school drop-offs/pick-up sorted and the cupboards stocked, we left knowing that the kids would be well looked after.
We like to travel around Ireland as much as we can, particularly during the summer when we usually spend a couple of weeks in Kerry. For a weekend away, however, I prefer trips that don't involve half the weekend getting there so for this reason we chose Waterford.
At just over two hours from Dublin, or a total of three hourly news bulletins (the milestones by which I track a journey), Waterford ticked all the boxes and with the added bonus of the Deise Greenway to explore, we headed off like excited school children.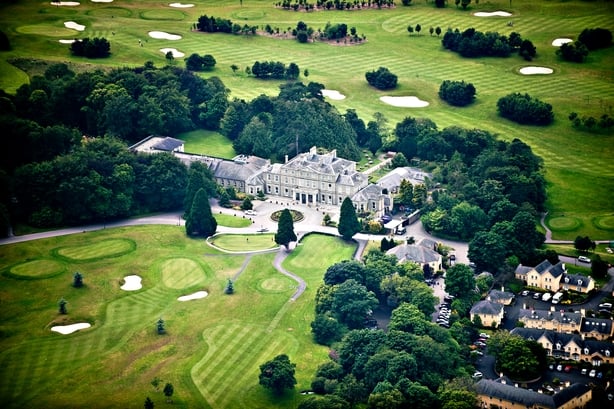 First Impressions
Our digs for the two nights was Faithlegg House Hotel, a beautifully restored 18th mansion on the banks of the River Suir which houses a four-star hotel situated in a stunning woodland location.
It's also home to an 18 hole golf course which offers a wonderful sweeping vista as you make your way down the long and winding driveway to the house.
Faithlegg advertises itself as 'a charming destination for a leisure break, wedding, meeting or conference' and on first impressions, it certainly didn't disappoint.
We parked up, turned off the third news bulletin and headed for the reception where a warm fire and warm, helpful staff greeted us. 'Kids? What kids!', I thought as I checked-out while being checked-in.
We headed to our room - a classic double but with a super king bed, large TV, tea/coffee facilities, robes and a decent sized bathroom – unpacked and left to explore our surroundings for fear of taking a sneaky power nap and waking up eight hours later.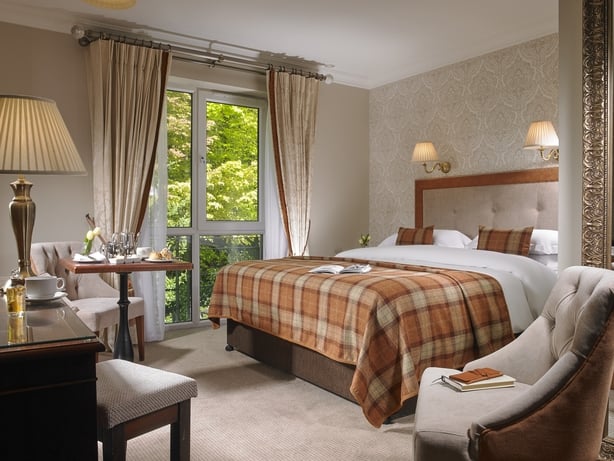 The Lounge
Sorry, I lie; we made a quick cup of tea first and enjoyed the macaroons and truffle chocolates that were waiting for us on our arrival. Now If you know me, you'll know I love treats so needless to say I was a happy camper after my 'heroic' two-hour drive.
Deciding not to exert ourselves and with pre-booked dinner only a couple of hours away, we decided to head to the lounge for some 'no kids hanging out of us' refreshments and chats. And if there was ever a lounge to lounge in, then the Aylward Lounge was it;
It's a large beautifully decorated room with a grand piano, numerous comfy couches, armchairs, tables and chairs, all perfect for relaxing and 'wine-ding' down. The stout wasn't half bad either.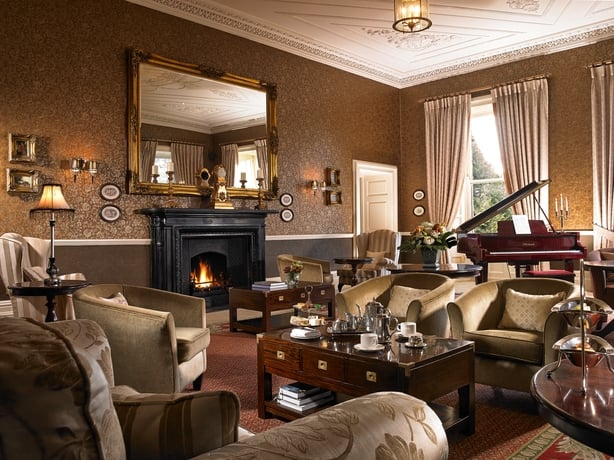 Dinner
Our dinner that night was in the Roseville Room Restaurant and the starters were some of the nicest we've had. Mrs. DD had Ardsallagh Goats Cheese Parfait with Pinenuts, Saffron, Pickled Pear, Brioche Crouton (it was as nice as it sounds) while I opted for Pan Seared Scallops with Twice Cooked Pork Belly, Black Pudding Dust, Green Apple Puree. Double yum all-round.
For mains Mrs. DD went for the 'Chargrilled Fillet of Irish Black Angus Beef with Potato Fondant, Braised Beef Croquette [these were great], Baby Spinach and Bone Marrow Jus', whereas I stuck with fish and had 'Pan Fried Fillet of Monkfish wrapped in Serrano Ham, served with Roasted Cauliflower and a Smoked Paprika and Chilli Cream'. Again both were delicious. 
Like ourselves, dessert was fruity and cheesy (you can decide who's who) as we decided to share a Green Apple and Blackcurrant Parfait and an Irish farmhouse cheeseboard accompanied by tea and coffee.
It was the perfect finish to a fabulous meal and a special mention must go to Gielsa for making us feel so welcome.
After dinner, we headed back to the lounge for a nightcap and although the atmosphere was somewhat subdued – no music and non-lit fire – we were happy to retire to our sanctuary upstairs as breakfast and the Waterford Greenway awaited us the next day.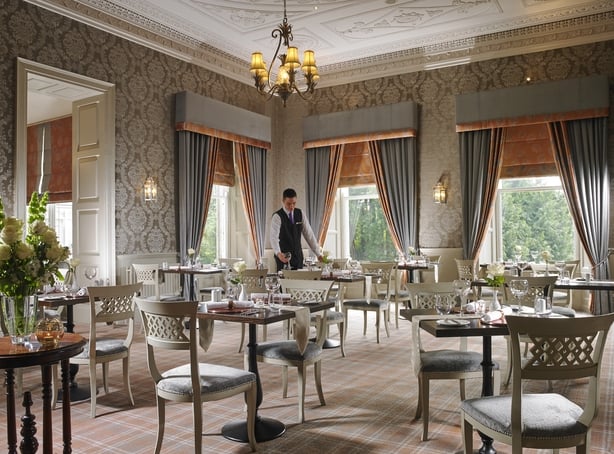 Breakfast consisted of both hot and cold options, all very adequate, and with a table situated beside a large bay window overlooking the grounds, it was the perfect start for the day's activities that lay ahead (more on that next week).
We spent the rest of the day cycling the 46km stretch of the Waterford Greenway, nursing our sore saddle bums and enjoying some of the great bars and restaurants that Waterford City has to offer.
It was a great day but we were happy to return to Faithlegg that evening where we nestled right back into the comfort of the Aylward Lounge to enjoy some live music and a few evening tipples. Bliss.
The verdict...
We had the pleasure of being invited to Faithlegg House Hotel on a complimentary bed, breakfast and evening meal basis and we really had a wonderful time.
The setting is lovely, the staff are very friendly and helpful, the food is fantastic and the service can't be faulted. The house is in a glorious setting and being only a 20-minute drive by car from Waterford city centre makes it a great base for exploring all that Waterford has to offer….and it has a lot.
It was the perfect escape for these tired parents so I can't recommend it highly enough.
So will we be back? Eh, yes definitely...just let me mention it to our child-minder first.
The damage...
We were guests of the hotel - the cost of our two night's bed and breakfast with a dinner in the award-winning Roseville Rooms Restaurant on one of the evenings is €199 per person sharing.
Afternoon tea and spa treatments are also available as additional extras. A discount on green fees is available for guests.
The details...
Faithlegg House Hotel & Golf Resort, Faithlegg, Co Waterford.  |  www.faithlegg.com  | t: +353 (0)51 382000
Other options in the area...
Other hotel and spa options that we looked at around Waterford include:
Fitzwilton Hotel
Waterford Castle
Dunbrody House Hotel
Granville Hotel
Wherever you choose, I hope you have a great time and If you have any questions please feel free to get in touch.
DD
---
Catch me on: Facebook | Twitter | e: digitaldad@rte.ie