Ski holidays are one of the more difficult trips to pack for due to the sheer volume of equipment you need. Do you bring winter gear, snow gear, evening gear, and party gear? For the uninitiated it can be a very stressful bag to pack.
RTÉ Travel caught up with Catherine Murphy, 2016 Irish Ski Journalist of the Year, to get some expert advice on what you need to pack for a trip away on the slopes.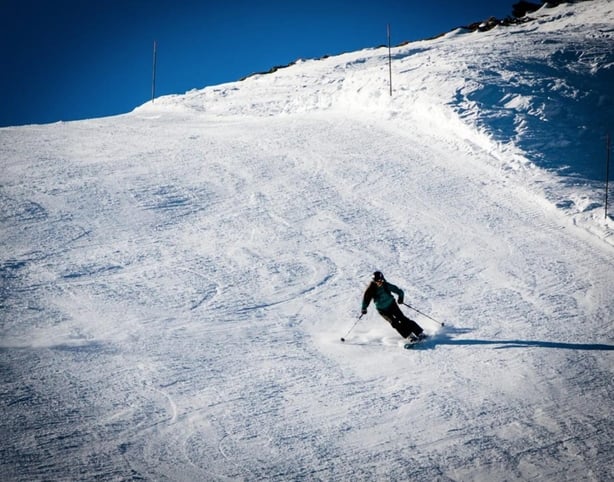 In terms of clothing, what are the essentials that you need to bring on a ski holiday?
"In terms of clothes when you're off the slopes for après ski, for a lot of people it's just a lot of woollens, heavy knitwear, jumpers and jeans. And a good pair of snow boots.
"You can get some really trendy snow boots these days. Moon boots are also back in fashion. And a nice, woolly hat.
"A lot of people will say for night time wear, just wear your ski jacket, but I disagree with that. If you're skiing all day for six days, if it's snowy, your jacket could be soaked.
"If you can fit it into your luggage, bring a second insulated jacket."
"A light pair of running gloves are also great, instead of bringing out your good skiing or snowboarding gloves, which you might lose in a pub.
"There is a bit of a trend now for dressing up as well: wearing your formal jacket with jeans and snow boots and it looks really well. For women, there is a trend now for skirts, heavy tights and snow boots.
"Jeans and a smart top or jumper should do you in the evenings, as long as you're well groomed. If you're staying in an upmarket hotel you'll want some smart clothes for dinner, but generally, it's very casual at most resorts.
"Also if you're staying in chalets, light indoor shoes or slippers are essential as you're usually not allowed to wear snow boots in chalets."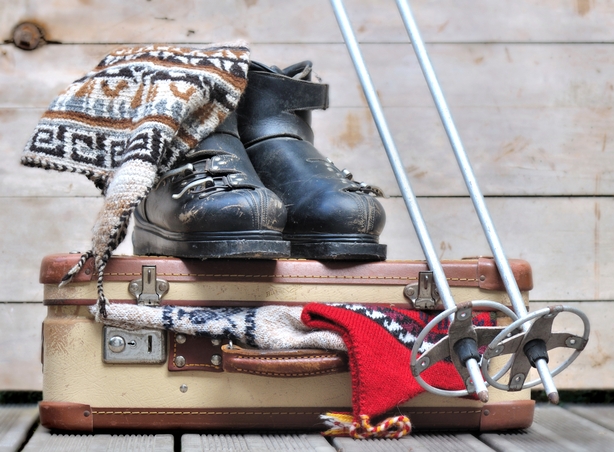 And then on top of that what specialist equipment do you need to bring?
"When I'm packing I tend to visualise it from my feet up. That's the only way I can make sure I have everything with me and it works quite well. So, you have your ski boots, ski socks, thermal leggings, ski trousers – I ski in Gore-Tex. That's the legs covered.
"On the upper body, you'll want a base layer or Merino wool, which is warm and breathable. I'd have a mid-layer, which again is also wool with a fleece on the inside and a zip-up. And then on top of that a down puffer jacket, followed by a Gore-Tex jacket, to protect me from the wind and snow.
"Sometimes, I'll also wear a soft-shell jacket. That's a lot of layers, so it's important to bring a backpack on the slopes to carry layers if you get too warm.
"If you suffer from the cold then mittens with a glove lining are essential. Then you need goggles and sunglasses and you can change between the two depending on the weather.
"A helmet is essential and then suncream - it can get very sunny into February and March.
"And you also need a buff. It's like a snood. A seamless piece of cotton around your neck, or on your head under your helmet, that gives you that extra layer on really cold days. You can get light ones, thick ones, and woollen ones.
"For really bad weather you should have a neoprene facemask or balaclava. That's for -15 or -20 degrees Celsius.
"It's a lot of gear so I use a split roller bag, with a zip in the middle, so you can put your night gear in one side and ski gear in the other side."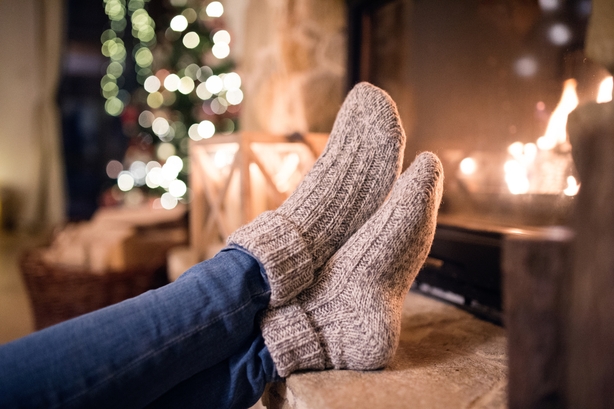 What other accessories would you recommend to bring with you?
"iPhone batteries die in the cold, and the same happens with GoPro cameras as well, so you should try and carry your charger or booster in your backpack on the slopes at all times.
"The other thing is to carry the phone or camera under a few layers of your clothes as your body heat lengthens the battery life.
"You can also get very dehydrated going skiing due to the high altitude, so pack some water in your backpack and drink as much as possible."
What advice do you have for packing for kids on family ski holiday?
"Make sure your children have warm thermal layers (long-sleeved tops and bottoms), good insulated ski trousers and jackets, mittens or gloves and onesies for night time if you're staying in a chalet.
"For babies and toddlers, woollen hats that cover the ears are great and sunglasses that can't be pulled off, as well as a one-piece outdoor suit (eg from Patagonia or Great Outdoors).
"Packing snacks and games to keep children entertained on long journeys is also a good idea."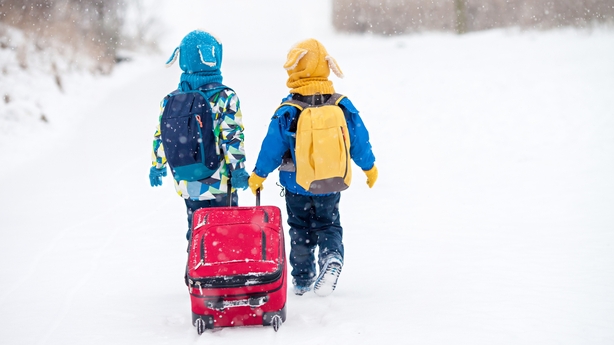 Is there anything we've missed in terms of expert advice that people should know?
"Try to pack light because you can be getting on and off trains to get connections on your way to the destination. Swiss trains can be double-decker trains, so you can be going up and down stairs, so if you're carrying 20 kilos, which I do all the time, it's a bit tiring.
"If you're a first-time skier, you won't have bought gear of your own yet, so just borrow from friends. You don't know if you'll like skiing until after the first few trips, so don't buy your own gear until you know you like the sport and want to do it regularly, otherwise, you're just going to waste a few hundred euro on equipment that you're never going to use again.
"Good ski boots are the most important piece of kit, but again, wait until you're sure you want to ski every year before investing in an expensive pair."