If you want to visit Santa in Ireland, you really have to do your research and plan ahead.To some, the first of September is around the time the kids go back to school, however, to those in the know it's only 116 days to Christmas and some of the best winter experiences are booked out by the end of the month.
YourDaysOut.ie publishes thousands of things to do in Ireland with ideas, activities, and events from all over the country. There are also lots of things to do in Ireland at Christmas including places to visit Santa.
Listen to Taragh Loughrey-Grant's The LifeStyle Show podcast with Ciaran Dunne above.
To help you out, we're publishing a selection of our Christmas favourites so you can get an early start this year and make sure you don't miss out on creating some wonderful family memories.
Our selection covers most areas of the country and should offer ideas for every family type. However, as all Santa experiences cost some money to set-up, there are not usually any free alternatives. We're broken down the list of 19 places into our capital and then the four provinces.
DUBLIN
1) Dublin Zoo
Dublin Zoo is one of the country's most popular tourists attractions every year and it'll be celebrating the end of another busy year with its annual Santa's Grotto. 
Santa will be visiting Dublin Zoo every weekend starting in November with additional visits on 22nd, 23rd and 24th December.
Each one-hour session includes festive activities with a private meet-and-greet with Santa for a select number of visitors. Each child will receive a gift and a souvenir key ring.
Your ticket also allows you to enjoy the rest of the day at the Zoo. Pre-booking online only from September 2017.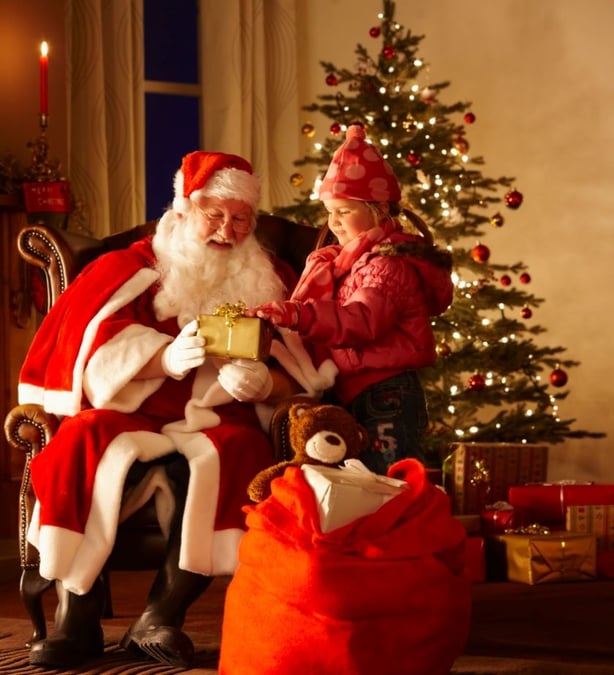 Airfield Estate will be running their popular Christmas experience from 1st to 23rd December this year.
The fun family package includes face painting, letter writing with Santa's Elves, 30-minute group experience with Santa in Airfield House with story time and gifts, decorating a delicious treat in the Elves' Kitchen, warm up with a hot chocolate or mulled wine, make a festive decoration and take a magical trip on the Santa train. Tickets go on sale at the end of August.
LEINSTER
3) Tayto Park
A little bit of the North Pole will be coming to Tayto Park from the 1st-23rd December. Jump on the train and visit Santa's Grotto, enjoy Christmas themed arts, crafts and face painting, Christmas storytelling and access to Tayto Park.
Entry to the Eagles Nest Adventure Zone is included in the ticket with unlimited access to The Leap Frogs, Climbing Wall, Steam Train, Honey Pot Bears, Ferris Wheel, Grand Carousel, Rocking Tug, Shot Tower & Jumpers.
Adults must accompany children but adult members are free. Tickets are on sale now.
4) Ladyrath Lane
What started as a renovation project to host a wedding on a family farm near Navan, has turned into another fantastic addition to the family activity market.
They run pre-booked events including camps,  Halloween, summer days out and are also available for weddings.
They also run a Christmas Experience. Visit Santa, Mrs. Claus, and the Elves at Ladyrath Lane from 15th December to the 23rd.
First, meet the fairies in the enchanted forest and get some magic fairy dust to leave at your fireplace on Christmas Eve to help the raindeers fly. Next, visit Mission Control and let your kids see how Santa's journey on Christmas Eve is managed.
The Toy Workshop is filled with presents made by the elves and you can help them wrap the presents and put them in Santa's Sack. Mrs. Claus will treat you to a Christmas story and help her make the Christmas pudding before a special visit to Santa in his grotto.
5) Wells House
Santa arrives at Wells House & Gardens on the 26th of November with Mrs. Claus and the Elves and will be starting visits from the 2nd of December.
Meet Mrs. Claus as she tries to organise Santa's mischievous group of elves in their workshop and then decorate a Christmas bauble to bring home to your tree before checking if Santa's list has your name on it before he leaves on his travels on December 24th!
Then in the magical setting of the Great Hall of Wells House and Gardens visit Santa who is looking forward to meeting all the boys and girls in the run-up to Christmas!
Wells House and Gardens do not charge for accompanying adults to visit Santa so you have the opportunity to make this visit a special Christmas memory and bring the grandparents along. Finish your visit with a delicious hot chocolate for the children served in Mrs. Stone's Restaurant.During Santa visits to Wells House and Gardens, there is no entry fee to the grounds.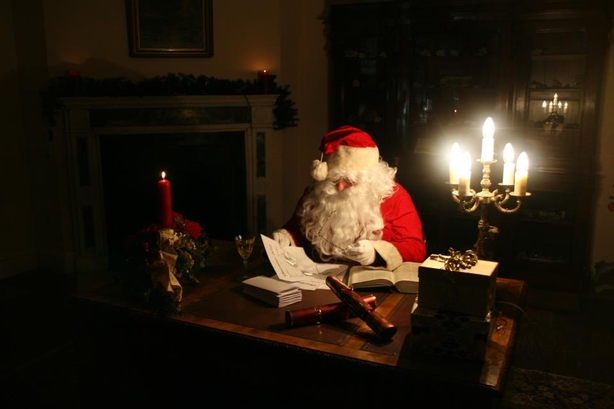 6) Lullymore Heritage & Discovery Park
Lullymore Heritage & Discovery Park is a day visitor attraction located on a mineral island in the Bog of Allen between the villages of Rathangan and Allenwood in North West Kildare.Christmas starts in Lullymore starts on the 25th November and run until 23rd December.
It's a traditional Christmas experience with visitors staying about 2 hours on average enjoying an indoor winter wonderland, fun interaction with Santa's elves and then a visit to Santa with a quality gift.There's also a train trip, traditional crib scene in a thatched cottage, a petting farm, and woodland walks.
7) Birr Castle, Gardens and Science Centre
At Birr Castle, Gardens and Science Centre you will be greeted and entertained by the Castle elves, before taking a trip to the enchanting Birr Castle where you will meet Mrs. Claus in the drawing room by the enormous roaring fire for a magical festive story.
The visit continues to the elegant dining room where you will meet the man himself, Santa Claus! Each booked child will receive a gift from Santa age appropriate as well as a sweet treat and hot chocolate, the experience will last 45 minutes.There are nine scheduled dates this year starting from December 1st up to Saturday 23rd December.
Pre-booked adult and children tickets also include general admission to the Treehouse adventure playground and gardens.
8) Christmas Island
A unique Santa Experience takes place on Christmas Island - down at Hidden Valley Holiday Park in Wicklow.

The experience will include an exciting journey on The North Pole Express train and a trip to Christmas Island where you'll meet the Elves for singing, dancing and Christmas activities. You will then depart Christmas Island on Santa's giant sleigh boat headed to see the big man himself in Santa's Grotto.

It's the only Santa experience in Ireland with both a train and boat! Lots of extras included like mini golf, playgrounds, colouring competition, best "Christmas" dressed family, thousands of twinkling lights, Christmas cinema room and more.  
All the kids receive a present from Santa, sweet treat, Christmas medal and plush reindeer wrist toy.
Food and drink on-site and overnight accommodation is available.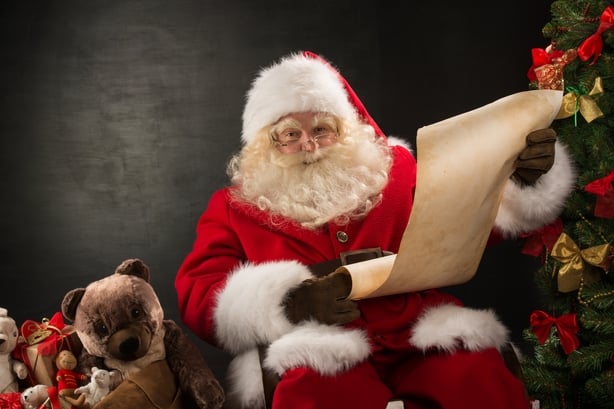 ULSTER
9) Todds Leap
Todds Leap is one of the best outdoor activity centres in Northern Ireland with a fantastic mix of fun-filled adventures.
Winter Wonderland, their Christmas event, runs from the 1st - 23rd of December. Travel through the magical tunnel, tour the elves workshop, help the elves in Santa's Post Office, post your letter to Santa, visit Mrs. Claus in her cabin and then meet Santa in his Grotto.
Plus an Off Road Sleigh Ride, Animal Village, Santa's Reindeer, Christmas Treats in Mrs. Clause Cabin, Present from Santa, Arts & Crafts, Complimentary Tea & Coffee for Parents in Arts & Crafts Room.
They will also be running two special nights this year for Children with Autism & Social Educational needs on the 13th & 14th December.
10) Castle Espie Wetlands Centre
Castle Espie Wetland Centre is a place to get up close to Ireland's largest collection of native and exotic water birds, bats and migrant birds whilst taking in stunning estuary views.
They are preparing a magical time this Christmas with a Santa visit in their enchanted gardens. Walk through their Winter Wonderland with your very own personal elf, in search for the golden snowflakes, and only then will you be able to unlock the door to Santa's Grotto.
The golden snowflakes provide the children with a special password or code that they use that the grotto door before Santa will let them in. Either before or after your Santa visit you can also enjoy crafts, storytelling, toasting marshmallows and helping Mrs. Claus find her decorations.
The scheduled dates are 9th,10th,16th,17th and 21st and 22nd December and tickets go on sale 1st September.
11) Santa's Cottage
The official residence of Santa in Ireland, as awarded by the Greenland-Denmark World Congress of Santas, will be open from 19th November until Christmas Eve and booking has already started.
The cottage itself is a traditional Irish cottage that dates back to the 19th Century. Guests will also be invited into the comfort of Santa's Underground Cottage and see Mr. Claus himself arrive down through the chimney.
Spectacular Christmas lights, Santa's Igloo, a Nativity Crib, the Elves workshop, gift shop and a new Elves house ensures each child will have a magical experience this year.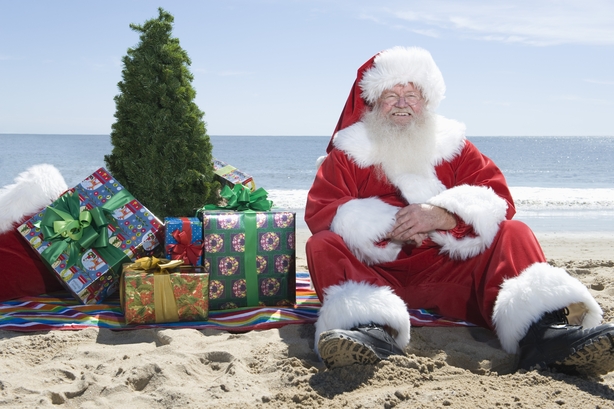 CONNACHT
12) Brigit's Garden
Santa's Christmas Magic at Brigit's Garden is a wonderful family show with Santa and Elfie, his musical elf. There's lots of music, fun and Christmas magic! 
This year Elfie and Santa will be joined again by Mrs. Claus to make a full Santa experience with the professional show as the delightful highlight of the day. The visit lasts around 2 ½ hours, with Mrs. Claus and other activities for the first 1½ hours, followed by Santa's Christmas Magic Show with Elfie and Santa.
Each family is given a special candle from Santa given to each family to light on Christmas Eve. Under 3s are free if they sit on an adult lap for the Show.
13) Westport House
The guided Winter Wonderland experience will begin with a visit to the amazing LIVE crib situated on the front lawn of Westport House. The Live Crib is in aid of two Westport Churches – Holy Trinity and St. Mary's Church – who are urgently fundraising for restorative works and any donation will be appreciated.
After visiting the crib, you will make your way inside, into the front hall of Westport House and be greeted by Santa's Little Helper who will lead your family – along with a small group of other families – through the guided experience.
Please note that the group size will include no more than 12-15 children. After meeting Santa, you'll see the elves hard at work in the Elves Workshop and have the opportunity to make your own yuletide log to take home for the Christmas table!
The Train Driver will pick you up from the back door and you'll hop on board the Westport Train to enjoy magnificent winter time views around the House before you depart. Babies under 1 year old go FREE for their first Christmas with a gift included!
MUNSTER
14) Ailwee Caves
Santa Claus will be taking up his annual residence at Aillwee Cave in Ballyvaughan on weekends from the 24th November.
There is face painting, a puppet show and lots of carnival entertainment to be enjoyed. Santa Elves are waiting with their lists of the boys and girls visiting every day. They will guide everyone along the cave passageways singing Christmas Carols all the way.
Santa Claus with his helper will meet and chat with each child and, of course, have a present for everyone. Mrs Claus is there to greet the grown-ups with a glass of Hot Punch and a Mince Pie.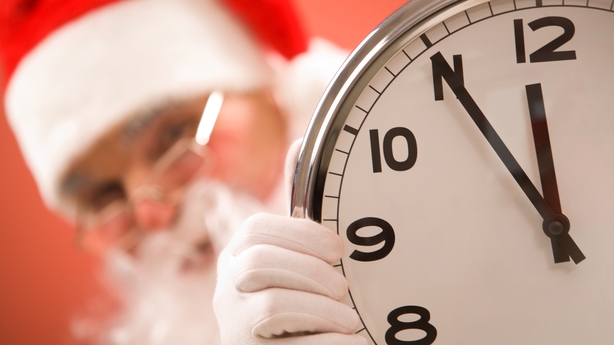 Sensory Day in Santa's Workshop @ Aillwee Cave 
During this year's workshop, for the first time, Santa and his elves are hosting a day for children with autism and other sensory challenges. This will not only be for the children but also their friends and families to enjoy at Aillwee Cave. 
On Thursday, December 21st, Santa will attempt to slow down the pace around the workshop. This way children with sensory challenges and autism can join in the fun and festivities. 
Santa will still be visited in his workshop deep in the cave.  In hopes to create a relaxing space for the children, softer lighting and music will be played alongside an area with bean bags and bubbles. The carnival rides will also be set at a slower and quieter pace.  
If there are any further questions or concerns, they can be answered individually over the phone.
15) Bunratty Castle
Bunratty castle is a beautiful, historic medieval castle that is built on an old Viking camp. The folk park is a reconstruction of a village in Ireland 100 years ago – you can walk around the cottages representing how people lived & businesses that they ran. 
At Christmas, the village is turned into a magical Christmas experience with storytelling, a visit to Mrs Claus in her kitchen, puppet show, Bunratty Polar Express Train ride and lots of Christmas characters. Try and avoid Scrooge though or he'll ruin your Christmas cheer.
16) Fota Island Resort
Fota Island Resort in Cork hosts probably the biggest Santa Experience in Ireland, whether measured in terms of visitors, acres or the amount of snow used. Over 50,000 people go every year.
Each winter the gorgeous woodlands at Fota Island Resort are transformed into a magical Christmas experience for the whole family. Each year is a different theme. In previous years there has been 'Imagine', 'Wish' and 'Discover'.
This year's theme and details have yet to be announced but tickets sold out last year in nine days!
17) The Farm, Greenagh
The fun starts as soon as you arrive at The Farm in Greenagh (15 mins from either  Mallow or Cork), with jolly Christmas elves bringing visitors to meet Santa and Mrs. Claus
The trip through the Christmas Wonderland takes about 45mins and includes a train ride to the north pole, a visit to Santa's Office, help Mrs Claus in the kitchen, visit the live crib and of course a special visit to Santa's Log Cabin.
Under 2's go free.
18) Atlantic AirVenture
If your child is fascinated by the world of flight, then visit Captain Santa at the Flightdeck this Christmas at Atlantic AirVenture in Shannon, Co Clare.
Take a seasonal flight simulator experience, then see the museum with jet aircraft, engines, cockpits and lots more! 
The flight simulator is ideal for ages 7 upwards and they often have teenagers willing to meet the Captain too! 
Bring along your letter for Santa and dress for the occasion!
They will supply flight suits for the children and airline pilot jackets for parents. Mrs. Claus will also take a family photo with your camera or phone.
For those who want to experience what it is like to fly a passenger airliner another option for older kids is to take your seat behind the controls of the most popular one in the world, the Boeing 737-800 NG.
You will experience what it's like to be in the cockpit in charge of a flight during an Approach and Landing into the snow-covered Lapland International Airport.
It's a lot harder than it looks and will be an experience they will remember for years to come!
19) Steam Trains
a) Waterford & Suir Valley Railway
The Waterford & Suir Valley Railway's train ride takes festive passengers on a heritage narrow gauge train hauled by a diesel locomotive along the banks of the River Suir, (December 2, 3, 8, 9, 10, 16, 17, 21, 22 & 23). At the station, Santa will be waiting in his Railway Cottage (with gifts galore, naturally). Advance booking is essential.
b) Steam Trains Ireland
The Santa Special Train operates on three routes on Saturday and Sunday in December; Dublin-Maynooth, Belfast-Whitehead, and Portadown-Lisburn. A return journey of festive fun with a visit from Santa on the train with presents for all the children. There is great excitement as the children watch out for Santa as he makes his way through the carriages.
Happy booking and you'll feel great once it's done and you can all start looking forward to it.