Livingo is a high-altitude, low-cost ski resort. Standing at 1,816 meters, the town manages to keep prices down owing to its century-old duty-free status. It's located in a wide valley in northern Italy, close to the Swiss border, and is a long winding four-hour transfer from Milan airport.
Livingo's high-altitude means the snow reliability is good and the season is long. The resort's 3km pedestrianised main street is lined with bars, restaurants, and duty-free shops. This combined with its pretty traditional Alpine appearance, a lively après ski scene, and 115km of well-groomed pistes makes Livingo an all-rounder ski resort.

On either side of the village are the Carosello and Mottolino slopes. When the sun shines, it does so on Carosello in the morning, and in the afternoon in Mottolino. This makes it possible to ski in the sun all day. Most of the skiing is above the tree-line so it can feel exposed in bad weather.

The main lifts are at the edges of the town. So if you're not staying close by you can access them by using the free bus or by traversing the mountain using a series of button lifts.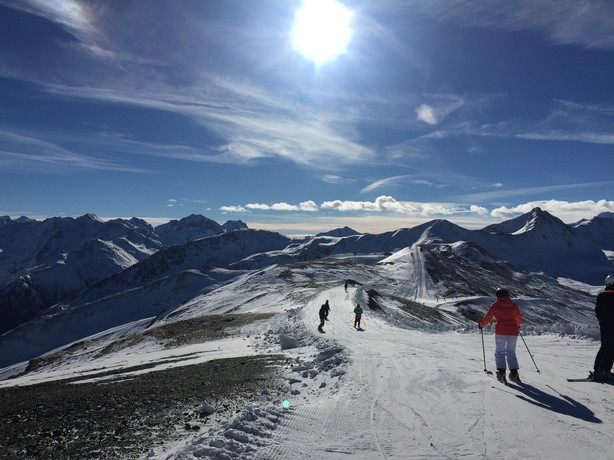 Activities:
Livigno has plenty of blue runs which are ideal for beginners and families. Intermediate skiers will be kept busy with a big choice of red runs and the long black runs in Mottolino. Advanced skiers might find it a bit more challenging to hold their interest for a week. But weather permitting; heli-skiing and off-piste are on offer. The long ridges and wide runs give stunning views of the surrounding area making it a great resort for all level skiers to cruise and enjoy the mountains.

Beginners can save cash by using a points card which is credited per lift that they use. It usually works out a lot cheaper than paying the €150 for a six-day pass. If you do feel like exploring other ski areas, the Livingo lift pass will give you a half-day access to the lifts in the nearby (but expensive) resort of St.Moritz in Switzerland.

Non-ski activities include tobogganing, ice skating, fat biking and snowshoeing. Well worth a visit is the state-of-the-art Aquagranda leisure centre where you can soak your weary legs in the thermal suites. The centre includes a gym, a family friendly pool with waterslides and a zen-like adult-only wellness centre. Parents will be happy to know there is also a kindergarten on site. A visit to the Aquagranda costs €19 for adults and €14 for children.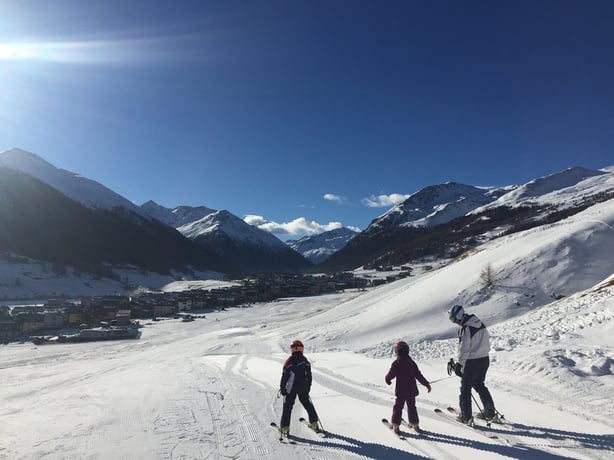 Entertainment:
There are plenty of bars to chose from for apres-ski. The bar Tea dal Vidal at the bottom of Mottolino and Stalet bar at the Carosella gondola kick off around 5 pm. For late night dancing, Mickeys and the cellar bar Bevivos are good choices.
A cover charge usually applies after midnight. But the pick of the bunch is a brewery bar called 1816. It claims to have 'the highest beer in Europe'. With its floor littered with monkey nut shells, it has a relaxed fun atmosphere.

Aside from skiing and drinking the other main activity in Livingo is shopping. There are over 300 shops in the town and a staggering 100 of them are perfume shops. The best value can be found in cosmetics, petrol, cigarettes and alcohol. It's not unusual to see the domestic tourist queuing up in their cars at gas stations to avail of the cheap prices.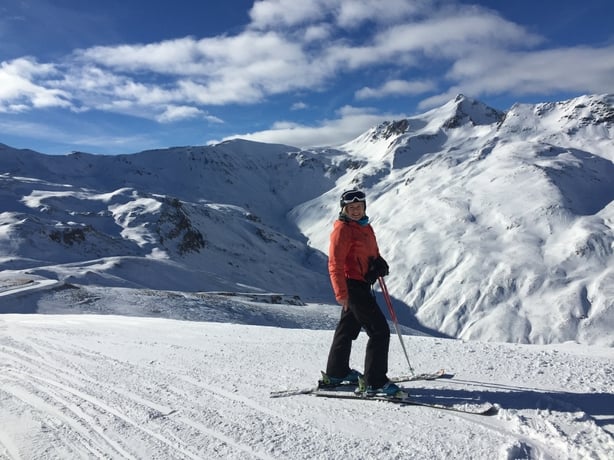 Eating out in Livigno is not like eating out in other parts of Italy. While you do get your Italian staples such as pasta and pizza the food in this region is heavily influenced by its Alpine location. So expect lots of cheese, polenta, and venison.
That said, the food it excellent and the restaurants are usually hotel-based and unpretentious. If you want to really spoil yourself, fork out the €65 for dinner and party in the Camanel mountain restaurant.
The fun begins on the ride up Mottolino in a converted piste basher, followed by a cheese and prosecco reception before a delicious four-course meal. All drink is included as is the late night dancing. But beware; if they know you're Irish you might end up lip-syncing U2 to a load of excited Italians.

The Cost:
Deirdre travelled to Livigno with Directski.com and stayed in the 3 Star Hotel Alaska. The website offer ski and board holidays to Livigno all winter season with flights from Dublin. Prices the hotel start from €629 per person sharing and include return flights, transfers, accommodation for seven nights on a half-board basis, 20kg baggage allowance, taxes and the services of the website's representative.
Directski.com offer a wide range of accommodation throughout Livigno including apartments and hotels. Apartment prices start from €395 per person sharing based on four-person sharing.