The buzz of exploring one of the world's great cities is a special feeling, be it New York, Seoul, Paris or another of the world's major urban centres. But as long as I have travelled I've always had a longing to go out into the depths, to quiet places of natural beauty where you get away from the hustle and bustle and rush of a city. 
Steve McQueen once said, "I'd rather wake up in the middle of nowhere than in any city on Earth."
And I think all explorers can relate to that statement.
When you step out into the Swiss mountain air at the train station at Kandersteg, in the Alps, you know that you've found one of those special, quiet, soulful places that will rejuvenate you while you are there and breath new life into the most tired and hackneyed of souls.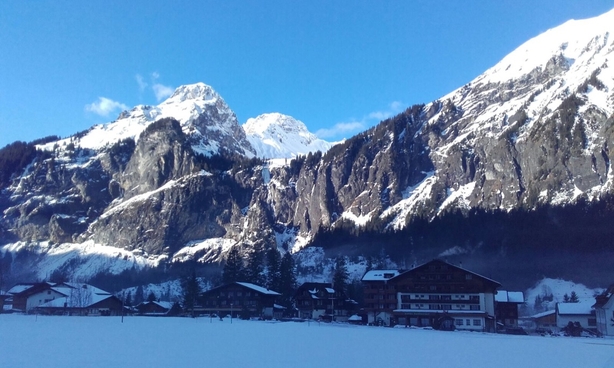 I visited the town at the start of February, with the indulgences of December fading away and the hard realities of January fresh in my mind and found Kandersteg to be the perfect place for a winter retreat to reset your clock, take a break and contemplate the year ahead.
Kandersteg, located in the canton of Bern, in the centre of Switzerland, is simply an impossibly beautiful town. It's essentially one street with a number of different roads leading off that main thoroughfare with the architecture composed of traditional Swiss wooden chalets, both large and small, catering for hotels, shops, bars, and restaurants. Stepping out of the train station, most especially at night, with the snowfall creating a white layer across the town, is chocolate box beauty at its best.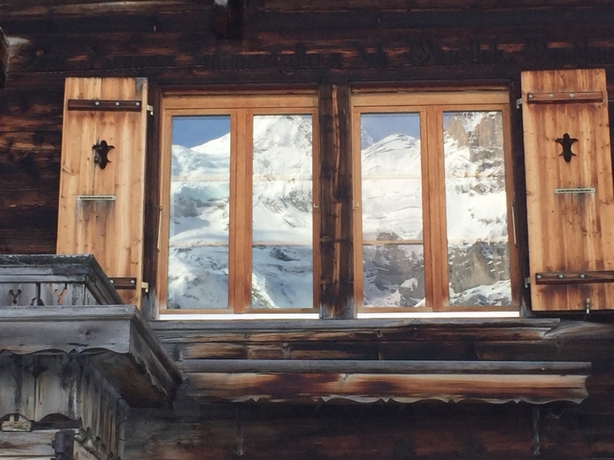 The Waldhotel Doldenhorn
The essential base for a good bolthole away from the reality of your everyday existence is a magnificent hotel. And the four-star superior Waldhotel Doldenhorn is that very place. With a name like a Harry Potter location, and a driveway leading up past a cross-country skiing track, a wooden creation stands up before you that beckons you into a hotel of simple elegance. A traditional Swiss interior with a piano bar and a snooker room is the main thoroughfare where guests gather and chat with the international staff who hail from as diverse a range of countries as Bulgaria, Germany, and Cambodia.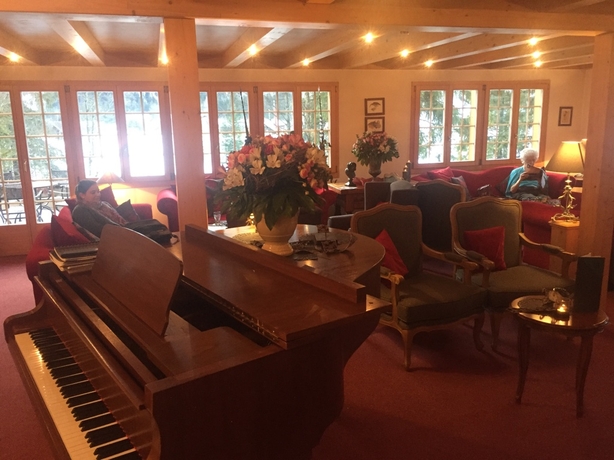 The rooms follow suit with a simplicity that betrays the four-star rating of the establishment. There is no minibar and a modest TV set inside each room, and that's a good thing, as the rooms instead focus on a simple interior with wooden balconies that look out over the neighbouring Alps that tower up into the stratosphere with a towering majesty.
Food in the Doldenhorn also equals the standard of the hotel's appearance; with breakfast including the likes of freshly squeezed carrot juice and poached eggs on a bed of spinach with truffle sauce.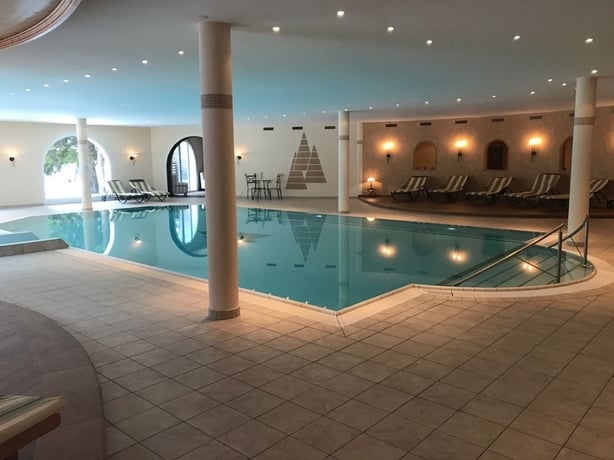 Add into the balance a stunning spa, with six types of sauna, a swimming pool, and an outdoor Jacuzzi, and you have a hotel that you could stay in for weeks without leaving...but to do so would do a disservice to Kandersteg and the many attractions it has to offer.
Skiing and tobogganing
All good retreats generally offer activities for visitors should they wish to activate themselves and not just lounge and this little Swiss town has them to boot.
The previously mentioned cross-country skiing tracks – which total over 100km in length - crisscross their way around the town, and one can regularly see skiers of all abilities using them. Total beginners in the Nordic ski discipline can rent skis and get a lesson to try out what is regarded as the most physically demanding of winter sports. The Grossen Sport shop in town rents boots and skis for the day if you haven't brought your own.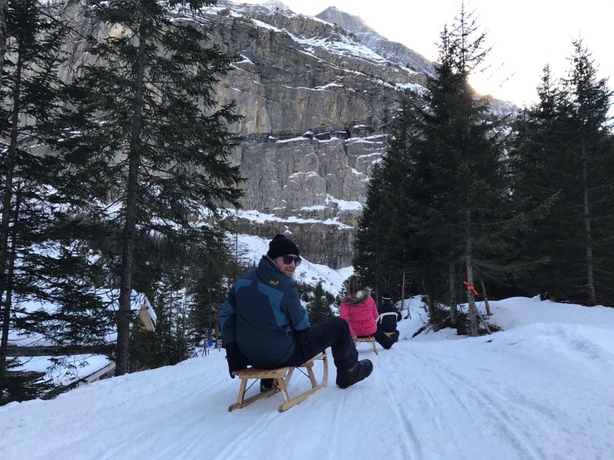 For those that crave the adrenaline rush of Alpine skiing, gondolas take visitors up the mountain to partake in the downhill version of the sport. Or, you can enter the world of tobogganing, using the same slopes, one careers down the piste using one's heels dug into the snow as a steering mechanism, with the plateaus on the piste natural stopping points where one can take in the views across the mountains.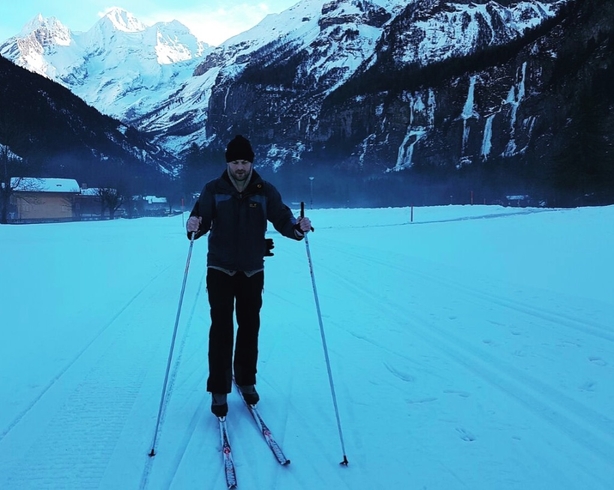 Experienced skiers can also try their hand at ski jumping. The infamous Eddie the Eagle, who finished dead last in the 70m and 90m jumps at the Calgary Olympics, trained at the town's jump centre, the Nordic Arena, in his early days, while cadging accommodation by doing odd jobs in the town. The centre fell into disuse for a number of years, but is now back in action and is being developed into a centre of excellence; the fact that the Swiss national ski jump team trains here speaks volumes for the quality of the slopes and also the facilities.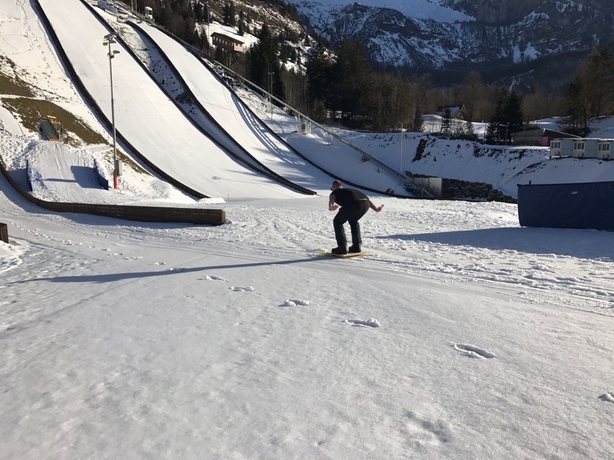 Fondue, raclette, and rosti to beat the band
When it comes to food, Switzerland rarely fails to please. The nation has a number of staple dishes, which you can indulge in across the country; and when I say indulge, I mean indulge, because fondue and raclette are indulgent by their very nature. Fondue consists of a pot of melted cheese – several varieties – along with white wine, garlic, flour, lemon and brandy all amalgamated into a delicious gloop that is soaked up with bread, vegetables or meat. 
Raclette is the name of a semi-hard cow's milk cheese that is also melted and then sliced over a variety of other ingredients, often potato rosti, the third of that staple Swiss dishes, which is essentially grated potato, with salt and pepper, fried in a pan. It's all very gluttonous stuff, but it's delicious.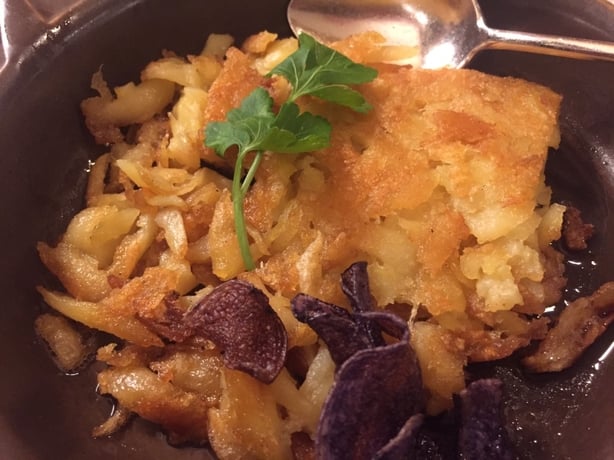 A number of hotels in town cater for these cheese fests. The three-star Chalet Hotel Adler bang in the middle of town serves a superb fondue. It is also quite a fascinating place in itself. Owner Andreas, a man fond of world travel and beer, has turned Hotel Adler into Kandersteg's love hotel, with rooms decorated in "romantic" fashion to quote Andreas himself.
These include jacuzzis that with the touch of a button swivel out of the room to take their place on the balcony, in order that the bathing couple may enjoy the fresh Swiss air, as well as round, rotating beds, with red velvet coverings. Not quite everyone's cup of tea, but if you're looking for a lie down after a massive feed of fondue and raclette it's heartening to know that a good bed is not too far away.
Also located in the heart of Kandersteg is the Hotel Blumlisalp, another three-star establishment that boasts an excellent restaurant. Veal is a big thing in Switzerland and they like to serve it in many different ways. At the Blumlisalp their head chef Christian Wyss prides himself on using local ingredients to craft the local delicacies. His veal in cream sauce, served with the ubiquitous rosti, was probably the best dish I ate in Kandersteg.
Perhaps the best location to eat in town; however, is up in the Alps. Having taken the gondola up the Doldenhorn mountain, and hiked, skied or tobogganed a few kilometres back down the piste, you reach the Oeschinensee Lake. This beautiful setting plays host to the 125-year-old Hotel Oeschinense, which serves up all the local delicacies with outdoor seating in the Alpine sun – if you're in luck.
The Doldenhorn itself also offers an evening menu with the usual suspects in terms of Swiss dishes. The other fantastic aspect of their dinner service is that the chefs prepare all the dishes before inviting the customers into the kitchen to select the dishes of their choosing; seeing the customer queue up to collect four-star hotel food is something akin to a gourmet canteen – a wonderful idea.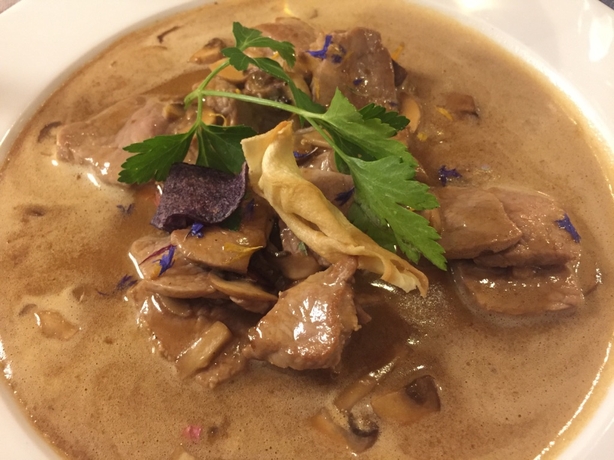 Also, a note about the Swiss and their salads: they know what they're doing. Almost every restaurant you will visit in Kandersteg offers salads either from buffets or as a starter. And by God, they know what they're doing. There are no limp iceberg leaves with a few, forlorn and pathetic looking cherry tomatoes and slices of watery cucumber. Oh no, instead there is usually a minimum of four types of salad, involving a variety of vegetables, each with a different dressing. If there was a salad Olympics, the Swiss would make it to the podium. The three-star Hotel Ermitage does the best salads in town for that matter.
I've had the privilege to travel across the globe in search of the best places to visit and have seen an incredible variety of sights and locations, but sometimes a travel destination that is a true gem creeps up on you without you even knowing it existed. I only became aware of Kandersteg as a place a few weeks before travelling there and could find little enough information on the town through online searches before I arrived for my visit. 
Often life's little surprises offer its greatest rewards.
The cost:
The Waldhotel Doldenhorn offers an economy single room for 150 Swiss Francs during the week and 180 Swiss Francs at the weekend. A double room at the same hotel costs 240 Swiss Francs midweek and 290 Swiss Francs at the weekend.
Eating out
Chalet Hotel Adler: a fondue costs 25 Swiss Francs.
Hotel Ermitage: a lunch dish and salad costs 22.50 Swiss Francs.
Hotel Blumlisalp: veal Zurich-style costs 40 Swiss Francs.
Hotel Oeschinense: soup and a Swiss sausage costs 15 Swiss Francs.
Waldhotel Doldenhorn: a three-course menu costs 79 Swiss Francs.
Transport:
Aer Lingus fly directly to Geneva and Zurich from Dublin. Swiss International Air Lines fly from Cork to Geneva and Zurich.
When in Switzerland you can purchase the Swiss Pass. The pass allows you to travel by train, bus and boat across the country, with different classes and options available. Prices start from 146 Swiss Francs.