Ah February 14th, a date that is as synonymous with romance and love as it is fear and disappointment.
Whether you've recently broken up, are a long time Tinder pro or you're on the outs with your significant other, Valentine's day is often the perfect time to disappear with a friend for a night of indulgence.
Rather than spending the day chewing stale popcorn in a cinema surrounded by women drooling over Jamie Dornan's abs, I would suggest something a little more special...
The Lyrath Estate
The Lyrath Hotel is a girl's Instagram dream. Set on a vast estate of 170 acres overlooking rolling hills, stunning lakes, and historic gardens, the resort is nothing short of magical.
The building itself is split into two eras - one a 17th Century Manor House complete with epic staircase and original paintings; the other a modern hotel with facilities ranging from an award-winning spa to a private cinema and conference centre.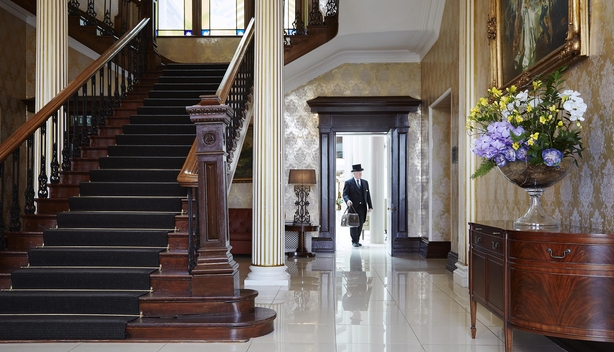 The Room
The entire point of a girl's weekend is to curl up in soft robes and sink into a giant bed, the kind with the fluffy pillows that only hotels seem to have access to.
While brides often choose to stay in the grandeur of the Manor House with its stunning decor and free standing bathtubs, my friend and I were accommodated with some very comfortable twenty-first-century living.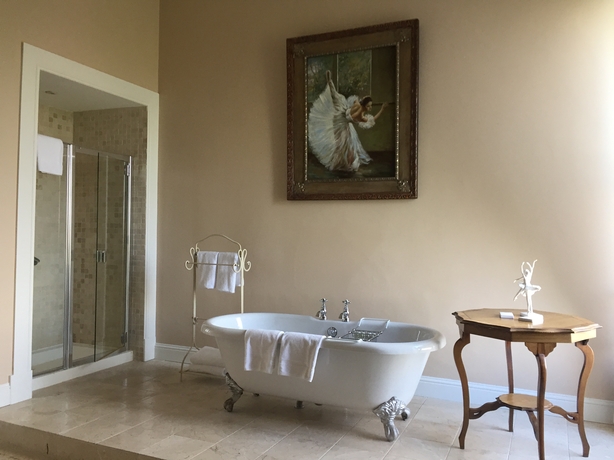 Our room was equipped with two very comfortable beds, a large television, a spacious wardrobe and a bathroom filled with all the amenities our hearts could desire.
We were, however, lacking a mini bar so if you're the kind to bring snacks and drinks for your weekend away, you may need to re-think your packing.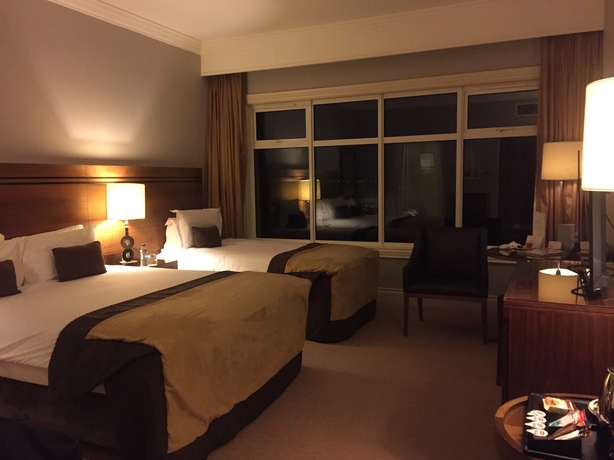 The Food:
My friend and I are foodies, no doubt about it, but our diets tend to differ in that I've tried everything from escargot to zebra and she considers prawns to be adventurous.
Luckily, the menu at the La Perla restaurant accommodated us both and while I dined on goat's cheese parfait, roast cod and dark chocolate pave; she dug into pumpkin soup, potato gratin, and vanilla crème Brulée.
After-dinner drinks were served in the X Bar where we ordered from an impressive menu of cocktails* and mocktails while others danced to live music and enjoyed the most impressive view of Kilkenny from huge panoramic windows.
Essentially, it was the perfect setting for a selfie.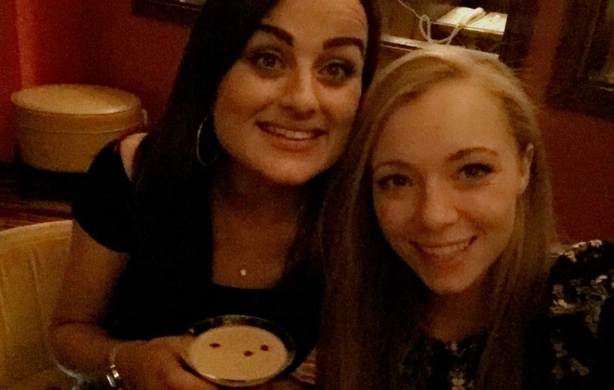 The following morning, we filled up on a monumental buffet of poached eggs, sausages, fried potatoes, tomatoes, toast, orange juice, and coffee.
Then we remembered we were booked in for afternoon tea. Then we noticed the piles of fresh pastry on the other side of the buffet. I regret nothing.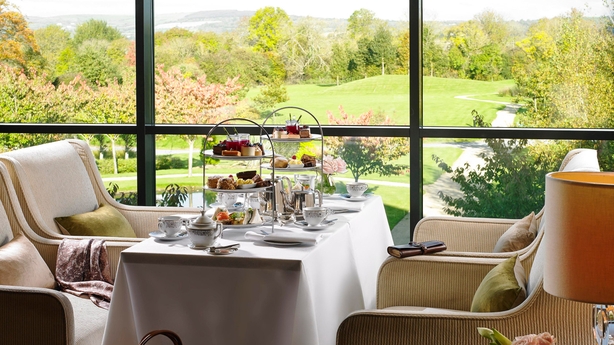 Afternoon tea was a very elegant affair that boasted beautiful china and three tiers of decadent delicacies. The first tier consisted of pesto infused focaccia, smoked salmon on Guinness bread, prawn and cucumber on crustless white bread and honey baked ham on brown.
Next, we hit a platter of freshly baked scones served with butter, jam and clotted cream. Finally, our jeans were put to the test as we tackled lemon meringues, chocolate mousse, mini-muffins and a beetroot & apple juice.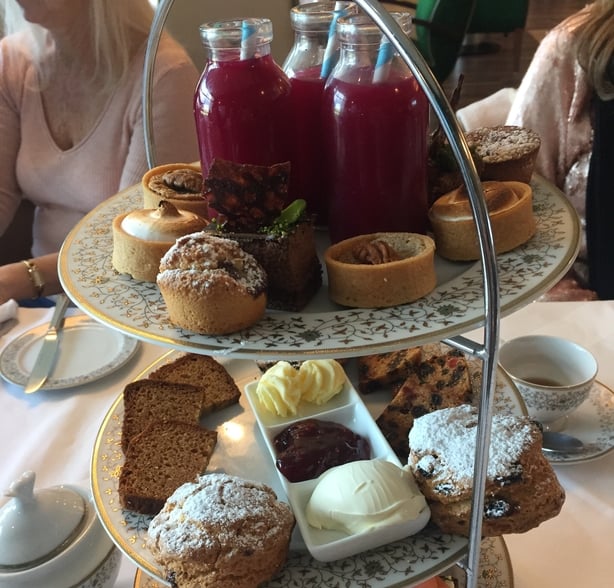 The Spa
The hotel's award-winning Oasis spa is Kilkenny's hidden gem.
While the menu has everything from Vitamin C facials to Turkish salt scrubs, my knot-ridden shoulders and gym battered legs screamed for a full body Swedish massage. (As it turns out; leg lifts and calf-raises should not be attempted by those still surviving on half-empty tins of roses and leftover bits of Christmas cake.)
I walked into my appointment with some hesitation. In the past, I've sat through treatments whereby the masseuse saw my back as a round of 'paint by numbers'- going from point a to point b without much enthusiasm - not Helen though.
Helen dug into my back with abandon, hitting every knot and kneading every muscle until I felt like butter.
After the massage, I was led to a relaxation room where I sipped on chilled water and took in some stunning views.The Oasis spa is home to an outdoor hydrotherapy pool, relaxation areas, saunas and a steam room. I never wanted to leave.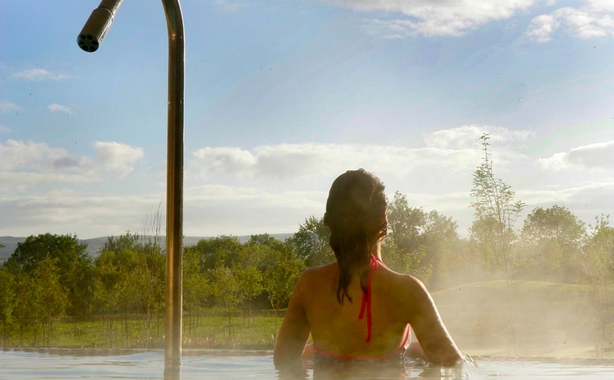 The Result:
I was lucky enough to be treated to a complimentary stay at the Lyrath Estate that included bed, breakfast, evening meal and afternoon tea.
Would I go back if I were to be picking up the bill? Absolutely. I was stuffing my bag full of spa leaflets and sending snaps to the girls Whatsapp group before I had even reached the car park.
Its ideal location in Kilkenny means that it is a mere hour and a half drive from Dublin city center which is perfect for hopping in the car after work and meeting the girls for dinner before it even hits 8pm.
The Cost:
Room rates vary depending on the size of room and date of booking but my most recent search for a midweek stay in a deluxe double room like mine came to €110 per day. I would recommend having a search around the site before booking though as they offer a variety of deals including family treats, over 50's specials and mid-week offers.
Contact:
Lyrath, Co. Kilkenny, Phone:(056) 776 0088.
Other 'Galentines Day' options:
Mount Juliet Estate, (056) 777 3000
Kilkenny River Court Hotel, (056) 772 3388
Hotel Kilkenny, (056) 776 2000
Newpark Hotel, (056) 776 0500
Pembroke Kilkenny Hotel, (056) 778 3500