I'll admit it. It was a Brexit snap decision.
As I saw the Euro rising against the Sterling - I had a lightbulb moment.
'Let's try the Belfast Christmas Market.'
I had heard lots about it and I have travelled to Belfast lots in the past but never at this time of year.
2016 was going to be that year.
When planning your trip to Belfast - at any time of year - it is best to do some research about where to stay. It is a great City but it can be hard to navigate in a car in rush hour and parking is a challenge.
With that in mind, we looked at Ten Square, the Merchant Hotel and Jurys Inn Belfast. We chose Jurys Inn because of its handy location for us.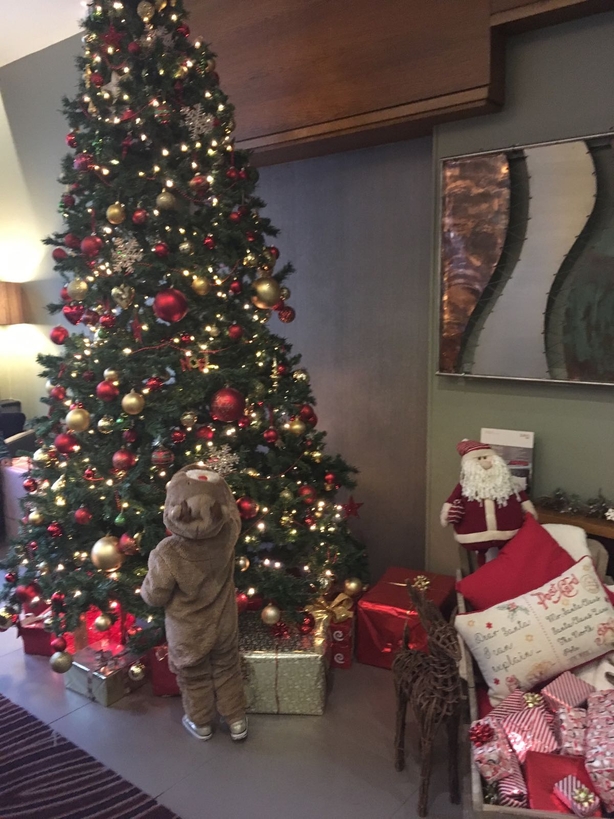 Their rates start from €106 per night and it is just a few doors up from the Grand Opera House, but more importantly for us, it is very easily accessible from the motorway, train or bus station.
I have driven to Belfast a good few times and knew the route, with an exit from the motorway onto the Grosvenor Road - it is really easy to get to from Dublin.
The reality on a Christmas Friday afternoon, though, was that Belfast traffic was a nightmare and the 40 minutes to move a few hundred yards was only bettered by the hour we had to wait to get a parking space. Oh, the weather outside is frightful...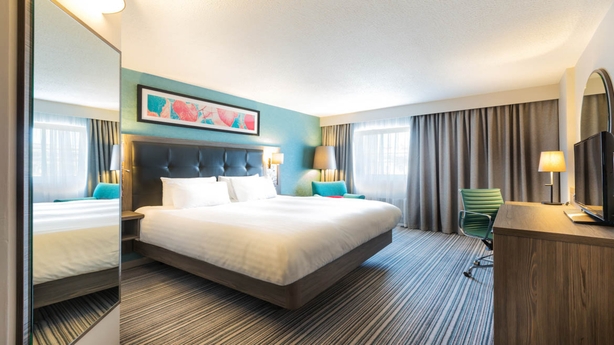 The good news was that the car park was only a short walk to the hotel and once we reached it, our Christmassy weekend could start.
A bite to eat was first on the agenda and we decided to just stay local - after our traffic trauma - and eat in the hotel. We had the bar or restaurant to choose from and the staff were really nice about the fact that there were several Christmas parties going on in the hotel that night.
We chose the restaurant as we didn't mind the loud parties - as it meant Paige could blast her Peppa Pig DVD as loud as she wanted. It resulted is a nice, relaxed meal for us all.
The food was great and really tasty. Paige especially liked daddy's soup and her own pizza.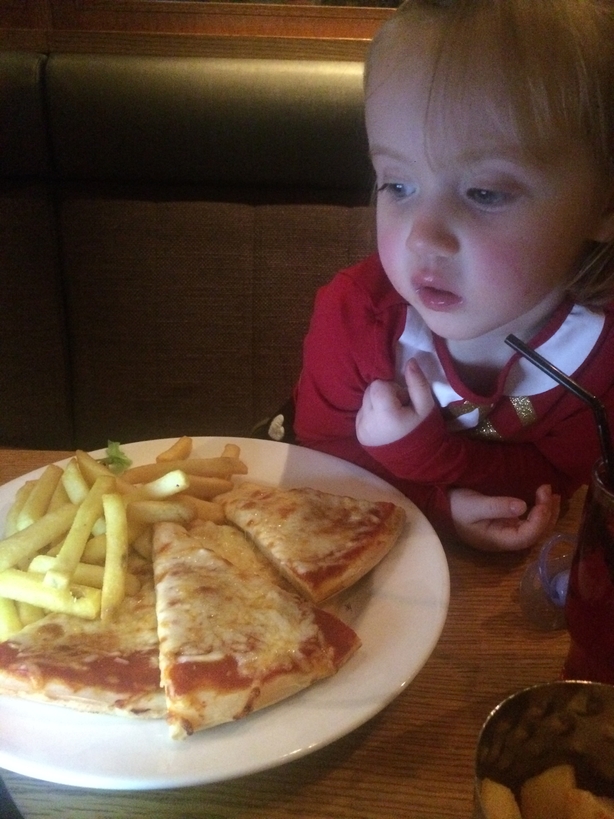 Off to bed then, ahead of a big Santa filled day the next day.
After a hearty breakfast the next morning, we made the effort to hit the Christmas Market early to beat the rush - and it was lucky we did.
Despite the constant drizzle we found City Hall with ease and started to look around. The City Hall gardens are transformed into a bustling Continental village which all your Christmas wants - and two bars thrown in for good measure.
Cheeses, olives, Italian nougat, Belgian chocolates, French tarts and giant Bratwursts were all available - along with lots of things to buy and see and do.
First on our list was a giant snow globe that you get inside, snow is sprayed around and you get your photo taken. As we waited, Paige was in a good mood, looking forward to the snowy dome. As we reached the top of the queue, she went a little quieter. We thought nothing of it and in we went, but Paige wasn't playing ball.
She wouldn't get down from my arms and said she was scared. Not much we could really do since we were locked in an inflatable snow dome. We powered on and now have a pic of Rita and myself looking lovely and smiley - while Paige looks terrified. Decided not to post it as Paige might sue in the future.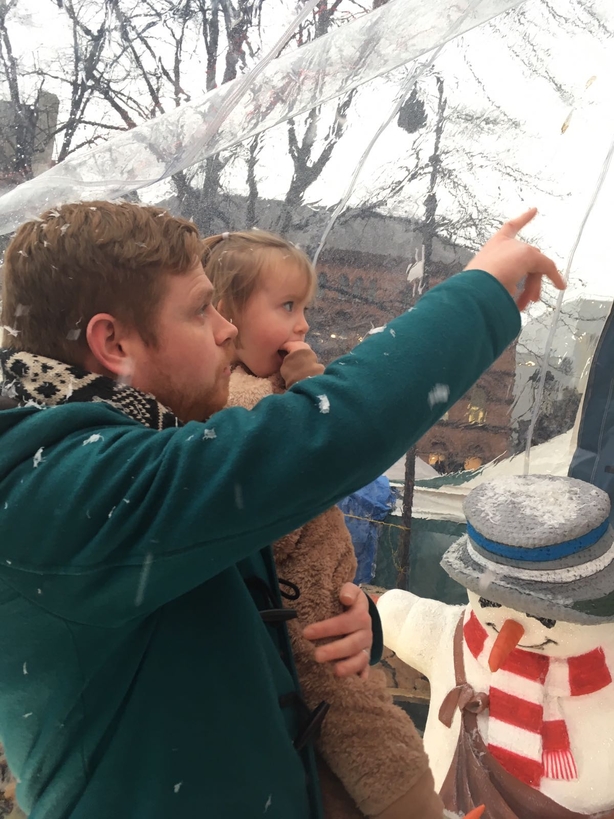 Things could only get better from that and the first (of many) trips on the merry go-round helped cheer up the little one.
We took another saunter around the market and stumbled upon Santa's grotto. With only a small queue, we put up the umbrella and waited.
He has his own house in the Belfast Christmas Market and it is really well done. Again Paige put on a brave face and insisted she was going to talk to the jolly old man.
Again, though, once inside she clammed up and I had to do all the talking. We got a nice picture, though - after about six attempts.
As we left the grotto - the heavens opened and with a cranky baby who wanted to open her Santa present, there and then - we legged it to the nearest cafe.
There we had a bite to eat (Paige had some more soup - turns out she was hangry as well) and opened her presents.
We gathered ourselves soon after and made another attempt at the market. However, the rain was still coming down and by that stage, the crowds had really piled into the market.
At one stage, according to one the stall holders we chatted to, there were 400 people outside waiting to get in. The area the market is in is quite tight and because it is so popular, especially the bars, it does get busy quickly.
The first Christmas Market consisted of 30 outdoor chalets, while this year will see upwards of 100.
According to the locals, Monday and Tuesday are great days to visit and get the full experience, while things start to get busy from Wednesday to Saturday during the peak.
We were still having a great time in Belfast and nipped off to the Victoria Square shopping centre for a look around the shop, while the rain stopped.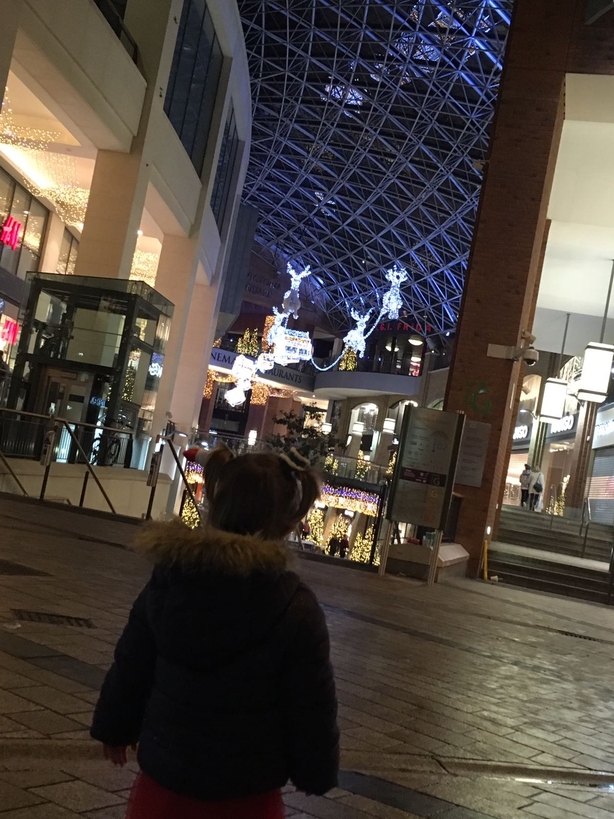 When we spotted a gap in the weather we went back to the markets to sample some of the great food on offer. I had some chowder to warm me up, Rita had a lobster burger and Paige had strawberries dipped in chocolate from Chocallure - she was in heaven.
Luckily we learnt from lunchtime in Belfast - that it is best to book a table if you don't want to wait around for ages. So back at the hotel, we booked a spot that Rita had eaten in before in London and dinner was sorted.
After dinner, as we strolled back towards the hotel we saw that the market was still open.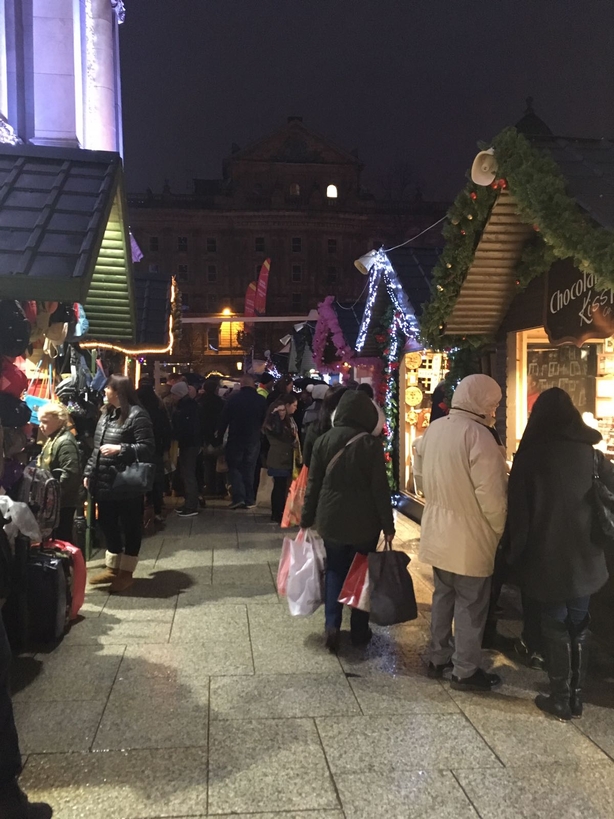 It wasn't far off our path so we wandered in and it was a magical experience.
The market was beautifully lit against the dark Belfast sky and there was just the right mix of merry market revellers and people enjoying a quiet few minutes to take a walk around.
It was the perfect time to amble through the dozens of wooden chalets selling arts and crafts and pick up some Christmas presents. The Dutch Bulb and Plant Garden was a favourite spot.
Soon, though, it was off to bed for three tired Christmas elves.
On Sunday, Paige had another urgent Santa appointment in Dublin, so after another lovely breakfast, we hit the M1 and waved goodbye to Belfast - for now.
*We stayed as a guest of the Jurys Inn, Belfast.