How did yourself and your brother start your travel vlog? Where did the idea come from?
We launched our YouTube channel in 2012, but the story really began long before that. Our parents have a lot to do with it - mom was a PanAm flight attendant, dad was a Kiwi backpacker, and they met while traveling on a train in Switzerland!
At university Alex studied the world through history and anthropology while I studied politics and economics. We moved to the Spain after graduation to work as English teachers and I started writing travel blogs and freelancing as a guidebook writer, while Alex bought a first-generation GoPro and fashioned a makeshift selfie pole from a broomstick.
In 2012 we moved to San Sebastian, Basque Country, joined forces and formed our YouTube channel. Six months later, we won an international travel film making contest called the Biggest Baddest Bucket List, which won us a six-month trip around the world to produce a travel show on YouTube called BBBTV. Six months on six continents - 25 destinations in 25 weeks. After that, there was no going back to normal life. We started working full time on Vagabrothers and haven't looked back since.
We need your consent to load this YouTube contentWe use YouTube to manage extra content that can set cookies on your device and collect data about your activity. Please review their details and accept them to load the content.Manage Preferences
Do you have tips for travel vloggers trying to build their audience?
The key to success as a travel vlogger is finding the balance between making it personal enough to be entertaining and inspirational, while also making sure it's informative and practical enough to be useful in the planning stages of a trip. Start by making content in your hometown, which is a foreign destination for 99.99% of the world. After that, you can start documenting trips abroad and building up a body of work.
Why did you choose to come to Ireland?
We were originally approached by Tourism Ireland a year ago to help them create content around the year of Irish Design. We accepted the offer, then proposed expanding the trip to cover the Wild Atlantic Way and the food scene in Cork. 
Failte Ireland stepped in to help us co-create a phenomenal 10-day trip that became a series of nine videos on our channel. Those videos went live in Autumn of 2015, and the campaign was quite successful with well over 1,000,000 minutes watched across the series.
Hands down, the series has been one of the most well-received on our channel, with viewers constantly tweeting us images from the places we featured - especially Kaph Coffee Shop on Drury Street, Dublin. We even had one viewer replicate our trip and upload videos with commentary nearly verbatim to our own. So this year Tourism Ireland was keen to bring us back and help us do the same for the north.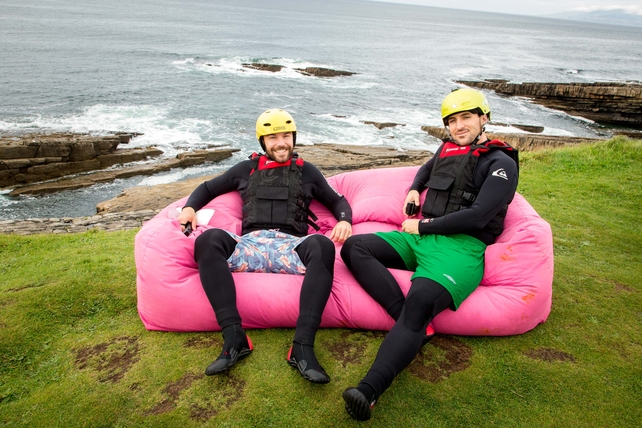 What were your highlights from your travels around Ireland?
Starting the 2015 trip off with surfing in Strandhill, a meal at Shell's Cafe and a seaweed bath at Voya set the bar pretty high for the trip. But as we continued, the experiences stayed amazing.  A definite highlight was our day in West Cork where we went sea kayaking near Skibbereen, where we explored the gorgeous coastline of Cork before harvesting seaweed to cook a nice sea-spaghetti lunch. Finally, covering all the Irish craft designers was very memorable - from the Tweed Project in Galway to Makers and Brothers in Dublin.
Ireland has such an incredible heritage of craft, and since the 2008 GFC [Global Financial Crisis - Wow, Americans have abbreviations for everything!], a lot of people have returned to working in these cottage industries as consumers become more interested in products with provenance. Visiting the Aran Islands was very special - like a microcosm of Irish culture preserved from outside influence.  
From this trip, it was great to start off with coasteering in Mullaghmore followed by some peaceful contemplation atop Slieve League. Then we went up to Northern Ireland and had a great time travelling along the Causeway Coastal Route - from the Mussenden Temple to Giant's Causeway and the Carrick-a-Rede rope bridge. The latter two definitely get a lot of tourists, but we visited the former at dawn and the latter at dusk to have them both to ourselves. Instagram gold!
We need your consent to load this Instagram contentWe use Instagram to manage extra content that can set cookies on your device and collect data about your activity. Please review their details and accept them to load the content.Manage Preferences
You got to sample a lot of Irish cuisine. What were your favourite meals?
Such a difficult question! Irish cuisine is some of our favourite, because there is such an emphasis on local and organic produce. Quite simply, the geography of the island prevents the dominance of the mega-farms we have in the US. So pretty much every meal had us grabbing for our phones to share the experience via Snapchat!
Our top highlights would probably would have been Moran's on the Weir outside of Galway, Kai in Galway, and Greene's Restaurant at the Isaacs Hotel in Cork. But sampling Gubeen cheeses right at the farm was hard to beat… too many to chose! 
On this most recent trip, top meals would definitely be Harry's Shack in Portstewart, where we had a seafood feast paired with amazing local brews or OX Belfast, where we did the five-course tasting menu paired with excellent wines in a really accessible atmosphere - really rare for a Michelin-starred restaurant. Also have to mention Walled City Brewery in Derry, which served us a sampler of their best brews along with Basque-style pintxos and some excellent pork belly sandwiches.
Do you have any travel tips for anyone travelling?
We do, we actually just made a video covering the topic! There's a whole playlist on our channel, covering everything from how to pack, plan a road trip, get cheap flights and get paid to travel. Check them out!  
We need your consent to load this YouTube contentWe use YouTube to manage extra content that can set cookies on your device and collect data about your activity. Please review their details and accept them to load the content.Manage Preferences
Was there any one thing from Ireland that you wish you could bring back to the US?
Definitely tweed. We wish the weather in California was just a bit cooler so we could justify wearing Donegal tweed more often! Perhaps we should just come back to Ireland more often!
You explored Irish design while you were in Dublin and both yourself and your brother look to be fairly stylish men! Do you have any style rules or tips to share?
To stay stylish while travelling, pack clothes in outfits. Pick two or three pairs of different coloured pants, then the same number of shirts. The key is making sure that you can wear each shirt with each pair of pants. We also tend to travel with cognac or tan boots, which are stylish, durable, elegant and rugged all at once. Plus, they're waterproof - essential for Ireland.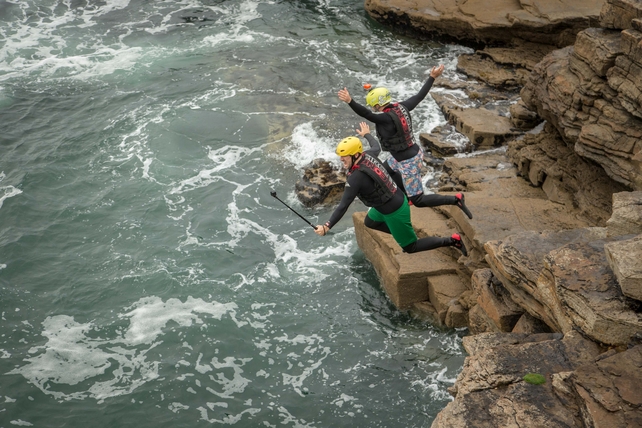 You kept busy with activities such as surfing and trying a seaweed bath. Is this the best way to get to know a country?
Any hobby can be a window into a culture. These days, the activities we do in our free time form crucial parts of our identities - identities which span political borders and help connect us to people from vastly different backgrounds. It doesn't matter if it's surfing, dancing, art, music or football. Chances are it can help you make friends with people who don't even speak your language. Also, food. It's the oldest and most universal gateway to culture.  
There are a lot of stereotypes about the Irish and Ireland. Did you find any to be true or false?
Irish people being talkative is a stereotype that we've found to be true. It seems like many Irish have not only kissed the Blarney stone, some have swallowed it! But in general, most American stereotypes about Ireland are quite antiquated, dating back to the mass immigration of 19th century. Unfortunately, they still persist, blinding people to the reality of how much Ireland has come into it's own lately.
For instance, people think Irish food is just potatoes and cabbage - so far from the truth! We hope our videos can help change that perception. Our goal was to show how Ireland has reconnected with its deep heritage and is expressing it in a multitude of ways - from cuisine to design and culture, all of it easily accessible to visitors. Hopefully, we've managed to do that.