Figures just released by Failte Ireland show that when it comes to visitor attractions the Guinness Storehouse is still the main magnet for visitors, attracting just under 1.5 million last year - up 18 per cent on 2014. It beats the Cliffs of Moher (1.25 million); Dublin Zoo (1.1 million); the National Aquatic Centre (991,554) and the Book of Kells (768,000). 
This is the official list of the most popular attractions that charge an entrance fee.
Guinness Storehouse Dublin 1,498,124.
Cliffs of Moher Visitor Experience Clare Shannon 1,251,574
Dublin Zoo Dublin Dublin 1,105,005
National Aquatic Centre Dublin Dublin 991,554
Book of Kells Dublin Dublin 767,996
Tayto Park Meath East & Midlands 750,000
Kylemore Abbey & Garden Galway Ireland West 600,000
St Patrick's Cathedral Dublin Dublin 532,042
Fota Wildlife Park Cork South West 436,386
Doneraile Wildlife Park Cork South West 432,180
Blarney Castle Cork South West 400,000
Bunratty Castle & Folk Park Clare Shannon 341,685
Kilmainham Gaol Dublin Dublin 326,635
Rock of Cashel Tipperary South East 300,749
Castletown House & Parklands Kildare East & Midlands 297,691
Kilkenny Castle Kilkenny South East 282,588
Old Jameson Distillery Dublin Dublin 282,056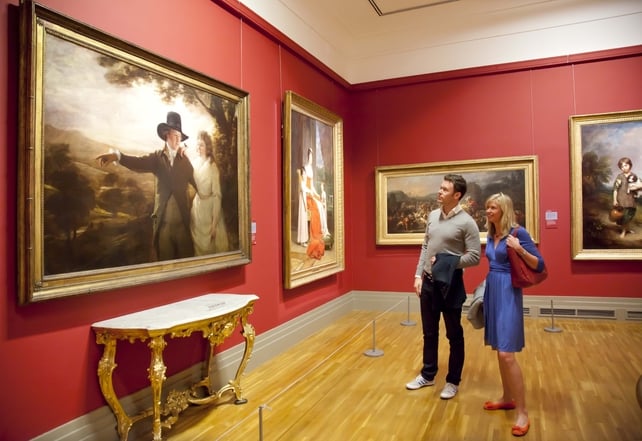 Top of the list of free attractions are the National Gallery (718,000); National Botanic Gardens (553,000); the Irish Museum of Modern Art (485,000); the National Museum at Kildare Street (457,000) and Farmleigh (410,000). 
This is the official list of top free attractions:  
The National Gallery of Ireland Dublin Dublin 718,637
National Botanic Gardens Dublin Dublin 553,348
Irish Museum of Modern Art Dublin Dublin 485,702
National Museum of Ireland - Archaeology, Kildare St Dublin Dublin 457,057
Farmleigh Dublin Dublin 410,076
Science Gallery at Trinity College Dublin Dublin Dublin 409,891
Newbridge Silverware Museum of Style Icons Kildare East & Midlands 350,000
Chester Beatty Library Dublin Dublin 343,929
National Museum of Ireland - Natural History, Merrion St Dublin Dublin 320,528
National Museum of Ireland - Decorative Arts & History, Collins Barracks Dublin Dublin 295,820
Holy Cross Abbey Tipperary Shannon 210,000
Connemara National Park Galway Ireland West 190,753
Dublin City Gallery The Hugh Lane Dublin Dublin 190,000
Sliabh Liag Cliffs Donegal North West 185,760
Crawford Art Gallery Cork South West 175,902
Galway City Museum Galway Ireland West 174,556