As we head into Spring, why are we even talking about Winter Wonderlands? This is the time of year when parents get booking, planning and saving. Lapland is a trip that most parents would love to have done themselves as kids and many more would love to treat their own children to. I jumped at the chance to review the over-night trip offered by Irish travel company Sunway but was torn when I discovered that I could only bring one of my three chislers. The decision was made easier by the fact that my eldest is past this whole stage and I was told that a) my youngest, at three might find the cold too much to handle and that b) I might find juggling two young kiddies on my own too much to handle. With the benefit of hindsight, this was sound advice. My five-year-old, Aodh J and I headed off shortly after the alarm went off at 2.30am on Friday December 18 ahead of the 3.55am check-in at Dublin Airport, before the 5.55am flight.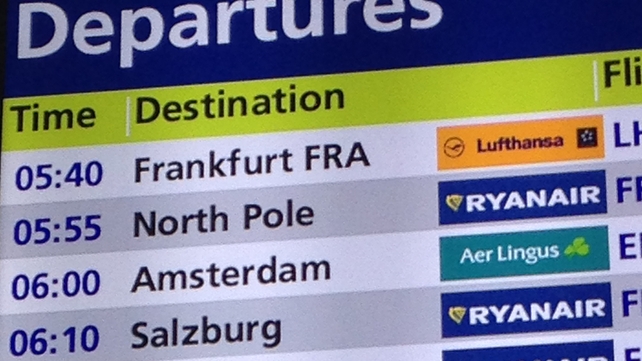 One of life's most precious things, to be protected and nurtured is a child's innocence and there is something so magical about how adults help preserve it at Christmas time. Upon arrival in the airport, we searched the notice board for our flight and there it was in black and white. We stopped dead in our tracks, and a big smile crept across my face as Aodh J read out-loud, phonetically, N-O-R-T-H P-O-L-E. It was a very special moment that we shared with a couple of smiling strangers who were checking for their flights and two delighted DAA staff who were passing at the time. That knowing, warm look spread across the faces of every adult we encountered in the airport once they knew our destination. 
We were awoken from the sleepy quiet of the check-in queue by 'Tinsel the elf', Sunways lovely helper who was handing out reindeer antlers, colouring books/colours and selection boxes to the grateful kids. The naive amongst us were thinking that it was a little early and perhaps inappropriate for sugar-rushes. We squirreled them away for later, this was a wise move – more on that later. Tinsel also painted the childrens' faces at the gate and read stories to them too – something which was absolutely invaluable on the return leg of the trip as parents queued for hours to check-in at the small Rovaniemi airport. There was an air of building giddy excitement by the time the plane took off just before 6am. A couple had been indulged with the selection boxes and the sugar rush plus the thought of things to come put a strain on the seat belts to keep them safely in situ.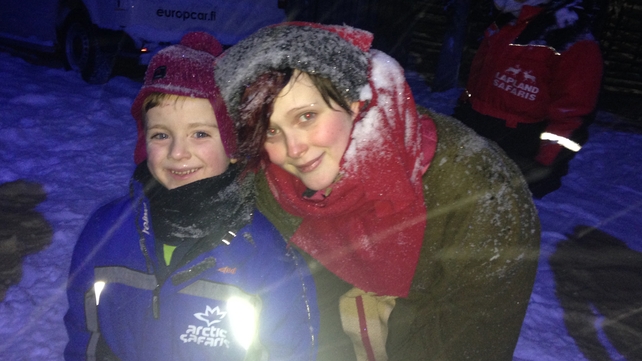 Once we landed, we were met in the quaint Rovaniemi  airport by beautifully dressed elves and were all assigned to various coaches. We were directed to coach A, which was our bus for the rest of the trip - which kept things nice and simple. However this wasn't made clear to us at this stage so make sure you're with everyone you want to be with at this stage. The first stop about 15 minutes away was to get kitted out for the snow suits that we were to wear the rest of the trip.Incidentally one of the trip highlights was an impromptu history of the area by our bus driver who then played some of the local traditional music - this should become a regular addition as the kids were glued to his every word.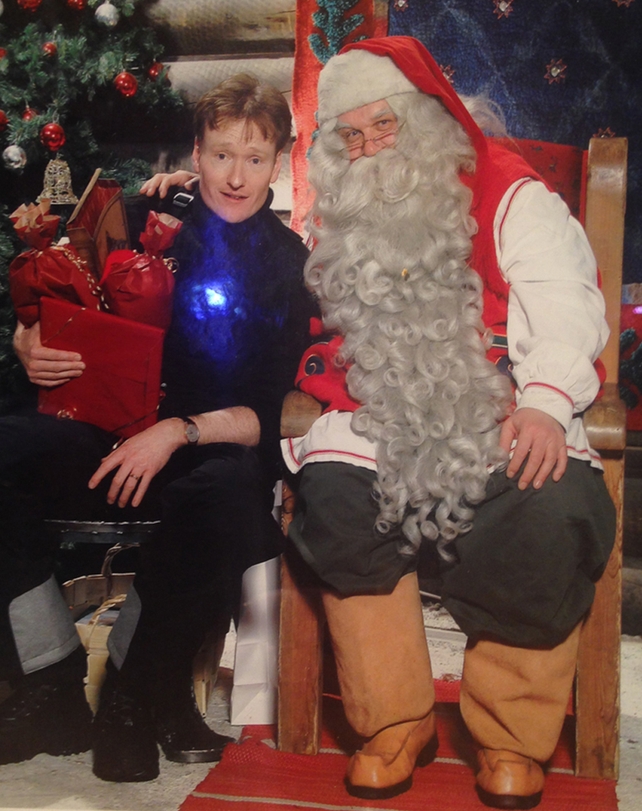 Lapland over-night Top Tips:
Wear whatever you are going to wear under the snow-suit that is provided on the plane. There is no time or place to change once you arrive. I made this mistake – let's just say stripping down to your tidy whities in front of a roomful of parents and kids that you have yet to meet, in minus-degree weather, ain't ideal. Your 5-year-old may be a little disappointed in you too, especially when you're battling the tide of queuing families to return to the bus to dig out the thermals!
 
Pay a little attention when you are being kitted out and measured up for the ski-suit clothes as you'll be living in them for the next two days. Too big and you're both carrying around the extra weight. Too small and your movements could be a little restricted!
There is only one toilet for the hundreds of adults and children so be sure to visit the airport facilities when you land. We left here and headed straight to the winter wonderland (about another ten minutes away) where we were to do all of the winter activities and although we didn't know it at the time, to see Santy.
At the end of the day, your ski-suit, gloves and hat will no doubt be wet from the snow so throw as many as you can over the small radiators in the hotel rooms and rotate until they're all dry, as you'll be in them the following day.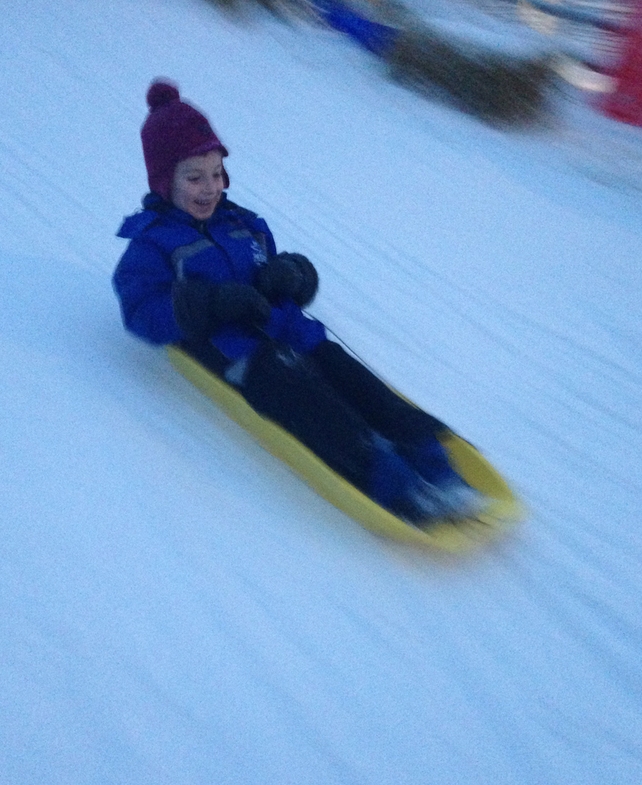 Lapland over-night trip – What to Pack:
Thermal underwear, top and bottom, for each of you. Many people had bought cheap fleece lined ones from a range of places such as Penneys, Dunnes, Aldi and Lidl and they did the job.
Ski socks or double up on warm socks for both days 
Warm hat, preferably something that stands out as it may be the only thing that differentiates you and your child from hundreds of other parents/kids dressed in the same coloured (blue/black or red/black) snow suits.
Gloves: You are provided with warm, water-proof mittens and unless you have excellent ski-gloves, I would recommend using these.
Christmas jumpers: Many families arrived in an array of Christmas jumpers/t-shirts and it definitely added to the mood.
Shoes: You are provided with snow boots which do the job and you only need one pair of your own comfortable shoes to travel in and change into for dinner, if you'd like. 
The dinner dress code is definitely comfy casual with most people going to bed straight after dinner after the early start.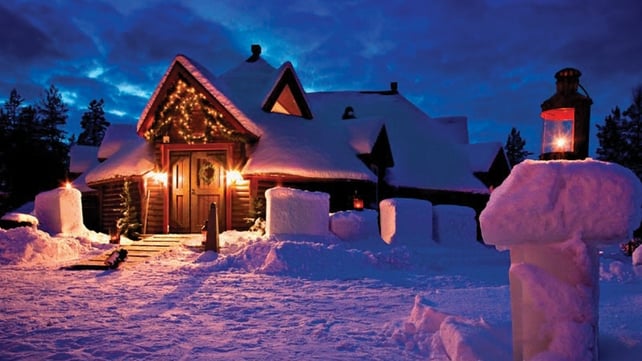 Snacks: Pack plenty of slow-release, child-friendly energy snacks as possible. You are on the go continually, often outdoors in minus degrees with very little sleep the night before you leave and energy levels dip – these snacks will play a big role in keeping you and your kids happy in between meal times. They also come in handy if your children are not fond of the Finnish food on offer.
Water bottle: I couldn't believe the price of all of the convenience drinks/snacks plus the lack of refreshments in between meals so be prepared. You can drink the local water and comfortably carry a small backpack around with you so bring your own where possible.
 
We need your consent to load this rte-player contentWe use rte-player to manage extra content that can set cookies on your device and collect data about your activity. Please review their details and accept them to load the content.Manage Preferences


 
A little Tweaking will go a long way:
You are provided with the very general itinerary (below) but what is needed is a more detailed one so that parents know when meal times are on and a general run down of the day. Kiddies crave routine, as we know, and despite loving surprises, their little bodies and heads don't thrive when energy levels run low - parents struggle here too. Last minute updates are not ideal especially when everyone has had very little sleep ahead of before the middle-of-the-night check-in time.
 
Avoid separating the children from their parents - especially without a heads up or consent. Before we went snow-mobiling, the children were called together by a member of staff who they had not been introduced to and the adults were called over to another area. There was a little excitement as no one knew what was going to happen but before you could say husky, the kids were helped into cute sleighs attached to snow-mobiles driven by the staff. Meanwhile parents were given a safety briefing before being asked to buddy up onto the mobiles and head off. Naturally some kiddies and parents were a little unnerved and as a result there was one or two emergency stops when upset kiddies needed to be reunited with their mom or pops.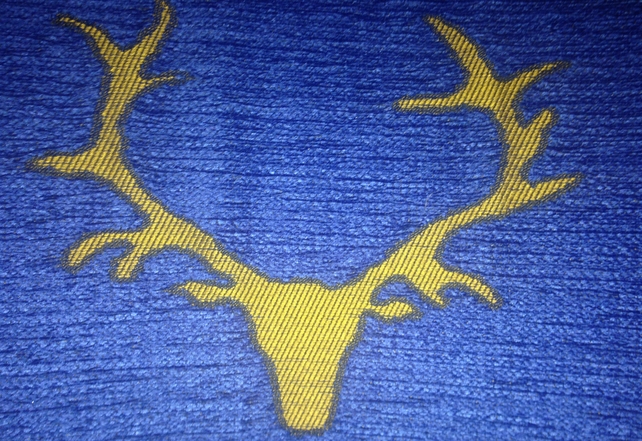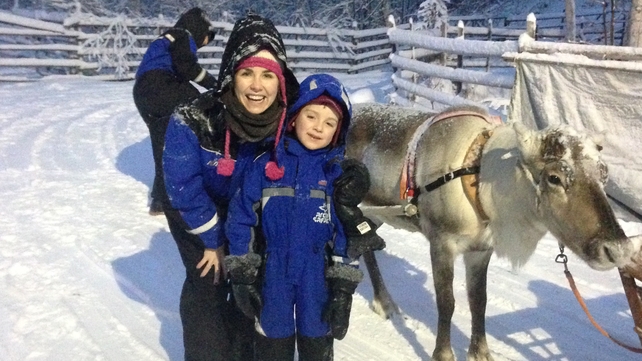 One of the activities that is indoors is the Gingerbread Cookie decorating and this would have been the perfect opportunity to offer everyone a drink – even water or preferably a hot chocolate. Instead everyone resorted to munching on a dry ginger biscuit but there was nothing to wash it down with. With a small bottle of soft drinks/water costing the guts of €4/5, very few people had drinks with them. Plus for many, what could have been a lovely experience, was rushed due to the length of queuing time to see Santy. For those families, there was no Gingerbread decorating, just the hit and run of biscuit grabbing with maybe a squirt of sugar icing for the energy hit. 
 
Story-time: There was a lovely session where everyone was gathered around a big fire, inside an out-house where a reindeer expert told us a little of the local history and about that iconic Christmas mammal. However he and the elves need to have a chat because he insisted that its a misconception that reindeers eat carrots, favouring greens and to avoid leaving out the orange veg. A couple of curious kids latched onto this, as kids do and led them to ask a few too many questions later to slightly unnerved parents!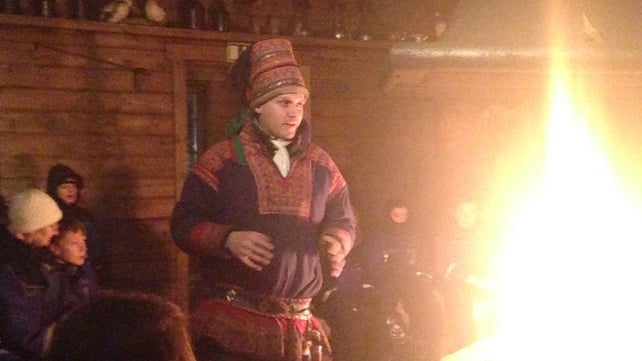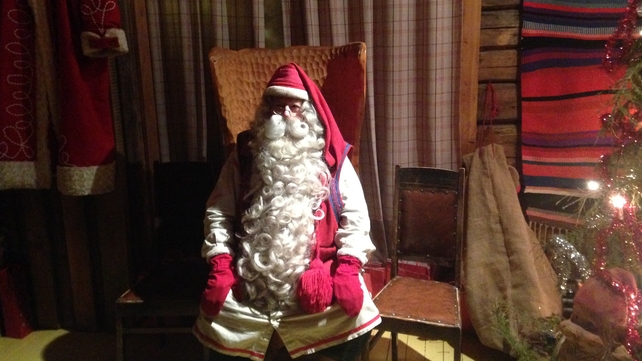 Santy: One of, if not the highlight of the trip, is to see the main man. I didn't know what to expect but I expected this to be mega. It's the North Pole, its Santy's home, where and Mrs Claus live with the elves and reindeers, making all the toys, where the magic happens...you know the deal. After queuing up to see him outside a relatively small cabin in the cold, it was finally our turn to go in. To my alarm, Santy (who looked fab with his wonderful beard and suit in situ) was sitting in a chair in a plain, average room - no big fire place, no big Christmas extravaganza. In fact Mrs Claus must have had the day off because she wasn't even around. We saw Santy (or as Aodh J said, one of Santy's helpers) in Airfield in Dundrum and Santy's helper had a much cosier, Christmassy set-up. Here the children were encouraged to sit on the floor in front of Santy where they had a very short exchange with him. There were no professional photographer elves, in fact no cameras and the lighting was so bad that all of the parents in our group struggled to get any pictures at all. All left disappointed on that front and a little disillusioned. However I have to say, the children, thankfully - did not seem to mind any of it. For that I will be eternally grateful. Present wise, all of the children received the same present of a gorgeous little stuffed husky dog toy which they all seemed to love.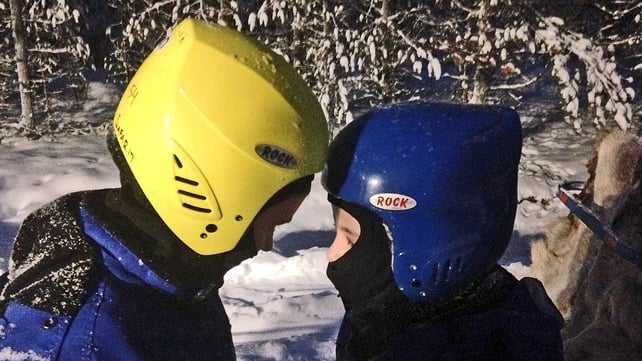 Santy letter writing: Again, disappointing. No fantastic santy post-office or settling down in a comfy log cabin. Instead as we boarded the coach bus on one occasion we were handed a blank letter and left to scramble for pens and asked to hand back the letter at the next stop. Luckily being so close to Christmas (December 18) most children had written their letters and didn't seem to notice or mind this process. 
The reindeer ride, husky sleigh ride, snowmobiling (aside from the above) were all wonderful experiences and soon it was time to head back to Rovaniemi and the Pohjanhovi Hotel. The accommodation was fine; basic, and warm. The buffet style dinner was similar - it was a novelty for Aodh J and he loved the choices on offer - filling his plate with an eclectic mix of clashing choices! His plate reminded me a little of one of Will Ferrell's Elf dinners.
You know at Christmas the way kiddies sometimes get expensive presents and end up having hours of fun playing with the box? Its a bit like that with this trip, the children seemed to get the most satisfaction from a) having this quality time with their Mums/Dads/Nanas/Grandads and b) playing in the snow, making snow-people, throwing snowballs and snow angels.

Things to note:
Northern Lights: You may be lucky enough to see them but it was too cloudy when we were there - not much anyone could have done about that! 
Darkness into light: It gets dark from the early afternoon so get their daylight pics in early.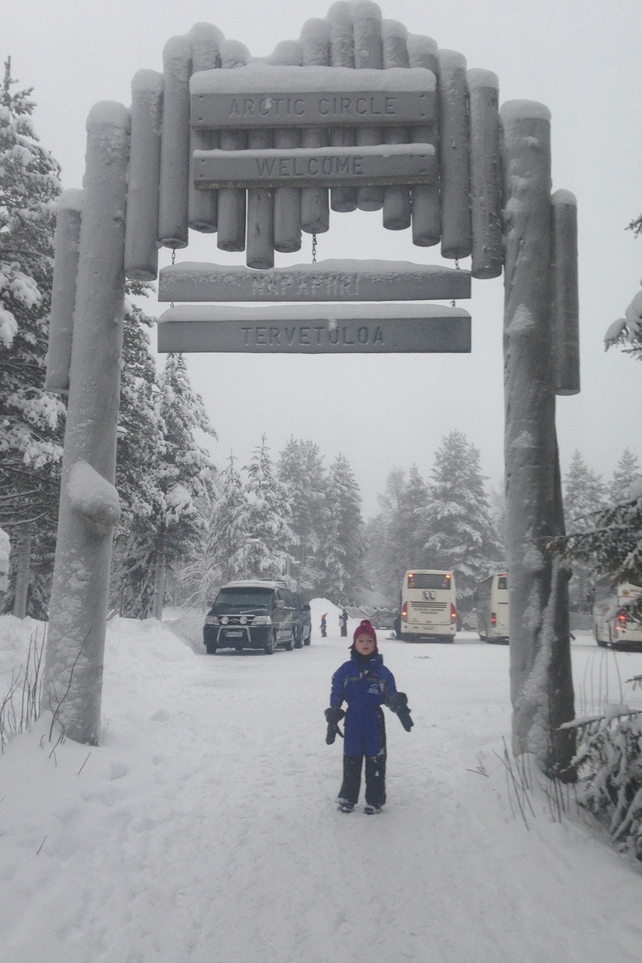 The Santa Village: The morning of the second day we headed from the hotel straight to the Santa Village - a self-contained Santy style Disneyland which was completely independent of the Santa complex where we had spent the previous day. Almost everything costs here - everything and you should bring plenty of saved pocket money to indulge in the fantastic range of facilities. With only a couple of hours here, it was almost impossible to do everything that the children hoped to do here. By complete accident, we discovered that Santy was here too and in such opulent surroundings. Maybe this was meant to be a little secret as it was a little confusing to see Santa here too but given the disappointing experience of the previous day, we couldn't ignore the signs to queue to see him...and it was free. However after waiting a precious hour to see him, I discovered that while it is free to see Santy (and he looked much livelier than the day before) nothing else was free.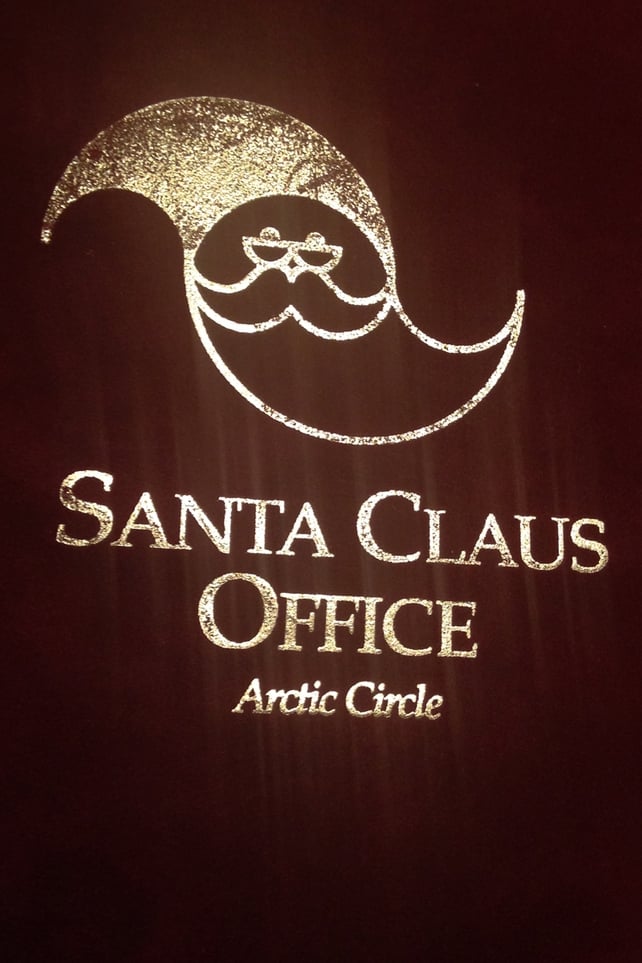 You had to pay handsomely for a gift, you were not allowed to take your own pictures and for a couple of snaps and a video link it cost us €40 but we didn't even get a physical copy...just a download code! Still it was worth queuing to see him here - the look on Aodh J's face was truly priceless and he was speechless, in awe. On the ways lining the queue route there were pictures of Santy with a range of famous faces including Conan O'Brien, Maria Carey, Jameroquoi (bit random but why not?) amongst others. Plus there were people of all nationalities from all over the world and that was special to see. Seeing Santa here felt a lot more like what it you imagined it would be to see him in the North Pole and the kids didn't notice the cash registers continually chiming all around.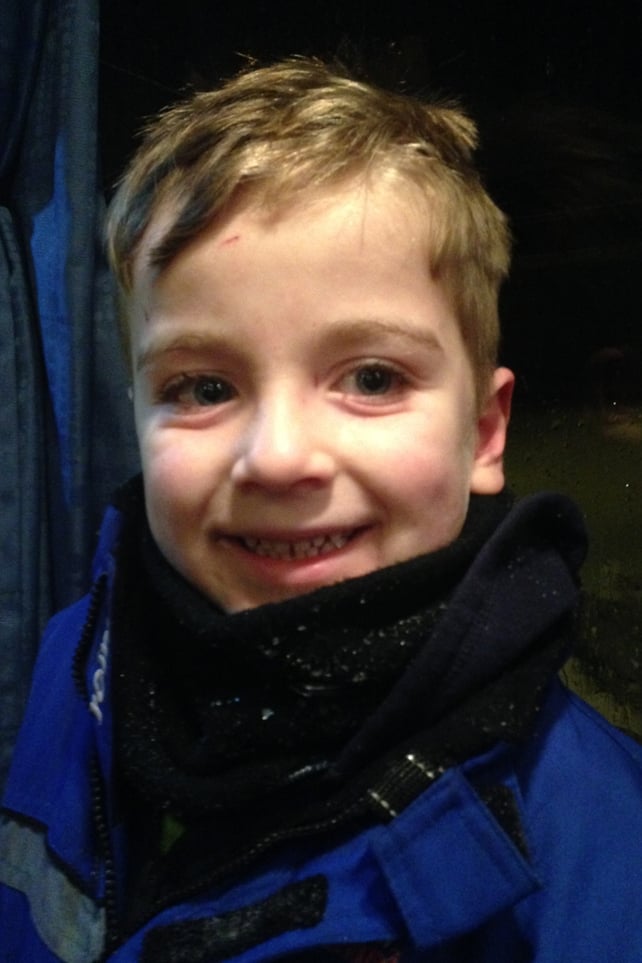 In the village, there were toboggans, snow-mobile rides, huskies to see, restaurants, souvenir shops, snow-rides and slides - everything you can imagine in a winter-wonderful and a hefty price attached yet not enough time, even if you could afford to do it all. At lunchtime we headed to the airport 20 minutes away where a big check-in queue awaited, leaving very little time to buy lunch before boarding the Ryanair flight home. We landed at teatime, exhausted but happy.
 
There was a lot packed into the Santa Sleepover and I couldn't imagine how rushed it must be for those doing the day trip and having to ferry tired children home on a plane after the jam-packed day. I have often thought of doing that myself because it is cheaper however having experienced this, I would hope to save more and do the overnighter. After reviewing the whole trip and knowing everything I know now, would I go again and bring the whole family? In a heartbeat...but I'll print off these notes and be ready.
Sunway offer two trips, the Santa's Sleepover is a one night trip or the Sleighbell Spectacular is a two night trip and they fly directly from Dublin/Cork to Finland - see all the details below.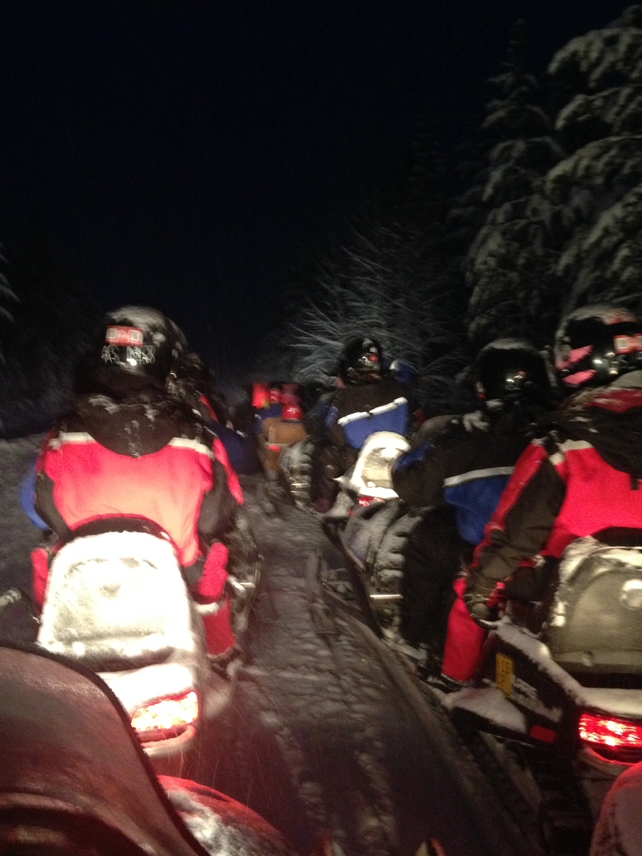 Sunway's Itinerary for our Santa's Sleepover:
 
Day 1:
Ryanair flight: Arrival in Lapland
On arrival in Lapland you will be met by our elves.
Once you collect your thermal clothing we will set off and enjoy wintery Lappish activities.
 
Activities: 
Arctic circle crossing: Lovely idea to be able to jump over and back across the Arctic Circle plus everyone got a certificate to prove that they had been there (you just had to fill in your own name!).
Reindeer lasso: Didn't happen on our trip but maybe that's a good thing?!
Toboggans: A simple classic and kiddies loved it.
Kick-sledges: Didn't happen.
Small snowmobile ride/safari for children: Beautiful experience travelling through the winter forest wonderland at night, with snow falling gently on your face but needs better execution in terms of dividing adults and kids – as above. 
Tandem skis: Didn't happen.
Snowshoes: Not sure what this is but pretty sure it didn't happen! 
Reindeer ride: Short and sweet, over in two minutes. No one seemed to mind though as all of these activities are outside and often in the dark so you don't want to be kept waiting, or keep others waiting for too long.
Husky ride: Brilliant but over in one minute! The dogs are amazing and the kids love the speed that they dash around the short loop at. The huskies seem very happy and healthy looking too.
Gingerbread cookie decoration: Lovely idea but rushed execution as above.
Visit to Santa: Frustratingly disappointing (see above) given that this should have been the highlight of the trip.
Lunch was served during the first day: The food was fine, with one three-course option (Soup/bread, chicken, pancake/jam and juices) for all and plenty to go around.
Dinner: Provided once we got back to the hotel after we checked in, which was very well organised - keys/details all laid out under your family name in envelopes, ready for collection.
Day 2:
Breakfast in the the hotel: Buffet style and all fine.
After breakfast we visited Santa Claus Village & Santa's official Post Office before he headed to the airport (see above)
A buy on board lunch service was available on the flight.
BOOKING FOR 2016 IS NOW OPEN:
One Night Trip, Lapland
Departs Cork: December 10 and 17, 2016.
Departs Dublin: December 10 and 17, 2016.
Prices:
Adult from €899pp
Child from €799pp
Activities:
Snowmobile adventure
Reindeer sleigh ride through the snowy forest
Husky dog ride
Gingerbread decorating
Snow & Ice fun activities
Meeting with Santa
A trip to Santa's post office & village
Arctic clothing
Two Night Trip, Lapland
Departs Dublin: December 10, 12, 14, 16 and 18 2016
Prices:
Adult from €1,239pp
Child from €1,039pp
Activities:
Reindeer sleigh ride and licence certificate
Husky dog sleigh ride
Snowmobile ride
Tobogganing
Joulukka forest of dreams
Private meeting with Santa, who has a small gift for everyone
Certificate of crossing the Arctic Circle
Santa's Christmas Command Centre
See Santa's elves hard at work
Gingerbread decorating
Santa Park - Festive dinner and show
Fairy-tale train through the seasons
Souvenir making with the guidance of elves
Ski suits and boots
Trip to Santa's post office and village
Included: All of the above plus your flights and hotel on half board.
Excluded: Tax and insurance.
For more information or to book the Sunway Lapland programme for 2016 click here on log on to www.sunway.ie/lapland or T: 01- 2311800.