We've seen it all when it comes to beauty treatments – massage, reflexology, reiki, hot stone therapy, even a chocolate body wrap (I've tried this – messy!) but you can't beat the traditional practice of a seaweed bath. Over 100 years ago, there were 300 seaweed bath houses in Ireland and after a sharp decline in the practice; seaweed baths are regaining their popularity.
There are several seaweed baths located along the west coast of Ireland – but I had my first seaweed bath at the recently opened Spá Atlantach in Ballydavid (Baile na nGall) right on the shore of Smerwick Harbour, 10km West of Dingle, County Kerry. This seaweed is not the fine, filmy stuff that gathers around your ankles at the water's edge, it is Serrated Wrack, which grows in abundance along the Irish coastline.
For the full immersive experience I took the advice of Spá manager, Cristiana Mitterdorfer and started with a swim in the Atlantic Ocean, right on the Spá's doorstep. Freezing! Then I went into the sauna for several minutes, warmed up, before getting into a bathtub, partly filled with two buckets of seaweed in hot water. Then I stepped into the oily, slimy, warm water where I settled in for a deep 30-minute soak, topping up intermittently with hot or cold water. As the seaweed released its natural minerals and vitamins I was able to relax, listening to the sound of the seashore (a welcome relief from the 'tranquillity' tracks usually piped into beauty salons) and gazing at the twinkling ceiling lights. For such a humble plant, the seaweed feels surprisingly luxuriant as it slithers over tired muscles and weary limbs. The idea is to create a sense of being in the sea, in darkness.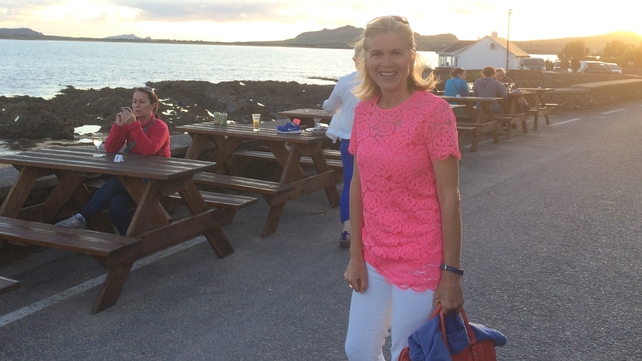 Seaweed is a natural aid to heal the body. According to Cristiana, the vitamins and iodine contained in the seaweed improves circulatory complaints and stimulates the body metabolism to get rid of toxins. It can help with skin complaints such as eczema. Cristiana recommends hot and cold therapy so after my 30 minute bath; I went for another swim in the sea. And while it was a shock to my body, I felt totally invigorated afterwards. Most people don't do this though because they're too sleepy after the bath!
Every morning Cristiana collects two wheelbarrows of seaweed from the shore, taking care to cut 10cm from the base to allow for re-growth. Then she washes it in saltwater, removing any periwinkles or other particles, by hand. The bath water is drawn from the Atlantic Ocean, and is heated before being pumped into the baths.
The Spá is a joint venture between Austrian-born Cristiana and Seán Breandán O'Conchuir of next door's Tigh T.P. Pub, Restaurant and Accommodation, surely one of the most beautifully located pubs in Kerry and in itself a destination for visitors and locals alike. As a trained therapist she has drawn on her experience of 12 years in the beauty business to get started. She is keen to emphasise the natural properties of the seaweed in aiding the body to restore itself. My skin certainly felt softer for a couple of days after the bath but what I really enjoyed was being so relaxed that I almost dropped off in the water.
The seaweed bath isn't the only treatment on offer – there's everything from Classic Massage, Stone Therapy, Reflexology, Ayurvedic massage (€1 per minute of therapy) to Dorn Breuss (for back and spine €50 per 50 minutes). A range of Natural Cosmetic Seaweed products is also available.
The Spá has 2 individual bathrooms and one double bathroom, €20 for 30 min bath and €5 for sauna. Having opened just this Summer the Spá has been completed to a high standard with showers and an attractive waiting area.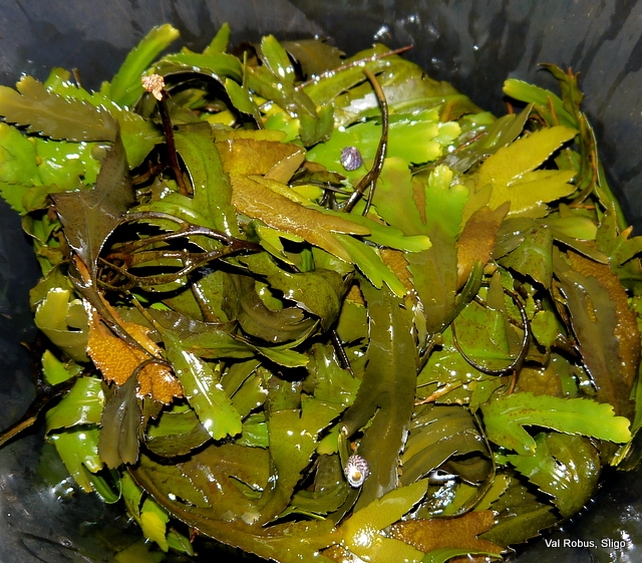 The Spá will be open all year so no excuse for not trying the swim, sauna, seaweed bath combination. And why not food and a pint in TP's afterwards!
Spá opening hours: 10am-8pm. T: 083 443 7322
Accommodation: Tigh TP offers Hostel–style accommodation €15/20 per person sharing (July-August) and Coastguard House €30 per person sharing (Jul-Aug)
Other Accom available here: www.dingleskellig.com, www.dinglebenners.com, www.castlewooddingle.com
Useful websites: www.spaatlantach.com, www.dingleactivities.com, www.tripadvisor.com
,