Over the millennia the city has built up layers of human excellence, endeavour and excess that make it an unsurpassed international destination.
The Italian capital has not only crammed the world's greatest empire, and the emergence of the first truly global religion into its CV, it also boasts head-spinning credentials in Renaissance and Baroque art, has the world's most beautiful squares and churches, is blessed by a golden climate (even if it's unbearably hot in July and August) and nourished by a bounty of fresh, natural, and local cuisine.
Rome is for lovers, certainly, and the devout…But, as in every love affair, early adoration gives way to an allergic reaction to the loved one's bad habits.
The city has had to evolve around (and over, and under) its breathtaking ancient heritage for centuries. Bad planning, and the need to preserve the city's artifacts, mean it is not one of Europe's most functioning cities.
But there's sufficient charm in the chaos to make it manageable, and the heady potion of all that beauty, art, marble, culture, empire, food, wine, cocktails, romance and ice-cream means you'll quickly adapt to the city's edge.
The late, great art critic Robert Hughes described Rome as an "irksome, frustrating, contradictory place, both spectacular and secretive".
So, how to make the most of a long weekend or seven day break without being overwhelmed?
Firstly, you need to be realistic about how much you can pack in, and to be brutally selective.
Your list of must-do's will probably include the big ones: the Colosseum, the Roman Forum and the Palatine Hill (and the Capitoline museums), St. Peter's Basilica, the Sistine Chapel and Castel Sant'Angelo, the Trevi Fountain, the Spanish Steps, Piazza Navona, the Pantheon, Campo de' Fiori, Trastevere, the Quirinale, the Caracalla Baths and the Catacombs.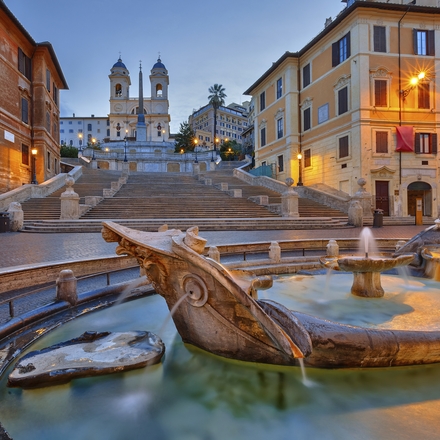 For the kind of big game mentioned above, there will be queues not just for tickets but also security checks.
The secret is to avoid queuing as much as possible. Take a stoical view of perhaps not visiting the Sistine Chapel or the Colosseum, and instead use your time and energy to winkle out hidden jewels tucked into the fabric of the city, get out to the parks, countryside and seaside around Rome, and give yourself time to contemplate the movimento of Romans at work and at play.
Areas which aren't normally top of the coach-load circuit are the Jewish Ghetto, the old, artisanal neighbourhood of Monti, tucked away behind the Colosseum, Ostia Antica, the surprisingly well-preserved early port of Rome, the shopping district of Prati, and the non-Catholic cemetery in Testaccio where dozens of European poets, dreamers, romantics and painters were laid to rest, Keats and Shelley among them.
For those who are at the more discerning end of the spectrum, there are newcomers to the tour market offering bespoke packages that will get you away from the hordes and get you and your loved one / family focussed on a thoughtful itinerary.
Luxe Associates is one, run by Aussie expat Amy Doherty: http://www.luxeassociates.com.au/
Another is Walks of Italy: https://www.walksofitaly.com/
But, if you feel no visit to Rome is complete without taking in the Colosseum and the Sistine Chapel, there are some tips to minimise travel and queuing time.
The Roma Pass (www.romapass.it) is a good start.
There are two versions of this discount pass which you should buy online. There's the straightforward Roma Pass at €36 which will give you free entry to the first two visited museums and/or archaeological sites of your choice (including the Colosseum), and you'll get a concessionary ticket to all other museums and sites visited thereafter.
You'll also travel free until midnight on the third day, on buses, on metro lines A, B, B1 and C and on railway lines Roma-Lido (actually the beach resort of Ostia to the west of Rome), Flaminio Piazza del Popolo-Viterbo and Roma-Giardinetti. You'll need a valid ID with the card, and be aware that the Roma Pass will not get you to or from the main airports of Fiumicino or Ciampinio.
The Roma Pass 48 Hours does pretty much the same except you'll get free entry only to the first museum or archaeological site you visit. It costs €28.
It's worth noting that the following museums are free anyway: Accademia Nazionale di San Luca, both the Carlo Bilotti and Pietro Canonica museums at Villa Borghese, the Museo della Repubblica Romana, the Roman Walls museum (Museo delle Mura), the Museo di Casal de' Pazzi, Museo di Scultura Antica Giovanni Barracco, and the Napoleonic museum, Villa di Massenzio.
When you buy the Roma Pass you'll get a code to download the Roma Pass è App which gives you a regularly updated guide to 150 historical and artistic sites, an event guide and a city map.
The Vatican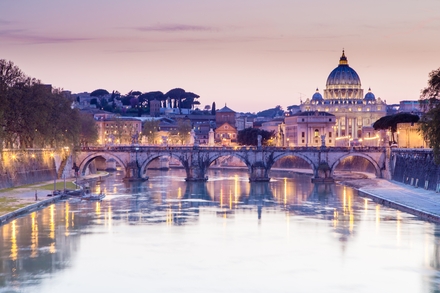 The Vatican Museums (www.museivaticani.va) contain quite simply the grandest collection of art on the planet, spread over two large palaces and connected by two long galleries. It includes the Sistine Chapel.
Again, pre-booking online is advisable to avoid queuing for a ticket, (http://biglietteriamusei.vatican.va/musei/tickets/do?action=booking) but it won't get you out of the security checks and there's also a €4 booking fee. It's also generally better to start the queuing after 3pm (entry finishes at 4pm, and the complex itself closes at 6pm, with visitors being moved out half an hour before closing).
A full ticket costs €16, concession is €8 (children and students up to the age of 25).
If you can't cope with a daytime visit, there's always the nighttime experience. Every Friday from April 24 to July 31 and from September 4 to October 30, the museums are open from 7pm until 11pm (last entrance at 9.30pm). For this visit you must book online.
The Colosseum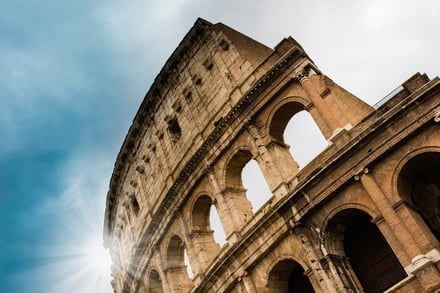 It's the Daddy of Rome attractions and the enduring icon of the empire with all its bombast, cruelty and appeal. Again, there are the twin problems of queues and being snagged by cheeky "centurions" who will pose for photos for a fee.
Where to start? There are five different ways to get tickets:
At the Colosseum ticket office or at the nearby offices in Via di San Gregorio (Palatine), Largo Salara Vecchia, Piazza del Colosseo, Via Sacra
By phone: +39 (0)6 399 677 00, Mon-Sat from 9am to 1.30pm and from 2.30pm to 5pm
Archaeologia Card: it costs €25 or €15 reduced (for students aged 18-25 and teachers from other EU member states), and free for under 18s and over 65s. It's valid for seven days from its first use and will give you access to the Colosseum, the Roman Forum, the Palatine Hill, the Roman National Museum sites, the Caracalla Baths, the Quintili Villa, and the Tomb of Cecilia Metella on the Appian Way. It will also get you a discount on official guide prices and audio guides. You can get the card at any of the above sites (except the last two), or from the Rome Visitor Centre, on Via Parigi 5 near Termini Station.
Roma Pass (see above)
Any of the above options, with the exception of getting your ticket at the Colosseum itself, will slightly reduce queuing time, but you'll still have to queue for the security checks.
One way around the queuing is to join a group tour. That will require a reservation (via the official website) and will cost €28 per person with a maximum of 50 people in the group. The €28 includes the entrance fee for a group of 14 or more, while there's a €2 surcharge payable at the ticket office for a group of between 14 and 50 people.
The full price to see the Colosseum is €12, with a reduced price of €7 for EU citizens aged 18-25 and for teachers from another EU member state. There's free entrance for visitors aged 17 and under. If you buy online there's a €2 booking fee. Don't forget that a ticket to the Colosseum also gets you into the Roman Forum and Palatine Hill. The Colosseum is open every day except January 1 and December 25. Here's another handy site, although it's not an official one: http://www.the-colosseum.net/around/visit.htm.
If you're thinking beyond the Vatican and the Colosseum and Forum, there is a formidable range of sites covering the ancient city, the Christian takeover, and the Renaissance, right up to the Dolce Vita era of the 1950s and 60s.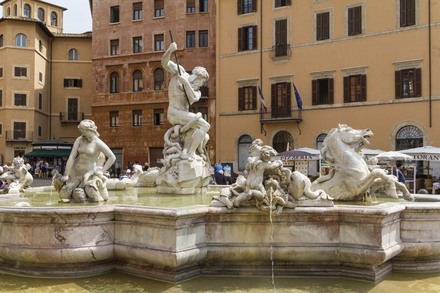 Here's a quick list of the more mainstream attractions:
The Trevi Fountain
The Spanish Steps and Piazza Spagna
Palazzo Barberini and the Galleria Nazionale d'Arte Antica
Basilica di San Giovanni in Laterano
The Pantheon and Piazza della Rotonda
Piazza Navona
Doria Pamphilij Palazzo and Gallery
Bocca della Verità
The Jewish Ghetto
Trastevere
The Gianicolo
Piazza del Campidoglio
Thankfully, the main attractions of Rome are not mercilessly scattered, but loosely networked within a relatively accessible space.
My preference is to move around on two wheels, and a mountain bike is essential to cushion yourself against cobblestone and pothole alike. Walking in Rome is tiring, between the heat, the hordes, the queuing and the roar of traffic (much of the centre is off-limits to vehicles without a varco pass, but there's plenty of lurching and jostling going on). While most Italians would shriek in horror, a sturdy bike will allow you to flit around the network of little backstreets that link piazzas and fountains with the broader streets.
It's not for the faint-hearted: Italian drivers are essentially fighter pilots gunning for the slightest spatial advantage in a country where lane discipline is unheard of.
But more people are braving it: http://www.topbikerental.com/nuovosito/eng/index.html
http://www.rideroma.theredbicycle.org/p/route-maps.html
Roman Secrets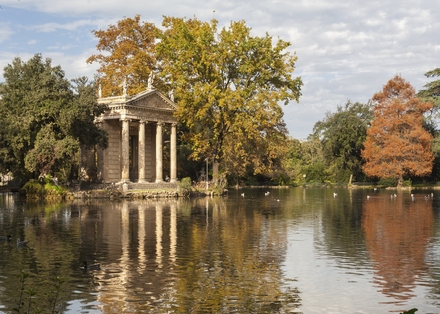 While the above will hog the tourist headlines there are numerous adorable, perhaps less well-known attractions which will permit the visitor to develop his or her own intimate relationship with the city, and which will involve less queuing.
Villa and Galleria Borghese, on Piazzale Sciopione Borghese (www.villaborghese.it). This 17th century park was designed for Cardinal Sciopone Borghese and is a perfect spot in which to relax, get some cool shade and enjoy commanding views of the city, its domes, spires and sunsets. The gallery hums with masterpieces by Raphael, Titian, Bernini, Botticelli and Caravaggio. Outstanding is Antonia Canova's full-length semi-nude reclining marble statue of Maria Paolina Bonaparte, the sister of Napoleon, who married prince Camillo Borghese. Pre-booking is necessary: http://www.galleriaborghese.it/borghese/en/evilla.htm, but if you have a Roma Pass you can call +39 06 32810 to book a ticket and it can be collected 30 minutes before the tour. To keep numbers manageable visitors are admitted at two-hourly intervals so you will be given an allotted time, which you are advised to keep. Prices start from €13.

Palazzo Massimo alle Terme, Largo di Villa Peretti, 1
(http://archeoroma.beniculturali.it/en/museums/national-roman-museum-palazzo-massimo-alle-terme). This 19th century palace in the neo-classical style has an extraordinary collection of antiquities as well as frescoes, sculptures and mosaics. Among the most spectacular works are the garden paintings from Villa Livia, one of the homes of Augustus' wife Livia.

Basilica of St. Mary of the Angel, Piazza della Republica (http://www.santamariadegliangeliroma.it/index.htm?lingua=INGLESE&cambialingua=SI). This is a church built inside what was once the frigidarium, or cold water baths, of the Emperor Diocletian. The basilica was designed by Michelangelo, but only the vaulted ceiling remains of his plans.

Chiesa di Sant'Agostino, Piazza di Sant'Agostino. This early Renaissance church hosts Caravaggio's Madonna del Pellegrini (1604), also known as the Madonna di Loreto, and has become a popular place for expectant mothers who visit Jacopo Sansovino's sculpture of the Virgin Mary Madonna del Parto. There's also a fresco by Raphael of the Prophet Isaiah.

Basilica di San Clemente, Via Labicana 95 (http://basilicasanclemente.com/eng/). This is a fascinating church and one very close to the Irish College of Rome (http://www.irishcollege.org/). The building goes back to the first century AD and was thought to have at one point been a Mithraic temple, Mithraism having been a mystical Eastern warrior cult. The building was once a cave from which flowed a spring which in turn was channeled down into the underground of the nearby Colosseum and used to wash away the gore which gathered from the gladiatorial and animal contests above.

Palazzo Farnese, Piazza Farnese. This is perhaps the most spectacular palazzo in Rome, if not all of Italy. It was commissioned in 1514 by Alessandro Farnese, the future Pope Paul III (and whose sister was the mistress of Borgia Pope Alexander VI), its courtyard was built by Michelangelo and Antonio Sangallo, and it hosts a 20-metre barrel vault fresco by Annibale Caracci entitled The Power of Love, representing a host of sumptuous scenes from Ovid's Metamorphoses (Robert Hughes, the art critic, described it as one of the supreme works of 17th century Italian painting). These days Palazzo Farnese is the French Embassy, but there is a free bi-weekly bi-lingual (Italian-French) tour. This one is for the well-organised: you can make a booking by downloading forms from this website (http://www.inventerrome.com/index.php/en/visiting-the-palazzo-farnese), but it needs to be sent four months in advance.

San Luigi de Frecesi, Piazza di San Luigi di Francesi. This baroque church between the Pantheon and Piazza Navona, commissioned by Catherine de' Medici for the French community in Rome, hosts four paintings by Caravaggio, La Vocazione di San Matteo, Il Martiro di San Matteo, and San Matteo e l'Angelo.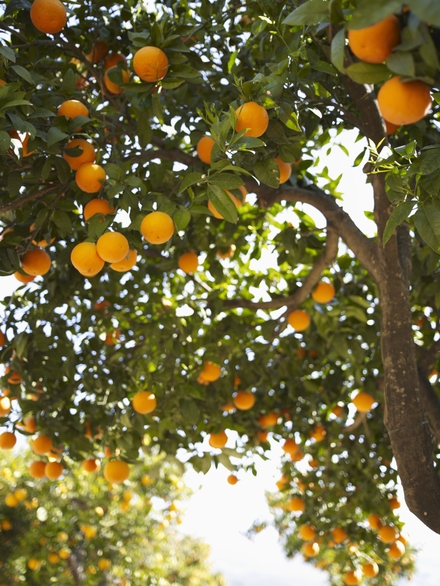 The Garden of Oranges, also known as Parco Savello, Via di Santa Sabina. On the Aventine Hill, this is a sumptuous and peaceful garden sanctuary next to the Church of Santa Sabina. According to legend, the orange trees were originally planted there by the Spanish St. Dominic, and their candied peel later given to Pope Urban VI by St. Catherine of Siena. The symmetrical garden was designed by Raffaela de Vico and it draws visitors towards a central pathway to the viewing terrace. On your approach, the Dome of St. Peter's appears to hover over the terrace, and in a trompe l'oeuil effect, the closer you get to the terrace, the further away the dome appears. From the terrace there are beautiful views of the Tiber and the rooftops and domes of the capital. Further along Via di Santa Sabina you'll find the Square of the Knights of Malta, and on the doorway of the Knights' headquarters there is a keyhole through which one sees the perfectly-aligned Dome of St. Peters.

Via Appia Antica is Rome's legendary exit point, named after the consul Appius Claudius Caecus who laid the first 90km in 312 BC. While the broad, polished paving stones of the Via Appia hold the secrets of two thousand years of history, there is an entire park devoted to the road's hinterland. There's a good website here (http://www.parcoappiaantica.it/en/default.asp) which showcases the park's rich supply of archaelogical ruins, nature trails, villas and monuments. Sunday is the day to go since the road is closed to traffic and it becomes a haven for walkers and cyclists (but be aware, there can be a lot of people). There are guided tours in English and bicycle hire options via the website. It is, all told, a tranquil, mellow way to spend a Sunday morning. To get there, catch the 218 bus from Piazza San Giovanni in Laterano, bus 660 from the Colli Albani metro stops on line A, or bus 118 from Piramide Station, which is on line B. There's also the Archeobus runing from Termini railway station.

Tivoli, Villa Adriana, Villa d'Este, Villa Gregoriana. If you fancy venturing out further from Rome, the unmissable destination is the hilltop town of Tivoli. You could probably enjoy – on one big day out – two of the three attractions: Emperor Hadrian's summer residence (Villa Adriana http://www.coopculture.it/en/heritage.cfm?id=75), Villa d'Este's spectacular High Renaissance gardens (http://www.villadestetivoli.info/storiae.htm) or Villa Gregoriana, the 19th century park laid out by Pope Gregory XVI (http://www.coopculture.it/en/heritage.cfm?id=90). While the hills are cooler than the city, you'll need plenty of water, and a picnic is probably the best way to refresh and sustain. There's a tourist office on Piazza Garibaldi in the centre of Tivoli, where the local blue Cotral bus arrives from Ponte Mammolo metro station (line B). The bus journey takes around 40 minutes.
Food and drink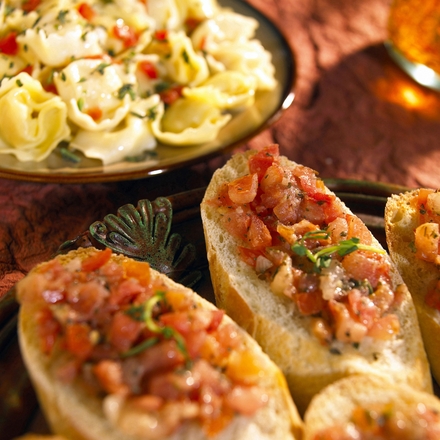 After World War II, young and beautiful Americans (and impoverished Europeans of the artistic variety) flocked to Rome partly because it was cheap to live and eat. Today Rome, and Italy in general, still offer the winning combination of excellent local cuisine at decent prices. There are, of course, tourist traps where the food is not up to Roman standards and where the ping of the microwave can be heard above the chatter, but in general, cheerfully chaotic dining is a pleasure.
Romans are sticklers for what's good, what's traditional, what's seasonal and what food goes with other food. In other words, they haven't yet fully found their experimental mojo, but there is a new wave of chefs who are branching out. You can visit 100 restaurants in the capital and find that they largely stick to the same formula of anti-pasti (appetisers), primi piatti (pasta and risotto), and secondi piatti (meat and fish) and within each bracket you'll often find the usual suspects.
I don't like to complain too much, though, because the food is generally of a high quality and is good value. Bruschetta (the 'ch' is a 'k' people!) might simply be chopped tomatoes on oven-toasted bread with a drop of olive oil and salt on top, but remember that the tomatoes in Rome will be ten times sweeter than the watery versions you get in Ireland, and the crusty bread is delicious. For €2 who could complain? A filling pasta dish at lunchtime will cost between €6 and €8, and even the main dishes (i.e. the secondi piatti) will not set you back much beyond €14 to €16 in most family-run osterie.
Drinks wise, you will never be stuck for options. The food sector in Rome is dominated by small to medium-sized restaurants, and they all reflect Italy's world-class wine culture. While Italians are respectful drinkers (binging is frowned upon), they usually have a glass of red wine with lunch and dinner, and they take the pairing of food and wine seriously. You will easily find bottles of Chianti for €13 or €14 in many tavernas, and as you raise you game through the certified labels - IGT (Indicazione Geografica Tipica), DOC (Denomine Origine Controllata), or DOCG (Denomine Origine Controllata e Garantita) - there will be plenty of choice in the €20-€30 bracket.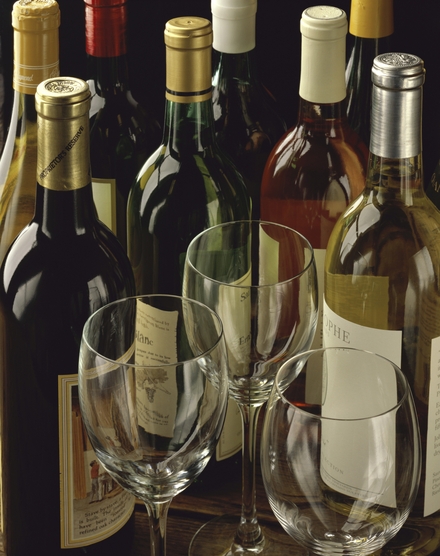 Here's a good intro to Italian grape varietals: http://drinks.seriouseats.com/2014/03/italy-wine-basics-essential-grapes-what-is-docg-barolo-chianti-sangiovese-super-tuscan.html
I often go for a primitivo from Puglia, or a lagrein from Alto Adige.
Italians are drinking more and more beer, and like everywhere else in Europe there is an emerging cult of craft beers (see here http://www.seriouseats.com/2015/03/best-italian-craft-beer-baladin-del-borgo-pausa-cafe.html) which are giving Italian classics – Peroni, Birra Moretti, Nastro Azzuro, Menabrea – a run for their money. You'll pay on average €3-4 for a 30cl bottle of local beer; if you require a large draft beer, ask for a birra all spina media, which is a half-litre. Craft beers will cost more (€5 and upwards), but beware: in the Margo Pizzeria in Palermo I ordered a €5 weiss beer from the menu and was then charged €12 for an "artisanale" beer which was not on the menu.
A handy website in English for all things gourmet in Rome is here: http://www.roma-gourmet.net/inglese/
Here: http://www.eatingitalyfoodtours.com/blog/where-to-eat-in-trastevere-a-food-lovers-guide/
And here: https://www.zomato.com/
Here are a few of my favourites, or ones recommended by Romans themselves/expats:
Happy Hour
Many wine bars, restaurants and bars will have a happy hour with an impressive array of food to dip into. The deal usually (but not always) is that you pay perhaps €10 for your first aperativo, then help yourself to a spread of food that is generous, fresh and hitting all the high-notes of Roman food, from plates of charcuterie, to pasta, to salads, to polenta, to dressed pulses, olives etc.
Two of my favourites are in the up-and-coming district of Testaccio:
Ice-cream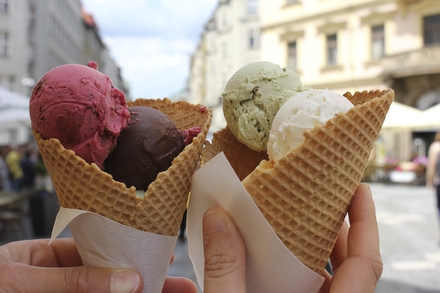 Gourmet food and wine shops
Castroni, Via Cola di Rienzo 196

Il Goccetto, Via dei Bianchi Vecchi 14

Salumeria Roscioli, Via dei Giubbonari, 21

L'Involtino, Sicilian street food, Via dei Gracchi, 28
Rome for kids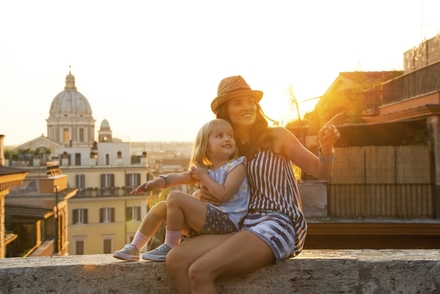 A family break in Rome can be a challenge if you're not prepared. Walking around the old heart of Rome will, of course, deliver sensory overload, with the cacophony of hollered sparring matches in Italian, the smells of baking focaccia, and the light radiating from ochre-coloured Renaissance townhouses in the afternoon. But beware: fatigue will set in quickly, and there will be an army of front of house hosts and hostesses trying to lure you into tourist trap restaurants, pizzerias and ice-cream outlets. Roman piazzas are also filled with Bangladeshi toy vendors preying on children's appetites with brightly-coloured (but flimsy) bibelots which catapult into the sky or crawl on the ground. And watch out, too, for those ruthless Vespas which suddenly spring from cobbled backstreets into the path of your four-year-old.
Having said all that, the pizzas are generally first-rate and very good value, and Italians know what they're doing when it comes to ice-cream. Kids will also love the life and variety (and endless climbing opportunities) of the great piazzas.
Here's a useful starter guide for family itineraries: http://ciaobambino.com/rome-with-kids-what-to-see-and-things-to-do-in-72-hours/
And another: http://mylittlenomads.com/family-travel-best-rome-kids
Or you can order this guide to Rome with kids: http://www.amazon.co.uk/Rome-Kids-insiders-guide-Second-ebook/dp/B00JPKN5NA/ref=sr_1_2?ie=UTF8&qid=1441200533&sr=8-2&keywords=rome+with+kids
There's also the official Roma tourism page on Rome for kids, but maddeningly, and typically I'm afraid, most of the sites are only in Italian.
Children and gladiators are, of course, a match made in heaven. If you can brave the Colosseum (see above) you'll keep them well occupied. Alternatively, there is the gladiator school on the Via Appia Antica http://www.viator.com/tours/Rome/Roman-Gladiator-School-Learn-How-to-Become-a-Gladiator/d511-2466GLAD
Ostia Antica is one of the great well-kept secrets and is a real-life film-set for an ancient Rome day trip. The 4th century port became the empire's strategic hub for defence and trade, and its remains are regarded as being as well-preserved as Pompei's.
To get there, take the Metro line B to Piramide, then get a train to Ostia Lido from the station next door to Piramide, stopping off at Ostia Antica. The journey will take 25 minutes, an adult return is €3 and children under 10 go free. The ruins are spread out so you'll need a couple of hours to make the most of it http://www.ostia-antica.org/.
Getting around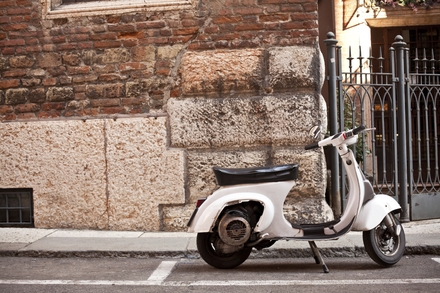 Rome's bus, tram and metro systems are serviceable, but not the cleanest or most efficient in the world. The metro system (Metropolitana di Roma) is small, and, given that the mountain of archaeological strata the city squats on means any underground tunneling is painfully slow, there are just two lines, A and B (a third line, C, is under construction).
The good thing is that all three – bus, tram and metro – are integrated, so one ticket will do for them all. It's called a Metrebus ticket, and will also cover some commuter trains, such as the one to Ostia, but not the trains from Fiumicino Airport.
A standard ticket is called a BIT and it will cover you for 100 minutes or one commuter ride and it costs €1.50.
A one day ticket (Roma 24H) is valid for 24 hours of unlimited travel on all three systems, and it costs €7.
A two day ticket (Roma 48H) does the same for two days, and costs €12.50. Likewise, a three day ticket (Roma 72H) costs €18, and a seven day (CIS) is €24.
The Roma Pass and the Roma Pass 48 Hours will cover you on buses, trams and metro trains (see above).
Always remember to validate your ticket before you enter a platform, or the moment you get on the bus. Also, some bus lines are notorious for pick-pockets, especially the number 64 which runs from Termini Station to the Vatican.
Here are a couple of useful links:
http://www.060608.it/en/trasporti/muoversi-in-citta/in-bus-e-tram-pubblici/i-titoli-di-viaggio-sistema-metrebus-tariffe.html
http://europeforvisitors.com/rome/transportation/rome-metrebus-tickets-and-fares.htm
Taxis
Taxis are plentiful and pretty much on a par price-wise with most other European capitals. From Piazza Venezia to the Vatican will cost you around €12. Phone 06551 or 063570 to book.
Uber is available and popular in Rome (https://www.uber.com/cities/rome) and is generally cheaper than a taxi (the same journey quoted above will cost €8 by Uber).
Getting to and from the airport
From Fiumicino Airport, the city's main terminal (also known as Leonardo da Vinci) and where Aer Lingus and Alitalia flights arrive, the best way to get to the centre is by train.
There is the Leonardo Express which is direct to Termini Station and runs every 30 minutes (cost is €14).
Alternatively there are the regional trains which have lumbering carriages and are not the most modern or comfortable, but they run more often (every 15 minutes) and a one-way ticket will cost €8.
There are several ticket outlets and machines in the main concourse at Fiumicino station to buy them (a handy one is a drinks/sweets/newspaper kiosk to the right as you arrive in the station from the airport, which generally has shorter queues).
Here is a guide to train options:
http://www.trenitalia.com/cms/v/index.jsp?vgnextoid=dd2aeb82a8fbf310VgnVCM1000008916f90aRCRD
The Terravision company runs a bus shuttle from Fiumicino to Termini Station at a cost of €9 one-way and €15 return. The journey takes over an hour, depending on traffic.
For general info on Fiumicino Airport, use this link: http://www.rome-airport.info/in.html
From Ciampino Airport, where Ryanair flights land, there are five bus companies ferrying passengers back and forth http://www.adr.it/en/web/aeroporti-di-roma-en-/pax-cia-bus
Since there are no trains from Ciampino, the other option is a taxi. Most companies have a fixed fare of €30 to the centre of Rome and €50 to Fiumicino Airport. Be warned that some taxi drivers will try to fit a bunch of unrelated passengers into their cars and drop them off individually – but still charge them €30 each.
Hotels and Accommodation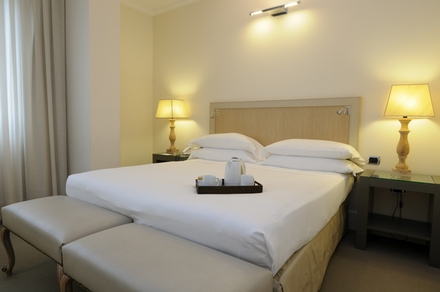 Rome is an all year round destination and has been receiving pilgrims, tourists, city-breakers and invaders for centuries, so the range of accommodation is vast, matching the spectrum of income brackets from humble pilgrims to Russian oligarchs.
Quality is variable, and wifi is often not superb, but staff tend to be friendly and efficient. There are five star palazzos and humble pensioni. There has also been a big growth in boutique-style guesthouses and smart B&Bs. The big problem, if you're renting a car, is on-street parking. It is generally very difficult.
Here's a link to the official Rome tourist site and its list of accommodation – the initial text is in Italian, but there are further links to the actual names and addresses of the accommodation.
http://www.turismoroma.it/dove-dormire?lang=en
A site more geared to Bed and Breakfasts is here and in English: http://www.b-b.rm.it/
Air BnB enthusiasts won't be disappointed, as there are plenty of entries: https://www.airbnb.com/s/Rome--Italy?af=1922719&c=A_TC%3Dthywjyybpp%26G_MT%3De%26G_CR%3D61195277543%26G_N%3Dg%26G_K%3Dbed%20and%20breakfast%20in%20rome%26G_P%3D%26G_D%3Dc&gclid=COXG5qPV2McCFSUOwwodsycNBQ&dclid=CMOT_KPV2McCFQWUwgodU2AKAg#
Prices on AirBnB will start at as little as €25, but the average price is €83.
Getting there
Aer Lingus flies direct to Rome Fiumicino twice daily and you'll pay anything from €90 return to €300 depending on the time of year, the day of the week and how much time in advance you make the booking.
Ryanair flies twice daily to Rome Ciampino, again direct, with broadly similar prices, although you'll probably find lower prices if you book well in advance.