Drinking elderflower wine and munching on sloe berry gin chocolate wasn't what I was expecting on the peak of Carrauntoohil (1039m), Ireland's highest mountain. The gale force winds and poor visibility were less of a surprise. I was in the trusty hands of experienced mountain guide Nathan Kingerlee from Outdoors Ireland. After reaching the peak Nathan found a sheltered spot and rewarded my efforts with homemade treats that he created from wild elderflower and sloe berries, which he foraged in the fields around Killarney.
Nathan's talents don't stop there; he has climbed Carrauntoohil at least 200 times, and in 2011 he hiked around Ireland with a dog and a goat in search of the 'Irish welcome'. Neither of his four legged friends came with him this time. Nathan pointed to a steep ridge where a sheep's carcass lay decomposing. "They can't walk backwards, you know? Sometimes they just get stuck and die."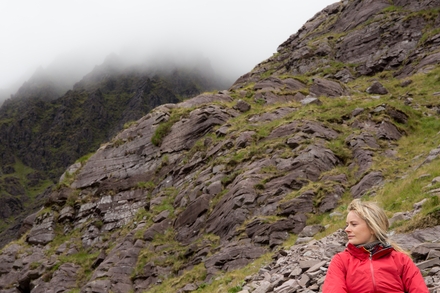 Happy not to follow in the sheep's hoofsteps, we chose a more celestial route, the 'Heavenly Gate'. It started out quite busy because it's also the way to the more popular 'Devil's Ladder' route. Once we got off the main thoroughfare, the path became more rugged and less busy. An old shepherd's path took us through Hag's Glen where we stepped over rocky earth and hopped stone-to-stone over rivers. As we passed Lough Callee, Nathan pointed at the small island in the lake and announced that "this is where the hag lived". She was a wise woman who gave advice in exchange for food. Her underwater network of stepping stones to the island gave the locals the impression that she could walk on water and had magical powers. The dark rugged peaks that lay ahead was a fitting visual to Nathan's stories from Celtic mythology.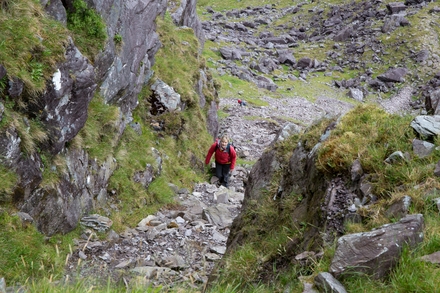 As we drove further into the valley there was a lot of scrambling and the wind started to pick up. The clouds swirled around us and when they parted they revealed stunning views of the glacier valley and lakes. I wasn't so lucky with the views on top of the cloud-strewn summit, although Nathan assured me that 50% of the time there are good views stretching out as far as Dingle and the Skelligs. I could only see a few meters ahead but the wind that blew right through me was invigorating.
Back down at sea level my weary and sore legs recovered in the adults-only spa at Muckross Park Hotel, which is situated inside the grounds of 26,000 acre Killarney National Park. Non-guests can enjoy the spa facilities for a €30 day rate. If you want to continue spoiling yourself, the hotel's Yew Tree Restaurant does a fabulous five course Table d'Hôte menu for €53. The menu features a lot of locally-sourced produce with a big emphasis on seafood. I enjoyed delicious seared Valentia scallops as a starter and hake served with Gubbeen chorizo and razor clams for a main.
Killarney is a busy tourist town which, with the exception of Dublin, has more hotel beds that any other Irish town or city. The streets were heaving with visitors, buskers and street stalls, which gave the town an exciting buzz. The flip side of this was heavy traffic and more than enough souvenir shops. It's not hard to find a good bar in the town. Courtney's was top of my list for atmosphere and its great selection of whiskey and craft beers. The 98 Bar is a cosy spot with some good live music. For a less traditional fare, Middle Earth is Ireland's only Lord of the Rings themed bar. They brew their own Tolkien-inspired beers such as Bilbo's Beer, Frodo's Lager and Gandalf's Ale.
It's easy to see why Killarney attracts such masses. Its proximity to lakes, woodlands, waterfalls and Ireland's highest mountains makes it a perfect outdoor playground.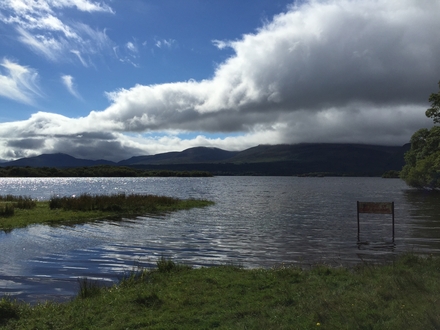 With this in mind, I wriggled into a wetsuit and headed off for a three-hour kayak around Lough Lein, which lies inside Killarney Nation Park. Within minutes of leaving the busy car park by Ross Castle I was peacefully paddling. The lake felt like the tranquil heart of the National Park. We quietly snaked our way along the shoreline of the ancient oak woods where sika deer grazed. It was a tight squeeze through some beautiful limestone caves before we took a rest on Cow Island. Sitting on a cliff side I looked out at the lake and the breathtaking craggy mountains which I had rambled on the day before. It was a sublime sight and made me realise why Kerry is called The Kingdom.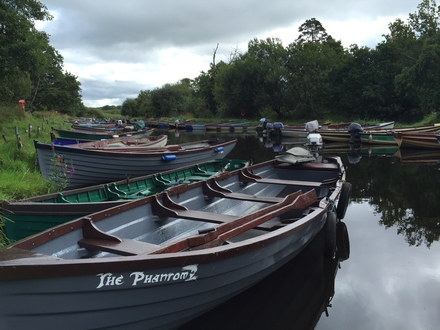 Find Discover Ireland on Facebook or visit www.discoverireland.ie for lots of inspiring ideas for your next adventure break in Ireland.  You can find Outdoors Ireland at www.outdoorsireland.com/
Getting there - A bus from Dublin to Killarney with Bus Eireann costs €20.90 on www.buseireann.ie. A one-way train ticket from Dublin starts at €24.99. For the best fares pre-book online at www.irishrail.ie.    
Accommodation - There are plenty of accommodation options in Killarney. Deirdre stayed in the five-star Muckross Park Hotel. It has Autumn breaks from €75 per person Bed & Breakfast. This includes complimentary Spa access, free bike hire and a welcome drink on arrival. See www.muckrosspark.com for more details. 
There are also plenty of B&Bs in the area, with the average cost being €70 per room. Airbnb have 476 rentals listed in Killarney with an average price of €76.  A thrifty traveler can grab a bargain for as little as €25 for a private room in a family home.
Eating Out - A rack of lamb at Treyvauds Restaurant in Killarney costs €29.95. Their house wine prices start at €21.75. For more details visit treyvaudsrestaurant.com.