When discussing destinations I travel to, different places evoke different responses. Some excite, others are all too familiar, others still are off most people's radars when it comes to holiday destinations and then there are some that even the mere thought of visiting, horrifies people. Iceland, however, is apparently very interesting! Everyone I spoke to about visiting the Nordic island nation was fascinated by it as a destination. Those who hadn't visited wanted to get there, and those who had, praised it lavishly as a top world destination.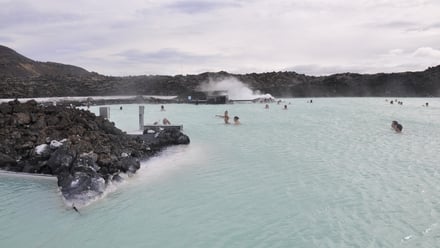 The Blue Lagoon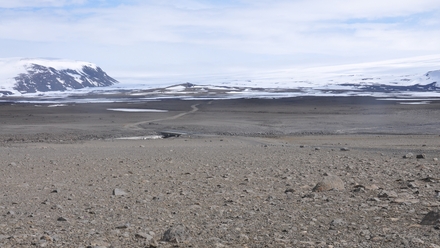 Iceland's lunaresque landscape
Travelling through Central America a number of years ago I met an Australian tech magnate who had sold his company and spent the last two years travelling the globe twice over. When I asked what his favourite world destination was, he replied without hesitation, "Iceland." Stating that its natural beauty was beyond what any other country had to offer.
From that moment I was hooked on the idea of going and made the trip a reality this year.
Wow Air, Iceland's well-regarded airline, has commenced affordable flights from Dublin to the world's most northerly capital – Reykjavik. And that's the gateway to Iceland located in the southwest corner of the country, it's the beating heart of the nation economically and culturally and home to three-quarters of the country's 329,000 population.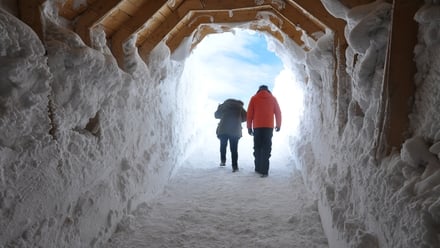 Visitors exit the ice caves of Langjokull

There's a huge amount to see and do on the island, mostly of the great outdoors variety, and 48 hours in the country is enough time to allow you to dip your toe into the water, so to speak.
Iceland has a reputation for individuality and uniqueness, demonstrated by the likes of their most famous export - singer Björk. She embodies the country and the people well: distinct, different and out on their own.
As soon as I land at Keflavik International Airport that impression continues as I hop in a taxi and the driver takes off down the road before getting any directions as to where we want to go. I tell him I want to head to the Blue Lagoon and he nods as though having read my mind.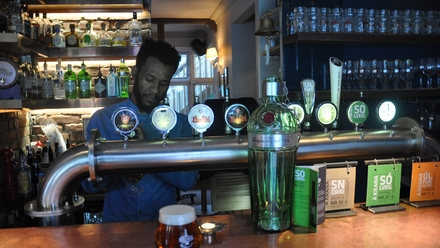 Kaldi Bar, Reykykavik

The lagoon is my first stop having landed on a Wednesday afternoon and it's suitably mind blowing. It's a geothermal spa built into the surrounding moonscape like black rock, formed by the lava that the island is constructed from and it's stunning, visually.
The Icelanders - being the resourceful Nordics that they are - channel the boiling water up from below the earth, before using it to power a hydroelectric power plant, in the process cooling the water to between 37-39 degrees Celsius and running it off into a basin: the creation of the Blue Lagoon. It's one of the 25 Wonders of the World, and the water is mineral rich so there are numerous health benefits to be gained from taking a dip.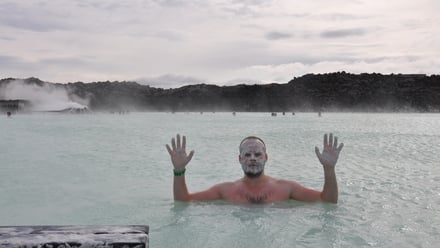 Tadhg Peavoy at the Blue Lagoon (the other one)

It's an incredible sight to float in its luminous blue waters, with the lava rock formations all around you. While you're relaxing in the water you can spread silica mud from the bottom of the lagoon on your face and body to exfoliate and give your best impression of a creature from the deep.
You can also take in a drink from a floating bar, or enjoy a sauna, before showering and heading into the adjoining Lava Restaurant, which has jet black décor and a huge window looking out over the lagoon – it's akin to a James Bond villain's hideout. And the food is excellent. We're talking langoustine, white chocolate and seaweed soup, excellent; followed by cod, with orange sauce and roast carrots.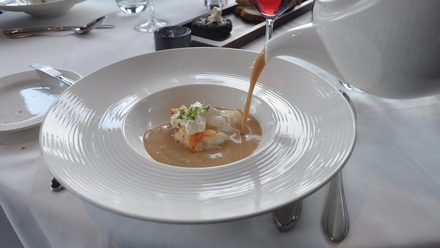 Langoustine, white chocolate and seaweed soup at Lava Restaurant
From there it was back to my base, Alda Hotel, in Reykjavik right in the very centre of the city. It's a beautiful spot, designed by the owner, the manager and their best friend around a kitchen table over several long nights. Think of all the minimal and beautiful ideas of Nordic design put into a city centre hotel and the Alda is it.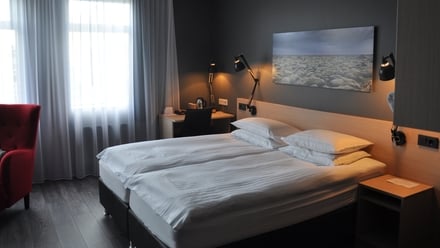 Alda Hotel's Nordic interior design

From there, all of the city's main bars and eateries are within walking distance. It's a very cool town that has a hipster vibe about it while also being very laid back. And the Icelanders, like the Irish, are partial to a drink, so getting to chat with the locals over a scoop or two is a great way to soak up the city. There are a few central bars I would recommend, where you can do just that. Kaldi Bar serves a superb selection of craft beers and is known to be frequented by Irish singer Damien Rice. Kaffibarinn is also nearby, and as one would expect for a bar owned by Blur's Damon Albarn, is super cool, both musically and clientele wise. All of this night time revelry is done in daylight, however. Iceland is part of the world that experiences the midnight sun, 24 hours of light in the summer months as do all places north of the Arctic Circle.
After an early start on my second day I was on the road by 8.30am en route to the second-biggest glacier in Europe - Langjokull. This is one of the most stunning places I've ever been. A bus drops groups at the base of the glacier and from there one has to travel in a converted missile carrier, with tyres deflated from 40 to eight pounds, that glides atop the snow to reach the top of the glacier. From there guides take the groups down into ice caves that run 30m into the 400m deep glacier, where one can glimpse into crevasses running through the ice.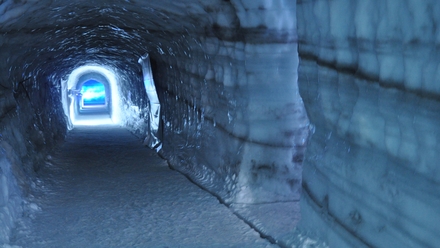 The ice caves of Langjokull
Having descended back to land proper, I was back on the road towards Reykjavik, with a few stop-offs en route. 
Hraunfossar lava waterfall was the first stop: a river and waterfalls crashing down over lava formed cliffs in a stunning setting a short drive on from Langjokull.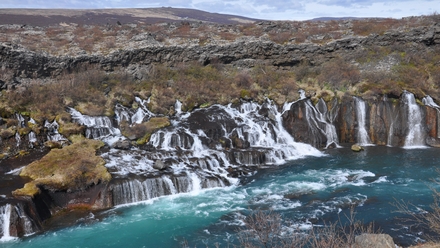 The lava waterfalls at Hraunfossar
Further along the road back to the capital one can also stop off at Deildartunguhver - the biggest thermal hot spring in Europe. Like the Blue Lagoon this is a spring pumping boiling water - heated from lava under the earth - up to the surface, but this is uncooled, and bubbles and steams to the surface. It's pretty awe inspiring and seeing it for the first time is one of those wonderful moments when nature leaves one speechless.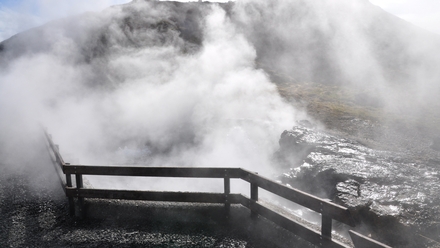 Deildartunguhver hot water springs – the biggest in Europe
Back in Reykjavik for a second and last night, Kol Restaurant and Bar was where I whiled away my last few waking hours before an early morning flight back to Dublin. A superb restaurant serving the best of local Icelandic produce and with a fantastic cocktail bar, I'd recommend it highly. A snapshot of my four-course meal is seafood ceviche; followed by beef rib and brisket; white chocolate and basil and finally, passion fruit cheesecake.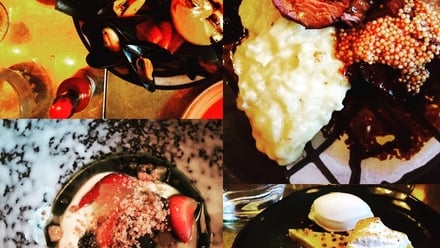 Four course dinner at Kol Restaurant and Bar
Afterwards, on the way back to my hotel, walking once more through the midnight sun, I pondered how I might revisit many of the countries I have visited over the years, but there is little to ponder when it comes to Iceland. This is one country that I have to go back to. Its uniqueness and beauty are too special to be experienced just once.
Twitter: @TPeavoy
Need to knows:
Wow Air operates direct flights from Dublin to Reykyavik: wowair.com
Prices:
All with Reykjavik Excursions: re.is
Blue Lagoon including return bus fare 10,500 ISK (€70.75). (Bus will take you from airport to the Lagoon and then on to Reykjavik).
Airport Transfer to city with Fly Bus departing every half hour 1,950 ISK (€13.14).
Into the Glacier tour: intotheglacier.is/

Dining:
Lava Restaurant
Kol Restaurant and Bar

Hotel: 
Alda Hotel: aldahotel.is

Bars:
Kaldi Bar/Café: www.kaldibar.com
Kaffibarinn: kaffibarinn.is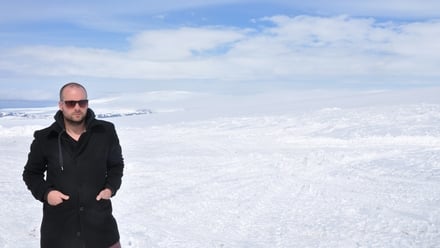 Tadhg Peavoy atop the second-largest glacier in Europe – Langjokull