Known as the spa's "hero treatment" the hot stone back, face and scalp treatment is 105 minutes of pure relaxation and the perfect way to unwind and de-stress.
I was advised to arrive at the ESPA at least an hour before my treatment time to really make the most of the day so my first port of call was the pool. With Swarovski crystals, a low ceiling and warm lighting, the pool looked like the night sky and even when I wasn't swimming, or living it up in the hot Jacuzzi, the area was so relaxing and calming that even lying pool-side was enough to kick-start my day of relaxation – so much so that I'm pretty sure I did actually nod off for 20 minutes or so!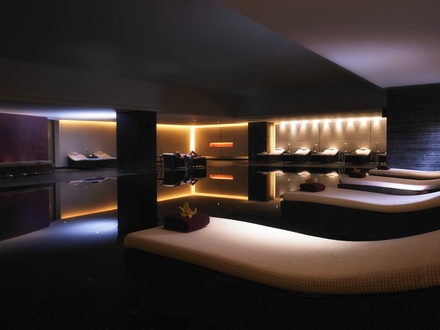 Then it came time to head upstairs to the stunning relaxation room that overlooks the hotel grounds – idyllic is the only word - where I met with my therapist, also named Sinead.
Sinead led me into my treatment room and talked me through what was going to happen, and what I thought was particularly lovely was that she went through the products she would be using during the treatment to allow me to pick out which scents appealed to me the most. Then the magic happened.
We started off with a back exfoliation which lead into the hot stone massage and it was probably one of the best massages I've ever had. My shoulders were very tight beforehand – one of the results of sitting in front of a computer for long periods of time I reckon - but after some deep pressure with the hot stones Sinead managed to loosen them out and I could feel myself unwind.
When it came time to begin the facial segment of the treatment I turned onto my back and Sinead analysed my skin before beginning, pointing out any areas of dehydration, and as she began the facial I felt myself slip into a near-slumber as the aromas, music and massage left me completely relaxed.
The ESPA refining skin polish Sinead used to exfoliate my skin was one of the nicest I've ever experienced so I just had to buy a pot on my way out and what is really great is that you only need to use a tiny amount once every 7-10 days. Sinead recommended mixing a tiny blob of the product with your usual cleanser as this works best to sweep away dull and dry skin and to clear your pores while also stimulating cell renewal.
The scalp treatment was the final section and this was the icing on the cake and my hair felt super-smooth and shiny afterwards – well, after I washed it later that night, Sinead recommended leaving the product in for a few hours to really reap the benefits.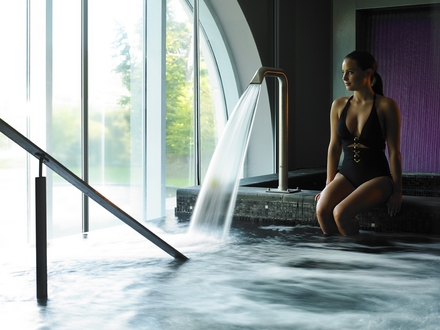 When my treatment was finished it was time to hit up the relaxation suites and I was lucky enough to have them all to myself so I could wander from heated lounger, to Jacuzzi, to sauna to steam room at my leisure. Like the room from earlier, this suite overlooked the grounds adding to the sense of escape – despite only being a half an hour outside of the city!
I really enjoyed my day at Powerscourt and I would fully recommend it for a girly getaway, a midweek re-charge of the batteries or just if you fancy a little bit of pampering – treat yourself!
For more information visit www.powerscourthotel.com/espa-over
Sinead Brennan