I didn't know it, but the mad scramble to get my name down for a J1 Visa to the U.S. before the €30 discount expired in ten minutes time, proved the first in a long line of good (lucky possibly trumps good in descriptive accuracy) decisions which led to, and I can't stress this enough, the best three months of my life.
Having actually committed my name and those couple of hundred Euros to the list of prospective J1-ers, the planning begun. Like most students in this position, I hadn't decided where to go yet. Not only that, but there's a laundry list of prospective choices within some very tough decisions to make.
Where to go is only the beginning, and even this seemingly simple first decision is plagued with contributing factors: "Where has the lowest COST of living?" "Where is the easiest to find jobs?" "How do we get around? What's public transport like?"
So there's the beautiful west coast that one can't get around without a car or on-demand chauffer. There's an east coast that's obviously a little more tourist-friendly, with an astronomical cost of living in comparison. But cold, sober, logical thought brings about the realisation that you can't get around pretty much anywhere in the states without the all-worshipped, glorious car.
The beautiful Lake Michigan
There are, however, two cities in which this is definitely not the case, due to excellent public transport: New York and Chicago; and to put this into context, not only is the average cost of transport 30% less expensive in Chicago, but rent is 72.6% more expensive in New York. Personally, Chicago was a no-brainer.
A lot of people ask "What has Chicago got that nowhere else has?" I don't like that question, it's not about that for me. I think a better way to look at Chicago is that it has everything that everywhere else has. Literally everything. If you want the hustle and bustle big city atmosphere, check. If you're looking to sun yourself on some of the cleanest beaches with the best weather that the States has to offer, check.
If you want a vibrant nightlife with no shortage of places to go, check. If you need affordability, check. If somewhere steeped in culture, history and the arts is more your style, check. It's an undiscovered diamond for most. The fact that Chicago isn't more commonly recognised in Europe as one of the world's greatest cities is nothing short of a crime in my eyes.
But what has this got to do with the best summer of MY life? Well, there are ways to ensure that one's J1 experience is given the best possible platform. I was lucky enough to take advantage of this. I heard, through a friend, that there was a start-up company called 'Hop The Pond' in Chicago, offering guaranteed jobs for J1-ers (in Hop the Pond's lingo, "Hoppers").
At first, I was apprehensive about the company, but upon carrying out some research, I discovered that it was started by a Dublin native, Kevin Egan, who'd spotted a gap in the market after his own J1 in Chicago and who has since moved to the Windy City and met Hop The Pond's other founders, the Chicagoan Reiter brothers (Mark & Marty).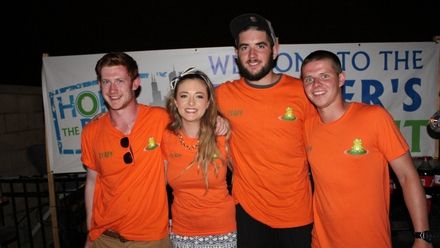 The Hop the Pond team having the craic
Hop the Pond was so transparent that I got in touch with the guys running it with a simple tweet or an email. This impressed me so much. The guys quashed any questions, queries or hesitations immediately, concisely and in a friendly way. Once I knew that this was the case, I signed up straight away with absolutely no reservations, along with my three other travelling partners.
From there on out, everything was a breeze. We'd managed to get accommodation sorted out before we departed, in what we didn't know at the time is the most ethnically diverse neighbourhood in America. So before any of our group set foot on an airplane, we could rest easy in the comfortable knowledge that everything on the other side of the pond was taken care of.
Upon arrival in the Windy City, Marty and my girlfriend (who had arrived a week earlier) greeted me in arrivals at O'Hare International Airport. Marty drove us back to our apartment. This was a fantastic 35-minute drive that felt like it had been pulled straight out of a Hollywood movie montage.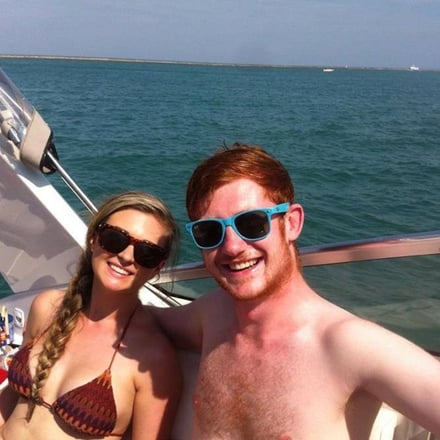 Kevin and Louise chilling on a boat in Chicago
Within a week I'd begun work with a TGI-esque restaurant themed on Forrest Gump. The restaurant is located on Navy Pier, ten minutes from the city centre. It was perfect. I couldn't believe how swimmingly it had all gone. 'Hop The Pond' really had their stuff together. Not only was I working in Bubba Gumps, but Kevin Egan had gotten in touch with me about a couple of side jobs.
Working at a Wrigley Field Bar during the Cubs games was amazing, and working with Chicago Water Sports Rentals on the beautiful 31st Street Harbour wasn't too shabby either! This job entailed helping renters on and off jet-skis, kayaks & paddleboards as well as taking people out on the fabulous Lake Michigan for banana-boat rides.
Little did I know it at the time, but after my greatest trip of a lifetime came to an end, Kevin and Marty asked me to come on board and work for Hop The Pond from Ireland as a Marketing Coordinator. Not only was the summer amazing, but it has opened doors for me back home and continues to do so.
I've been back in Dublin working for 'Hop The Pond' six months now, and all I can say is that my interactions with the company haven't changed. Kevin and Marty are fantastic, people I'd hesitate to call bosses because the first word that comes to mind is friend.
So anyone reading this can see why it's the best three months of my life, but why so far? Put simply, I'm going straight back this year. And the only thing that's certain is I have no idea what kind of adventures Chi-Town has in store for me this time around!
Kevin Harford
Website: www.hopthepond.com
Facebook.com/hopthepond
Twitter: @hopthepond