Deirdre Mullins thinks Valencia has a lot to offer the city breaker.
Valencia is Spain's third largest city after Barcelona and Madrid. While it's lesser than its sister cities in size, it rivals them in what it has to offer the city breaker. Its beaches are as good, if not better, than Barcelona's. Valencia is just as picturesque as Madrid, but more laid back. It also boasts striking architecture, lots of green space, fantastic food, lively nightlife, good climate and unique festivals.
I arrived to Valencia by high speed AVE train from Madrid which took just 98 minutes to travel the 386km journey. This sleek bullet-like train was comfortable and an efficient way to take in two major cities in a short space of time.
After enjoying the cutting edge mode of transport I visited an equally futuristic attraction. The City of Arts & Science is a cultural entertainment centre situated along nearly two kilometres of what was the bed of the River Turia. It includes a science museum, an opera house and planetarium. The Oceanogràfic is the most visited attraction in the complex and over 45,000 different specimens of fish swimming in 42 million litres of water, makes it Europe's biggest aquarium.
Even if you don't want to visit any of the buildings in the City of Arts & Science, the design of the complex makes it a great place for a wander. Instead you can marvel at the stunning architecture which is mostly designed by Santiago Calatrava, the Valencian architect and engineer. Calatrava also designed Dublin's James Joyce and Samuel Beckett Bridges.
In contrast Valencia's old town is a well-preserved mix of Gothic, Baroque and Modernista architecture. It's one of the biggest and oldest historic centres in Spain. Its pretty yellow sandstone buildings, paved alleys and shady spots for relaxation, make it a joy to explore by foot or bike.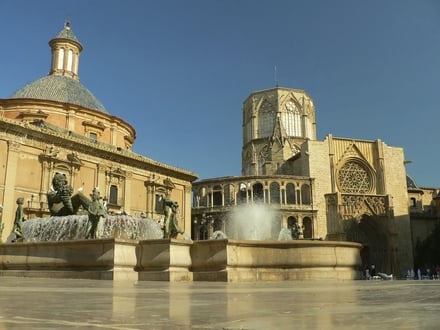 Plaza de la Virgen.
Plaza de la Virgen is the heart of the old town and also the home of a one thousand year old tradition. The Water Court (Tribunal de las Aguas) holds a public hearing every Thursday at midday. It's made up of democratically elected farmers and settles conflicts between irrigation water-users. The court is run orally; nothing is done in writing and no court records are kept. This all takes place in full public view and makes for fascinating watching. But be warned; if there are no disputes to take care of, the court will retire and all you will see is them sit down and then stand up again. Apparently this happens often.
For more permanent attractions in the old town visit the large gothic styled Cathedral de Valencia which is located just off Plaza de la Virgen. Indiana Jones obviously didn't know this, but the Cathedral holds the chalice which many historians believe to be the Holy Grail. Climb the 207 steps of the Miguelete tower for a great view of the city. Other landmarks include the Torres de Serranos, which is one of the remaining gates that were found along the old medieval city wall, and the UNESCO World Heritage Site, La Lonja de Seda, the old silk market that dates back to 1482.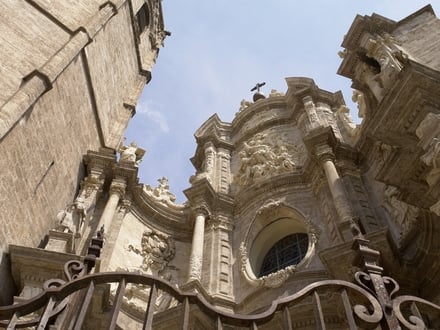 Valencia Cathedral.
Close by is the art nouveau Mercado Central building which houses one of the largest covered markets in Spain. This beautiful light-filled building has a roof that is ornately decorated with oranges, one of Valencia's most famous exports. The market is like a giant delicatessen with over a thousand stalls selling all sorts of groceries including lobster, jamon (ham) and Indian spices. Local shoppers push their trolleys through the market just like it's done in a supermarket. Some of the vendors are so specialised that they sell just a few products; one stall only sold garlic and lemons.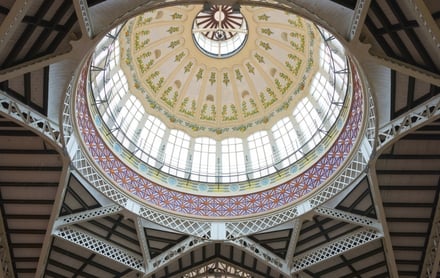 Valencia is a University town and it's the second most popular city in Europe after Barcelona for Erasmus and foreign exchange students. Consequently the night life is lively throughout the year. The old town is always busy and during the summer months the bars along Malvarrosa beach are thronged with people.
One drink you must try is Agua de Valencia which despite the suggestions has nothing to do with water. Served in pitchers it's a potent mix of cava, orange juice, vodka and gin. It's delicious and refreshing, but dangerous. A good place to try it is the baroque styled Cafe de La Horas. Have a chat with the charismatic proprietor Mark, a West Indian who will be only too happy to tell you about how he and his partner set up their atmospheric bar 20 years ago.
Across the road from Cafe de La Horas is an excellent restaurant call Seu-Xerea. It serves delicious fusion food in a stylish setting at reasonable prices. I had the tapas tasting menu which was extraordinary and is of a similar standard to any Michelin star restaurants I've eaten in.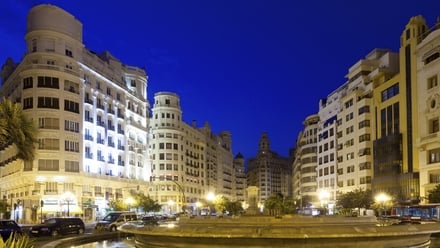 A good way to work off all the eating and drinking is to go for a walk or a cycle in the Turia Gardens. It's Valencia main park area but it was originally the bed of the river Turia. After one flood too many the river was diverted around the city. Where once flowed millions of gallons of unpredictable water, there is now a seven mile long garden that slithers its way through the city.
If you want to get out of the city completely the Albufera Natural Park offers a nice day trip. This wetland is home to one of the largest lakes in Spain and a place of great ecological interest with rare species of wading birds and a variety of wildlife. The area is traditionally full of paddy fields and was the inspiration for the dish paella. Although many consider paella a national dish most Spaniards consider it a regional Valencian dish as it originates there. Valencian paella consists of rice, green vegetables, rabbit, chicken, duck, snails and beans. A good place to try it is the village of El Palmar before going on a relaxing boat trip on the Albufera Lake.
A little bit further afield, but equally as doable in a daytrip from Valencia, is the historic walled town of Cuenca. I zoomed there on an AVE high speed train which took under an hour to travel the 199km. Cuenca is a medieval village dating back to at least the 11th century. Its most emblematic site comprises of the hanging houses which cling precariously to the cliffs over steep gorges. It's a charming place to spend the day wandering around its narrow cobbled laneways or in one of its many contemporary art galleries.
For more information on Valencia visit www.turisvalencia.es
For a convenient way of getting around Spain try the Spain Pass service, a 30 day train pass from Renfe. For more information on this and train travel in Spain visit www.renfe.com and www.avexperience.es
Deirdre Mullins