Nothing better than rounding up the troops for a family weekend away - or at least once the packing is done. Even better when there's a fun festival waiting at the other end, or in our case, two. Situated on one of the most south-westerly points of Ireland, Baltimore in West Cork is renowned for unspoilt coastlines, wonderful artisan produce, local islands and a bit of celeb spotting – more on that later. There's also a unique atmosphere here or perhaps that was because the fishing village was celebrating both its Wooden Boat and Seafood Festivals in the one weekend.
We left Dublin early on a Saturday morning in search of adventure and after a 20-minute stop outside Fermoy we arrived early that afternoon. The journey is foolproof: Straight down the N7/N8, N71 to Cork and then past Clonakilty, Skibbereen and down to beautiful Baltimore. We quickly found our resting spot, The Waterfront Hotel.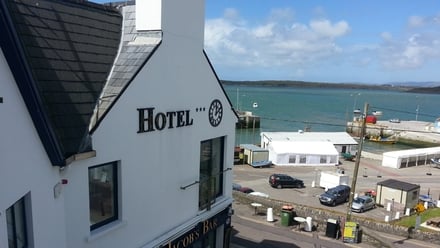 The Waterfront Hotel - A room with a view

You couldn't miss it with the bustling crowd out front, eating gorgeous-smelling pizza and seafood, washed down by an inviting array of refreshing beverages. Music filled the pier out in front of the hotel, as numerous boat-makers busied themselves making small wooden boats in a special 12-hour-long competition.
A closer look revealed a very boho crowd but of the focused variety. None more so than the young, good-looking couple who own and run the hotel, Kate and Youen Jacobs. The staff echoes their very friendly, yet professional approach too. They're lovely people to be around; welcoming, fun and yet busy looking after all the hotel guests, the many visitors to their French-style, open-front, café/bar and their more formal dining area, The Lookout.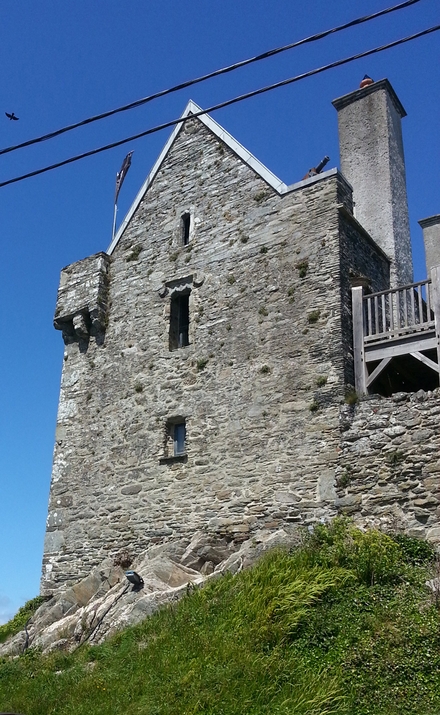 Dún na Séad Castle overlooks Baltimore village
No surprises, then, when we learn that Youen's dad is from Brittany. He came here many moons ago and met and married Mary O'Neill from Sherkin Island before they took over this lovely spot - originally McCarthy's Bar - expanding it over the years.
Unlike your typical hotel room, ours is akin to a bedroom in a South of France home, complete with wooden furniture, floor rugs and spectacular sea views. As we looked out over the harbour from our balcony window, we felt a million miles away from home. Then we saw him...
He sat there looking effortlessly cool, as if on set playing yet another of his iconic roles, be it in Reversal of Fortune, Dead Ringers, The Borgias or his most important (according to a quick survey of our hotel room), Scar from The Lion King. Yet here he was, sipping a coffee underneath our hotel room window, the 64-year-old Oscar-winning and wooden boat-loving Jeremy Irons.
We did the Irish thing: quick series of stares, followed by a rush downstairs and the double, subtle walk-by - so smooth that the only person who didn't notice was the back-turned Irons. We're slick like that. The actor, married to Irish actress Sinéad Cusack, owns a castle, Kilcoe, in nearby Ballydehob, outside Schull and is a regular visitor, along with his acting family. The locals take it all in their stride as the likes of Sinéad O'Connor, Mary Black, Gemma Hayes, Tommy Tiernan and Liam Ó Maonlaí are all regular visitors.
Back to reality and time to catch the ferry to one of the better known of Carbery's One-Hundred Isles - the 16-acre Sherkin, one-and-a-quarter miles off the south west coast of Baltimore. While the atmosphere and locals may be relaxed, their timing isn't and the ferry's friendly skipper Martin casts off bang on time, only pausing to check if the new priest is on board to say mass on the island. At a mere 15-minutes, the ferry ride itself is a lovely trip for all the family. Thanks to owners Rosaline and Vincent O'Driscoll, who have run the company for over 30 years, the kids are welcome to visit the skipper's control room and the views from one island to another are gorgeous (see details below on island-hopping opportunities).
You're greeted by the ruins of a Franciscan Friary and as you continue on one of the island's few roads it's clear just what attracts visitors here. Home to about 150 people in winter and up to 300 in the summer months, Sherkin Island is a beautiful, natural spot. One family in particular who have been working hard to keep it that way are the Murphys. Matt and his late wife Eileen founded the Sherkin Island Marine Station in the early 1970s and they raised their seven children here for many years. One of their youngest, Mark, is still here and it was in his hotel, the Islanders Rest, that we ate. A great place to refuel with lots of room for children to run around.
If you're footloose, buggy and rain-free enjoy a few hours walking around the island and uncover three unspoilt beaches in your wake. Alternatively, give the local mini-bus taxi a buzz, and get a tour of the island. Tell Mags we said hello! Time for the last ferry back to the mainland, where we return to see the band Synergy play their great mix of Reggae and Ska outside the still-buzzing Waterfront Hotel.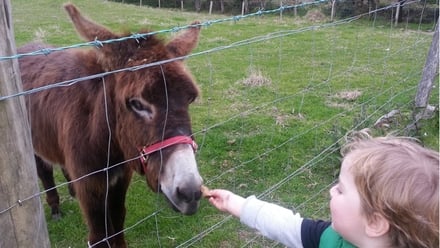 The true stuff of Irish holiday memories
We had breakfast both mornings in The Look Out and I can honestly say that the name is a humble one as this is one of the best restaurant views I've had in Ireland. A wander downstairs on Sunday morning after a healthy, hearty and tasty breakfast revealed a flurry of activity as over 40 stalls were preparing for the afternoon's farmer market. Combined, they offered some of the best produce of West Cork, including fresh fish and handmade cheese, with the waft of homemade baked goods and coffee filling the air.
At 12.30pm crowds filled the pier in preparation for the launch and race of the wooden boats, which had been made the day before. The winner had the onerous task of not only staying afloat but also sailing out beyond the pier and back. The swelling crowd cheered on the spanking new boats and their young sailors in this very popular event. When one of the boats sank, there was a mixture of panic and giddy laughter as all hands went on deck to rescue the sunken sailors. The giddy factor was definitely enhanced by the fact that this was the first Sunday in at least seven years where it hadn't rained at the boat race. No complaints here.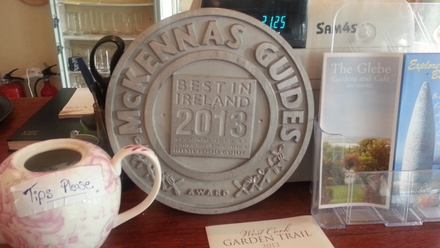 Glebe Gardens: Winner of a McKenna's Guide Award 2013

Lunchtime for many meant a stroll to one of the village pubs for a free taster of shellfish courtesy of Guinness. Lunchtime for us meant a lovely stroll to the entrance of the village and Casey's Restaurant and Hotel, where they use fresh, organic ingredients from their own garden and their fish couldn't be any fresher. Our waitress Neisha was brilliant, a front of house asset wherever she worked.
No trip to Baltimore is complete without a visit next door, to the wonderful Glebe Gardens, run by Jean and Pete Perry and three of their four daughters, Tessa, Keziah and Jojo. This venue is like something from a dream - it's hard to believe it's in Ireland. In addition to the award-winning gardens and café, with its enticing menu of homemade treats, there are more hidden gems. As you walk past the fallen tree, which is hugged by a colourful mix of plants and flowers, past the vegetable and herb gardens, past the chickens, alongside the river, you come to the most perfect artist studio, with the unusual but delightful addition of a punch bag out front. Art versus life!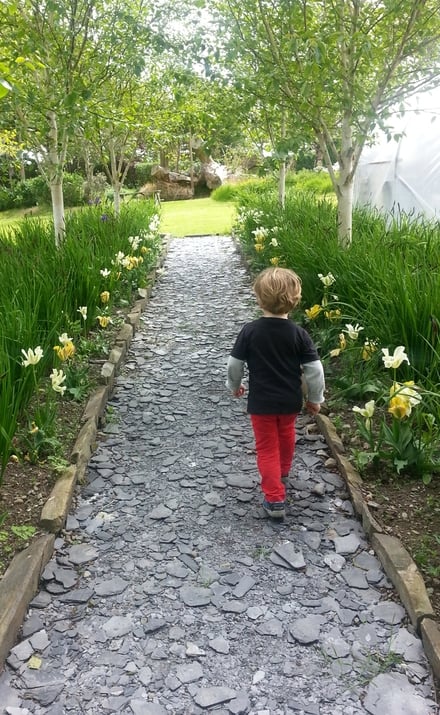 Enjoy a stroll in the dream-like Glebe Gardens
Then stroll back along the river and down over the pretty bridge (watch you don't catch your foot on the wire mesh) and there to greet you are, in true childhood fairytale fashion, two silly, billy goats. Okay, that's a lie – I just liked how that sounded. It's very clear (as it's milking time) that these are nannies but they're just as silly and friendly. They are the guardians of Glebe Gardens best-kept secret; a beautiful, grass, amphitheatre overlooking Church Strand which has hosted crowds of over 500 visitors.

Included on a long list of special concerts and events that have happened here are performances by Mary Black, Lisa Hannigan, Juliet Turner, Tommy Tiernan and Brian Friel's Translations. One of the most memorable for locals is a Hot House Flowers concert where the band continued playing despite heavy rainfall, which even knocked the lights and electricity off! The amphitheatre is available for other special events too - it would be the perfect venue for a boutique wedding.
With dinner that night in the lovely sounding Rolf's Country House, I decided to make a little effort and put on make-up and heels. Big mistake - not so much the make-up but the heels. Although it's just outside the village, it's uphill. It was well worth the walk, heels or no. Greeted by the wonderful host, Stephen Curran, the food was sublime, a great menu with just the right amount of choice. The owners and chefs, Johannes and sister Frederica Haffner, have created a wonderful haven for couples and families to stay, rest and eat like kings.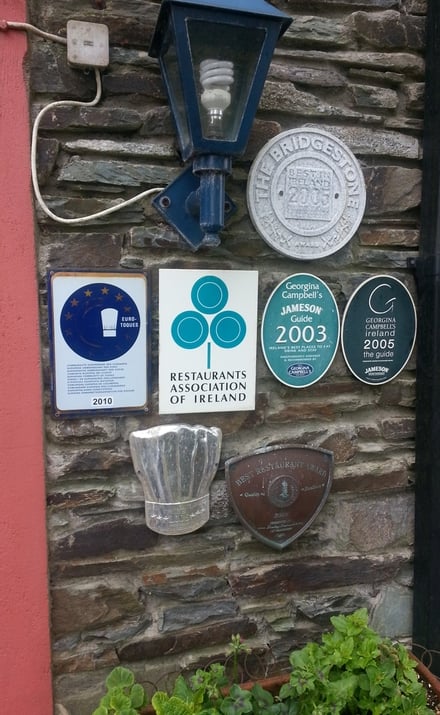 Rolf's wall of fame - they deserve every single one

Rolf's is also home to Littlefingers.eu in the summer months, where families with children with ADHD, Autism and other specific learning needs can holiday, organised by Stephen. We leave with a treat in hand for Rolf's resident, Daisy the donkey, who ran, literally, over to us for her snack, welcomed by squeals of laughter from our wee ones. After the lovely meal, suffice to say we welcomed the (downhill) walk back to the village.

Before hitting the road home on Monday morning, we visited the one remaining attraction that had been observing our every move. The spectacular Dún na Séad (Baltimore, as Gaeilge) Castle is located in the heart of the village, its beckoning pirate flag advertising its tailored exhibition, ahead of the upcoming Pirate Festival (June 21 to 23). On June 20 the Castle will also host the staging of Rupert Stutchbury's We Who are Blameless. Directed by Glebe Gardens' Pete, the play is about the Algerian Sack of Baltimore in 1631, where over 100 locals were taken and sold into slavery. There is more on the fascinating and tragic story in the castle's exhibition - and during the Pirate Festival that falls on the raid's anniversary, June 21.
Last thing on the list? To lose the few pounds gained and choose return dates from the array of upcoming events. Aye aye!
Taragh Loughrey-Grant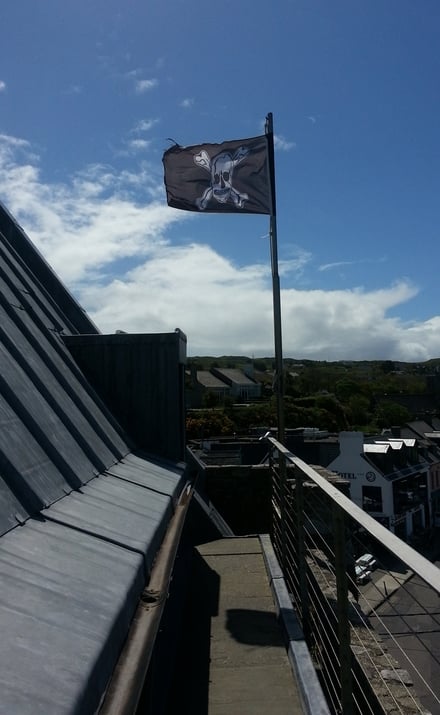 Baltimore's Pirate Festival is on June 21 to 23
Tips:
• Check out www.discoverireland.ie for details on what's happening, where to stay and what to eat.
• If you're travelling, allow more time than you think you'll need for the road trip as the motorways are great but the secondary roads from Cork are busy, with a lot of slow traffic (tractors/bike races etc).
• Be early for the ferry.
• Pick up the 50 Things to Do in Baltimore brochure.
• Pack warm, comfortable clothes: weather is changeable. On the islands, locals say their temperatures are two degrees warmer, and it does feel more sheltered there. Still, locals have that great boho look down so there's no pressure to dress up.

Notes:
A Taste of Baltimore: Baltimore Seafood and Wooden Boat Festival in association with Guinness is on the last weekend in May.
The Waterfront Hotel, The Square, Baltimore, Co Cork. T: 028 20600 www.waterfronthotel.ie
Sherkin Ferries, www.sherkinisland.eu/index.php/ferry The company also organises a 10-Island Tour.
Casey's of Baltimore, T: 028 20197 www.caseysofbaltimore.com
Glebe Gardens, T: 028 20232 www.glebegardens.com Upcoming concerts with Julie Feeney, Beth Orton, Gemma Hayes.
Dún na Séad Castle Tel: 028 20735
Rolf's Country House, restaurant, café, wine bar and cottages. T: 028 20289 or www.rolfsholidays.eu
Upcoming events:
Check out www.discoverireland.ie for full details.
June: Baltimore Pirate Festival, O'Driscoll Clan Gathering/ Midsummer Festival, West Coast 200 Cycle

July: Sherkin Island Shindig, Sherkin Regatta
For information on taking a golf break in Ireland visit: www.discoverireland.ie/corkgeable
RTÉ is not responsible for the content of external websites.