Istanbul, Turkey's majestic city is unlike any other place I have ever visited. Steeped in history, its neighbourhoods are home to magnificent monuments built in Byzantine or Ottoman times, many of which were lovingly restored when Istanbul was a European Capital of Culture in 2010. Yet once you start to explore the many layers of this multi-cultural city, you'll discover that is it's got plenty of pizzazz about it too. And the locals know it.
From the moment we arrived in Istanbul you get swept up in its overwhelming sense of positive energy. Everywhere you look there are people, young and old, bustling about their business or simply lounging by the waterfront or outside one of the many shops and cafes that adorn the streets.
The smell of coffee, chocolate and warm spices fill the air, while your eyes are treated to a feast of colour, from mounds of powdered Turkish delight to the multi-coloured displays of fruit and veg. Glitzy glass twinkles on the market stalls, cushions and rugs hang outside corner shops, while there are so many food vendors on the street it would be impossible for you to ever go hungry.
Our adventure was planned for us by Expedia.ie, which as I learned recently is much more than a place to book flights and a hotel, they can also tailor your holiday so you get exactly the kind of experience you want. As a resident Food writer over on our sister site, our Turkish holiday was jam-packed with exciting gastronomic activities, all suggested to us by Expedia.
We stayed at the newly opened Armada Pera Hotel for 3 nights. Located in the European Quarter of the old Istanbul neighbourhood known as Beyoğlu, this boutique style hotel is actually a restored, 5 storey house, that once belonged to the Ottoman Palace Tailor, Paul Parma and his family. Bright and friendly, with a mix of art noveau and sleek finishings, The Armada Pera is ideally located just a stroll away from the main high street, İstiklal Street, which locals told us over 2 million people walk along every evening.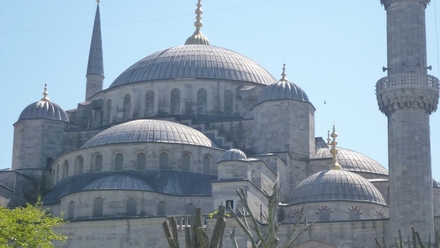 Breakfast at the Armada Pera is served in small but beautiful courtyard that is a suntrap in the mornings. The chef serves up a traditional breakfast plate which consists of cheese, meats, fruit and bread, with a selection of honeys and marmalades. You can also have fresh local eggs cooked to your liking. A light but very satisfying – not to mention tasty – start to the day. Tip! If you are visiting in the summer make sure you pop some sun-cream on before you venture out and don't forget the sunglasses.
A ten minute walk brings you to Taksim Square where you can catch the Funicular - an underground tram line, which may only be 600 metres long, but believe me, it is well worth the 3TL (€1.30 approx) fare. The funicular brings you to and from the Seabus port and tram stop of Kabataş, and more importantly, it leaves you right on the edge of the must-see Spice Market (more about that later). Otherwise it is a steep, zig-zag walk, which will use up the energy you need for exploring this magical city!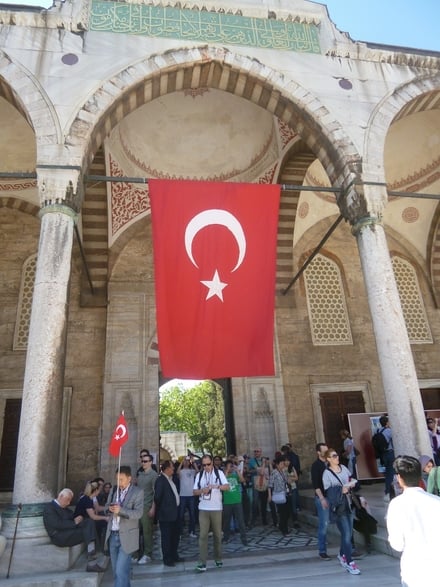 We arrived in Istanbul on a Friday evening, so without any plans made, we decided to have dinner wherever noses decided. As we meandered along the small side streets just off İstiklal, we stopped several times in sheer awe of the amount of people bustling along; it honestly was like nothing we had ever seen before.
Obviously looking like tourists with our permanent open mouths and cameras at the ready, we were easy targets for the many restaurant hosts on Sahne Street to beckon into their establishments. Hungry, we didn't put up much of a fight, and were soon tucking into a feast of breaded seabass and grilled calamari to start, followed by a spicy, roasted lamb casserole. Welcoming and filling after our travels, it was a tasty start to our foody adventure. We ordered some of the local Turkish drink Raki, as all the other diners appeared to be enjoying it with their meals. However, our eagerness to immerse ourselves in the Turkish culture was not such a good choice on second thoughts, with its strong aniseed flavour, it probably would have been better left until after dinner. We swiftly switched to some Turkish red wine and local Efes beer, which went down a treat.
There are many restaurants on this street, all offering the same type of uncomplicated fare. We got a table on the balcony which was a great way to soak up the atmosphere, watch as sellers push their wares and enjoy waiters dancing with their white napkins. And if you fancied continuing the night, there are plenty of bars, taverns and night clubs in the vicinity.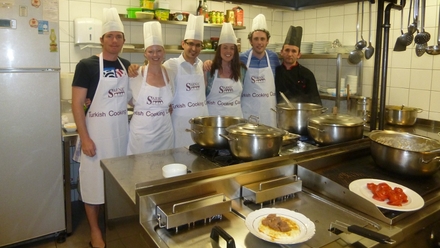 Day two begin with a cookery class at Sarnic Hotel (you can book this through Expedia.ie) which is situated in the major tourist enclave of Sultanahmet. On arrival we were greeted by the hotel manager and award winning chef Mehmet Emen, who would be teaching us five traditional Turkish dishes. After a quick change into our aprons and chef hats, we were ready to get started. The first thing we learnt from Mehmet was that Turkish cooking is done by colour, so as well as the vibrant colour required in their ingredients and spices, they continuously watch to see the colours that are created when ingredients are combined together.
On the menu for the day was Kirmizi Mercimek Ҫorbasi (Spicy Red Lentil Soup), Zeytinyağh Taze Fasülye (Green Beans in Olive Oil), Sigara Böreği (Cheese Pastries), Hunkar Begendi (Beef with Smoked Aubergines) and for dessert İncir Tathsi (Stuffed Figs with Walnut).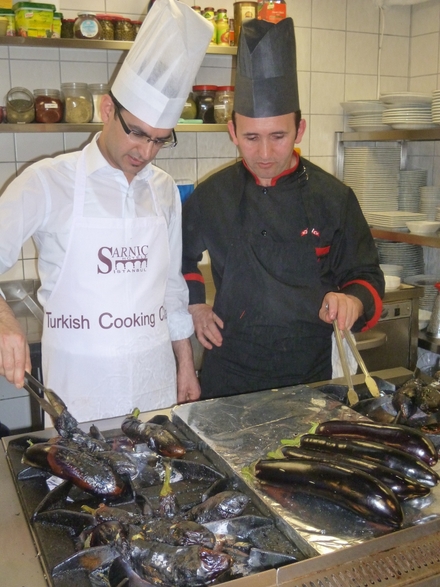 The four hour class is hands on, which means chopping, peeling, grating and stirring, to prepare a five course lunch. It began with Mehmet explaining the ingredients that we would be using for the day. Everything is locally sourced, the freshest that can be found, and are prepared using traditional methods. During the class we learned the authentic Turkish art of making smoked aubergine puree which consists of charcoaling the skin over a high heat, peeling it back, and then mashing up the flesh in a basin with a glass, a lot of effort, but absolutely worth it! We also learned how to make a traditional Turkish beef stew which is served with the puree – eating this dish on the roof of the hotel, with a view of the beautiful Blue Mosque to our left and the Bosphorus strait to our right, was definitely one of my food highlights of the entire trip. Whether you're a trained chef or have never made more than a boiled egg, but have an interest in learning about Turkish food, this class should definitely be on your to-do list. Mehmet is a very patient teacher with lots of local and cultural knowledge that he is more than happy to share.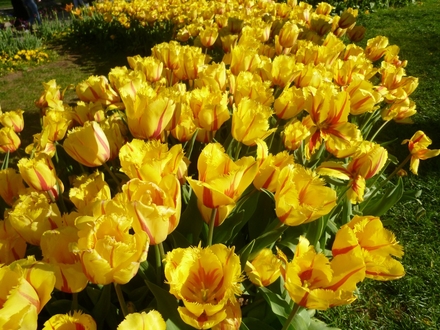 After filling our bellies with our 'toil', we took advantage of our location and visited some of the most talked about sights in Istanbul. As it was a Saturday afternoon, queues were at their peak and under time pressure, we didn't get a chance to go inside Aya Sofya or the Blue Mosque, the latter being one of Istanbul's most photogenic buildings. Its wonderful curving exterior features 6 minarets, which are particularly striking at night. We also wandered through the beautiful grounds of Topkapi Palace, which has been home to the Ottoman sultans for centuries. April is national tulip month in Istanbul and the palace gardens where awash with these showy flowers in a rainbow of colours. Inside the palace we were assured is a gorgeous Harem, a museum bursting with all kinds of jewels and fairytale pavillons overlooking the Golden Horn waters. We'll be back to see it someday.
Home Cooked Istanbul was theme for the evening (you can book this through Expedia.ie), which as the name implies, is a guided tour that brings you to a traditional Turkish home to share dinner with a local family. We met with our guide Semih Onerbay, (Sam for short) from Urban Adventures, and took a stroll with the rest of our group through the backstreets Sultanahmet where we discovered picturesque wooden houses in various states of repair. In this part of Istanbul the rich and poor live side by side on some of these streets.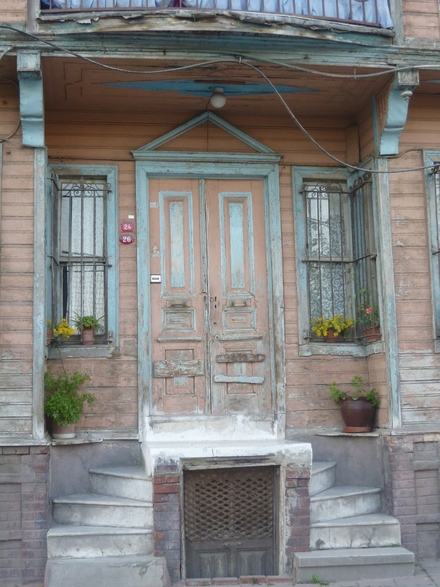 When we arrived at our destination we climbed the stairs to the top floor of the building, where we were required to remove our shoes before entering our host's home. We sat on the floor with the family to share a meal of Ezo Gelin (Lentil Soup), Bulgar Pilavi (Spiced Bulgar), Meftune (Spciy Aubegine) and Manti (Turkish 'Ravioli' with yoghurt sauce). Nourishing, tasty and home cooked, the easygoing food gave us all comfort, and helped us ease into conversation. Sam translated, as we swapped stories about our different cultures. It was a real insight and privilege to learn so personally how Turkish people live their day-to-day lives.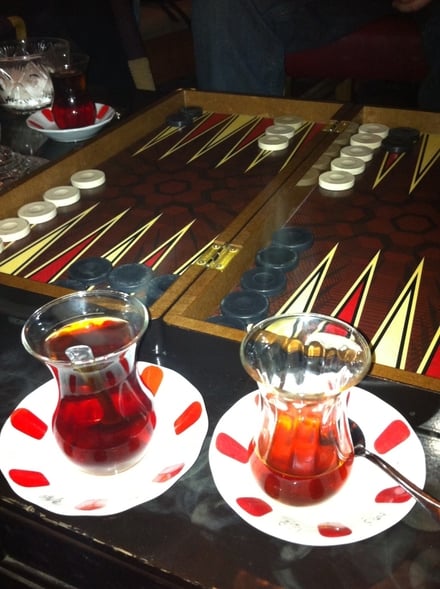 Afterwards we headed to the Marmara Café were the locals like to hangout, drink tea and play backgammon. This is one of the best spots to try a traditional Turkish Nargile (waterpipe), which we did, in apple, melon and strawberry flavour. We whiled away several hours in this laid back bar chatting with Sam, beating the locals at backgammon (definitely beginners luck) and taking time to relax after a long day in the energetic city.
Our final day kicked off with a trip on the open top bus tour as we figured this was the best way to see the whole city, and get the chance to travel across the Bosphorus into Asia. We picked up our tickets, €20 euro, and the bus in Taksim square, all set for out three hour adventure. Unfortunately we didn't get too far as there was a race going through the city that morning and many of the roads were closed which resulted in our tour being cut short. While we never made it to Asia, we did stroll along the waterfront where dozens of boats clamour for position and men fish all day long.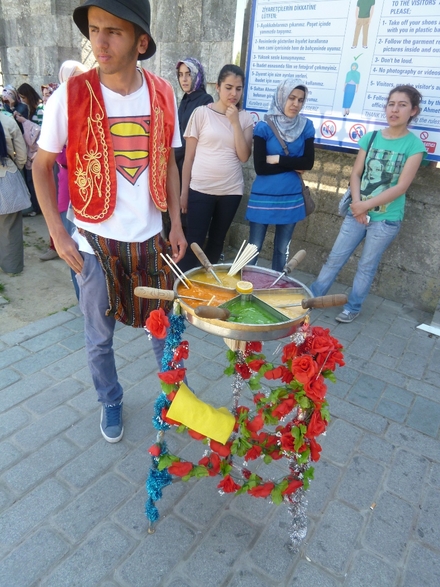 As we walked the streets it became clear that food and socialising is very important to the locals. Every were you turn there is either a tea garden, a café, a restaurant or a mayhene (tavern) jam-packed with families, eating, drinking and spending time together . From the people we have met it is clear that Turks are extremely social people.
If you fancy a spot of shopping while in Istanbul, you must visit the Grand Bazaar, the city's most famous place to shop. It's packed to the rafters with shops and stalls selling jewellery, leather, rugs, cushions, ceramics, clothes and much, much more. Tip! Be prepared to bargain and be prepared to sift through the tourist tat if you are looking for something a little more authentic.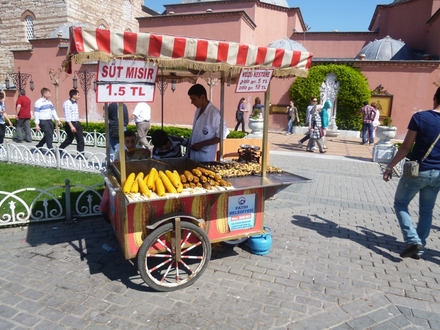 As lunch approached it was time for our Istanbul Street Picnic, (you can book this through Expedia.ie) which Sam from Urban Adventures. We met outside the very enticingly named Spice Market. As we wander inside our senses are overloaded with smells and sights. Scents of cinnamon and clove waft through the air, while your eyes can't help but dart around the colourful mountains of spices on display, not to mention the juicy strawberries, plums and olives. And then there is perfumed aroma of Turkish delight, in every flavour imaginable.
Sellers are quick to offer samples of fresh nuts, pastirma, halva, traditional Turkish cheeses and simit (circular Turkish bread encrusted with seeds). Sam guides us through the market and out on the backstreets where locals are going about their food shopping and where Sam picks up the following snacks for our picnic.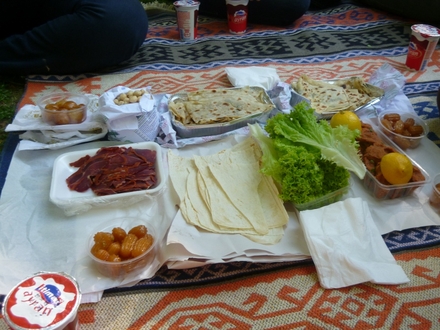 Gözleme
This is a savoury traditional Turkish pastry dish, made of hand-rolled dough that is lightly brushed with butter and eggs, filled with various toppings, sealed, and cooked over a griddle. You can only find them in specific restaurants as they are mainly homemade by the housewives
Çiğ köfte
This literally translates as raw meatball, but it doesn't have any raw meat in it anymore! It is made from cracked wheat (bulgur), tomato sauce and some spices. It can be found in special stores throughout Turkey.
Pastırma
This pressed meat is a real delicacy in Turkey and it should be considered an honour if someone you visit serves it to you. You can find it in a Şarküteri (Charcuterie).
Lokma
This is deep fried dough soaked in sugar syrup or honey and cinnamon, and sometimes sprinkled with sesame.
Tulumba
This is made from unleavened dough which is first deep-fried to golden colour and then a sugar- syrup it poured over it when still hot, it is left to go cold before eaten.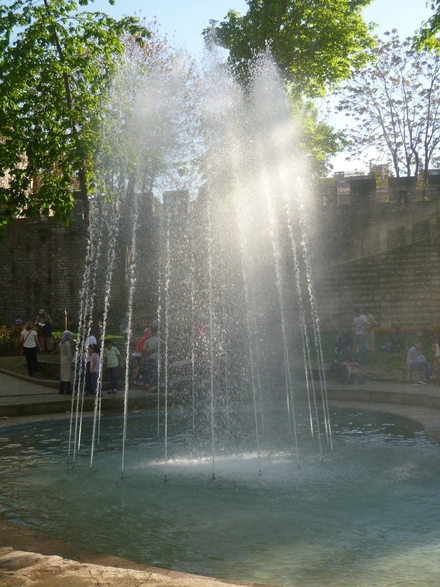 After collecting all the food for our picnic, we meandered around the back of the spice market where there are many stalls selling roasted chestnuts and spicy pickled vegetables. We made our way up to the Topkapi Palce where we sat out in the gorgeous gardens to enjoy our lunch. There was nothing we didn't enjoy, and yet again we were impressed at how fresh and vibrant Turkish food is. There were many stops on this tour that brought us up alleyways to backstreet cafes and down a side street to meet the old lady selling Gözleme that I would never have found on my own, but would definitely have missed out something special had I not experienced them.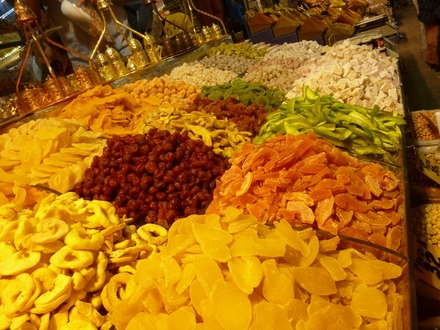 We spent the rest of the afternoon back in the Spice Market picking up some delights to bring home, I never realised I was such a dab hand at bargaining!
As it was our last night in Istanbul, we had made reservations at Mikla, one of the top restaurants in the city, which comes highly recommended by many guidebooks and review sites. And it did not disappoint. Just a short walk from our hote,l Mikla is situated on the top floor the Marmara Pera Hotel and offers dazzling views of the old city. Head chef Mehmet Gürs is well known for his Mediterranean cooking with a Turkish twist. We opted for the three course a lá Carte menu, 150 TL per person (€65 approx) and enjoyed every single morsel of food that was stylishly presented to us.
For starters we had Balik Ekmek (Crispy Hamsi, Olive Oil Bread, Lemon) and Bonito (Palamut Lakerda Cacik, Red Onion Marmalade). This was followed by Grilled Tenderloin of Beef with Potato and Bergama Tullum, Chesse Terrine, Caramelised Onions, Cep Mushrooms, Spinach and Reduced Ҫalkarasi Wine. The other main was Whole Wheat Lamb Shank Manti with Yoghurt, Tomato, Roasted Garlic and Sumac. Dessert was a Chocolate Mousse with Chocolate Crumbs and Pomegranate Sorbet, and Crunchy Candied Pumpkin, Antep 'Birdshit' Ice Cream, Sesame Paste and Grape Molasses.
It was the most delicious end to what had been an exciting, insightful and indulgent, gastronomic adventure around Istanbul. New cooking methods and ingredients have been discovered that will definitely be given a whirl in my Irish kitchen, whether I can recreate some of the stunning flavours we experienced remains to be seen. If you're planning a trip to Istanbul, I can't recommend enough one of the food tours we tried, whether it is the cooking class, home experience or the street picnic, there is something for every kind of foodie in Istanbul. Expedia.ie really lived up to their People Shaped Travel tag line!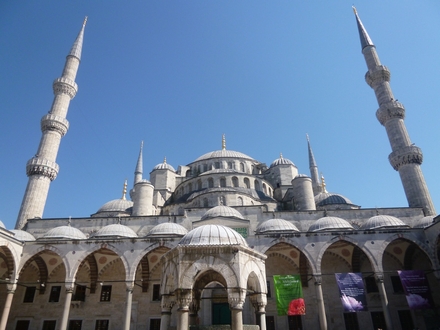 Top 5 tips when visiting Istanbul
• Make sure you get a business card from the hotel you are staying in with the address and phone number on it. Most taxi drivers will phone the destination you are travelling to, to find out exactly where it is. As there as so many hotels/restaurant in Istanbul taxi drivers are not guaranteed to know where you are going just by name only.
• Get to grips with the public transport. It's a cheap, efficient way to get around the city. Traffic is extremely busy in Istanbul and it can take a long time to travel by car or taxi.
• While the majority of places take Euro, you will find prices creep up if you decide to pay this way. You are much better off using Turkish Lira if possible – especially if you plan to visit the Bazaars.
• If you plan on visiting one of the many Mosques in the city, be sure you wear the appropriate attire. No shorts or sleeveless shirts on either men or women. Women should wear a dress or blouse and skirt (at least below the knees), preferably with elbow-length or longer sleeves, and a headscarf. Avoid visiting a mosque at prayer-time, that is, at or within a half hour after the Ezan (call to prayer) is chanted from the minarets.
• If travelling from Ireland you will need to purchase a Visa when you arrive in Turkey. You do this before you make your way to passport control. The price for a ninety day visa for holders of an Irish passport is currently €15 (May 2013). For more information check out www.dfa.ie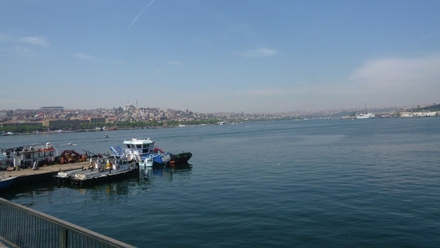 Contact Details
If you are planning a trip to Istanbul, make sure you visit www.expedia.ie for fantastic offers on flights (with Turkish airlines) and hotels. They can also plan the holiday you what to have, whether you are into Food, Fashion or Music!
For more details on the Armada Pera Hotel go to www.armadapera.com
All the details for the authentic Turkish cooking class with Mehmet Emen can be found at www.sarnichotel.com
If you would like to book Home Cooked Istanbul or the Istanbul Street Picnic check out www.urbanadventures.com
For reservations at Mikla restaurant go to www.miklarestaurant.com