DESTINATION: Bali from €2,219 per person in the 4-star Laguna Bali Resort and Spa Hotel. This includes 13 nights room only, based on two sharing a Deluxe Lagoon View room and flights with Etihad Airways from Dublin airport to Denpasar airport departing on Monday 15th July at 09:20am.

WHY: Location, location, location! Nestled on Bali's finest white sand beach overlooking the majestic Indian Ocean in the tranquil bay of Nusa Dua, the historic Laguna Bali Resort and Spa is renowned for its enchanting beach front location and for its infinite 5000m2 swimmable lagoons surrounded by radiant tropical gardens.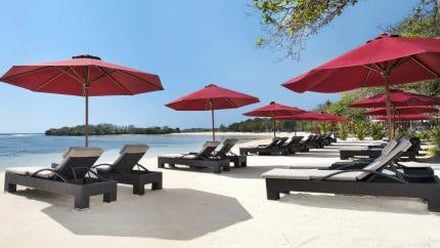 THE VIBE: The opulent resort offers sparkling selection of inviting accommodation including the iconic lagoon access rooms and 10 new palatial pool villas hidden in a peaceful oasis with private beach seating. At the Laguna Bali Resort and Spa one can experience the perfect blend of Balinese hospitality along with the palpable spirituality and the dramatic scenery of Bali.

THE ROOM: The Deluxe Lagoon View rooms offer breathtaking views on the sparkling turquoise lagoons from your intimate balcony. Inspired by Balinese traditional living, the warm colours of the cosy interior is combined with modern amenities and an opulent luxury collection for an extraordinary night's sleep. Bathrooms offer oversized corner tubs with separate showers.
THE TREAT: Treat yourself and your other half to a luxury spa treatment at the Lagoon Spa. International and local products selection, unique water features, indigenous treatments and state-of-the art equipment offer a total spa indulgence for guests who seek the finest and authentic experience.
THE TIP: This luxury Bali Resort is steps away from Bali Golf and Country Club. The Bali Collection shopping complex is 5 minutes away by complimentary hotel shuttle.
BOOKINGS: Direct to www.expedia.ie