RTÉ was the big winner on the night, with both of RTÉ Travel's journalists winning in their respective categories. Deirdre Mullins took home an award for the Home Market for her article on The Great Western Greenway cycle on RTÉ Travel. Ed Leahy won the Northern Ireland category, for his piece on Belfast from April 2012 on the site.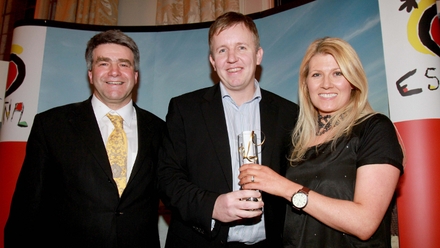 Ed Leahy won for his article on Belfast
Former RTÉ Nationwide presenter Michael Ryan, along with producer Mary Fanning, won in the broadcasting category at the even which was held in Ballsbridge over the weekend.
Their programme on Belfast for RTÉ Nationwide was researched, directed, and produced by Fanning, while Michael Ryan presented the piece which was originally broadcast on May 6th 2012.
Nationwide Revisited compared Belfast in its Titanic centenary year to the city during the 1970s. In the programme, Northern Ireland Tourist Board's Fiona Cunningham, said: "The funding poured into regeneration has paid off with dividends and the city is now one of the top ten places to visit in Europe, according to the National Geographic's traveller magazine".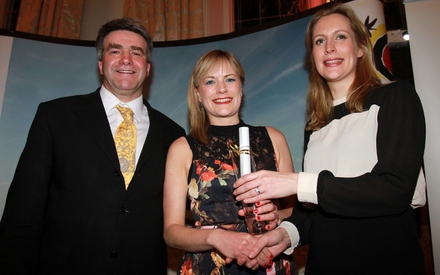 Deirdre Mullins won the Home award for her piece on cycling in the West of Ireland
Nationwide Revisited also went to the headquarters of the PSNI and met Chief Constable Matt Baggott who tells Michael Ryan that he is determined that the city will never return to its old ways. "We will move forward in a positive manner that embraces all and the PSNI is working very hard on all levels to achieve trust and support, and it is happening".

Travel writer Susan Morrell of the Sunday Business Post was presented with the Travel Extra Journalist of the Year Award at the ceremony, which was held to coincide with the annual Holiday World Show at the RDS this past weekend.
The event was sponsored by the Spanish Tourist Board. The award winners were chosen by a distinguished panel of senior Irish journalists. This year saw a huge increase in the number of submissions from previous years, displaying the creativity and continuing innovation of travel and tourism journalism in Ireland.
The full list of category winners were:
Home market: Deirdre Mullins, RTE.ie
Sponsor: Fáilte Ireland
Northern Ireland: Ed Leahy, RTE.ie
Sponsor: Northern Ireland Tourist Board
Short Break: Pól O'Conghaile, freelance for The Irish Examiner
Sponsor: Cassidy Travel
Skiing: Tony McCullagh, Northside News
Sponsor: Topflight
Sun Holidays: Mark Evans, Evening Herald
Sponsor: Falcon Holidays
Long haul: Philip Nolan, Mail On Sunday
Sponsor: Sunway
Broadcasting: Michael Ryan, RTE Nationwide
Sponsor: 1 STS
Young Journalist: Peter Horgan , Cork Independent
Sponsor: Thomas Cook
Online: Tom Sweeney, blogger
Sponsor: ClickandGo.com
Travel Book: Muriel Bolger, "Dublin City of Literature"
Sponsor: Lowcostholidays
Spain: Mal Rogers, The Irish Post
Sponsor: Spanish Tourist Board