If I was a surfer, I would be a soul surfer. I would spend my days on sunny beaches, surveying the horizon for the perfect break. I would be happiest when I'm on my board connecting with the oceans' unbridled energy and carving on waves the size of houses. I would have sun-bleached hair, salty lips and a freckled face. And when I'm not traversing the globe in my combi van, I would live in a town that suits my relaxed disposition.
The Portuguese town of Ericeira could be my home. Located just a 40-minute drive from Lisbon, its laidback attitude has an instant relaxing effect. Surfers stroll its pedestrianised cobbled streets while elderly women hang their washing outside whitewashed cottages. The town square is lined with leafy trees, under which the locals sit on communal benches and discuss the issues of the day. Nothing is done now; everything can wait.

Ericeira is a traditional Portuguese fishing village-turned-surf resort. What's so endearing about the town is that it manages to retain its charm while offering all the tourist necessities like good bars, excellent restaurants, stylish boutiques and a good range of accommodation. Thankfully, there is a noticeable absence of McDonald's and Starbucks.
Ericeira's reputation as one of the best places to surf was made official last February when it was awarded the title of a World Surfing Reserve. It's one of just four reserves worldwide, the others being in Santa Cruz and Malibu in California and Manly in Australia.
There are 10 surf beaches within the four-kilometre stretch of the town and they cater for all levels of surfers. Two kilometres north of the town is the beach Ribeira d'Ilhas which hosts the World Qualifying Surf Championships every August. You can catch a glimpse of how the professionals ride the world famous point break, Coxos, from a vantage point at the top of the road.
I travelled to Ericeira with the Irish company Surfholidays.com. Dubliner Nicky Kelly set up Surfholidays.com four years ago after he realised there were no websites that act as a one-stop shop for booking surf holidays. Accommodation, transfers, board hire and lessons can be booked on his site before you leave home.

I stayed at the Ericeira Echo Lodges. There is no battling for balcony space here; instead the afternoon can be spent in a hammock or sunbathing around its eco-friendly pool. Located just a five-minute walk to the centre of the town, the Eco Lodges are six wooden, self-catering lodges in a secluded garden and around a pool. The lodges are basic but comfortable. Each one sleeps four and has its own kitchen and bathroom. The communal facilities in the complex are excellent: there is a barbecue area and a big common room resembling a traditional Portuguese wine cellar with an honesty bar, pool table, internet, TV, DVD player, reading library and some gym equipment if the surf is not enough exercise for you.
As surfing is strongly connected to nature, it's great to stay in a place that is too. All the lodges use solar energy to generate their electricity and little stickers with environmental facts are dotted around the living area, making you more mindful of the environment.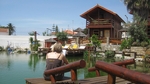 The pool is an ecological pond, meaning that it's chemical-free and uses special plants to clean the water. Don't let its bright green water discourage you from swimming in it. This is a much more enjoyable experience than bathing in chlorinated water, provided you're not squeamish about sharing the pool with small amphibians. I didn't see many frogs but they do make their presence known with their croaking 24-7. If you're a light sleeper bring ear plugs, because they seem to get louder at night, although there is something magical about being lulled to sleep by a frog song that's not McCartney's one.
The next morning I met my fellow classmates on Ericeira's surf beach for beginners, Foz do Lizandro, just two kilometres out of town. Our instructor, Flavio, greeted us with a smug smile and asked "Do you like my office?" as he pointed to a stunning stretch of sand surrounded by green hills on one side and cliffs on the other. I did like his office and also admired his fit body and relaxed demeanour. I was suddenly very jealous of his way of life.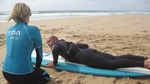 After a short warm-up with some jogging and stretching we practiced our surf stance on dry land before hitting the water. Beginners don't need to be in water more that a metre-and-a-half deep, which makes surfing doable for kids and poor swimmers. All of the class was standing on the board by the end of the first lesson. I find standing easy; it's staying there that I have the problem with.
Surfing isn't an easy sport to be good at. The learning curve is slow compared to the likes of skiing or snowboarding - that's why lessons are so important for beginners. What is different about learning to ski or snowboard is that  when you fall surfing it's not sore. It's a crash into water or a churn in a foamy wave, which equates to a release of adrenaline and lots of fun.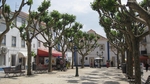 Two hours of surfing works up a special kind of hunger - one that's not restrained by guilt - so it's fitting that Ericeira is renowned as much for its excellent seafood restaurants as it is for surfing. A Parreirinha and Tic Tac are good restaurants but don't have the stunning views that can be seen from Esplanada das Furnas. Furnas is all about freshly caught fish cooked simply. The staff show you the catch of the day and then barbecue your choice on the spot - and to perfection. I recommend washing your meal down with a bottle of Portuguese Vinho Verde and trying their delicious homemade apple pie for dessert.
The Sunset Bamboo Bar is worth a visit. Located just off the main square, it does a good, inexpensive lunch and has free Wi-Fi. The owner, Bruno, makes excellent mojitos and caipirinhas and plays some nice chilled out tunes.
That's where I spent my last evening in Ericeira; reflecting on my perfect days on the waves and dreaming of the life I wish I had. But maybe now I'm one step closer to becoming a soul surfer - I've got the state of mind perfected anyway!
Deirdre Mullins
Deirdre Mullins traveled to Ericeira as a guest of Aer Lingus and Surfholidays.com.
Seven nights' accommodation in an Eco Lodge that sleeps four people is €896 in June and €1,120 in July and August. Stays are Saturday to Saturday in the summer. Shorter stays are available for the rest of the year.
Six days of surf lessons are €98 per adult and €72 for under 13s. Book online at: www.surfholidays.com, on: (01) 482 2828 or email: info@surfholidays.com.
Aer Lingus operates daily flights from Dublin to Lisbon, and twice weekly flights from Cork to Lisbon. One-way fares start from €54.99 including taxes and charges.