If you're someone who loves playing with your food, why not travel to Spain to attend the world largest food fight? La Tomatina is a tomato fight which happens every year in the small Spanish town of Buñol near Valencia on the last Wednesday in August.
Buñol's population swells from just 9,000 to about 30,000 on the day of La Tomatina, when tourists arrive to wage war. La Tomatina takes place for just one hour - from noon to 1pm - but festivities start from about 10am when people try to climb a greasy pole to reach a Serrano ham at the top.
The narrow streets are full of riled-up punters shouting impatiently for the tomatoes. Locals pour buckets of cold water from their upstairs windows on the crowds below, which is a welcome relief from the heat. They also cover their homes and shop fronts with plastic covers.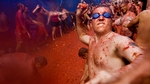 The boom of a cannon signals the start of the mayhem. Trucks full of tomatoes fight their way through the crowds and drop their cargo out. Locals sit on the trucks and hang off the sides, throwing handfuls of tomatoes at the crowd as they go by. Thousands of people are in a frenzy of firing as many tomatoes as they can. The tomatoes get mashed in people's hair, shoes and ears. Nowhere is safe.
For one intense hour the streets of Buñol become a sea of red. with half-naked people winning and losing against friends and strangers. The acidity of the tomatoes can sting and redden peoples eyes so protective goggles are advised. Swimming goggles or snorkel masks are a good idea, as are gloves and a waterproof or disposable camera. Wear old clothes and shoes that you don't mind throwing out and swimming gear underneath. Don't wear jewellery, sunglasses, hats or flip flops.
The second cannon sound signals the end of La Tomatina. Tomatoes are put down and a truce is called for another 12 months. Fire trucks hose down the messy streets and the crowds wash themselves down in the public showers provided; some clean themselves in the local river.
The festival organisers have the following rules:
Everyone must mash or squeeze tomatoes before throwing.

Tomatoes are the only fruit to be used.

After the second alarm is sounded no-one is allowed to throw tomatoes.

You are not allowed to rip t-shirts off other people.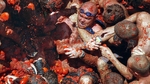 Unfortunately, these rules are not always adhered to. While the majority of people attending La Tomatina are good humoured, there is also a real mob mentality from a minority. The year I was there they insisted on throwing not just the tomatoes but anything that they could get their hands on - tied up t-shirts, jumpers and plastic bottles were hurled into the crowd. I met an Australian girl crying as she walked through the crowd wearing nothing but a black refuse sack. She told me that a group of guys circled her and pelted her with tomatoes, ripping her clothes off. The same thing happened to me only minutes later; fortunately, I had swimming gear on underneath.
The tomatoes come from Extremadura in the west of Spain, are grown especially for the festival and are cheaper and not good to eat. The festival started off in the 1940s and the story goes that a local was walking through the town square singing out of tune. The fruit sellers expressed their disgust by hurling tomatoes at him and a tomato fight ensued. They had so much fun that they decided to do it every year, although it was banned under Franco. Traditionally the women wear white and the men wear no shirts.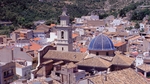 Buñol is about 38 kilometres from Valencia and the best way of getting there is by train. Special trains are laid on, on the day for the 45-minute journey. You can check times on www.renfe.es. Alternatively, you can rent a car or get a bus, but this might not be the best idea considering the mess you're going to be in. Make sure you bring a change of clothes for your return journey and everyone must have a t-shirt to be allowed back onto the train.
A trip to La Tomatina can provide a good opportunity to explore Spain's third largest city. Valencia has all you want from a Spanish city; great beaches, a lively and pretty old quarter, great weather and night life.
For more information on La Tomatina and Valencia visit:
www.thisisvalencia.com.

For information on Spain visit: www.spain.info.
Deirdre Mullins
RTÉ is not responsible for the content of external websites.