Click on the flag to view more images from India's Dawn Chorus
Country: India
Organisation: EBU - All India Radio (AIR)

Location: Sattal Bird Sanctuary, Lower Himalayas
#Nature is a stress buster and calms the soul #AIR will be bringing for you #DawnTime #Birds from this venue #Sattaal #Uttarakhand for #upcoming event of #DawnChorus, where we will relay it Live for #IDCD #InternationalDawnChorusDay2019 on 5th May ?@NatureRTE? Stay tuned! pic.twitter.com/4BVqO4H7N8

— Monika Gulati (@Monikagulatiair) April 18, 2019
Sattal (Hindi for 'seven lakes') is an interconnected group of seven freshwater lakes, situated in the lower Himalayan range near Bhimtal, in the Nainital district of Uttarakhand province in India. The lakes sit at an altitude of 1370 metres below lush orchards in the Mehragaon valley. Set amongst dense forests of oak and pine trees, Sattal is one of the few unspoiled and unpolluted freshwater biomes in India. These lakes are a paradise for migratory birds. It has 500 species of resident and migratory birds, 20 species of mammals, over 525 species of butterflies and over 11,000 species of moths, beetles, bugs and other insects. The unique avian fauna of Sattal includes red-billed blue magpie, plum-headed parakeet, crimson-breasted woodpecker, crested serpent eagle, and blue-eared kingfisher, and many more!
#IDCD celebrates the best of #birdsong on Sun May 5th with ?@DerekMooney_1? , from RTÉ Radio #Ireland for listeners of #AllIndiaRadio , to listen to this symphony of birds across the countries with #Sattaal -a unique celebration of ?@NatureRTE? ornithological opera! pic.twitter.com/nNzdzmjHQ8

— Monika Gulati (@Monikagulatiair) April 28, 2019
On Air: Sunit Tandon (Presenter), Dr. Surya Prakash (Zoologist), Pankaj Gupta (Bird Expert) & Hari Lama (Birding Guide in Himalayas)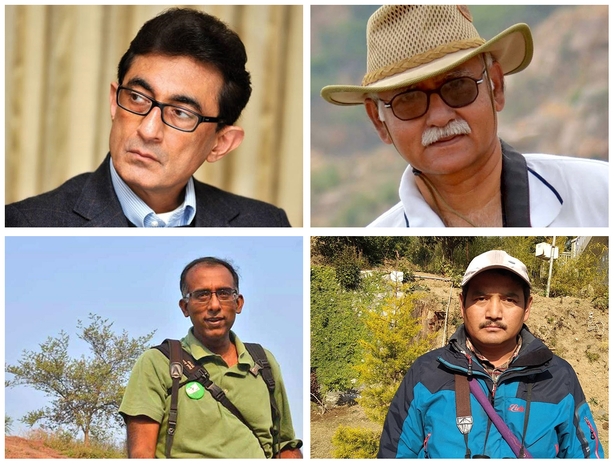 Sunit Tandon: Sunit is a veteran news and current affairs anchor on Indian national television and Radio. He had been the Director General of Indian Institute of mass communication and journalism and presently the Director at India Habitat Centre. He is also active as theatre director and actor with about 150 productions to his credit. He had been the Director of Yatrik, New Delhi's oldest theatre group.
Testing the possibilities exploring the #Nature at #DawnTime for #Birds from this venue #Sattaal #Uttarakhand for #upcoming event of #DawnChorus, #IDCD #InternationalDawnChorusDay2019. It will be live on 5th May -the symphony of nature @NatureRTE ?#TeamAIR #IndiaIreland pic.twitter.com/UjwGrWYUAo

— Monika Gulati (@Monikagulatiair) April 13, 2019
Dr. Surya Prakash: a passionate nature lover and avid birdwatcher, he joined Jawaharlal Nehru University, in Delhi, in July 1985 and ever since exploring the campus in his leisurely time. Today he has made the data bank of almost all birds, reptiles, mammals, butterflies and of course the native species of ridge trees of the JNU campus but also of entire southern ridge. Apart from rescuing stressed wild animals he, organizes nature trails, awareness programs, illustrated talks and issues related to conservation of Mother Nature within and outside the campus. Honorable LG –Delhi & WWF-India have felicitated him and appreciated his work and efforts for restoration of Sanjay Van & other conservation efforts.
Excited to be teaming up with ??@NatureRTE? for #DawnChorus #LIVE #Birdsong from #Sattaal! Block your Sunday May 5th, https://t.co/SPwq0btxfv for more! #IDCD @IndiainIreland ??@IrlEmbIndia? to keep your #stress at #Bay and enjoy the #Marathon of #Birds pic.twitter.com/cYKq33SIyl

— Monika Gulati (@Monikagulatiair) April 14, 2019
Pankaj Gupta: Pankaj has been actively birdwatching since 2008 (about 11 years). He does volunteer work as a Reviewer and Hot spot Manager for Ebird (NCR Zone). Ebird is a citizen since programme managed by Cornell Lab of Ornithology (USA). With the help of Delhibird foundation, he has been highlighting and fighting for Environmental cause in Delhi & NCR region. He has started two Facebook pages dedicated to Birds and their habitat: Birds of Delhi and Surrounding Birds, and Birds Habitat of Delhi and Surrounding. He is also the Admin for a few other groups like Indian Birds, Ask IDS of Indian Birds, and regularly leads bird walks for other birdwatchers and schools. He has done multiple walks for WWF and BNHS.
Hari Lama: Born in Nepal, Hari Lama has been birding since ages in Nepal and Northern India. He has excellent command of birds in the region and hence guides birders from India and Overseas every year. He has many years of experience and knows the area of his study very well. His greater interest is working as freelance guide in Northern India. He can speak and understand English, Hindi and Nepali.
#GunMikes #Cables #SatellitePhone #AIR is all geared up to team up with @NatureRTE for #LIVE #Birdsong from #Sattaal! Block your Sunday May 5th, https://t.co/SPwq0btxfv #IDCD @IndiainIreland @IrlEmbIndia to keep your #stress at #Bay and enjoy the #Marathon of #BirdSong pic.twitter.com/BPo3A4rMFm

— Monika Gulati (@Monikagulatiair) April 21, 2019
Key Species: Great Barbet, Blue throated barbet, Grey treepie, Blue whistling thrush, Verditer flycatcher, Orange headed thrush, Black hooded oriole, Red Jungle fowl, Kaleej pheasant, Grey-winged blackbirds, Jungle crow, Himalayan bulbul, Black Himalayan bulbul.
Some of the birds that can be found in Sattal; clockwise from top left: Brown Wood Owl; Night Jar; Red Billed Magpie; Blue Throated Barbet (photos: Ashwani Dagar, AIR Engineer)
Countdown begins for #IDCD Don't miss it on 5th May! ?@NatureRTE? ?@amlanjyoti? @Harilama pic.twitter.com/ykWpvoO4n7

— Monika Gulati (@Monikagulatiair) April 29, 2019
To read an article about India and the Dawn Chorus from The Hindu, click here.