Click on the flag to view more images from Bahrain's Dawn Chorus
Country: Kingdom of Bahrain
Location: A farm in Hamad Town located to the south west of Bahrain.
The farm is mostly cultivated with date palms intersected with seasonal crops and fodders.  Additionally, there are several kinds of trees (e.g. Papaya, Jujube, Indian Almond and Icecream Bean) which attract resident birds for feeding and roosting.
On Air: Abdul Khamis
Left: Abdul Khamis; right: broadcast station, Bahrain
Abdul Khamis: Mr. Abdulqader Khamis holds an "MSc in Marine Environmental Protection" from the "University of Wales, Bangor" and a "BSc in Biology-Education" from the "University of Bahrain".  The former Acting Director of Biodiversity at the Supreme Council for Environment in the Kingdom of Bahrain, Mr. Khamis has more than 15 years work experience in the environmental field.  He participated in several scientific studies and contributed to the implementation of a number of biodiversity-related international agreements.  As a member of Bahrain Natural History Society, Mr. Khamis has contributed to the programs of Birdlife International including updating the database of Important Bird Areas (IBAs) in Bahrain.  Mr. Khamis has a keen passion in wildlife photography and his photos have appeared in the publications of international environmental organizations such as the United Nation Environment Programme (UNEP) and International Union for Conservation of Nature (IUCN).
Key Species: The White-eared Bulbul (Pycnonotus leucotis), House Sparrow and Palm Dove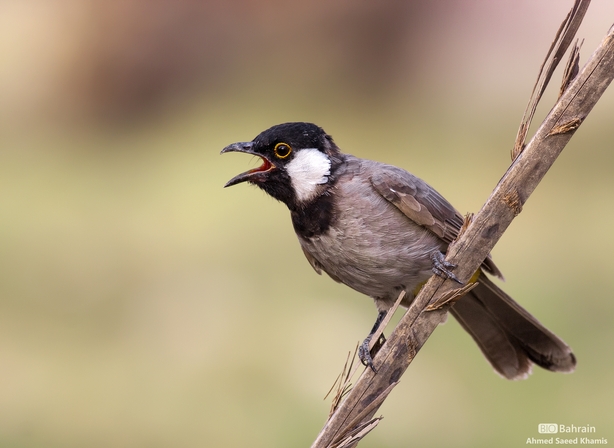 The White-eared Bulbul, Pycnonotus leucotis, has a black head and throat with a large white patch on the cheeks and yellow undertail-coverts.  Its distribution range stretches along the Arabian Gulf's coastline and the western coast of the Indian Subcontinent. This bird is resident in Bahrain and it breeds during February-May with clutch size counting 2-4 eggs. This bulbul primarily favors the cultivated areas, but it may be seen also in the desert and house gardens. It may be stated that the White-eared Bulbul is the most beloved wild bird in Bahrain. Locals love this bird so much mainly because of its beautiful songs and easiness of breeding in captivity.  
The House Sparrow is the most common bird in Bahrain.  Along with the Palm Dove - which is breeding presently - it could make an appearance, along with the Collared Dove.