In issue 6 of the RTÉ Guide, Dermot O'Neill talks hellebores, lillies and updates your to-do list.
Plant of the Week: Hellebores
Although spring arrived early, with daffodils flowering from the start of January, it's still wonderful to have something as delicate and interesting looking as hellebores in flower at this time. There's a wide range of hellebores, including quite large structural species like the Corsican hellebore, Helleborus argutifolius, with large leathery toothed leaves and spires of pale green flowers up to 120cm tall.
Then there are the many hybrids of H. niger, a smaller evergreen plant up to about 30cm tall, with a range of colours from white, through pink to purple, with many spotted and edged variations. They are easy to grow and there are some attractive double forms and will self-seed around the garden when they are happy. They appreciate a bright spot, but are happy with light shade, and a soil that has been well prepared and doesn't dry out in summer.
After flowering, cut back the old foliage to allow this year's fresh growth to come through and develop. Hellebores can be grown from seed or can be lifted and divided at the end of March. When positioning hellebores, find a spot where you can appreciate them from a window, especially on a cold winter's day. They associate well with other early-flowering plants such as primulas, snowdrops and dwarf daffodils.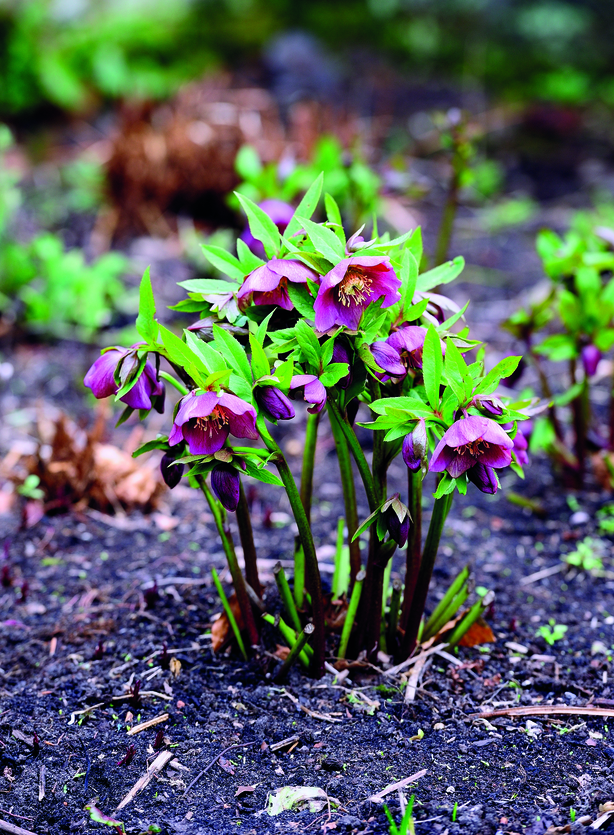 To Do List
Prune conservatory climbing jasmines after flowering.
Cut back Buddleia very hard to encourage new growth.
Check tree stakes and ties and tighten if necessary.
Continue planting roses, but avoid putting them in a spot where you have grown roses before.
Reader's tip: Starting off dahlias
Every year, I add a few extra dahlia varieties to the garden; they flower from midsummer until the first frosts and add great tropical colour. I buy the roots now to start them off early, choosing colours that I like and varieties which I think will make good cut flowers. I pot them up in pots of just damp compost and keep them in my conservatory until there's no chance of a late frost.
By then, they're usually growing strongly and I'm even able to take some cuttings from larger plants that root easily. From experience, keep an eye out for slugs, which like nothing better than all that fresh new growth. By the time the frosts have passed, the dahlias will have put on 15cm or more of growth and I plant them out in a sunny spot where I can see them from the kitchen window.
I've done this every year with great success and recommend that your readers have a go as it really makes a difference to the garden – adding a lovely splash of colour.
Finbar Hynes, Co Kerry.
Expert advice: Plant lily bulbs
Garden centres are now stocking summer-flowering bulbs, including one of my great favourites, lilies. They can be grown easily in containers and borders and can be planted now to flower in summer. Some lilies prefer lime-free compost, while others are happier in a general potting compost.
Both require good drainage and need to be planted deep – three times the height of the bulb. The beauty of containers is that they're portable and easy to move around just as they come into flower. They can be stood into a border where something else has finished.
Provide a spot sheltered from wind and they also need deep pots as they often produce roots from the stems below soil level as well as from the bulb itself. Check with your garden centre if in doubt about the particular compost you need for the lilies you're buying.