Mooney Goes Wild reporter Terry Flanagan traveled to North County Dublin to visit the Howth Head peninsula. Located on the East coast of Ireland with its spectacular cliffs and stunning views across the Irish Sea. Listen back above.
Howth Head is known to many for its hill-walking and an array of wildlife and natural beauty. It also happens to be a favorite location for one of our regular listeners, Jim Kilroy who lives there and goes horse-riding in the area most days.
Recently while out riding, Jim and his horse came across a most unusual sight that even spooked his horse. Jim dismounted and slowly approached to what appeared to be a large mass of candyfloss-like webbing, which was covering both the gorse and grass.
Jim wasn't sure what he had found and then took some photos to find out more. Soon after contacting the team here at Mooney Goes Wild, we sent our own super sleuth reporter Terry Flanagan to investigate with Jim.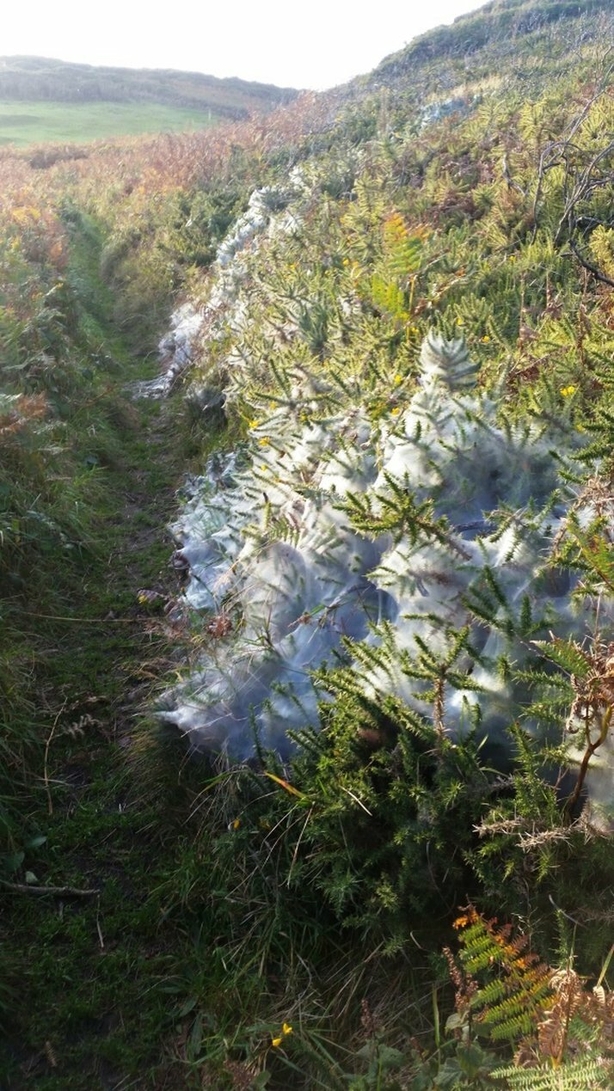 As you can see, this webbing has in-bedded itself into the plants on Howth Head in North County Dublin.
Mooney Goes Wild reporter Terry Flanagan visited our listener Jim Kilroy to help him out. Listen back to the programme in the video above.
---
Tune into Mooney Goes Wild every Monday, 10pm-11pm on RTÉ Radio 1.
For more information on the show, click here and follow @NatureRTE on Twitter and facebook.com/rtenature on Facebook.