Catherine Fulvio of Ballyknocken House and Cookery School Glenealy in Co Wicklow has some tips for Brendan O'Connor on how to get the most out of your left overs. Listen back above.
Whether you want to call it batch cooking or meal prepping, Catherine says that doubling up your recipes is a handy way to cut down on food waste and make the most of your money.
Keeping the cost of living in mind, the chef says that we should make the most of our energy when the oven is on by cooking extra food while you're at it.
If you're making a roast chicken for your Sunday lunch, for example, you could cook two chickens - one for eating that night and one for lunches throughout the week.
"You can use it in stir fries, frittata, pasta bakes," she lists. "You've got plenty of room for usage in what's going into the oven. Same with the veg. We all roast veg without knowing how much to eat so we put on a bit extra. Why not think about that extra veg and how you're going to use it?"
As well as using it for purées and soups, Catherine suggests re-heating butternut squash, carrots and potatoes for a winter warming salad with some grated Parmesan.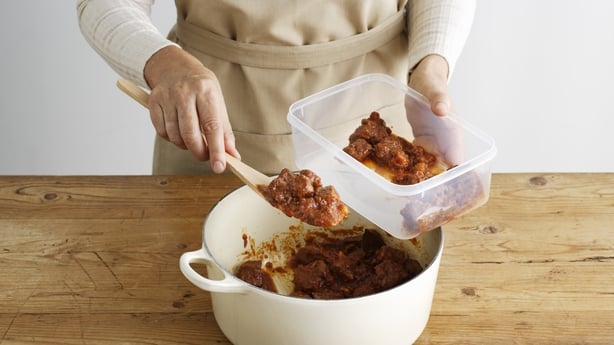 When it comes to bananas on the turn (and if you're over banana bread) Catherine says that you can simply freeze them and store them for later - as long as you peel them first.
"I usually put them in halves in freezer bags, and then you can use them for smoothies or muffins or cakes. They add a natural sweetness. When they defrost, they're not pretty looking, but they work really well in bakes."
"You can make fritters," she adds, "which is like an American pancake or a drop scone and you can mash up a banana and put that in it and get a lovely treat on a Sunday morning."
"Then for the kids, you could slice your banana into quarters and before you freeze them put an ice lolly stick in. Then have them ready as little treats. Take them out of the freezer and dip them into melted chocolate with a few sprinkles."
Apples and berries also freeze well on the turn, with blueberries freezing particularly nicely. Just be sure to spread them out flat when freezing or else they'll clump together. Then you can use them in breakfast smoothies, compotes, porridge, or a range of desserts.
For more tips on making the most of leftovers, listen back to RTÉ Radio 1 above.