Eating more food that will boost the immune system always makes good sense. I try to eat more whole plant foods, have sufficient sleep and take enough exercise as well as keeping hydrated, though I am the first to admit that this is all easier said than done!
I remind myself at the beginning of each week to include ingredients like garlic, turmeric or salmon in my food plan for the day. Using different methods of cooking will help, like stir fries, roasting and steaming and makes it easier to include immune boosting foods without it all becoming something akin to hard work! If we can keep it simple, we can do it.
Catherine
www.ballyknocken.com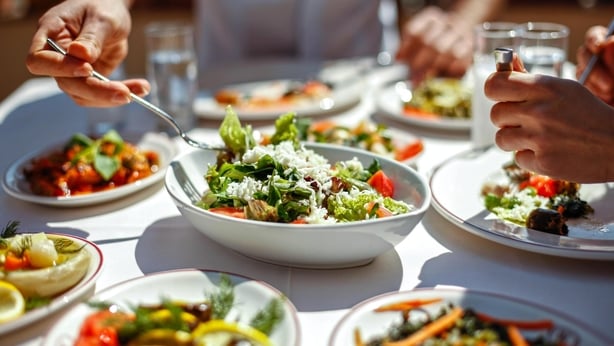 Super Foods
Foods to cook that help boost our immune systems: Broccoli, spinach, ginger, garlic, turmeric, sweet potatoes, red peppers, oily fish like salmon, tuna and sardines.
Foods to enjoy to assist in boosting our immune systems: Blueberries, green tea, kefir, almonds, sunflower seeds and kiwi fruits.
Blending In
Get yourself a good blender; it is worth the spend. Consider the size and think about your storage space as it may be better to choose an upright compact smaller blender.
Consider the speed and power: 500watts is generally good for smoothies. Look for special attachments like coffee grinders or mixing bowls as they will be handy. NutriBullet 600 Series, €69.95 + postage, harveynorman.ie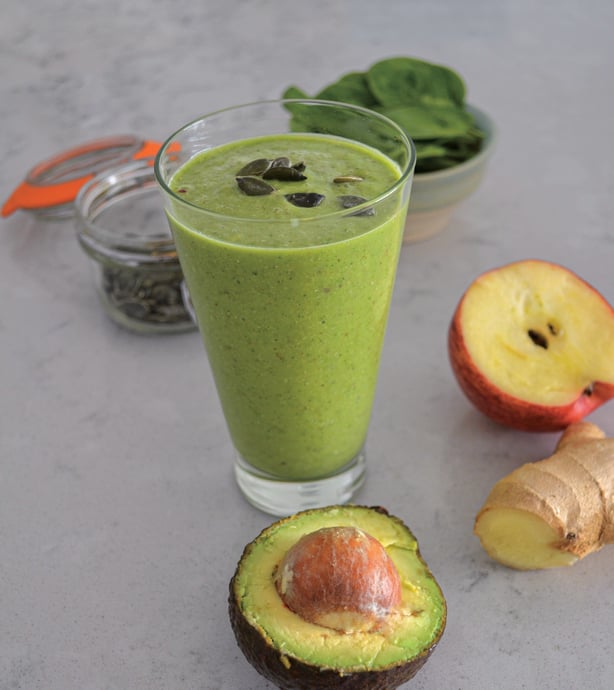 "Get up and Go" breakfast smoothie
Have the fruit and vegetables ready prepped the night before in a container and you'll just need to pop everything into the blender, which is so much easier.
Makes 300ml
½ ripe avocado
8 thick slices cucumber, roughly diced
½ apple, roughly diced with skin on
20g spinach
6 ice cubes
150ml water
4 tbsp porridge oats
1 tbsp chai seeds
1 tsp nut butter
1 tsp honey, optional
Pumpkin seeds, for the top
Method
Slice the avocado and remove the stone, peel it and add to the blender.
Add the cucumber, diced apple and spinach (use the stalk of the spinach as well) into the blender with the ice. Pour in the water, spoon in the porridge oats, chia seeds and nut butter.
Blend well until smooth. Add the honey if you are using it. If you feel it is too thick, add a little cold water. Pour into a glass or mug. Add a few pumpkin seeds for the top.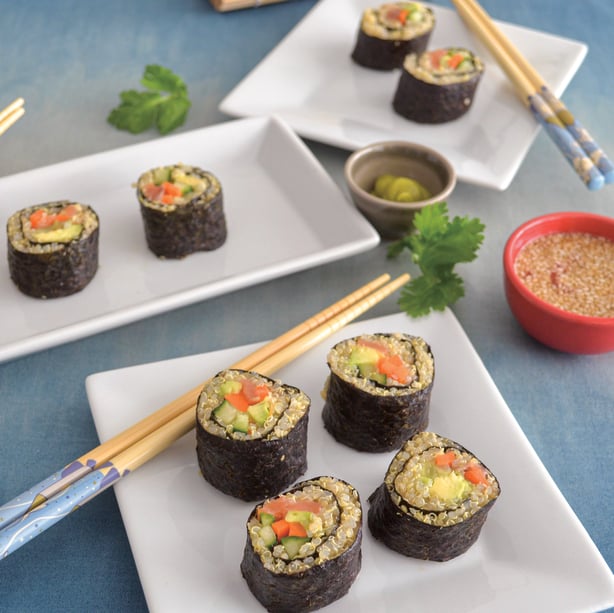 Quinoa sushi with sesame dipping sauce
These are delicious and all the elements will help to boost your immune system, and easy for everyone to get involved in making
Makes about 15
150g quinoa
2 tbsp rice vinegar
2 tsp caster sugar
½ tsp salt
3 nori sheets
40g thinly sliced strips of smoked salmon
2 medium carrots, peeled, sliced into julienne
¼ cucumber, sliced into julienne
½ avocado, de-stoned and sliced
1 tbsp pickled ginger
Dipping sauce
1 tbsp toasted sesame seeds
3 tbsp soy sauce
2 tsp sesame oil
½ garlic clove, crushed
1 tsp honey
Method
Rinse the quinoa under running cold water. Place in a saucepan and add 450ml boiling water. Bring to the boil, reduce the heat and leave to simmer for 12 to 14 minutes until the quinoa is cooked and fluffy. Keep an eye on it, stirring from time to time.
Place the warm cooked quinoa in a bowl, add the rice vinegar, caster sugar, salt and mix well. Check the seasoning, adding a little more salt or sugar or rice vinegar. Leave to cool.
To assemble, place a nori sheet on a board on top of a sushi mat. Spread about 3 tablespoons of seasoned quinoa on the nori sheet. Place salmon strips, julienne carrot and cucumber and pickled ginger along the one end of the nori sheet. Roll up tightly, leave in the fridge for 10 minutes.
Place on a board, slice into 5 and place on a board or platter. Repeat for the rest of the nori sheets.
To prepare the dipping sauce, mix the sesame seeds, soy sauce, sesame oil, garlic and honey together. Check as you may like a little more honey. Pour into small bowls. Serve the dipping sauce with the sushi.