Now is the time for it! It doesn't matter what type of barbecue you have, gas or coals, think of the barbecue as a mini oven. It can do almost everything an oven can, so long as you control the temperature. Most barbecues come with a thermostat fitted – if not, you can easily buy one.
Also remember that the barbecue has a direct heat section and an indirect heat section. Direct heat is immediately over the hot coals or gas and indirect is off to the side. It helps to understand where to position the ingredients, especially meat and fish, so that they brown nicely but also cook through fully.
I'll be adding plenty of dry rubs and glazes for barbecue cooking over the summer on my Instagram page so check these out.
Catherine
www.ballyknocken.com

Sides to serve
Sometimes it's the sides that stymie us – we can prepare the mains but it's what to serve alongside, so here are some ideas:
Classic homemade coleslaw will work very well with chicken and beef
Watermelon, basil and feta salad. The sweetness of the watermelon is delicious with chicken skewers.
Orzo, courgette and lemon salad is a winner with whole barbecued fish.
Corn bread baked in the barbecue. Serve this with all your chargrilled foods, especially vegetables.
Traditional panzanella salad, a real classic for outdoor gatherings, you can't go wrong with it.
Homemade rosemary and garlic flatbreads, go hand in hand with lamb skewers.
Leek, mozzarella and garlic round loaf, will be delicious with all your barbecued foods.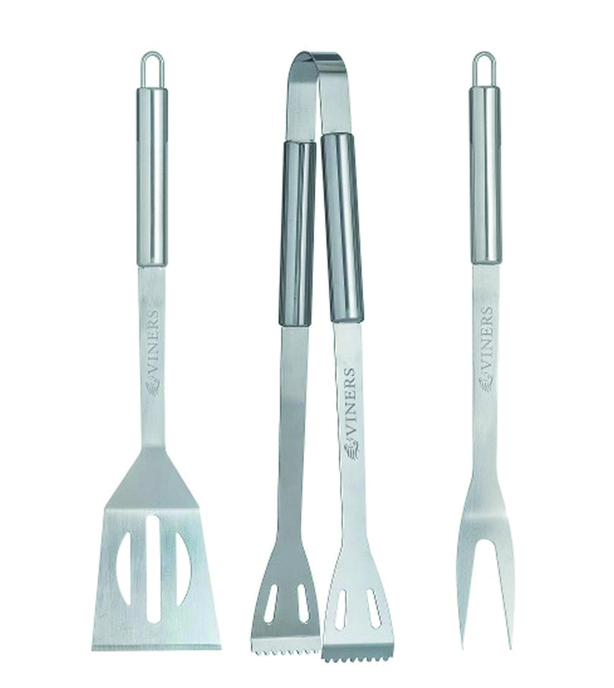 Gadget Corner
It is essential to have a good quality barbecue cooking equipment set – long handled tongs, lifter and fork that feel comfortable to use. I prefer all stainless steel that can go into the dish washer.
Viners Everyday 3pc BBQ Set, €19.95 + postage, thekitchenwhisk.ie
Lamb nectarine skewers with cucumber mint salsa
Skewers work very well on the barbecue, they are a little more effort to prepare but once done – the cooking time is quick, and it is a fairly stress-free process to chargrill and they are portioned already!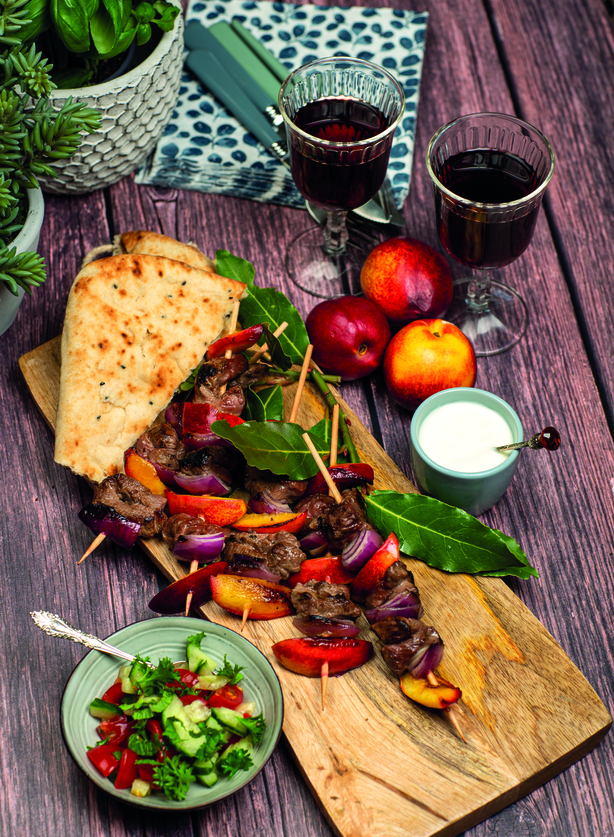 Makes 8 skewers
For the salsa
½ cucumber, diced
12 mint leaves, finely shredded
1 tbsp chopped parsley
12 cherry tomatoes, quartered

For the marinade
2 tbsp white wine vinegar
1 lemon, juice only
½ tsp ground cumin
½ tsp ground coriander
½ red chilli, finely sliced
2 tbsp honey
3 tbsp rapeseed oil
3 tbsp water
2 (about 300g) lamb steaks, thinly sliced into strips
2 red onions, roughly sliced
4 nectarines, roughly sliced
Rapeseed oil, for brushing
8 wooden skewers, soak in water for ½ hour before threading them OR clean metal skewers
Natural Greek style yoghurt, to serve
Flat breads or naan or pitas, to serve
Sprigs of mint, to garnish
Method
To prepare the salsa, place the diced cucumber, shredded mint and cherry tomatoes together in a bowl and mix well. Leave in the fridge until ready to serve.
For the marinade, pour the vinegar, lemon juice, ground cumin and coriander into a shallow bowl. Add in the chilli, honey, oil and water and stir very well.
Place the lamb strips into the marinade, cover and place in the fridge, leave for at least 2 hours. Turn the strips from time to time.
Thread the marinaded lamb, diced red onion and nectarine slices onto the skewers.
Pre-heat the barbecue to a medium direct heat. You can place the skewer directly on the barbecue rack or use a large chargrill pan over a medium heat.
Brush the skewers with rapeseed oil. Chargrill for 3 to 4 minutes, turning halfway through the cooking time. Keep an eye on them as they burn quickly, but be sure the meat is cooked through.
When cooked, leave to rest for 2 minutes and then place on a serving platter or board with a pile of flatbreads, naan or pita breads and serve the salsa and natural yoghurt. Garnish with sprigs of mint.
Barbecue pork tenderloin with peach sauce
This peach sauce is so versatile and can be served over meringues, with barbecue chicken, is delicious with pancakes and over a fruit pizza.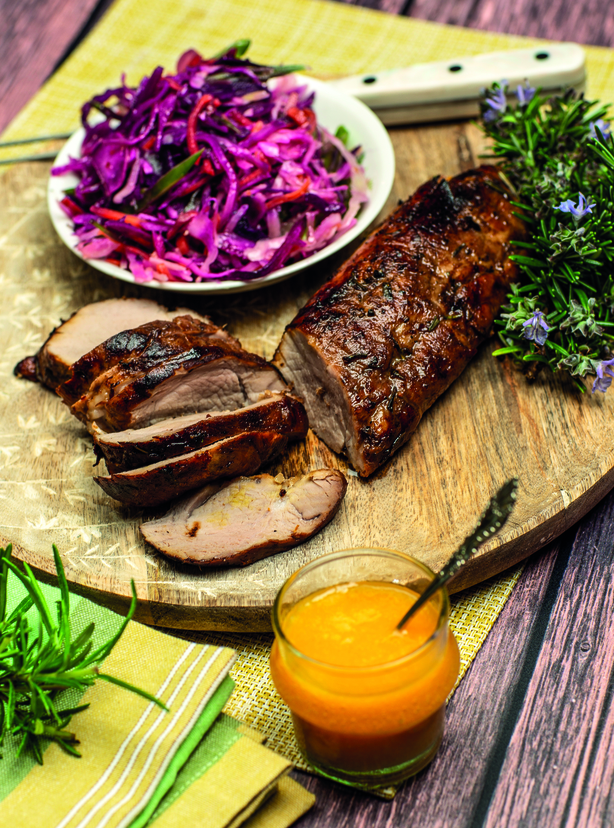 Serves 4 or 5
1 large pork tenderloin OR 2 x 300g, trimmed
For the rub
1 large orange, zest only
1 tsp chilli flakes
4 tbsp soft dark brown sugar
For basting
2 cloves garlic, finely chopped
3 sprigs rosemary, chopped
2 tbsp honey
4 tbsp rapeseed oil
½ tsp salt
For the sauce
1 tbsp butter
5 peaches, de-stoned, peeled, roughly chopped
½ tsp ground cinnamon
1 tsp honey
3 tbsp rum
50ml water
Rosemary, to garnish
Method
For the rub, combine all the ingredients together and mix well.
Massage this mix all over the pork tenderloins and leave for 30 minutes in the fridge.
For the baste, combine the garlic, rosemary, honey, oil and salt together and mix well.
Pre-heat the barbecue to a medium high heat. If you are using coals, you will start off with direct heat and then move to indirect for the roasting.
To prepare the sauce, heat the butter in a saucepan. Add the peaches, cinnamon, honey and sauté for a few minutes. Pour in the rum and water and simmer for 5 minutes. Leave to cool and then blend until smooth. Check the seasoning, you may need to add a little extra honey.
To barbecue the pork tenderloin, brush the pork with the baste (you can use a large sprig of rosemary to do this) place onto the barbecue racks and leave to brown on all sides, turning it from time to time. Sear the meat on all sides first. Transfer the pork to a roasting tray. Turn the heat down to medium, if you are using coals, you should be using indirect heat (moving the coals apart). Close the barbecue lid and leave to roast for about 20 to 25 minutes until your thermometer is at 72°C for doneness. Baste the pork from time to time. Remember to put down the barbecue lid quickly so that you are not letting all the heat escape.
Cover and leave to "rest" for 6 minutes.
Slice and serve with the peach sauce.