I decided to dedicate this issue to the humble salad dressing as I am often asked during the summer for interesting alternatives to the usual ones. In my opinion, the dressing is as important as the salad ingredients themselves and it is in the same category as wine pairing.
There are some salads and dressings that go hand in hand, like a mayonnaise with potato salad or a Caesar dressing with romaine lettuce, Parmesan and croutons. Maybe it's time that we experiment with flavours, using them to create amazing summer sunshine dressings.
I hope you enjoy getting creative with your salad dressings this summer!
Catherine
www.ballyknocken.com

Posh up your dressings
Here are some ingredients to make up an interesting salad dressing:
Maple syrup and honey.
Citrus fruits like lime, lemon and orange.
Sesame oil, which gives a lovely nutty savoury flavour.
Rice vinegar, red wine vinegar and sherry vinegar
Chopped capers and anchovies
Wasabi and miso paste
Wholegrain mustard
Plenty of chopped herbs like thyme, dill, fennel, chives, pineapple sage or oregano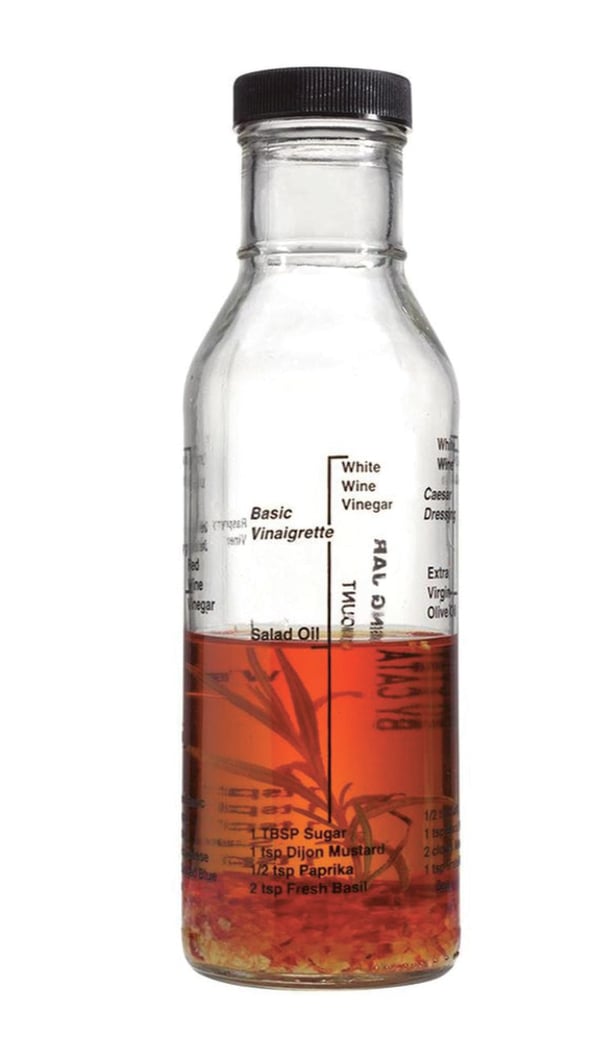 Gadget corner
Having a good quality salad bottle is essential to make your dressings in. This one has a secure lid and it is easy to wash as it is glass and has a recipe for a simple vinaigrette which is always helpful.
Glass Salad Dressing Jar, Glass Salad Dressing Jar, €10.95 + postage, thekitchenwhisk.ie

Strawberry vinaigrette
This refreshing dressing is ideal with assorted lettuce and spinach leaves as well as slices of cucumber.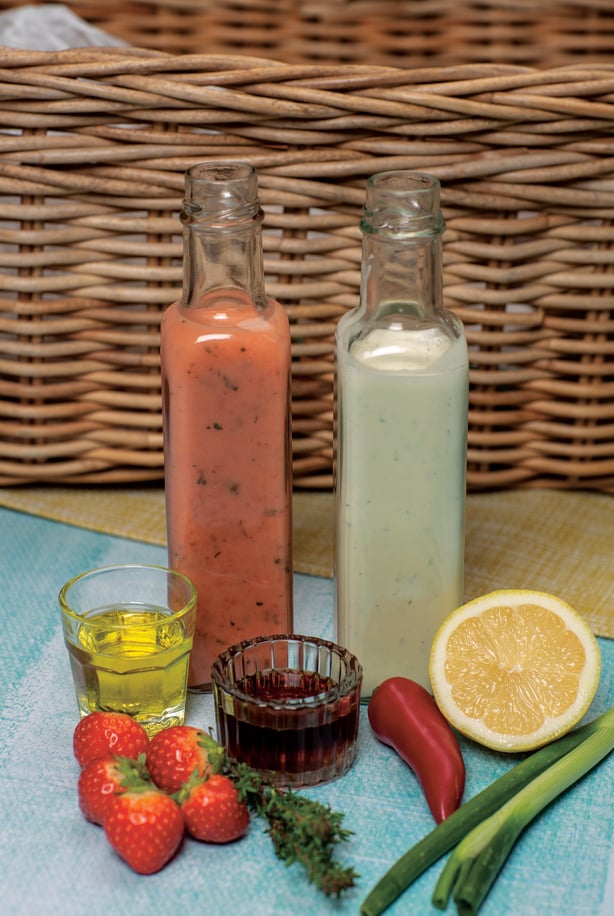 Makes about 180ml
100g strawberries, hulled and halved
3 tbsp apple cider vinegar
1 tbsp maple syrup
70ml extra virgin olive oil
1 tsp chopped thyme
Salt and freshly ground black pepper

Method
Place all the ingredients into a blender and puree until very smooth.
Pour into a jug to transfer into a bottle or jar. The dressing will last about 7 days in a sealed jar or bottle in the fridge.

Spicy buttermilk dressing
This dressing is magical over roasted sweet potato salad or use it to serve with falafels or on a chickpea and mint salad
Makes about 120ml
100ml buttermilk
¼ tsp vanilla extract
4 tbsp good quality mayonnaise
1 tbsp parsley
½ red chilli, finely chopped
1 spring onion, sliced
½ lemon, juice only
1 tsp honey
Salt to season

Method
Place the buttermilk, vanilla and mayonnaise together in a blender and blend until mixed.
Add the parsley, red chilli and slices of spring onion and blend well until smooth.
Pour in the lemon juice and honey. Season with salt and pepper. Check the seasoning; you may need to add a little more lemon juice or honey.
Using a funnel, pour into a bottle, seal and store in your fridge for up to 3 weeks.

Miso & tahini dressing
This is delicious with Asian-style salads as well as noodles, roasted salmon and prawns.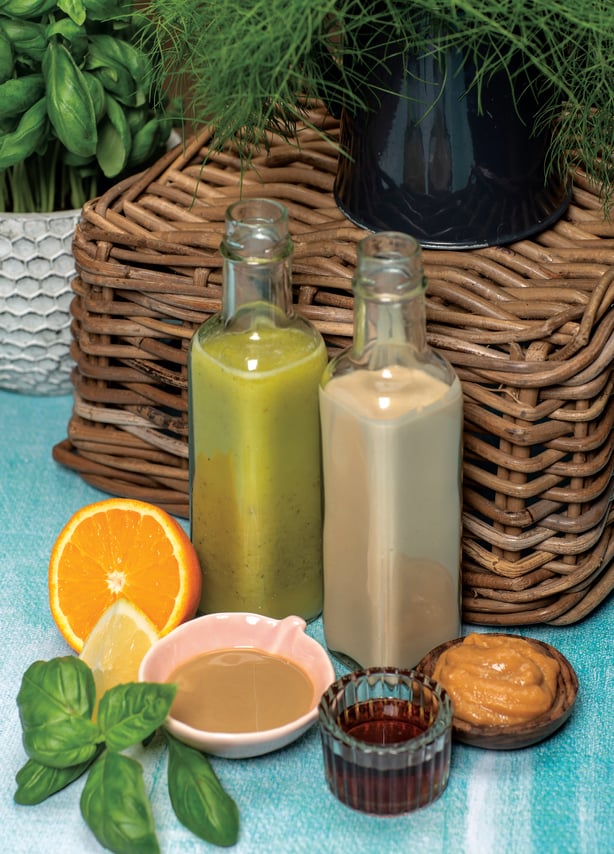 2 roasted cloves of garlic
1 tbsp white miso paste
2 tbsp tahini paste
3 tbsp rice vinegar
1 tbsp maple syrup
4 tbsp water
2 tbsp rapeseed oil
A good pinch of sea salt
Method
Place the roasted garlic, miso and tahini pastes into a blender.
Pour in the rice vinegar and maple syrup. Add the water and blend lightly.
While the blender is running, add the rapeseed oil. Season with a pinch of sea salt.
Check the seasoning. Add a little maple syrup if you need extra sweetness and more salt if needed. Use a funnel and pour the dressing into a bottle. Seal and keep in the fridge for up to a month.
Note: Leave it out for 20 minutes before using it and give it a shake.

Basil citrus dressing
A great one for Mediterranean salads as well as to serve with baked or roasted fish

Makes about 160ml
10 leaves basil
1 orange, zest and juice
1 lemon, juice only
100ml olive oil
½ tsp fennel seeds
½ tsp Dijon mustard
1 tsp sugar
Salt and freshly ground black pepper
Method
Place all the ingredients into a blender and puree until smooth.
Use a funnel to pour into a bottle. This will keep sealed in the fridge for 2 to 3 weeks.