There have been a lot of exciting developments in the chocolate business in Ireland over the past few years. Instagram is awash with images of delicious concepts by fantastic Irish chocolatiers – Grá in Galway come to mind immediately: all I can say is such wondrous creations are "almost" too good to eat!
Recently, I had the pleasure of a visit to Nibbed Cacao here in Wicklow, a small batch cacao roastery where I learned the whole process from bean to bar. It was a delicious and enlightening experience.
This week, I have two fabulous chocolate desserts for you to try – each with a twist.
Happy cooking!
Catherine
www.ballyknocken.com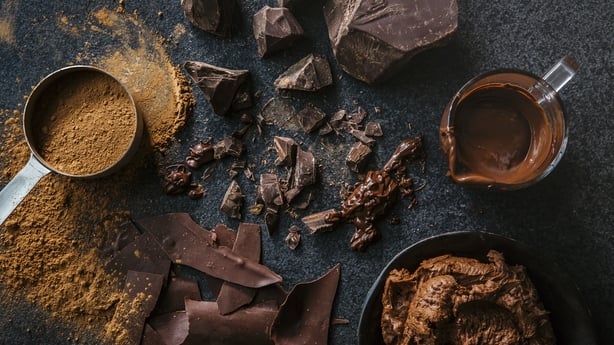 Working with chocolate
The only successful way to melt chocolate is in a bowl over a saucepan with about 5cm of simmering water. It's called a bain marie; it takes a little longer, but I have far more control over it.
Stir only twice during the melting time – yes, I know it is hard to resist that – stirring chocolate is very therapeutic!
Break the chocolate up into pieces. Use good quality dark chocolate. I add a little coconut oil in when melting, as it prevents the chocolate from burning or becoming grainy.
Don't shock your chocolate by exposing it to extreme heat; it is very delicate – even using a metal spoon (which is cold) to stir can cause problems with the chocolate. Use a wooden spoon or silicon spatula.
Ensure all your equipment is dry – water and chocolate are not friends.
If you have "bloom" on your chocolate – that is the white or grey speckles on the surface – don't worry, you can remelt this slowly and that will disappear.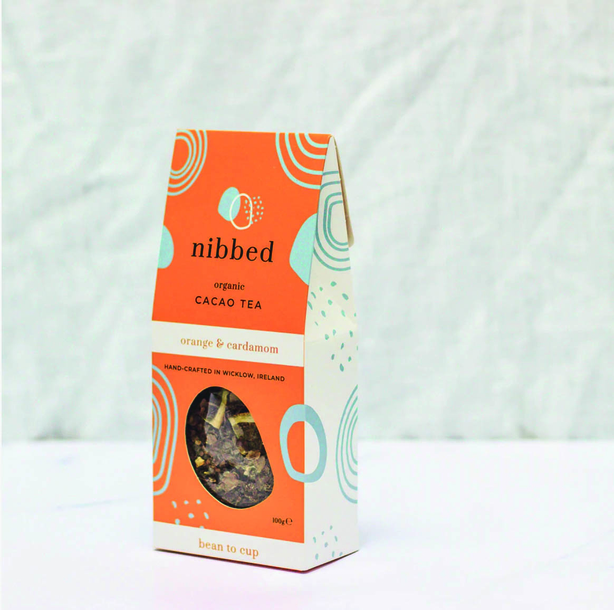 Cacao Tea
I know cocoa and tea in the same sentence sound strange but believe me, it's a delicious and healthy combination. One of my favourites is Orange Cardamon Cacao Tea from Nibbed.ie.
Cacao Tea – Orange & Cardamom, 100g, €6.50 + postage.
Orange nougat chocolate semifreddo
Before serving a frozen dessert, let it stand out of the freezer for 15 to 20 minutes so that all the flavours develop. When making ice cream, increase the intensity of the flavours slightly more than you would do when baking as they become less intense when frozen.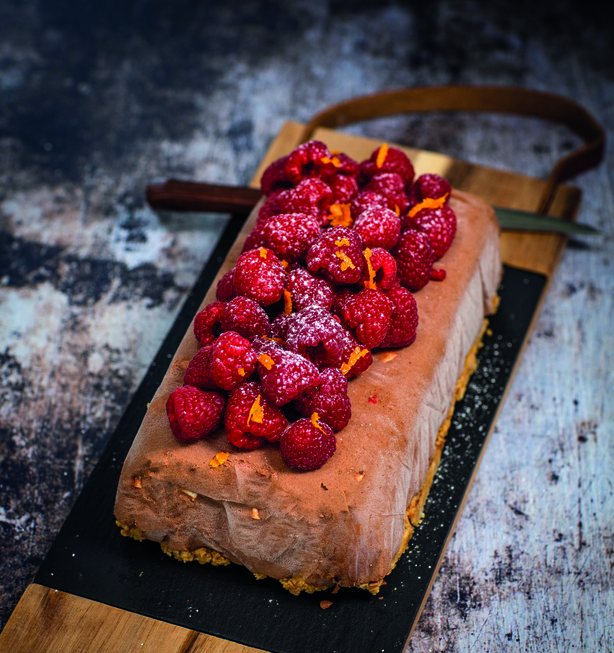 Serves 8 to 10
80g light brown sugar
4 eggs
275g dark chocolate pieces
500ml double cream, whipped
100g very finely diced nougat pieces
1 tsp intense orange flavouring
Raspberries, for the top
Orange zest, for the top (optional)
Dusting of icing sugar, for the top
Line a 900g loaf tin with compostable wrap (you may need 2 sheets). Ensure that it is as smooth as you can get it.
Place the sugar and eggs in a bowl over simmering water and whisk until doubled in volume.
Take it off the heat and place the bowl in iced water while still whisking until cooled.
Place the dark chocolate pieces into a bowl and place them over the simmering water to melt. Cool the melted chocolate slightly.
Once the whisked sugar and eggs have cooled, fold in the whipped cream as well as the melted chocolate, the nougat pieces and orange flavouring.
Pour into the loaf tin. Place in the freezer for 1 hour and then cover the top and freeze overnight.
When ready to serve, turn the semifreddo out and place on a platter. Decorate the top with raspberries and orange zest. Dust with icing sugar

Chocolate panna cotta
The espresso coffee infuses beautifully with the chocolate and makes for a fabulous adult dessert. You could add an Irish cream liqueur for a delicious alternative.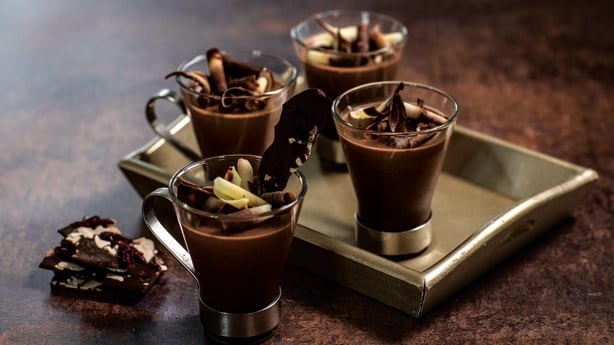 Makes 6 small glasses
For the panna cotta
2½ gelatine leaves
220ml milk
5 tbsp sifted cocoa powder
50ml cold espresso coffee
300ml cream
100g caster sugar
1 vanilla bean, split and seeds removed
You will need 6 glasses or mini cups
For the bark
70g dark chocolate, melted
50g toasted chopped nuts
3 tbsp chopped sour dried cherries
Sprigs of thyme, to decorate (optional)
Chocolate shavings, to decorate
To make the panna cotta, pour the milk, cocoa powder, espresso coffee, cream, sugar and vanilla bean seeds into a saucepan and heat until simmering while stirring.Remove from the heat.
Place the gelatine leaves in a bowl of 120ml cold water and leave to soak for 2 to 3 minutes.
Squeeze the excess water from the soaked gelatine and add the gelatine to the warm chocolate cream liquid, stir until dissolved.
Pour through a sieve into a jug. Pour into pretty glasses or bowls or small cups. Leave in the fridge for at least 6 hours or until set.
To make the bark, spread the melted chocolate on a piece of parchment, sprinkle the nuts and chopped dried cherries and leave to set. This takes at least 2 hours.
To serve, sprinkle some chocolate curls (see below how to make them) on top and sprigs of thyme into each panna cotta. Break the chocolate bark into pieces and serve with each dessert.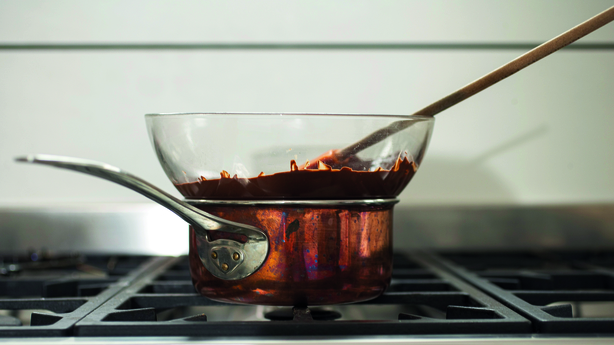 How to make dark & white chocolate shavings
Melt dark chocolate and white chocolate separately.
Spoon 2 strips each of dark and white chocolate thickly next to each other onto a piece of parchment and leave to set.
Using a dough scraper or a metal spatula, tilted at an angle slightly backwards but with a forward movement, work to create chocolate curls.
Store them at room temperature in a container until ready to use.