There is an amazing selection of gorgeous ingredients available now to create delicious salads. While we all know the classic salads, there are some great pairing to be made with our usual salads, like adding the sweetness of peaches to a Caprese salad or adding crunchy radish slices and smooth avocado slices to crisp lettuce leaves.
Add shredded vegetables to noodle salads or shredded pork with mint and basil. Dressings are as important as the salad ingredients, and I will be sharing dressings here in a few weeks' time.
Toppers are what really finish a salad. Micro sprouts are great for a lovely added nutritious value but also for texture and colour. Fruits like strawberries, nectarines, blueberries and melon also work a treat. Add toasted or candied nuts – cashews, hazels, pecans, peanuts and walnuts – as well as seeds like sunflower or pumpkin for an all-important crunch. And don't forget classic rustic herbed croutons to make your salads even more exciting!
Happy summer cooking!
Catherine
www.ballyknocken.com
Bulk it up
There are plenty of delicious proteins that can be added to salads to give them a fresh look, help you feel fuller for longer and of course, add deliciousness.
We eat salads with our eyes! I love to add lemon prawns, slices of roast chicken, slices of steak and smoked or baked salmon. Tofu is brilliant, as well as crumbled feta and blue cheese or grilled halloumi slices.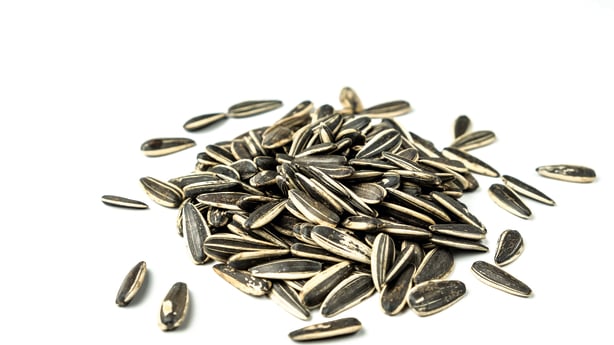 Service please!
There are some gorgeous wooden bowls out there. They need to be oiled and of course wiped out or gently washed by hand, but so worth it when you are serving up a colourful salad!
Harvest Hewn Wooden Bowl, €39.95 + postage, meadowsandbyrne.com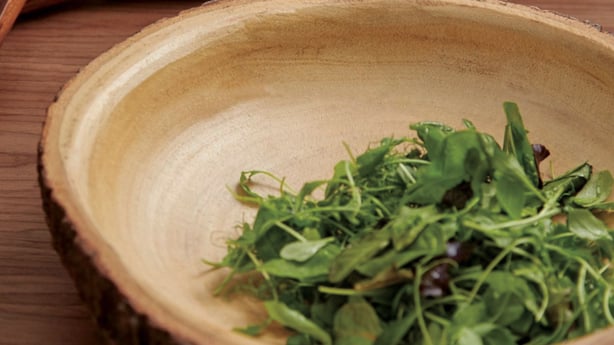 Chicken, nectarine & chickpea salad with orange chive dressing
The fabulous combination of summery flavours in this substantial salad makes a great meal on one platter. Change the nectarines for strawberry halves or melon slices for variety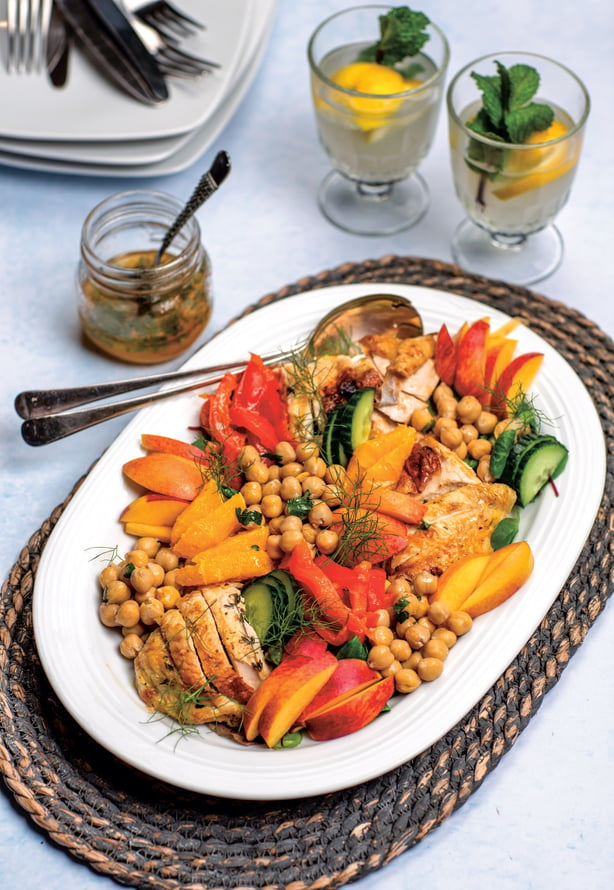 Serves 4
For the dressing
70ml orange juice
3 tbsp white wine vinegar
50ml extra virgin olive oil
Pinch of Cayenne pepper
1 tbsp finely chopped chives
2 tsp honey
Squeeze of half a lime
Salt and freshly ground black pepper
For the salad
4 nectarines, sliced
400g pieces and slices of roast chicken
200g cooked chickpeas
2 roasted red peppers, sliced
1 cucumber, sliced
2 oranges, peeled and sliced
Chive lengths, to garnish (optional)
To prepare the dressing, add all the ingredients into a bowl and whisk very well. Season with salt and freshly ground black pepper. Taste to check the seasoning; you may have to add a little more honey, salt or freshly ground black pepper. Set aside.
To prepare the salad, arrange the chicken slices in groups on a platter. Arrange the nectarines and red pepper slices in groups in between. Spoon the chickpeas around the platter.
Add the cucumber slices and orange slices in between. Spoon over some of the dressing.
Garnish with chive lengths if you are using them. Serve the rest of the salad dressing in a jar or jug on the side.
Note: The dressing will keep in the fridge, sealed, for 2 weeks.
Mango salad with ginger dressing
I love the texture and flavours of this salad and it is pretty as well. It is a great one to serve when your girlfriends come over for a light lunch. Prepare a jug of sangria to enjoy alongside!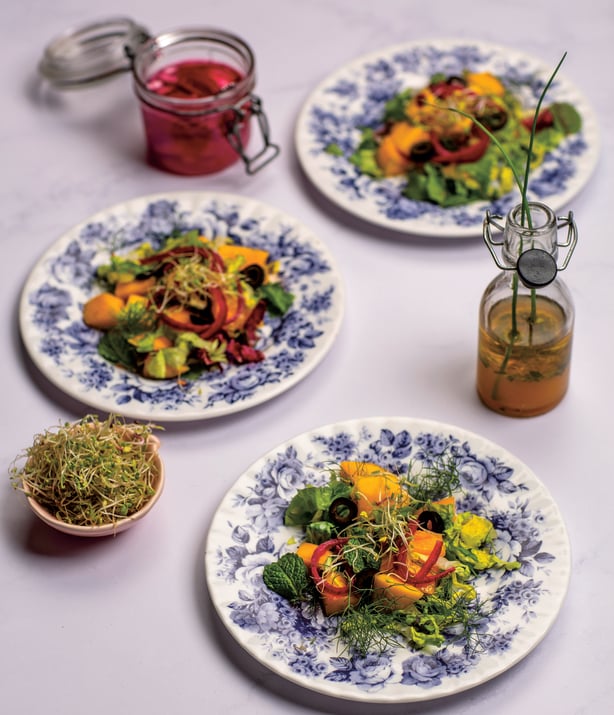 Serves 4
For the pickled red onion
2 red onions, sliced
4 tbsp rice wine vinegar
2 tsp sugar
2 tsp salt
For the dressing
1 tsp sesame oil
2 tbsp toasted sesame seeds
3 tbsp olive oil
2cm grated fresh ginger
2 tsp honey
Salt and freshly ground black pepper
40ml cider vinegar
1½ tsp Sriracha sauce
Zest of ½ an orange
For the salad
2 Little Gem lettuces, shredded
2 large ripe mangoes, peeled and diced
12 mint leaves
8 small sprigs of fennel or bronze fennel
2 tbsp pitted black olives, sliced into rings
Thinly sliced toasted ciabatta, to serve
To prepare the red onions, place the red onion slices, vinegar, sugar and salt into a small bowl or jar and stir very well without breaking up the onion slices. Set aside until ready to use in the salad.
To prepare the dressing, place all the ingredients into a bowl and whisk very well. Pour into a jug.
To assemble the salad, divide the shredded lettuce between 4 serving plates.
Mix the diced mango and mint leaves in a bowl and spoon over some of the dressing. Spoon the diced mango onto the shredded lettuce leaves. Add slices of red onion.
Arrange sprigs of fennel or bronze fennel on top. Sprinkle over some sliced black olives. Serve with the toasted ciabatta on the side.
Note: The onions will keep for 2 to 3 weeks in a sealed jar in the fridge. They are handy to have when making salads for barbecuess or casual entertaining.