To celebrate the Easter festivities, Aldi brand ambassador Chef Catherine Fulvio is heroing some delicious festive recipes. We caught up with Fulvio to get her step by step guide to cooking the perfect roast lamb, mint sauce, and chocolate cake.
"I love Easter," beams Catherine. "Here in Ballyknocken, its the start of tourist season when things really get going so, for us, its kind of a big family celebration before we knuckle down to work really hard for the summer."
Lamb, of course, is the traditional meat for an Easter gathering. And while its undoubtedly delicious, its not necessarily the most common meat for many households.
If this is your first time tackling lamb, or you simply want to improve upon your cooking skills, Fulvio has got you covered with a step by step guide to creating the perfect Easter lunch.
Your very first point of business, says the chef, is choosing your flavour.
"Traditionally, it's garlic and rosemary. You just make little holes or incisions in the leg of lamb and put in your garlic and rosemary, and you really do get that lovely flavour when its roasted. Season with a nice bit of salt and pepper, rub a bit of oil, and put it on your roasting tray."
"If you didn't fancy rosemary or garlic, you could go with a dry rub - a little bit of dried garlic granules, salt, pepper, cumin, and coriander. You rub in just a small bit to allow the flavours to blend."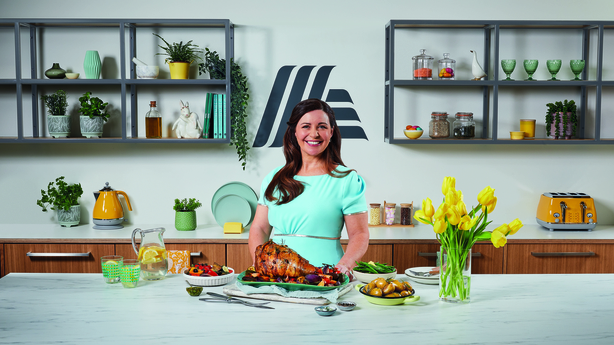 No matter what additions you choose, the TV chef suggests doing so the night before to allow the flavours to really mingle.
When the moment to roast your lamb arrives, be sure to give it some time to settle at room temperature so as not to 'shock' the meat.
"I pre-heat my oven to 180 to start with. Bring your lamb to room temperature before you put it in the oven. I cover it with foil - some people do it the other way around, but I cover with foil first - pop it in the oven and let it cook at 180, which is a moderate enough heat and will allow the meat to cook evenly."
"At the last 20 minutes I whip the foil off and crank the oven up to 220 - that will give you that lovely, crispy exterior."
To ensure that you're meat is cooked thoroughly, Catherine has two suggestions:
"Follow the guideline that per half kilo is 20 minutes to cook, so per kilo is 40 minutes to cook. Equally, a great gadget to have is a meat thermometer. Put the thermometer in, take a reading and if its 72 degrees and holds for two minutes, your meat is ready to eat. Just don't let the thermometer touch the bone as the bone gets hotter than the meat would."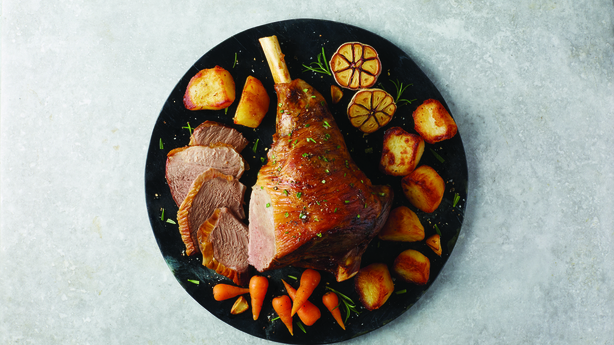 If you went overboard at the butchers and bought far too much lamb for your Sunday lunch, Catherine suggests cutting your leftover meat into thin slices and transforming it into a new dish for the following day.
"Put your thinly sliced lamb in with layers of scalloped potatoes and onions, gravy and stock. Cook it that way so the lamb is cooked with the potatoes and onions - its a lighter meal and you can have your salad on the side."
"A lamb pie is absolutely gorgeous," she adds. "You could also make a bechamel - a white wine sauce - and put in your lamb, cooked carrots, peas, onions always, and some fresh herbs. Put it in a small lasagne dish or pie dish and put a pastry crust on top. Roll out a bit of puff pastry, put it on top and glaze it with egg wash. Cook away and it will be absolutely gorgeous."
"I love a pie," she explains. "It's a great way to use leftovers becuase it keeps the meat nice and moist."
To complete any good lamb dish, of course, you need a delicious mint sauce.
"I used to go buying the mint sauce, as my mum always did, but then she started experimenting with her own and its so much nicer!"
"You need fresh mint, pour boiling water over it just to soften it, and then you cover it with some vinegar and sugar - the balance has to be quite good, you don't want a bang of vinegar of it that hurts your eyes. Put a little bit of salt in and that's it. You can also have that done the night before."
As a side dish for this mouth-watering lamb, Fulvio suggests heaps of roasted Mediterranean vegetables in garlic and rosemary or a simple bowl of mixed salad leaves with lemon and honey dressing.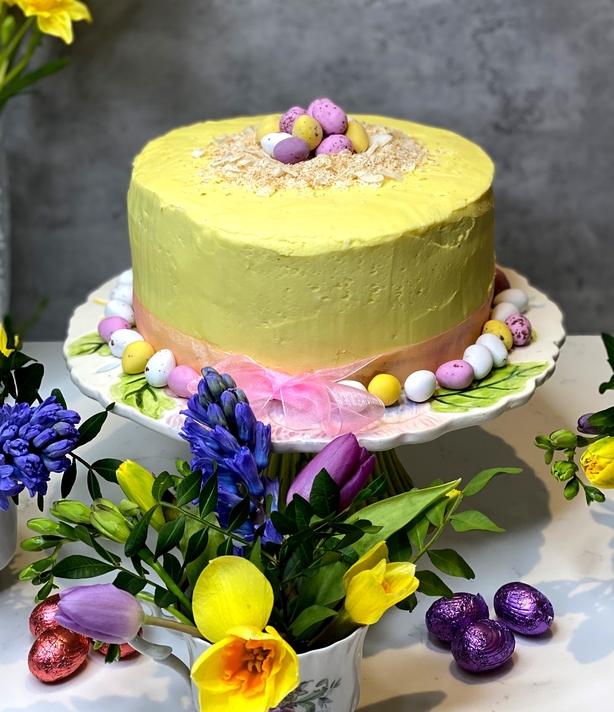 To finish things on a sweet note, Catherine suggests a decadent chocolate cake.
"Chocolate cake is a great way of using up leftover chocolate," she explains. "I love a chocolate cake and the recipe I have has some lovely lemon buttercream and its so nice because the lemon and chocolate works really well together. The little bit of lemon juice and lemon zest lightens it a little."
"The lovely thing about making a cake is that you'll have it on the day but you'll have it a while after, its the gift that keeps on giving."
If you're worried about food waste this Easter, you could get your kids involved in the kitchen and ask them to use some of their chocolate eggs for the cake or any other number of desserts.
"You can make brownies, cupcakes or another thing I do is melt leftover chocolate with a little bit of butter and pour it into a dipping bowl and I have grapes, kiwis, bananas, blueberries, and marshmallows if I really want to treat them," she laughs. "Its a great way of getting extra fruit into the diet for the kids."