If you are up for a challenge this year, how about aiming to prevent food waste in the home?
It simply takes a bit of planning and the easiest first begins with shopping – try 'little and often' when shopping. If you aim to keep in season, it means you'll be saving the pennies as well as reducing the carbon footprint of your food.
To keep fresher for longer, store the veg and fruit in the correct shelves in the fridge and keep in suitable containers.
Using up fruits and vegetables is a positive challenge to tackle and once you're in a routine, it will be easy. There are plenty of ways to use up herbs too; for example, by adding them into softened butter to use on baked potatoes or steak or by making a pesto or chimichurri sauce (and not all pesto is made with basil).
Here are some tips to use up veg and fruit:
Frittatas use up a multitude of tired vegetables and they are always useful for packed lunches.
Make a fruit compote and blend into a sorbet or even add natural yoghurt or cream, creating a yummy ice-cream.
Freeze the fruit and veg for your morning smoothies.
Keep trimmings and off cuts in a bag in the freezer and when you have enough, make a stock from them.
Freeze diced vegetables to make soups or even a vegetable curry or a pie filling.
Happy cooking!
Catherine
www.ballyknocken.com
Vegetable sweet treats
Courgette, parsnips, beetroot, sweet potatoes, carrots and potatoes make amazing puree or mash for adding to cakes, cupcakes and sweet or savoury bread loaf batters. Grating the vegetables in also works very well and often you can reduce the sugar content in your bakes.
Keep veg fresh for longer
Greensaver containers are ideal for keeping fruit and vegetables fresh for longer. They have a basket inside which allows the air to flow from all sides preventing spoiling. They also have a carbon filter fitted in the lid which absorbs ethylene gas, which slows down aging and an adjustable lid on top. They are really worth the spend.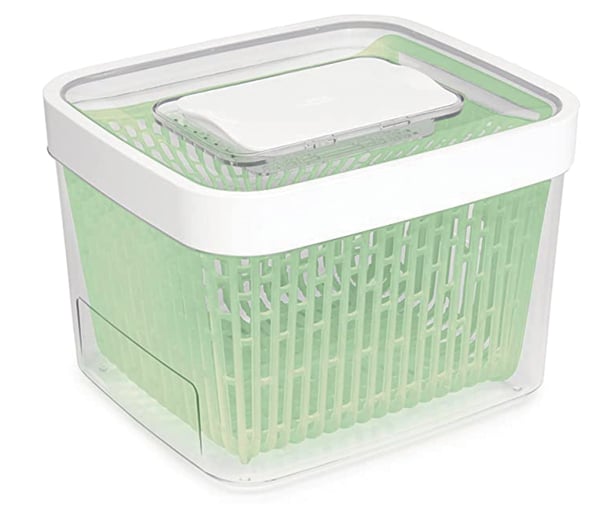 Versatile vegetable sauce
This sauce is ideal for pasta bakes, to spread as the base for homemade pizza and even over fish or chicken. It uses up plenty of those tired looking vegetables like pumpkin or butternut squash, tomatoes, red and yellow peppers, shallots, leeks or onions, garlic or herbs that may be lurking in your fridge.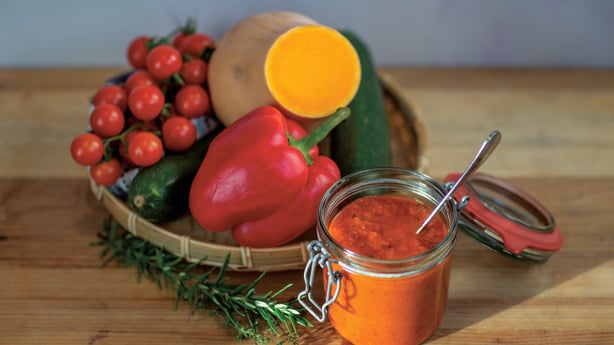 Makes about 800ml
1 tsp rapeseed oil
60g shallots, peeled and sliced
100g leeks, sliced
2 garlic cloves, sliced
200g peeled, diced pumpkin or butternut squash
1 red pepper, diced
1 yellow pepper, diced
Salt and freshly ground black pepper
2 sprigs rosemary
2 sprigs thyme
400ml canned diced tomatoes or fresh diced ones
100ml vegetables stock
1 tbsp tomato puree
1 tsp sugar
2 tbsp chopped parsley
Heat the oil in a large saucepan on a medium heat. Add the shallots and leeks together and sauté for 3 minutes.
Add the garlic and cook for 1 minute, stirring from time to time before adding the pumpkin or butternut squash, red and yellow peppers.
Stir well. Season with salt and freshly ground black pepper.
Add the rosemary and thyme sprigs. Stir in the canned or fresh tomatoes and vegetable stock. Add the tomato puree, sugar and stir well.
Increase the heat until it comes to boil, then reduce the heat to low.
Simmer for 25 minutes, stirring from time to time. Check the seasoning, adding more salt, pepper or sugar if needed.
Add the chopped parsley. Pour into a blender and puree until smooth. This will keep for up to 4 to 5 days in your fridge in a sterilised sealed jar or it can be frozen in portions.
All in one fruit cobbler
Everyone in the family loves a fruity dessert and there is no set choice of fruit to use – it's great just to measure up what needs to be used up. You can even add frozen fruit.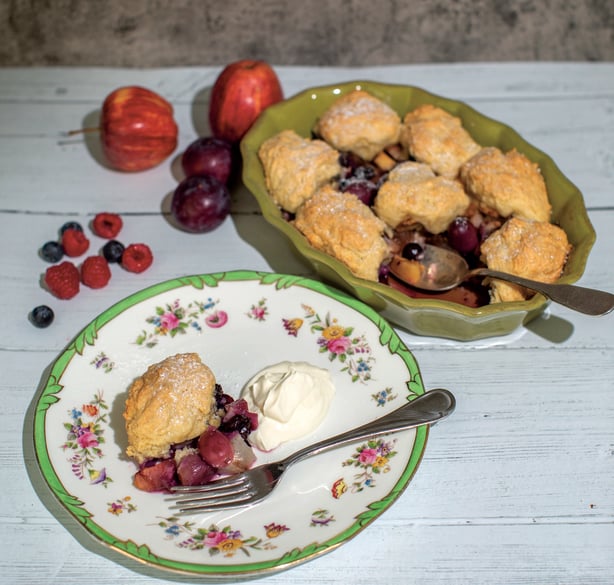 Serves 4 to 6
500g mixed fruits (any berries, plums – de-stoned and diced, apples – peeled, cored and diced, pears – peeled and cored and even slices of banana)
1 tbsp cornflour or arrowroot
60g caster sugar
½ tsp ground cinnamon
Pinch of nutmeg
1 tsp vanilla extract
For the topping
150g self-raising flour
70g chilled butter, diced
4 tbsp caster sugar
1 egg
60ml milk
Egg wash, for the top
Sugar, to sprinkle on top (optional)
Brush a medium size gratin dish with melted butter.
Heat the oven to 200°C/180°C fan/gas 6.
To prepare the fruit, place the fruit into a bowl and sprinkle over the cornflour or arrowroot, caster sugar, ground cinnamon, a pinch of nutmeg and the vanilla extract and stir to combine.
Spoon this mixture into the prepared gratin dish.
To make the topping, place the flour and butter into a food processor and pulse a few times until 'crumbs' form.
Pour into a mixing bowl and add the caster sugar. Whisk the egg and milk together and add enough egg mixture to form a soft dough. At this point ,you can spoon the mixture over the prepared fruit or add a little less liquid and pat the dough out on a clean surface dusted with flour. Use a scone cutter to make circles and place them on top of the prepared fruit.
Brush the top with egg wash. Bake in a pre-heated oven for 20 to 25 minutes until the fruit is cooked and the topping golden brown.
Sprinkle over a little sugar on top and serve with natural yoghurt or cream.