Catherine Fulvio serves up her favourite Christmas recipes and treats, whilst meeting with an Irish nut farmer and learning more about Irish whiskey. We caught up with the TV chef to find out more.
With a menu to delight one's appetite Catherine's Christmas recipes for 2021 include Beef Carpaccio with Mustard Balsamic Dressing followed by Roast Duck with Apple Walnut and Chestnut Stuffing and Port & Redcurrant Sauce with Glazed Baby Carrots & Brussels Sprouts with Hazelnuts, finishing with a show-stopping White Chocolate and Gingerbread Yule Log.
"I wanted to do something a little different," Catherine tells me over the phone. "Quite a lot of people are changing up their Christmas dinner to suit all the different tastes in the household, and it wouldn't be beyond the realm of possibility that a household would cook a turkey and a ham and beef, and using up the meat on Christmas day and beyond.
"People like something different and duck and beef are very popular," she continues. "I wanted a little bit of Italian in it, and I love beef carpaccio and I wanted to show how simple it is to do but it's also a nice, light started and it looks so pretty. And, of course, Irish beef is so popular. I used Irish honey and rapeseed oil so it really has a taste of Ireland written all over it."
"In regards to the duck, we have some marvelous duck farms in Ireland and I just wanted to showcase something that could work alongside the Christmas turkey. And, of course, the duck fat is great for roast potatoes."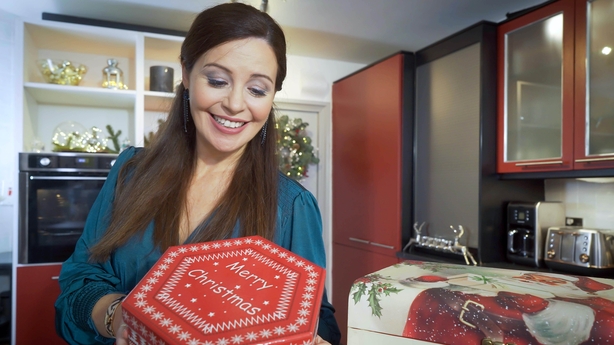 During this very special Christmas show, Catherine Fulvio will meet some of Ireland's finest artisan producers that are currently supplying us with unique and tasty choices. First up is a trip to Powerscourt Estate Distillery where she meets Gerry Ginty, the Founder and Director of Powerscourt Distillery, who brings us on a tour of the distillery and tells us how it all began.
Catherine then meets in-house Food Historian and Food and Beverage specialist Santina Kennedy who guides us on different flavours that are enhanced by having with different types of Whiskey from the Powerscourt Estate Distillery.
Following her class in all things whiskey Catherine will show viewers how to create 'Christmas in a glass' with an Irish Manhattan Cocktail and also a Manhattan Mocktail.
"I have a fascination with distilleries and the tradition of making whiskey in Ireland," Catherine explains, "I adore Powerscourt, it's such a beautiful location so it made perfect sense to go there and be inspired. I think people like to see how its produced and the passion behind making whiskey. There's real passion there amongst the team."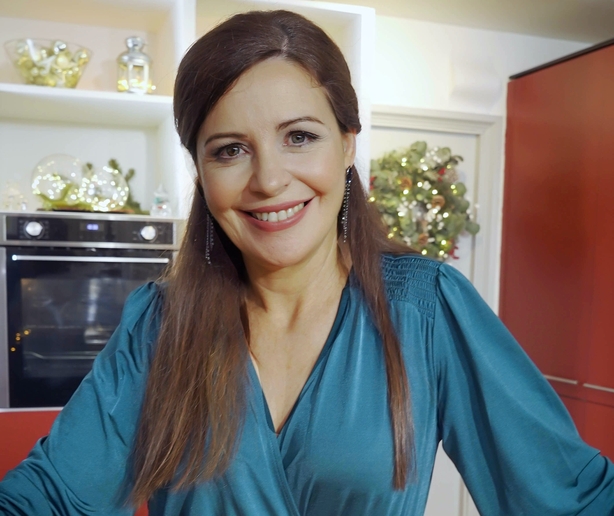 Next up, our hosts heads to Garristown, Co Dublin, to meet hazelnut and walnut farmer Cathal Regan at the Regan Nut Farm, where Cathal not only has cobnut, walnut and heartnut orchards but also runs workshops on cobnuts (cultivars of the common hazelnut) and walnuts, chestnut, heartnut, monkey puzzle and edible oak all of which have potential in Ireland.
Catherine will use Cathal's hazelnuts and walnuts to bring extra flavour to her Roast Duck with Apple Walnut and Chestnut Stuffing and Port & Redcurrant Sauce, Glazed Baby Carrots & Brussels Sprouts with Hazelnuts.
"Cathal, what an inspiring guy," Catherine beams. "He's a tree surgeon and just loves horticulture and everything to do with that sphere, and he just had this idea about planting plots of trees to producer nuts. It's something that we really don't appreciate in Ireland.
"The generations before us would harvest nuts from the hedgerows, the hazelnuts grow wild and I know in our house we've had walnut trees planted since before my grandparents arrived here, but you take it forgranted. So it's absolutely lovely to see someone looking at it as a business."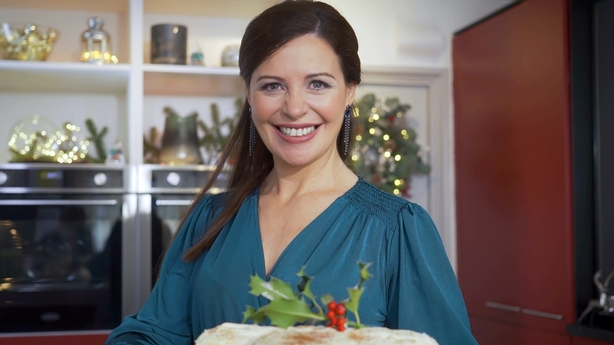 Although the self-professed "stuffing freak" says she can't have a Christmas without her favourite side dish along with her variety of meats and show-stopping dessert, Fulvio impresses the importance of portion control so as to avoid the toll of food waste.
"Do your shopping list and stick to it," she urges. "Most people know how many they have coming for Christmas and they know who they're cooking for so don't over purchase. If you were doing the duck and wanted to do turkey as well, maybe just go for the crown of turkey as opposed to the whole."
"Have a plan of how you're going to use up your leftovers," she adds. "If you know you'll have some turkey left, plan to make it into a lovely turkey curry or are you going to make it and freeze it so you can have it later."
"In early January, when it's still freezing out, we all crave that lovely comforting casserole-like hug on a plate meal. You'll be delighted and you won't have to spend a penny later because it will be ready and waiting for you."
Catherine Fulvio will return to our screens on Tuesday 21st December with her second special Catherine Celebrates Christmas.