New research from safefood has shown that while ownership of meat thermometers is increasing, over three quarters of people (78%) are not aware of the correct temperature to which turkey should be cooked to.
To help Ireland cook their turkeys the right way this festive season, safefood is launching its 'Trust the Meat Thermometer' campaign to encourage people to use a meat thermometer when cooking turkey, poultry or any meat product that needs to be cooked all the way through.
We caught up with Gareth Mullins, chef and safefood's campaign ambassador to find out more about cooking Christmas dinner, heating up leftovers and preventing food waste.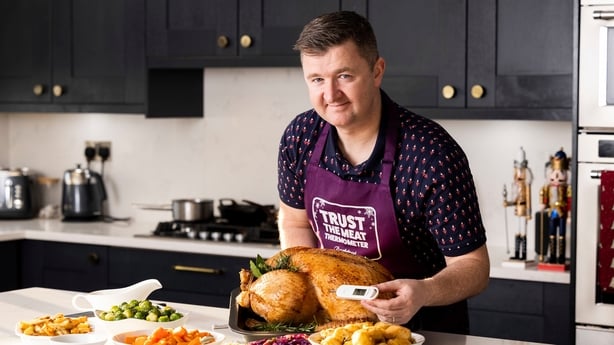 How do you make sure the turkey is fully cooked?
Take your turkey out of the oven and pop the thermometer in the thickest part between the leg and breast. When it reaches 75 degrees Celsius it's cooked and ready to eat. For poultry, like turkey and chicken and other meats that need to be cooked all the way through, it is important they are cooked until piping hot, with no pink meat and the juices running clear. Using a meat thermometer adds an extra layer of reassurance.
What's the best way to time out your cooking to ensure everything is cooked safely?
Cooking Christmas dinner, for some, can be the most stressful meal of the year as you want it to be as delicious as possible, but with so many ingredients and different timings to manage, it can be tricky. Turkeys are usually much larger than food people might be familiar with cooking, and it can be hard to know precisely how long it takes to cook – and if you're stuffing your turkey, it will need extra cooking time.
You can find times to suit your turkey on www.safefood.net where they have a handy cooking calculator. I would encourage anyone cooking a turkey or any meat this year to buy a meat thermometer. They are affordable, easy to use, and give that extra level of reassurance that your meat is cooked.
Your turkey or other roast joint might come with a time per kg recommended by your butcher or on the wrapping itself so my top tips are:
Once you've reached the recommended cooking time for your turkey, take it out of the oven and place the tray on a counter.
Pop the thermometer in the thickest part between the leg and breast.
When it reaches 75 degrees Celsius, it's cooked and safe to eat
Leave it to rest for about 30 minutes, loosely covered in tinfoil before you carve it.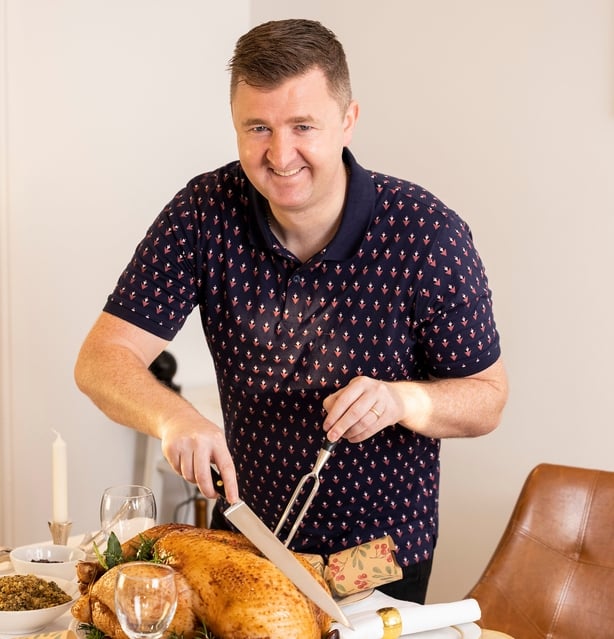 How can you ensure leftovers are safely stored away?
Most of us will have leftovers after serving Christmas dinner; my advice is to place on a clean plate, cover and refrigerate within 2 hours.
If you have any food standing at room temperature for more than 2 hours, throw it away, this food is now high risk and has the potential to make you, your family and friends sick. It is important to remember to use clean dishes and utensils for cooked food to prevent cross-contamination.
Divide the leftovers into smaller portions and put them in a shallow dish, this will help make them cool more quickly.
When it comes to cooling a turkey, I suggest removing the legs will help it cool more quickly. Also, don't put food in the fridge when it is still hot because it could raise the fridge's temperature and allow other foods to get too warm and never reheat leftovers more than once. At Christmas, all days can roll into one, but it is vital to remember leftovers you have stored in the fridge should be eaten within three days.
How long can you leave certain foods like veg, potatoes, and meat in the fridge before tossing?
The advice is the same for all leftovers. If you follow the above, foods like veg, potatoes, stuffing and meat can all be stored in the fridge for up to three days. However, leftover cooked rice must be quickly cooled and then refrigerated within one hour.
What's the best way to reheat leftovers the next day?
Leftovers can be great, so make the most of them! My advice would be to reheat your leftovers until piping hot all the way through. For sauces and gravy, reheat on the stove to a rolling boil.
Remember, once you have reheated food, it cannot be reheated a second time, so my trick of dividing the leftovers into smaller portions for cooling also works well here as you can just use what you need and avoid waste.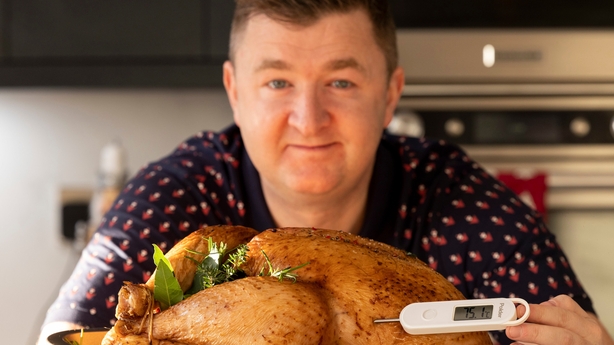 What are your go-to Christmas recipes?
For me, nothing beats the traditional turkey and ham with all the trimmings! Christmas dinner for me is about sharing good food with my family. One dish recipe we usually have as a starter on Christmas day is a simple prawn cocktail. A traditional Christmas day starter can be prepared in advance and left to chill in the fridge, ready for your guests to enjoy. You can find the recipe here.
Are you adding any new dishes to your Christmas table?
As a chef, I am often asked what vegetarian dishes are quick and easy to make and serve on Christmas day. This Christmas, I will definitely include my Roasted Butternut squash with tomato, red pepper, olives and potato dish. This is a delicious alternative to the usual meat-heavy menu on Christmas day and will be a hit with veggies and meat-eaters alike. You can find the recipe here.
The safefood website is stuffed with practical food safety tips, guides and recipes and last year more than 150,000 people visited the site between December 24th and 25th for help and advice.