For many food truck owners, their little trailer is usually something that comes at the end of a long journey, either as a chef's passion project or a new venture by an established cafe or restaurant.
But for Niamh Hegarty of Niamh's Larder, a food truck selling picnic boxes, sambos, pastries and more in Co. Cork, the food truck came before any brick and mortar cafe, and has fit into the vibrant Cork food scene seamlessly.
Niamh is just one of the bold chefs facing off in The Battle of the Food Trucks, a new cookery show on RTÉ Player, which follows along as six food truck chefs from across Ireland go head-to-head to be crowned Ireland's finest food truck, battling it out through various challenges and themes.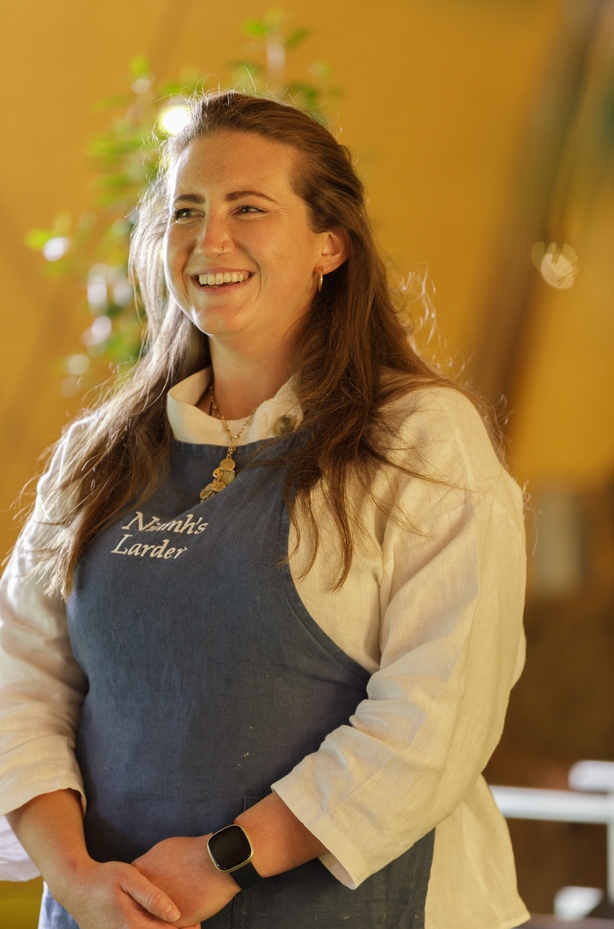 "I didn't set out in the most traditional way. I actually studied commerce and Chinese in university and I always loved food business but from the commercial side", she tells me over the phone. Having worked in food marketing and business, Hegarty then travelled the world for two years before following her dream to study at the Ballymaloe Cookery School.
"It was kind of something I'd always dreamed about doing and I finally had the time and money to do it", she says of the "quite intense" course. "I kind of didn't really intend and going into food, it was something more that I just wanted to share with friends and family."
From here, she came up with the idea of creating high-quality picnic boxes for "people who were coming to the local beaches are doing the cliff walk, just basically going out on an adventure and wanted to take nice food with them that wasn't necessarily fish and chips or soggy sandwiches".
When the opportunity to open her own place in Midleton, her home town, came up she "jumped at the opportunity" but it was over Christmas 2020 that she got to thinking about how to bring her food to more people. "The trailer made the most sense because of the easy set-up costs and it was less risk than kind of a normal business", she says.
We need your consent to load this Instagram contentWe use Instagram to manage extra content that can set cookies on your device and collect data about your activity. Please review their details and accept them to load the content.Manage Preferences
Perched on a cliff in Ballybranigan Beach in Cork, reaching Hegarty's trailer takes you on "a bit of an advantage because you have to walk across the beach to get up to the trailer", but once reached its a mini celebration of Irish produce, considered cooking and simple pleasures.
Clearly inspired by the "ethos of Ballymaloe", Hegarty's food is as inspired by the weather as it is by what she can get her hands on week to week. This makes for a charming and exciting menu, where you're as likely to get ramen as Mediterranean pea soup. "Being so close to the scene, like nature is like extremely important to me", she says, and those influences are clear throughout.
All of her food is vegetarian, she says, which comes as a welcome challenge to some customers who might be looking for a standard ham and cheese sandwich. "The pandemic forced people to think outside the box", she says.
"In Ireland, we kind of have that small country mentality and sometimes maybe we're not forced to challenge ourselves in ways because we can be the way we have been for 100 years. That's not a bad thing but when someone does something nouveau like opening a food truck, maybe two and a half years ago, you were probably like, well, that's insane."
She adds that the change in the food scene since the pandemic has encouraged people to take risks, both chefs and customers. "It's like, let's be brave because we have to be brave and if you're not brave, you're left behind."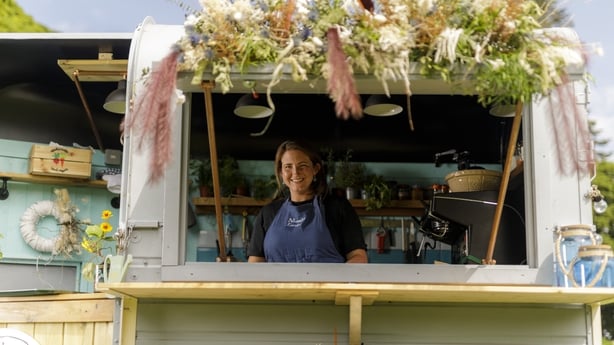 The lack of international travel could play a role in the food truck popularity boom, too, Hegarty says: "Because we can't move around so much anymore, we are looking for what we get when we go to other countries."
She says her customers are also showing that Irish adaptability that has taken everyone by surprise, with customers happily dropping by her trailer in the lashings of rain with "waterproof gear on".
For her customers, as with many foodies around the country now, the quality of produce is enough to trek out into the rain for. "It's incredible people's awareness of food. I feel like if I or many people tried to do this 20 years ago, they'd be like who's Gubbeen chorizo and why should I eat that over Denny's ham?"
7UP Free are proud partners of the Battle of the Food Trucks exclusively on RTÉ Player. Friends, food and 7UP Free. Clearly Great Moments. Clearly 7UP Free.
Don't forget to join host James Patrice each week as things heat up in the battle to crown Ireland's best food truck. Watch it here now on RTÉ Player.