A phrase I have heard far too often during lockdown is 'What's for dinner?' We can easily fall into the rut of cooking the same recipes over and over again, as we know they are family pleasers. But bringing something new and fresh to the table is what we really want to do.
So, this week, I'm focusing on easy meals that everyone can help to prepare. Delegating is key and the children will thank in the future for giving them these life skills, the knowledge of seasonal fruit and vegetables, learning some knife skills, measuring, keeping the kitchen tidy and clean, and having a bit of a laugh too.
Building up confidence in the kitchen is so important, adapting a recipe or sometimes not using one, having an informed understanding of flavours and growing and using fresh herbs are all levels of skill learned by doing. Having the know-how on using gadgets like zesters, blenders, hand whisks and juicers and being safety wise will all help create a stress-free and happy experience.
Catherine
www.ballyknocken.com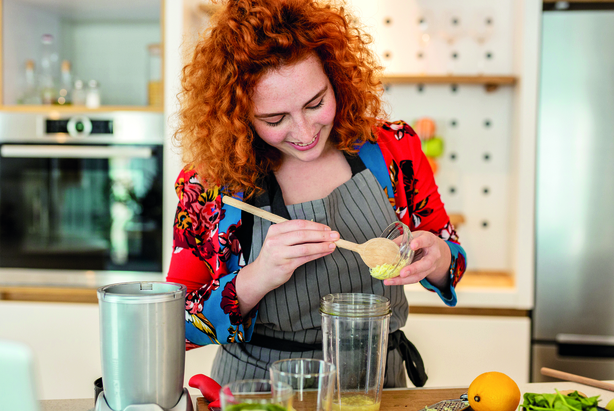 Quick tips to get organised
Pick favourite family meals and ensure you have cupboard stocked with relevant dry goods.
Have a selection of easy recipes that are quick, like stir fries or pasta dishes.
Try some meal prep on an afternoon during the weekend if that is possible.
Make good use of your freezer for items like homemade tomato sauces, blanched corn. soups or chopped herbs in ice trays.
Top gadget
One of my favourite gadgets is this food prep set which has a fine and coarse zester as well as a mandolin with 3 different thicknesses for slicing. The handles have a soft, good grip and there is a non-slip part in front so that you can use them directly on a smooth surface.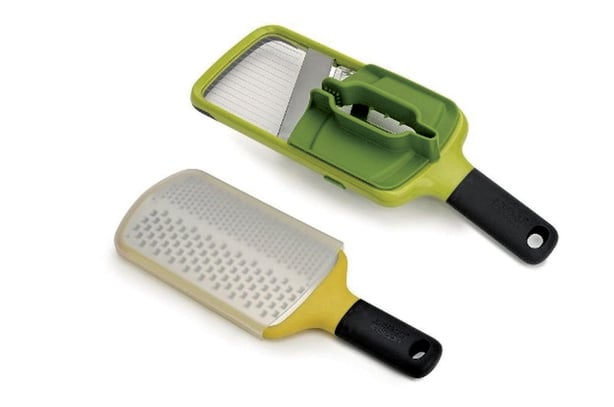 Joseph Joseph Go-to Gadgets 2-piece Food Prep Set, €26.95+postage, thekitchenwhisk.ie
Courgette & tomato meatball bake
"Mini meatballs in a homemade thyme tomatoes sauce and layered with courgette slices. This dish freezes well. Instead of using beef, try minced turkey or pork for a scrumptious change that the family will love"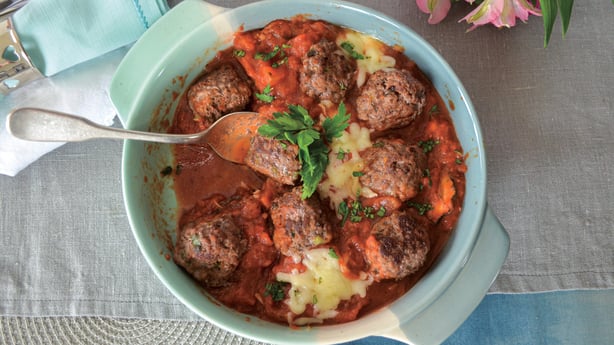 Serves 4
For the courgette
1 courgette, sliced at an angle
Rapeseed oil
For the tomato sauce
2 spring onions, sliced
1 garlic clove, sliced
1 tsp chopped thyme
400g tinned diced tomatoes
1 tsp honey
For the meatballs
300g lean minced beef
2 shallots, very finely chopped
1 tsp chopped thyme
1 tsp chopped rosemary
2 garlic cloves, finely chopped
2 tbsp fresh breadcrumbs
2 tsp tomato ketchup
Salt and freshly ground black pepper
50g mozzarella, grated or torn
A sprig of flat leaf parsley and some chopped, to garnish
You'll need a 20cm x 25cm gratin dish
Method
For the courgettes, pre-heat the oven to 190°C/fan 170°C/gas 5. Place the courgette slices on a baking tray, season with salt and freshly ground black pepper, drizzle over a little oil and roast for 18 to 20 minutes, turning over once. Set aside, ready to assemble.
To prepare the tomato sauce, heat a saucepan with oil, place the spring onions and sauté until cooked but not brown. Add the garlic, thyme, diced tomatoes and honey, simmer for 20 minutes on a lower heat, stirring from time to time.
To make the meatballs, place the beef into a bowl along with the shallots, thyme, rosemary, garlic, breadcrumbs and tomato ketchup and mix together well. Dampen your hands with water and shape into walnut-sized meatballs. Set on a plate, cover and leave in the fridge to set for 30 minutes.
To cook the meatballs, heat a frying pan with a little rapeseed oil and place the meatballs in the pan. You may have to cook them in batches. Brown on all sides, reduce the heat slightly and leave until fully cooked through. To check, slice one meatball in half.
To assemble, layer the courgette slices and tomato sauce in the gratin dish. Add some mozzarella. Place the meatballs on top and a little mozzarella in between the sauce. Place in the oven for 15 to 18 minutes.
Sprinkle over chopped parsley and garnish with a sprig of parsley.
Pasta sausage bake
"A great creamy, tasty pasta bake that will be prepared in no time. If you want to reduce the cream, use half vegetable stock and half cream".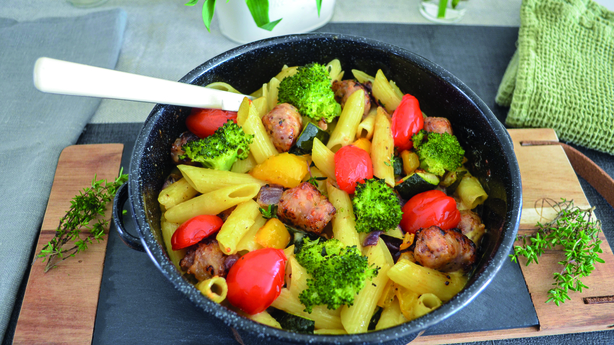 Serves 4
1 courgette, roughly chopped
1 yellow pepper, roughly chopped
1 red onion, sliced
2 garlic cloves, sliced
5 sprigs thyme
5 sausages, slice each into 5 pieces
250g uncooked penne pasta
250ml cream
4 tbsp grated Parmesan
100g broccoli florets, steamed
5 cherry tomatoes, halved
1 tbsp chopped parsley, to garnish
1 tsp chopped thyme, to garnish
Method
Pre-heat the oven to 180°C/160°C/gas 6.
Place the vegetables and garlic on a roasting tray, spoon over a little rapeseed oil, add salt and freshly ground black pepper and thyme sprigs. Roast for 15 minutes before adding the pieces of sausage and roast for a further 12 to 15 minutes (depending on the size of the sausage pieces), tossing them from time to time until cooked.
Brush a 25cm gratin dish with melted butter.
Cook the pasta in a large saucepan according to the directions on the packet then drain.
To assemble, spoon the cooked pasta, roasted vegetables and sausage pieces into the gratin dish. Pour over the cream and sprinkle the grated Parmesan over and mix well. Arrange the steamed broccoli and tomato halves on top. Bake in a preheated oven for 15 minutes or until lightly golden.
Sprinkle over the chopped parsley and thyme to garnish.